(This Glossary Page is work-in-progress)
[A] [B] [C] [D] [E] [F] [G] [H] [I] [K] [L] [M] [N] [O] [R] [S] [T] [U] [Y]
[A]
aburaage (油揚げ)
Deep-fried thinly sliced tofu, which is different from tofu puffs. Aburaage is one of the ingredients used quite regularly in Japanese dishes, particularly in miso soups, takikomi gohan and simmered dishes.
You can buy aburaage from Asian/Japanese grocery stores. They are usually frozen and come in a pack of 3 (see the photo below). Unless you are in Japan, you will probably have to buy frozen aburaage. Before using it, you would normally pour boiling water over the aburaage to get rid of excess oil, squeeze water out, then cut it to required sizes.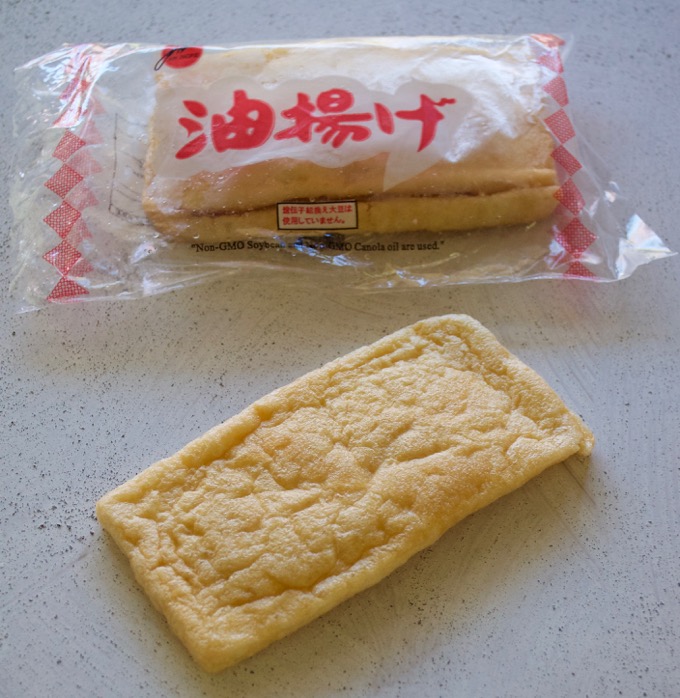 aemono (和え物)
Generic term for the food that is dressed or seasoned. Based on the main seasoning or dressing ingredient, the aemono dishes are named with the word representing the main seasoning/dressing ingredient. Representative aemono are:
Karashi-ae(辛子和え) – Japanese mustard based
Goma-ae(胡麻和え) – sesame based
Miso-ae(味噌和え) – miso based
Sumiso-ae(酢味噌和え) – vinegar and miso based, also called nuta (ぬたor饅)
Ume-ae(梅和え) – pickled sour plum based
Shira-ae(白和え) – tofu based
Unohana-ae(卯の花和え) – soy pulp (soybean curd refuse) based
aka miso (赤味噌) reference/photos
Miso that is very dark red, almost like chocolate coloured miso. It is made by steaming soy beans before ageing them for 3-12 months, sometimes 2 years. Steaming the beans causes a Maillard reaction during the ageing process that changes the colour of the miso to dark red. The salt percentage of aka miso varies from 5.5% to 11% depending on the type of kōji fungus used for fermentation.
amazu (甘酢) reference/photos
Sweet vinegar made of rice wine vinegar, sugar and salt, with or without dashi stock. Amazu with dashi stock makes the acidity milder. Amazu is used to marinate vegetables, e.g. Pickled Chrysanthemum Radish.
aonori (青海苔)
It is also called 'aosako'. Aonori is quite different from yakinori (焼き海苔, roasted seaweed sheets used in sushi rolls). Green dried seaweed is chopped into teeny tiny pieces. It is used not only as a topping for Yakisoba and Okonomiyaki (Japanese Savory Pancake), but it is sometimes added to the batter for Tempura.
You can buy aonori at Japanese grocery stores and Amazon.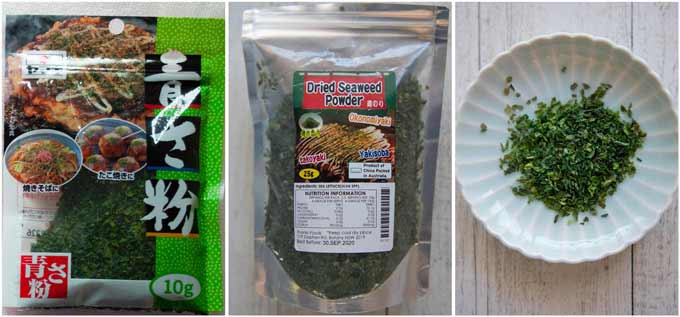 azuki (小豆) reference/photos
Japanese red beans, sold as dried beans in a bag. They are used to make osekihan as the colour of the beans stains the rice to faint red. Azuki is also used to make the sweet bean paste that is often used in Japanese sweets and desserts.
awase-dashi (合わせ出汁) reference/photos
Japanese dashi stock made from katsuobushi and konbu.
awase miso (合わせ味噌) reference/photos
Standard brown miso that is most readily available at supermarket and grocery stores. The salt percentage is about 12%.
[B]
benishōga (紅生姜)
Benishōga is a Japanese pickle that is made from ginger by pickling it in the leftover picking liquid from red umeboshi (salty and sour pickled plum). The red colour of the umeboshi comes from the red perilla leaves.
You can buy benishōga in a pack at some supermarkets and Japanese/Asian grocery stores. They come in sliced form or julienned form. Naturally coloured benishōga has a light purplish red colour. You may also find benishōga with a vivid red colour derived from artificial colouring.
bonito flakes
Please see katsuobushi.
[C]
chikuwa (竹輪)
A log-shaped grilled fish cake with a hole in the middle. There are thick, large chikuwa that usually come in a pack of two and small, thin chikuwa, five in a pack. The most well-known dish using chikuwa is Oden. In other simmered dishes, chikuwa is sliced and cooked with vegetables.
You can buy frozen chikuwa at Japanese/Asian grocery stores.
cooking sake
See ryōri-shu.
[D]
dashi/dashi stock (出汁) reference/photos
Generic name for Japanese stock, which is made from bonito flakes, konbu, dried fish, and/or shiitake mushrooms. Homemade dashi  is the best, but there are numerous instant dashi packets/dashi powder that you can use if you are in a hurry.
Click the reference link for specific types of dashi for more details: awase-dashi, ichiban-dashi, katsuo-dashi, konbu-dashi, niban-dashi, niboshi-dashi, shiitake-dashi.
dashi packet/dashi powder (出汁パック, 'dashipakku')
Use a dashi packet as a quick and convenient method of making dashi stock.
Dashi packets can be either in a powder form (dashi stock pack) or in a granular form (dashi seasoning/ granular dashi stock).
The dashi stock pack comes in a sachet containing finely shaved bonito flakes, dried anchovies, dried kelp, and/or dried shiitake mushrooms. You place a pack in water and boil to infuse umami from the powder.
Dashi seasoning comes as tiny grains in a bottle or packet. You simply add it to hot water or boiling water and stir.
Japanese dashi stock packs use real bonito flakes so the authenticity of flavour is not lost and you can get pretty good dashi out of it. Dashi seasoning is more artificial and less authentic as it is a granular bonito-flavoured seasoning (but still tastes good).
Be aware that dashi packets often contain salt to give a better flavour to the dashi stock. You may need to reduce the amount of salt when you season the dish.
You can buy dashi packet at supermarkets and Japanese/Asian grocery stores. Japanese grocery stores sell varieties of dashi packs including vegetarian dashi packets.
donburi (丼ぶり)
A large bowl, usually used to serve rice bowl dishes such as Oyako-don, Katsu-don, also used for noodle soups.
drop lid
See otoshi buta/otoshibuta.
[E]
enoki (えのき茸)
Enoki mushrooms.
[F]
furikake (ふりかけ)
Dried Japanese seasoning that is sprinkled on top of cooked rice. Ingredients include a combination of dried fish flakes, dried egg, dried cod eggs, bonito flakes, sesame seeds, chopped seaweed and other flavourings.
[G]
gohan (ご飯) reference/photos
Cooked rice. It can also mean a meal. Click the reference link to see how to cook rice the Japanese way.
gomashio (胡麻塩)
Gomashio is roasted black sesame seeds and salt. It is a condiment that is always served with Osekihan as a topping. It is often used to decorate cooked rice by sprinkling over the rice, particularly in a bento box, or Onigiri.
You can buy a packet of gomashio at Japanese/Asian grocery stores.
If you want to make gomashio at home,  you will need 4 parts roasted black sesame seeds and 1 part salt.
Dry roast salt in a frying pan over low het until the salt becomes dry and light.
Transfer the salt to a mortar and pestle, then grind the salt until it becomes powdery.
Dry roast black sesame seeds over low heat and roast until the sesame fragrance comes up.
Transfer the sesame seeds to the mortar and gently mix.
When it cools down, store in a small jar or air-tight container.
granular dashi stock (顆粒出汁, 'karyūdashi')
See dashi packet.
[H]
harishōga (針生姜) reference/photos
Harishōga is a garnish that is often used for simmered seafood dishes with soy-based flavour. It is a bunch of very finely julienned ginger, that is left in water for a while to make it crisp. A crispy strip of ginger is so fine that it looks like a needle, hence it was given the name  'harishōga', where 'hari' means needle and 'shōga' means ginger.
To make harishōga, slice a block of ginger (about 4cm/1½" long in the direction of fibre) very thinly along the direction of the fibre. Then julienne the slices into fine strips. The width of the strip should be less than 1mm. Place them in water to crisp them up for 5-10 minutes, then drain.
hijiki (ひじき) reference/photos
Hijiki is a dark brown seaweed that grows on rocky coastlines. It is usually sold in a dried form that looks like tiny black twigs. But when you rehydrate them, they multiply in size and become dark brown seaweed pieces. Rehydrated hijiki is often stir-fried and simmered in a flavoured broth. It is also mixed with rice for sushi.
Hijiki is rich in minerals and vitamins. It also contains high level of fibre.
[I]
iritamago (炒り卵) reference/photos
Japanese-style scrambled egg. Click the reference to see the iritamago used in Sanshoku Bento.
izakaya (居酒屋)
Japanese-style tavern.
[K]
kakugiri (角切り)
A cutting method: to cut into cubes/square.
kakuni (角煮)
Simmered cubed meat or fish. Pork kakuni is the best known dish. Fish kakuni is usually made with cubed tuna, bonito or kingfish.
kamaboko (かまぼこ or 蒲鉾)
kamaboko is a steamed fish cake made from white flesh fish. The most commonly used kamaboko comes in a semi-cylinder shape on a wooden plank. The natural colour of kamaboko is white but some have a layer of pink skin that is often used to add colour to the dish.
Other kinds of kamaboko include 'sasa kamaboko' (笹かまぼこ), which is formed in the shape of a bamboo leaf and grilled and 'kanikama' (蟹カマ) in the shape of a crab leg that I introduced in my post Crab Omlette on Rice (Tenshinhan).
kamaboko is sold in the frozen section of Japanese/Asian grocery stores.
kanpyō (干瓢)
Dried shavings made from the fruit of Lagenaria siceraria, a variety of calabash gourd. After removing the skin of the fruit, cut it into 1cm thick discs. Each disk is peeled thinly using the rotary peeling method, then dried.
Kanpyō needs to be rehydrated to soften, then cooked in a simmering sauce to give flavour, or used to tie a bag of food or rolled food such as Kobumaki to secure the ingredients before cooking.
Cooked kanpyō is often used as a filling for Sushi Rolls and sometimes as one of the ingredients for Chirashi Sushi.
You can buy kanpyō at Japanese grocery stores.
karashi (辛子) reference/photos
Karashi is Japanese mustard and is just plain powdered mustard seeds. The colour and the texture are similar to English mustard. It is quite hot (hotter than English mustard) and does not contain acidity (unlike Western-style mustards). It is so sharp that when you eat even a small amount of karashi, it gets to your nose momentarily.
You can buy karashi at Japanese/Asian grocery stores. It is sold as paste in a tube or powder in a tiny tin like the photo below.
To make karashi paste from powder, you mix the powder with warm water (40-50°C / 104-122°F) in a little container to form a thick paste, then place the container upside down on a plate and leave it (traditional way), or cover it with cling wrap, for 10 minutes to develop spiciness. When ready to use, add warm water to loosen the paste if required.
Karashi is a household item in Japan, just like mustard in Australia. It is used in many dishes as condiments as in Kakuni, Tonkatsu, Oden, and Shumai, but also to add extra kick to dressings such as Broccoli Karashi-ae and Poached Chicken Tenderloin with Mustard-miso Dressing.
Closest alternative to karashi is English mustard in a jar.
katsuobushi (鰹節) reference/photos
Dried bonito flakes. They are used in dashi, sprinkled over Chilled Tofu (Hiyayakko), and on blanched vegetables as a topping, e.g. Japanese Okra with Bonito Flakes. It is also used as a filling for onigiri.
Bonito flakes are made by shaving a block of bonito filet, which is made by fermenting and drying after boiling and smoking.
kizami nori (刻み海苔) reference/photos
Kizami nori is very thin strips of roasted nori seaweed. It is often used as a topping on rice, cold soba noodles such as Zaru Soba, Japanese pasta dishes like Mentaiko Pasta, and donburi dishes. You can make your own from a full size yakinori sheet, but you can also buy a pack of kizami nori from Japanese/Asian grocery stores (see the photo below).
To make your own, cut out the yaki nori into 3-4cm/1⅛-1½" wide sheets, then cut them into 2mm/3⁄32″ wide, 3-4cm/1⅛-1½" long thin strips.
konbu (昆布) reference/photos
Dried kelp, used to make dashi or to give umami to the dish by wrapping the ingredients or adding a piece to the pickles.
Konbu dashi (昆布出汁) reference/photos
Japanese dashi stock made with konbu (kelp) by soaking konbu in water for minimum of 3 hours.
konnyaku (こんにゃく)
It is made from konnyaku potato flour and its texture is like firm jelly. It is usually grey but sometimes mixed with seaweed, green seaweed or red pepper which makes it dark grey, light green, or light red respectively. Konnyaku has virtually no calories and is high in fibre. It does not have much taste by itself but is used in a dish to give a different texture to the ingredients and/or volumes without increasing calories.
You can buy konnyaku at Japanese/Asian grocery stores. It is sold as a 250g (8.8oz) block in a plastic bag with water in it.
koshihikari (コシヒカリ,こしひかり) reference/photos
Japanese famous brand of high quality rice, which is noted for its sweet taste.
In Australia, you can buy Sun Rice brand Koshihikari rice from Woolworths and Coles. It is Australian grown and labelled as 'sushi rice', but you can use it as normal Japanese rice.
Koshihikari rice imported from Japan can be purchased from Japanese/Asian grocery stores.
[L]
[M]
maze gohan (混ぜご飯) reference/photos
Cooked rice mixed with ingredients.
mentori (面取り) reference/photos
The cooking technique to trim corners and sides of vegetables. The name came from the fact that by removing a corner/side, you get ('tori', 取り) an extra flat surface ('men', 面).
This technique is commonly used for vegetables when there is a possibility of breaking the corners while simmering them.
mentsuyu (麺つゆ)
Mentsuyu is a noodle soup base used for soba/udon needles. It is also used as a dipping sauce for tempura. It is made with dashi stock, soy sauce, and mirin as the minimum ingredients.
For convenience, there are varieties of the condensed form of mentsuyu sold at Japanese/Asian grocery stores as well as online. You simply add water or boiling water to the condensed mentsuyu to use it as a noodle broth or for other dishes.
Please visit the section, About Mentsuyu, in my post Soy Pickled Cucumber (Kyūri no Q-chan).
mirin (味醂 or みりん) reference/photos
Mirin is a type of rice wine and a staple ingredient in Japanese cooking. It is very sweet and has a lower alcohol content than sake. unlike sake, the colour of mirin is golder or light amber. It is used to enhance the flavour of the food as well as adding brightness to the food.
mitsuba (三つ葉)
A wild Japanese parsley or the Japanese version of Cryptotaenia, which is a Japanese herb. Mitsuba looks like large flat leaf parsley but three leaves grow on each skinny stem, which is where the name came from (the Japanese name translates to three leaves).
It has a distinct flavour unlike any other herb and commonly used as a garnish.
You can buy mitsuba at some Japanese grocery stores or Korean grocery stores.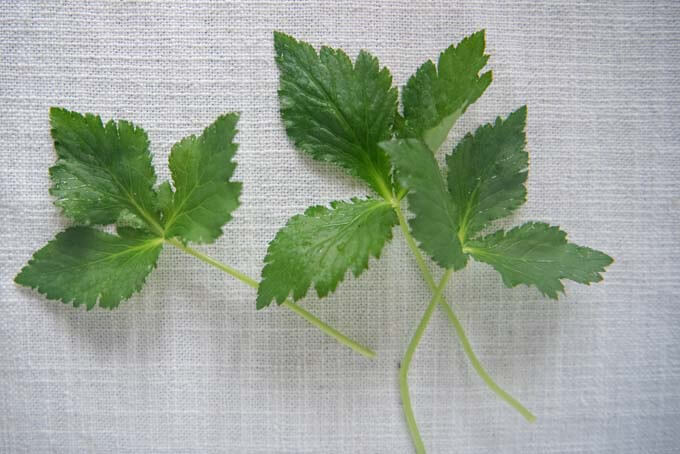 mochigome (もち米)
Sticky rice or sweet rice. Also called glutinous rice. It becomes sticky when cooked. The grain of mochigome is whiter compared to the normal rice grain.
Mochigome does not require as much water to cook as normal short grain rice. The amount of water required to cook mochigome is only 80% of the volume of the mochigome.
Mochigome is used to make osekihan and sometimes mixed with normal rice to cook mixed rice dishes such as Shimeji Gohan. It is also used to make omochi (rice cakes).
[N]
nabe ryōri (鍋料理)
Japanese hot pot dishes. See Yosenabe, Ishikari Nabe and Oden as examples.
narutomaki (なると巻き or 鳴門巻き)
Narutomaki  is a type of kamaboko. It comes in a long log-shape. A sliced narutomaki looks like a gear with a pink spiral pattern in the centre. Since the spiral pattern resembles Naruto whirlpools in the Naruto strait between Awaji Island in Hyōgo prefecture and Naruto City in Tokushima prefecture, such a name was given to it.
Sliced narutomaki is often added to noodle soup dishes such as ramen, udon noodle soup, and soba noodle soup. It is also added to clear soups such as Ozōni.
Narutomaki is sold in the frozen section of Japanese/Asian grocery stores.
natto (納豆)
Natto is fermented soy beans. It has the distinct smell of fermented beans and a very sticky texture. It usually comes in a little pack of about 40-50g / 1.4-1.8oz.
To eat natto, you need to mix natto well in a bowl to make it sticky, producing whitish sticky strings, then add chopped green onions, hot mustard and a dash of soy sauce. It goes well with cooked rice. Some sushi restaurants serve natto sushi – a sushi roll with finely chopped natto in the middle.
You can buy frozen natto at Asian/Japanese grocery stores.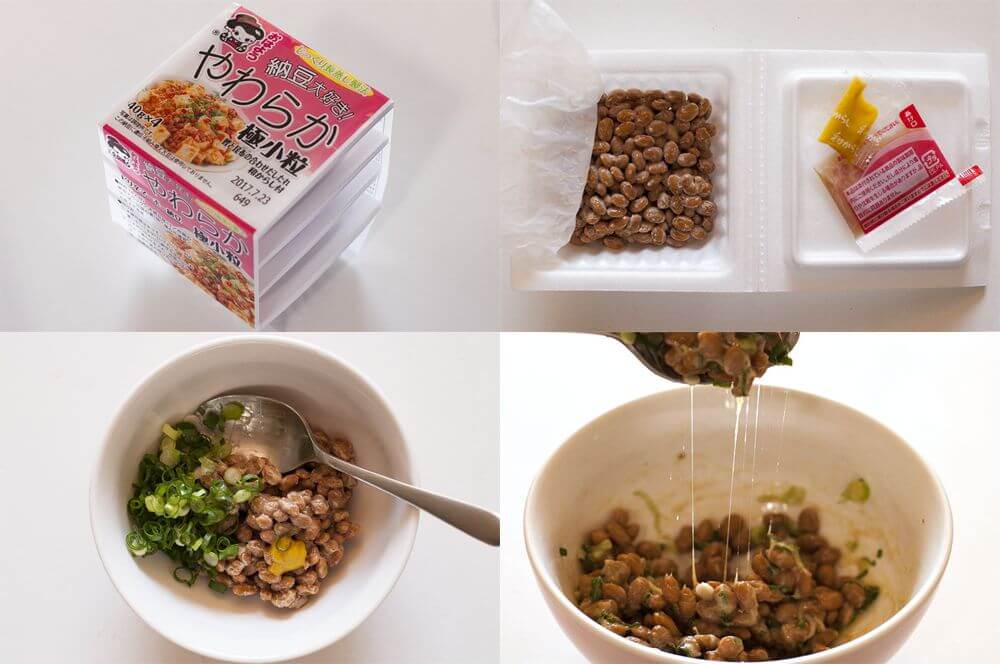 nibosi (煮干し)
Dried anchovies which are often used to make dashi stock. You can also eat niboshi.
The niboshi used to make dashi stock are about 5-7cm / 2-2¾" long (left photo below), while the niboshi for nibbling are much smaller and tender (right photo below). You can buy niboshi at Japanese/Asian groceries.
nibosi-dashi (煮干し出汁) reference/photos
Japanese dashi stock made from niboshi.
nigirimeshi (にぎり飯)
See onigiri.
[O]
ochawan (お茶碗) reference/photos
Japanese rice bowl.
ohashi (お箸) reference/photos
Chopsticks.
ohitashi (お浸し) reipe/photos
Originally, vegetables and even seafood immersed in a flavoured sauce of some sort was called ohitashi. But nowadays, it refers to boiled green leaves with some toppings, consumed with soy sauce or soy based mild sauce.
okazu cup (おかずカップ) reference/photos
Okazu cups are like small cupcake cases and they are usually made of coated paper or aluminium. Reusable silicone cups are also available but they tend to be thick and solid compared to the paper/aluminium cups. Some cups come in pretty colours and patterns. The colourful cups on the right photo are silicone cups.

okome (お米)
Rice. Generic word for uncooked rice.
omochi (お餅) reference/photos
Rice cake made from sticky rice (mochigome). The sticky rice is steamed, pounded into sticky dough, then shaped into a ball, a flat dome shape or a large flat rectangular shape that can be cut into smaller square pieces when semi-dried.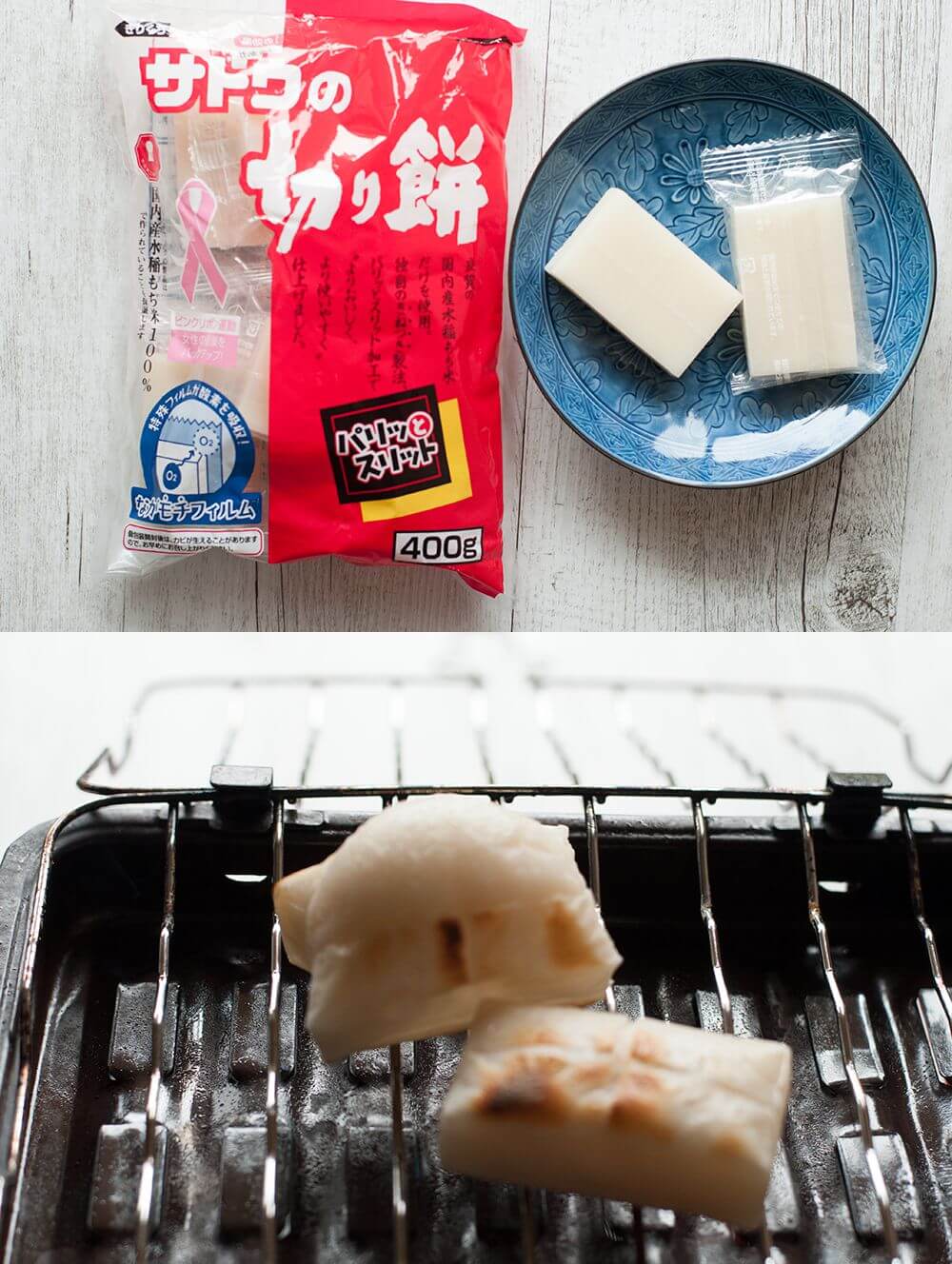 omusubi (おむすび)
See onigiri.
onigiri (おにぎり) recipe/photos
Japanese rice ball, often wrapped in roasted seaweed (yakinori), with fillings inside. Also called omusubi, nigirimeshi.
osekihan (お赤飯) reference/photos
Sticky rice (mochigome) cooked with azuki beans. It is often served on special and happy occasions.
otoshi buta/otoshibuta (落し蓋)
Drop lid. It is a round lid that is slightly smaller than the opening of a pot. Otoshibuta is traditionally made of wood, but you can also buy a stainless-steel lid with holes on it (see the sample photos below).
Otoshibuta is placed on top of the ingredients in a pot to ensure the heat is evenly distributed, and ingredients cook faster. It makes the ingredients stay in place without breaking apart. It also stops the liquid from evaporating quickly.
You can make a drop lid with aluminium foil or baking paper (see the sample photo of the otoshi buta made of foil below).
Aluminium foil: Cut a square foil and fold the edges to make it a round shape with the diameter slightly smaller than the pot. Then poke the foil with a knife or a chopstick to make holes in several places.
Baking paper: See the video in my post Shumai for how to make a round paper with holes.
[R]
rangiri (乱切り)
The roll-cutting method used to cut vegetables is called rangiri (乱切り) in Japanese, which translates to random cut. It is often used to cut root vegetables for simmering because the vegetable pieces have more surface and cook faster.
Here is how you do rangiri using a carrot:
Place a whole carrot on the cutting board and cut straight down with a diagonal angle. Then roll the carrot 90 degrees, facing the freshly cut surface up. Place the blade on the cut surface at the same diagonal angle, then cut down. Repeat all way along the length of the carrot.
rāyu (ラー油 or 辣油)
Japanese chilli oil, rāyu is made of oil and/or sesame oil infused with chilli pepper and other spices. It is used to add a touch of spiciness to a broth or a dipping sauce. Rāyu is often added to ramen broth as well as the dipping sauce for Gyōza.
You can buy a small bottle of rāyu at Japanese/Asian grocery stores.
ryōri-shu (料理酒) reference/photo
Cooking sake. There are different brands of cooking sake available at Japanese/Asian grocery stores a well as at supermarkets. Japanese cooking sake is quite different from Chinese cooking sake, which has a stronger flavour. You should not substitute Chinese cooking sake in Japanese cooking, unless it is a Chinese-style dish.
Be aware that most cooking sake contains salt. You can buy cooking sake without salt (see sample photo below) at Japanese grocery stores.
[S]
saikyo miso (西京味噌)
White miso made in Kansai (the western region of Japan), particularly in Kyoto. It is sweet and cream coloured. It is classified as shiro miso (白味噌, white miso), but due to its sweetness, it is often called sweet shiro miso in English. It contains 5% salt, which makes it the sweetest miso among all the miso varieties.
sakamushi (酒蒸し)
A dish, typically fish or shellfish, steamed in sake.
sake(酒)
Japanese rice wine. One of the common seasonings used in Japanese cooking. You could use drinking sake but for cooking, cooking sake (ryōri-shu) is much cheaper.
sake kasu (酒粕)
Sake kasu (sake lees) is a by-product of sake brewing. When sake is pressed out from the fermented mash, the pressed mash remains. This pressed mash is sake kasu. As such, it is usually sold in the form of flat dough, although in Japan, you can buy sake kasu in the form of soft paste or wet crumbs.
It contains 8% alcohol as well as a good amount of nutrients such as protein, carbohydrates, fat, vitamins, fibre, and amino acids.
Usage of sake kasu includes soup, hotpot, marinades, pickling, stewing, baking, and desserts. Sake kasu contains enzymes that break down protein. Sake kasu marinade tenderises meat as you can see in the recipe Pork Marinated in Sake Lees (Pork Kasuzuke).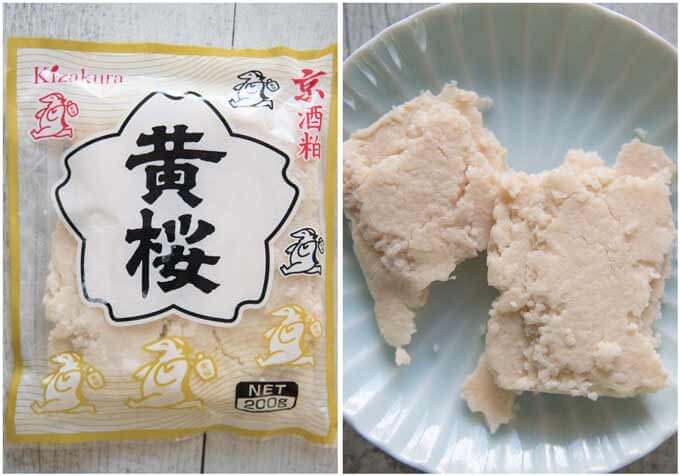 sanshō (山椒)
Sanshō is a Japanese pepper. It has a citrusy pepper flavour and gives you a slight numbing sensation on your tongue. It is very similar to Sichuan pepper.
The young leaves and shoots are called 'ki no me' and used as a garnish because of their citrusy fragrance and the symmetrical pretty shape. Finely chopped ki no me is used to give a refreshing flavour to the soup or miso-based dressing.
Immature green peppercorns are called 'ao-zanshō'. They are usually pickled in salt and used to give an accent to the dish, or preserved by cooking them with/without other ingredients in soy-flavoured sauce.
Matured sanshō peppercorns are dried and ground into powder, just like black peppercorns in Western cuisine. The powder is sprinkled over cooked dishes as a garnish, or  fresh meat before cooking. The most famous use of sanshō powder on food is unagi no kabayaki (grilled eel fillet).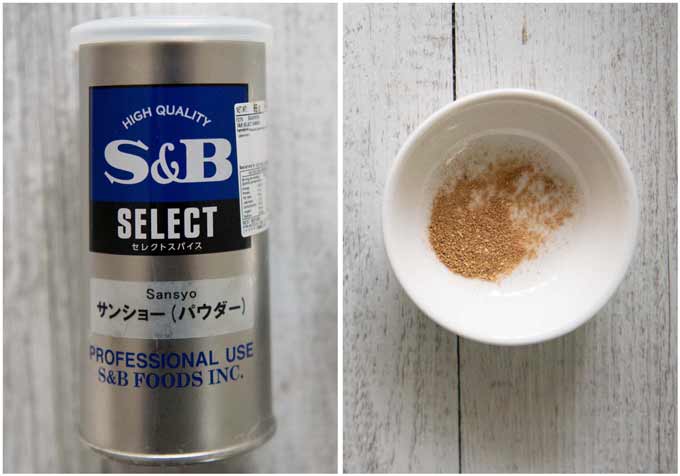 sasagaki (笹がき)
The shaving method used to cut root vegetables is called sasagaki (笹がき) in Japanese. Make several incisions around the vegetable lengthwise. Hold the vegetable in your left hand (for the right hander), touching the tip of the root to the cutting board. Hold a knife in your right hand facing the blade away from you. Then shave the root using the tip part of the knife in the way you sharpen the wooden part of a pencil with a knife. As you shave it, rotate the root so that the root is evenly shaven.
This cutting method is used particularly for burdock and carrot when you want to cut it thinly and shorten the cooking time.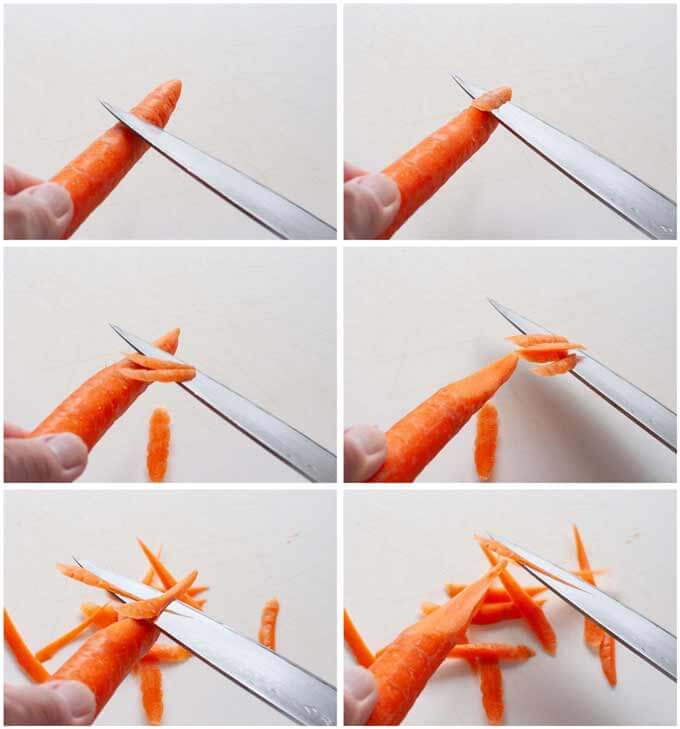 shichimi tōgarashi (七味唐辛子)
Japanese spice mixture with chilli or simply called shichimi (七味). Shichimi means seven flavours while tōgarashi (唐辛子) means chilli pepper. It is also known as nanairo tōgarashi (七色唐辛子) meaning seven colour chilli pepper.
It contains seven or more different dry spices with chilli as the main ingredient. Other ingredients include sansho (Japanese pepper), orange peel, sesame, ginger, seaweed, hemp seed, and perilla.
You can buy a small bottle of shichimi tōgarashi at Japanese/Asian grocery stores.
Shiitake dashi (椎茸出汁) reference/photos
Vegetarian dashi stock made from dried shiitake mushrooms. It is the light brown liquid you get by rehydrating dried shiitake mushrooms. It is often used in simmering dishes where shiitake mushrooms are included.
shio konbu (塩昆布) reference/photos
Shio konbu is strips of kelp cooked in soy sauce and other seasonings, sprinkled with salt. It is often used as a condiment for cooked rice and a filling for rice balls. But it is also used as a seasoning to give vegetables an extra umami and flavours.
Shio konbu is quite salty, but a salt-reduced version of shio konbu is also available.
You can buy shio konbu at Japanese/Asian grocery stores.
shirasuboshi (しらす干し) reference/photos
Dried tiny sardines with a slight salty flavour. It is often used as a filling for onigiri.
shiraga negi (白髪葱)
The finely julienned white part of green onions/shallots (Aussie) are called shiraga negi (白髪葱), which translates to grey hair green onions/shallots, because of their appearance.
Shiraga negi does not have a strong onion smell and flavour compared to the finely chopped green onions/shallots. It also has a crunchy texture. It is often used as a topping for soup dishes, and dishes that require garnishes, e.g. Ramen and Kakuni.
Please visit the section ABOUT SHIRAGA NEGI in the post Cold Nyūmen (Sōmen Noodle Soup) that explains how to make shiraga negi.
shirataki (しらたき) reference/photos
Konnnyaku yum noodles. It is the same as konnnyaku but in a noodle form. Often used in Sukiyaki (click reference/photos) and some other simmering dishes.
shiro dashi (白出汁) recipe
A seasoned dashi stock made of sake, mirin, light soy sauce, salt, katsuobushi and konbu. It is usually made as a condensed dashi stock and used by diluting it with water or hot water. It is a handy dashi stock to have in the pantry. You can buy a bottle of shiro dashi at Japanese grocery stores or make it at home. Click the recipe link and see how to make shiro dashi at home.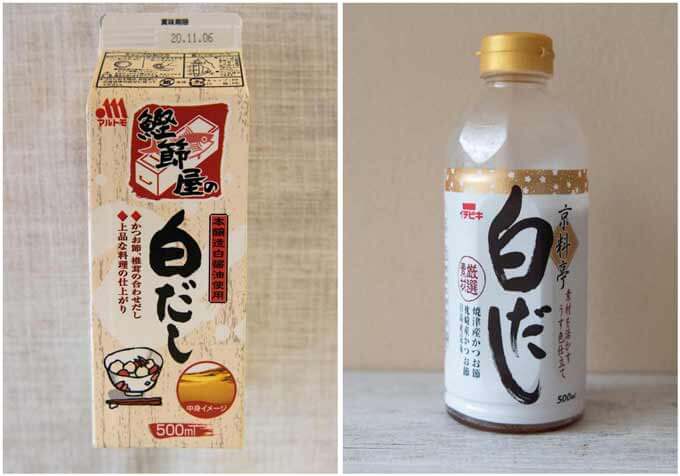 shiro miso (白味噌)
Light cream-coloured miso that is then sweetest among the varieties of miso paste. Saikyo miso is one of the most famous of the shiro miso. The salt percentage of shiro miso is 5-7%.
shiro shōyu (白醤油)
Translated as 'white soy sauce'. It is extremely light in colour, almost like the colour of fish sauce. See the photo below, comparing it against usukuchi shōyu. It contains a touch of sweetness but also has a strong salty flavour.
You can buy shiro shōyu at Japanese grocery stores.
shiso (紫蘇 or しそ) reference/photos
Japanese perilla, a herb with a quite distinctive fragrance. It has broad leaves of about 8cm x 6cm (3⅛" x 2⅜"). There are red shiso leaves as well as green shiso leaves. The latter is more commonly used, particularly as a garnish for cold tofu and decoration for sashimi – see Marinated Sashimi Tuna.
You can buy shiso leaves at Japanese grocery stores. You might find perilla leaves in Asian grocery stores or Asian vegetable shops, but they are most likely the Korean perilla leaves. Korean perilla leaves are quite large and the flavour is very different from the Japanese perilla.
shojin ryori (精進料理)
Buddhist monk's vegetarian cooking.
shojin-age (精進揚)
Vegetarian tempura.
shungiku (春菊) reference/photos
Edible chrysanthemum leaves. Also called garland chrysanthemum, chrysanthemum greens, etc. They have a hint of bitterness that adds a unique flavour to the dish.
They are not the leaves from chrysanthemum flowers.
sogi-giri (そぎ切り, slanting cut)
One of the methods used to slice vegetables, meat and fish. Unlike other slicing methods, sogi-giri starts from the left end of the food (for right handers). Place the kinfe on an angle with the blade facing to the left, then slice the food diagonally. The angle of the knife can vary depending on how much of the flesh you want to expose in each sliced piece.

In the case of vegetables and meat, sogi-giri is used in dishes that contain a sauce to let the ingredient absorb the flavour effectively. Sogi-giri is also used to slice sashimi.
sōmen (そうめん or 素麺)
Sōmen are very thin wheat noodles. They come in dried form, bunched up per serving and tied with a tape. The thickness of the cooked strand must be 1.3mm / 0.05″ or less to call the noodles 'sōmen'. Noodles thicker than that are called either 'hiyamugi' or 'udon'.
Soy Sauce (醤油)
In my recipe, Soy Sauce refers to a normal Japanese soy sauce. Common brands of normal soy sauce that you can buy from supermarkets and grocery stores include Kikkoman, Yamasa, Higashimaru.
Although the colour is similar, Japanese soy sauce is quite different from Chinese dark soy sauce. The Chinese soy sauce is much saltier, which makes the dish too salty if you use it in my recipes.
In addition to the normal soy sauce, there are variety of different soy sauces such as salt-reduced soy sauce, light soy sauce, etc. You can see a list of different types of Japanese soy sauce and sample photos in the section 'SHŌYU (醤油) SOY SAUCE' in my post Pantry Essentials – Part 1.
sunomono (酢の物) reference/photos
Vegetables with/without protein dressed in vinegar and other seasonings.
sushisu (寿司酢) reference/photos
Sushi vinegar specifically prepared for making sushi rice. It consists of rice wine vinegar, sugar and salt. You can buy sushisu from Japanese/Asian grocery stores. If you have rice wine vinegar, you can make it at home. Please visit the post in the reference link for the recipe to make sushisu.
[T]
takana (高菜) reference/photos
Japanese mustard greens. Pickled takana is popular among Japanese people. It is used as a filling for onigiri, an ingredient for fried rice, etc.
takikomi gohan (炊き込みご飯)
Rice cooked with ingredients – vegetables and/or meat, fish. See Shimeji Gohan, Gomoku Gohan, Daikon Takikomi Gohan, Takenoko Gohan for examples.
takuan (沢庵) reference/photos
Pickled daikon. Whole daikon is semi-dried, then picked in salt, sugar and rice bran etc. Some of them are coloured to bright yellow, which tend to have a sweeter flavour than those not coloured.
You can buy takuan at Japanese grocery stores or some Asian grocery stores.
tarako (たらこ) reference/photos
A sack of salted cod (pollock) roe, eaten raw or grilled. Raw tarako can be spread over the rice as a condiment or used as a dressing for raw seafood such as squid with seasonings. Grilled tarako is sliced into bite-size pieces and served as a side dish or an appetiser.
Similar to tarako (left photo below) is mentaiko (right photo below), which is a sack of cod (pollock) roe marinated in chilli and spices. The appearance is very similar to tarako but the colour is red, while the colour of tarako is close to a natural pale pink colour.

You can buy tarako and mentaiko frozen at Asian/Japanese grocery stores. Some Korean grocery shops may also sell fresh tarako and/or mentaiko.
tenkasu (天かす)
Also called 'agedama' (揚げ玉). Tenkasu are the deep-fried batter bits that you get in the oil when you make Tempura. You can collect them when you make tempura and freeze them to stock up.
You can also buy tenkasu in a pack from Japanese grocery stores or on Amazon.
Left-over tenkasu can be frozen.
teppō gushi (鉄砲串)
Gun-shaped skewer made of bamboo (left photo below). A narrow flat skewer with a handle at one end. The flat skewer prevents the ingredients from rotating around the skewer when turning food on the skewer over. They are often used for grilled Tuskune.
You can buy teppō gushi at Japanese grocery stores and some specialty kitchen stores. Online shops also sell them.
toban-djan (豆板醤)
Chilli bean paste is called doubanjiang or toban-djan (豆板醤) or doubanjiang. It is a Chinese salty bean paste made from fermented beans. There is a spicy version and non-spicy version, but I used a spicy toban-djan.
You can buy a jar of toban-djan at Asian grocery stores.
tororo konbu (とろろ昆布)
Thin shaved kelp (konbu). It is made by soaking kelp in vinegar. Press layers of konbu together to make a block of konbu, then shave it. It is full of umami with a hint of acidity. It is usually fluffy and soft, like cotton wool but some are not so soft (bottom left photo below).
Tororo konbu can be eaten as they are but they are often put in noodles and soup dishes such as miso soup. It is also used to wrap Onigiri (Rice Ball) instead of nori (roasted seaweed sheet).
You can buy tororo konbu in a pack at Japanese grocery stores or online stores on  ebay.com.au or ebay.com.
[U]
umeboshi (梅干し) reference/photos
Salty and sour pickled plum, often used as a filling for onigiri.
There are brown umeboshi (natural colour) and red umeboshi (dyed using purple perilla). The size of umeboshi varies too. Large umeboshi are about 2-3 cm diameter and have a very soft texture while tiny umeboshi are normally crunchy.

The seed inside an umeboshi is very hard and you should not eat it as you might break your teeth.
usukuchi shōyu (薄口醤油)
It is sold as light soy sauce. Usukuchi shōyu is lighter in colour and 10% saltier than normal soy sauce. you use it in dishes to enhance the colour of the ingredients, or in noodle soups to make a light-coloured broth.
See the photo below, comparing it against normal soy sauce.
[Y]
yaki nori (焼き海苔) reference/photos
Roasted seaweed sheet. A full size yakinori sheet is 19cm x 21cm (7½" x 8¼"). A sheet of yakinori is used to wrap onigiri and sushi rolls. Finely shredded yakinori strips are called 'kizaminori' (刻み海苔). They are used as garnish and toppings.
You can buy 10 sheets of yakinori in a pack at supermarkets and Japanese/Asian grocery stores. Avoid the yakinori with greenish colour as they are not of high quality. Good quality yakinori should be almost black, although more expensive.
yakitori (焼き鳥) recipe/photos
Japanese char-grilled skewered chicken. The flavour can be either sweet soy sauce or salty. Yakitori is one of the most popular izakaya foods. Common menu items includes:
Negima (ねぎま, chicken and shallots/scallions)
Momo (もも, chicken thigh)
Mune (むね, chicken breast)
Sasami (ささみ, chicken tenderloin)
Bonjiri (ぼんじり, chicken tail)
Kawa (皮, chicken skin)
Tsukune (つくね, chicken mince ball)
Tebasaki (手羽先, chicken wings)
Rebā (レバー, liver)
Hatsu (ハツ, heart)
Sunagimo (砂肝, gizzard)
Yagen or nankotsu (ヤゲンor 軟骨, cartilage)
[END]