I've tried so many different hot pot dishes and Salmon Hot Pot (Ishikari Nabe) is one of my favourites. It is quite simple to make and flavoursome. The miso-based broth goes so well with salmon, keeping you warm on a cold day. It's almost like a big miso soup with lots of ingredients!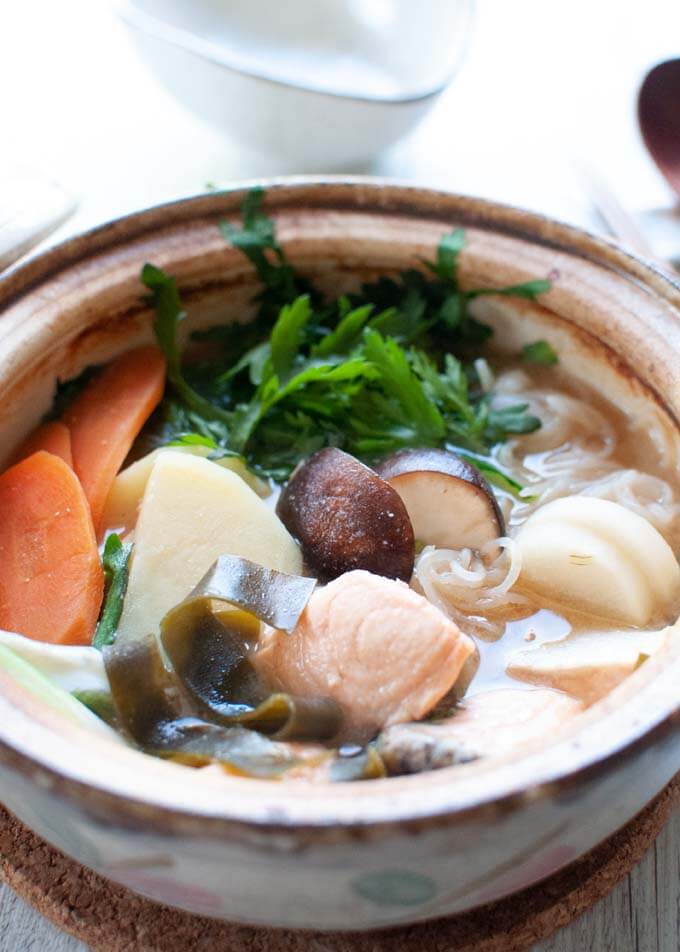 Winter appears to be fast approaching in Sydney and the temperature in the morning and at night time can get very low. When this happens, I always think of having a hot pot for dinner.
Origin of Salmon Hot Pot (Ishiskari Nabe)
I have a very old cookbook that only contains local specialty hot pot dishes from all over Japan. It starts in the north of Japan, i.e.Hokkaido and ends in Kyushu, in the south of Japan. Okinawa was not included, probably because Okinawa belonged to the USA until few years before the cookbook was published.
There are three hot pot dishes from Hokkaido listed and Ishiskari Nabe (石狩鍋) is the first one. I interpreted Ishikari Nabe as Salmon Hot Pot because salmon is the hero of this hot pot. But I need to call it Ishikari Nabe throughout the post as it sounds right for this dish.
Ishikari Nabe is one of the local specialty dishes in Hokkaido.  The name came from Ishikari River, which originates from the centre of Hokkaido on the side of Ishikari-dake mountain to the west, passing through Asahikawa and Sapporo, then into Ishikari Bay.
Ishikari River is famous for its salmon run in Autumn and it is said that a Japanese restaurant located near Ishskari Bay served Ishikari Nabe in 1880, bringing the hot pot made at home and by fishermen into the world.
Ingredients of Ishikari Nabe
Firstly, there has to be salmon, which is cut into large bite-size chunks. Unlike most Japanese hot pot dishes, my Ishikari Nabe does not use tofu or Chinese cabbage. But there are plenty of vegetables included in it.
Potatoes, daikon, carrot, shiitake mushrooms, shallots/scallions, shirataki(konnyakuin noodle form) and chrysanthemum leaves. All of these go into a donabe (clay pot specifically made for cooking hot pot).
Some Japanese/Asian grocery stores sell knotted shirataki like those in the photo. They are great for hot pot as you can easily pick them up with chopsticks.
Variations to the hot pot ingredients
There are no rules as to which vegetables should or should not be included in Ishikari Nabe. I think that as long as the meat is salmon and the broth is miso-based, you can call it Ishikari Nabe.
Some recipes add tofu, Chinese cabbage, cabbage, sliced onion, etc. Instead of shiitake mushrooms, you can use shimeji mushrooms, enoki mushrooms or all of them mixed together.
Some Ishikari Nabe also include sliced pork but then it becomes another local specialty hot pot in Hokkaido called Ishikari Nabe (十勝鍋).
Broth for Ishikari Nabe
Making a real version of Ishikari Nabe broth starts from the fish stock made with salmon heads and bones. But for Ishikari Nabe at home, I think that the salmon flavour from the fillet is tasty enough. So instead of fish stock, I use dashi stock.
For 800ml of dashi stock, add 50g of miso, 1 tablespoon of mirin.
I use brown miso but you can use other types of miso. Depending on the type of miso you use, you may have to adjust the sweetness and saltiness as the amount of saltiness varies a lot depending on the miso. Sweetness is strong in the case of shiro miso/Saikyo miso and you may need to replace mirin with sake to compensate for that.
How to Cook and Eat Ishikari Nabe
Cooking Ishikari Nabe is quite easy – bring the broth in a pot to a boil, add fish and vegetables, and cook. When they are cooked through, it's ready to eat. Depending on how you cook and serve, I vary the cooking sequence a little bit (two methods in the recipe).
If you have a portable cooktop that you can place on a dining table, it would be fun to cook the dish on the table and everyone can pick food out of the pot while it is simmering. In this case, I parboil root vegetables, then place all ingredients in a pot with the broth and cook.
If you are serving a hot pot that is already fully cooked on the stove, then I cook the root vegetables first, add salmon pieces, then add the rest of the ingredients.
Ishikari Nabe is meant to be eaten with the broth. Transfer the ingredients and a small amount of broth into your bowl to eat them. If you are intending to make Zosui (see below), do not drink too much broth while eating your hot pot. It's really tasty, though (need a strong will power!).
Making Zosui (Japanese Rice Soup, also called Ojiya)
After eating all the fish and vegetables in the pot, you should have quite a bit of miso broth leftover (note: I underlined 'a small amount' in the previous section!). This broth is packed with good flavours, particularly from the salmon.
I always use this broth to make Zosui (Japanese Rice Soup – Ojiya). All you need is two bowls of cooked rice and a couple of eggs for two servings. Finely chopped shallots/scallions would also be good to sprinkle over the soup (top photo below).
Bring the leftover soup to a boil, adjust the flavour (add some water if too salty, add salt if too bland), and add cooked rice to the broth. When it starts boiling again, add beaten eggs and cook. Sprinkle shallots over the soup. Zosui after the hot pot is so tasty and comforting.
Nagi loves Zosui a lot. Hot pot is not her favourite food but she eats it only because she will be able to have Zosui at the end.
When Nagi was little, she had no choice but to eat hot pot otherwise she was not allowed to eat Zosui. But nowadays Nagi skips the hot pot, waits for others to finish (as her mother is not so strict anymore) and joins when Zosui is ready. How cheeky is that?
Yumiko

P.S. Don't forget to see the section 'MEAL IDEAS' below the recipe card! It gives you a list of dishes that I have already posted and the new recipe in this post that can make up a complete meal. I hope it is of help to you.
Salmon Hot Pot (Ishikari Nabe)
Miso-based broth goes so well with salmon, keeping you warm on a cold night. It's almost like a big miso soup with lots of ingredients! I included two different ways of cooking Ishikari Nabe – (1) cook it at the dining table and eat while cooking and (2) cook it on stove top and serve.
Cook Time is assuming that the hot pot is cooked on the stove. If you are cooking as you eat, you don't need to worry about cooking time as everyone is practically cooking at the table.
Keyword:
hot pot, ishikri nabe, nabe recipe, salmon
Ingredients (tbsp=15ml, cup=250ml)
200g/7.1oz

salmon fillet

, cut into large bite size pieces (note 1)

1

potato

(medium size)

70g/2.5oz

daikon

(white radish)

50g/1.8oz

carrot

½

pack of tied shirataki

(konnyaku noodles) (note 2)

100g/3.5oz

chrysanthemum leaves

(note 3)

2

shiitake mushrooms

(medium size)

2

shallots/scallions
Hot Pot Broth
10

x 10cm/4" konbu

(dried kelp), cut into 4 strips

800ml/1.7pt

dashi stock

50g/1.8oz

miso

(note 4)

1

tbsp

mirin
Instructions
Preparation
Cut potato in half lengthwise, then slice each piece perpendicular to the first cut to 1-1.5cm/3/8-5/8" thick. Cut daikon in half vertically, then slice each piece horizontally to 7-8mm/¼" thick. Slice carrot diagonally to about 5mm/3/16" thick. If you are cooking hot pot at a table and eat as you cook, parboil potato, daikon and carrot slices.

Place shirataki in a sieve and pour boiling water over to rinse. If you are not using tied shirataki, spread the shirataki noodles on a cutting board and cut them in half.

If the bunch of chrysanthemum is more than 15cm/6" long, cut in half to shorten the length.

Cut mushrooms in half. I cut it diagonally to reduce the thickness of each piece.

Cut shallots diagonally to 6-7cm/ 2 3/8-2 3/4" long.
Cook at table and eat as you cook
Mix miso and mirin in a large bowl or a pot (capacity of about 1000ml/2.1pt) to soften the miso, then gradually add dashi stock mixing well. Add konbu strips.

Place all the ingredients in a cooking pot (donabe if you have one or a shallow pot), clustering each ingredient together.

Gently add the miso broth to the cooking pot and bring it to a boil over high heat.

Reduce heat to minimum and cook for about 5-7 minutes or until root vegetables are cooked through.

Provide a small eating bowl to each diner to pick up and eat cooked food from the hot pot while simmering.
Cook on stove and serve at table
Add konbu and dashi stock to a large pot (note 5) and bring it to a boil over high heat.

Mix miso and mirin in a bowl to soften the miso, then add to the pot.

Add potato, daikon and carrot to the pot and cook for a couple of minutes.

Add salmon to the pot and cook for a minute or so.

Add the remaining ingredients to the pot and cook until shiitake mushrooms are cooked though.

Serve with small eating bowls for individual to take food from the pot. The cooked ingredients should be eaten with miso flavoured broth.
Recipe Notes
1. You can also use salmon cutlet/steak with or without bone. I cut the fillet into 8 pieces.
2. You can buy shirataki at Japanese/Asian grocery stores. Some shops sell shirataki that are tied (see the ingredients photo in post), which is handy because you can pick them up easily. But standard shirataki is also OK to use.
3. . I sometimes get chrysanthemum leaves with thick stems that I can't use. I remove the leaves from the stems and discard the thick stringy portion of the stems before weighing.
4. The majority of Ishikari Nabe use brown miso but you can use other types of miso. If using white miso, replace mirin with sake as the white miso is sweeter than brown miso.
5. As you can see in the photos, I made hot pot in two individual donabe (clay pot to cook hot pot) by dividing the ingredients but you can of course cook all in a large pot.
6. The remaining broth is packed with great flavours, particularly from the salmon. Why don't you make Zōsui (also called Ojiya) – Japanese Rice Soup using this broth? Simply add cooked rice to the broth, bring it to a boil, then add beaten eggs. It's so delicious. You can find how to make Zōsui in my post Zosui (Japanese Rice Soup – Ojiya). The recipe shows how to make it from the broth leftover from Yosenabe but you can replace the broth with the miso broth from today's recipe.
7. Nutrition per serving. It assumes that the broth is all consumed so the sodium is quite high.
serving: 787g calories: 577kcal fat: 25g (38%) saturated fat: 6g (30%) trans fat: 0g polyunsaturated fat: 0.1g monounsaturated fat: 8.1g cholesterol: 59mg (20%) sodium: 2007mg (84%) potassium: 1931mg (55%) carbohydrates: 47g (16%) dietary fibre: 5.8g (23%) sugar: 20g protein: 42g vitamin a: 106% vitamin c: 63% calcium: 31% iron: 16%
Meal Ideas
A typical Japanese meal consists of a main dish, a couple of side dishes, a soup and rice. I try to come up with a combination of dishes with a variety of flavours, colours, textures and make-ahead dishes.
When you order a hot pot at a restaurant, it often comes with a couple of small dishes as appetiser or side. Since the salmon is the hero of today's meal, I decided to serve Smoked Salmon Mizore-ae to show a different way of using salmon in a dish.
Side dish 2 can be anything other than the miso flavour. And I would strongly recommend having Zosui made with the leftover broth at the end of the hot pot.