Rice with Azuki Beans (Osekihan) is just a sticky rice cooked with red azuki beans, but the colour of the rice is so attractive. Osekihan is often served in special occasions, particularly celebrations.
Japanese people often serve Osekihan at happy events. It could be the celebration of a birth, a birthday, graduation, admission to school, or celebration of long life. In the olden days, it was believed that the red colour held a powerful spell that could avoid disaster. Osekihan also served the role of talisman at various occasions.
The word 'osekihan' (お赤飯) is made up of the prefix 'o' (お) and 'sekihan' (赤飯), which literally means red rice. The prefix 'o' is attached when people express politeness or show respect. You could say it without the prefix but most people call it Osekihan instead of Sekihan.
About Japanese Azuki Beans
The reddish colour of the rice comes from the Japanese red beans called 'azuki' (小豆orあずき). As you can see in the photo below, it sometimes spelt 'adzuki'. The colour of azuki is similar to red kidney beans but azuki beans are very small in size – 6mm long and 4mm wide.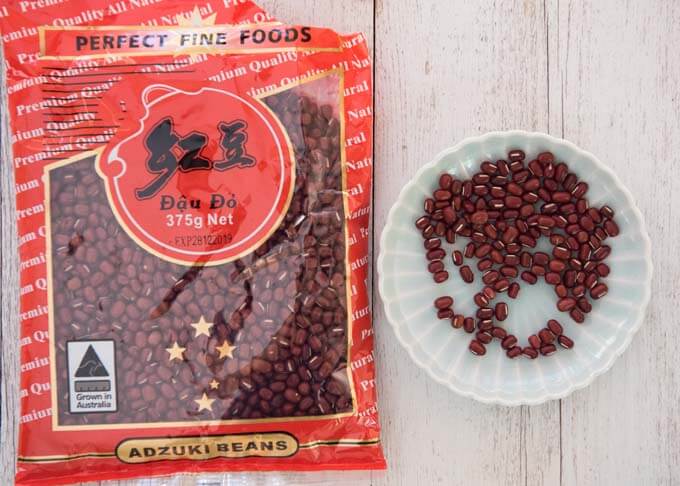 They are not only used to make red bean rice but are also widely used in Japanese sweets in the form of sweet red bean paste called 'anko' (あんこ), sweet red bean soup called 'oshiruko' (おしるこ) or 'zenzai' (ぜんざい). You can even purchase canned cooked azuki beans to speed up the process of sweets making.
Above mentioned foods are the most representative Azuki beans recipes. But, azuki beans are sometimes used in savoury simmered dishes, most commonly with pumpkin or octopus.
Although azuki beans are small, it takes about 20 minutes to cook them to al dente. It is because azuki skin is very hard and does not absorb water easily.
About Sticky Rice
Traditional osekihan uses sticky rice (also called glutinous rice or sweet rice). But these days some people cook osekihan with a mixture of sticky rice and short/medium grain rice.
Today's recipe uses sticky rice only. But if you are mixing sticky rice and normal rice, you need to adjust the amount of liquid to cook them. In my post, Gomoku Gohan (Japanese Mixed Rice), I explained how to work out the quantity of liquid using a formula.
The calories in a sticky rice grain are less than in a short grain. But a sticky rice grain contains more sugar. Also, sticky rice does not expand as much as short grain rice and requires much less water to cook.
This means that there are more cooked sticky rice grains in a bowl compared to short grain rice, resulting in higher calorie intake. But they are tasty, and I love sticky rice!
Process of Cooking Rice with Azuki Beans (Osekihan)
The traditional method of cooking Osekihan is a steaming method. After cooking the azuki beans in a pot, the sticky rice and beans are steamed in two stages. There are more steps to cooking it in a pot, so today I cooked Osekihan using a rice cooker. In the notes of the recipe, I have also added the instructions to cook Osekihan using a pot.
Soak sticky rice for at least 30 minutes to let it absorb water.
Boil azuki beans in a saucepan for about 20 minutes to al dente – tiny hard core in the centre – because they will be cooked further with the rice.
Separate the beans and liquid into bowls.
Scoop the liquid with a ladle and pour it back gently into the bowl, allowing the red colour to intensify the liquid. The colour from the azuki beans includes a pigment that turns red when exposed to air.
Place the rice and beans in a rice cooker, add red liquid to the water level required for sticky rice.
Mix and cook.
Garnish for Osekihan
Traditionally, osekihan is eaten with roasted black sesame and salt. This is called 'gomashio' (胡麻塩). Gomashio can be sprinkled over Osekihan and served, or placed in a separate container for individuals to sprinkle.
I usually buy gomashio in a container from Japanese/Asian grocery stores (see the sample photo below) but if you like you can make it yourself.
To make gomashio, you will need just black sesame seeds and salt. The ratio of black sesame seeds to salt is 3 to 1 respectively. Simply roast sesame seeds in a heavy bottomed frying pan, turn the heat off, add salt and roast with the residual heat.
Another traditional garnish for Osekihan is nandina (sacred bamboo) leaves (not for eating, see the first photo). Explaining why nandina is associated with Osekihan requires a bit of a Japanese lesson.
Basically, it was a play on words linking the sound of nandina in Japanese, 'nanten' (南天) to the sound of disaster, 'nan' (難) and transformation/ to turn it around, 'ten' (転).
Rice with Azuki Beans (Osekihan) can be eaten hot or at room temperature. It is great for lunch boxes. The red sticky rice with tiny azuki beans scattered in it brings you happiness. With Gomashio sprinkled over it, you can eat Osekihan by itself.
Yumiko

P.S. Don't forget to see the section 'MEAL IDEAS' below the recipe card! It gives you a list of dishes that I have already posted and the new recipe in this post that can make up a complete meal. I hope it is of help to you.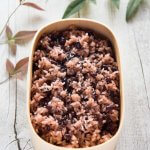 Rice with Azuki Beans (Osekihan)
Rice with Azuki Beans (Osekihan) is just a sticky rice cooked with azuki beans, but the colour of the rice is so attractive. Osekihan is often served on special occasions, particularly celebrations. It is also great for bento box.
Prep Time is the time to soak sticky rice in water. Cooking time assumes the time to cook rice in a rice cooker is 45 minutes, but this varies depending on the rice cooker.
Keyword:
azuki beans, azuki beans recipe, osekihan, red bean rice
Ingredients (tbsp=15ml, cup=250ml)
540ml/15.2oz

sticky rice

(3 rice cooker cups, note 1)

60-80g/2.1-2.8oz

dried azuki beans

(note 2)

750ml/25.4oz

water
Instructions
Wash rice and soak in water for at least 30 min. Drain using a sieve.

Wash azuki beans and transfer to a saucepan with water (not in ingredients) just to cover the beans.

Bring it to a boil, then drain the water.

Add 750ml/25.4oz water to the pan with azuki beans and bring it to a boil over high heat.

Reduce heat to medium and cook for about 15-20 minutes until the beans are cooked to al dente (the centre of the bean is a tiny bit hard). Remove scum (white bubbles) from time to time while cooking.

Drain and keep the beans in a sieve and the red liquid in a bowl.

Scoop the liquid in the bowl with a ladle and pour it back gently into the bowl 4-5 times, allowing the liquid to be exposed to air. This will brighten the red colour of the liquid. Use a fan to send more air to the liquid if you want.

Mix rice and azuki beans in a rice cooker. Add the red liquid to the level required for sticky rice/sweet rice. Add water if not enough red liquid. Turn the switch on.

When cooked, mix gently using a spatula. Serve with gomashio either sprinkled over the rice or in a separate container for individuals to sprinkle.
Recipe Notes
1. Rice cooker measuring cups are usually 180ml/6.1oz, from the old Japanese measuring units. If your rice cooker cup comes in a different volume, please use cups to measure rice and ignore 540ml/15.2oz. Otherwise, you will not be able to easily tell the amount of liquid you need to cook rice.
2. Azuki are tiny red beans with a colour similar to red kidney beans. A size of a bean is about 6mm/¼" long, 4mm/3/16" wide. They are usually sold as azuki beans or red azuki beans (see the photo in the post). In Australia, you can buy them from Japanese/Asian grocery stores. They are also available online from Amazon, eBay, etc.
3. Gomashio is a mixture of roasted black sesame seeds and salt. I used store-bought gomashio (see the photo in the post) but you can make gomashio at home.
Toast 1 tablespoon of black sesame seeds in a thick frying pan, turn the heat off, add salt and toast with residual heat.
4. To cook Osekihan using a pot:
Follow the instructions 1-7. Then, mix azuki and rice in a heavy-bottomed pot, add the red liquid 5mm/3/16" above the surface of the rice. Add water if the red liquid is not enough. Place the lid on and cook over high heat for 5-6 minutes until it starts boiling. Then reduce the heat to low for 12-13 minutes until the liquid evaporates. Turn the heat off and leave for 10 minutes.
5. Nutrition per serving. Assumed the amount of Azuki beans used is 70g/2.5oz. Garnish - Gomashio is not included.
serving: 213g calories: 283kcal fat: 0.4g (1%) saturated fat: 0.1g (1%) trans fat: 0g polyunsaturated fat: 0.1g monounsaturated fat: 0.1g cholesterol: 0mg (0%) sodium: 46mg (2%) potassium: 84mg (2%) carbohydrates: 63g (21%) dietary fibre: 0.5g (2%) sugar: 0.9g protein: 5.5g vitamin a: 0.3% vitamin c: 0% calcium: 0.8% iron: 4.2%
Meal Ideas
A typical Japanese meal consists of a main dish, a couple of side dishes, a soup and rice. I try to come up with a combination of dishes with a variety of flavours, colours, textures and make-ahead dishes.
I thought it would be great to match the celebratory Rice with Azuki Beans (Osekihan) with some dishes that are often served at slightly formal occasions, e.g. Kaiseki ryōri. Both dishes in Side dish 2 and Shrimp Balls (Ebi Shinjo) in Clear Soup are in this category. If you pick a white meat fish to make Saikyo Yaki Fish, the main dish becomes a bit classy too.