Tsukune (つくね, Japanese meatballs) is one of the regular yakitori dish items. Soft and bouncy chicken meatballs are skewered and chargrilled with sweet soy sauce, i.e. yakitori sauce. The key to my soft and juicy meatballs is the grated onion and amount of fat in the chicken mince (ground chicken).
People often assume that tsukune (つくね) is Japanese chicken meatballs. But it is not accurate. Tsukune is a generic name for Japanese style meatballs. The minced meat (ground meat) does not have to be chicken, it could be pork or even fish. However, the most popular tsukune is made with chicken and that's probably why people think tsukune is chicken meatballs. And today's recipe is chicken tsukune.

Tsukune vs Tsumire
There is also a similar meatball called tsumire (つみれ) which is also made with minced meat, most commonly with minced fish, particularly sardines. So people assume that tsumire is fish meatballs but it is not so.
Both types of meatballs are seasoned lightly and usually cooked with sauce or simmered in broth. The difference between tsukune and tsumire is the way meatballs are formed. In the case of tsukune, minced meat is formed into a ball or a sausage shape on a skewer using hands. On the other hand, tsumire is made by dropping seasoned minced meat into boiling water or soup using a spoon, or by picking up by hand without forming a particular shape.
The difference is self-explanatory if you know Japanese language. The word "tsukune" came from the verb "tsukuneru" (捏ねる) which means "knead and make it round", while "tsumire" came from "tsumiireru"(摘み入れる) meaning "pinch and put it in". In Japan, you can even buy a tool to make tsumire which is a section of vertically cut bumboo. You fill the mince in the bamboo and slide a small amount of meat off the bamboo into the boiling water or soup using a little spatula.
About Chicken Mince (Ground Chicken)
Meatballs have to be soft, bouncy and juicy. To make the texture of soft and juicy tsukune, you need to have chicken fat in the mince. So I usually use a mixture of chicken breast mince and thigh mince which contains more fat than the breast mince.
But when I wanted to make tsukune for the family yakitori day in September, I could not find chicken thigh mince. Perhaps because Aussies are more health conscious these days, I find that less and less thigh mince is available at chicken/butcher shops and even at supermarkets.
If you can only find breast mince, I recommend that you add some chicken fat to it to make the meatballs moister. See my recipe below. I made these tsukune together with standard yakitori using thigh fillets and I collected chicken fat strips from the thigh while preparing them.
Chicken breast mince is much softer than thigh mince and when mixed with other ingredients, it becomes like paste. I find that the finished meatballs are much smoother in texture than that of thigh meatballs and the colour of the meatballs is much lighter and attractive.
You could use a blender to make mince from fillets as well. I tried that with thigh fillets and it worked well. You can mince thigh fillets much finer than those you get from the shop which makes the texture of the tsukune much smoother.
Easy Way to Make Meat Balls
In my recipe, I use the combined method of making tsukune and tsumire which I described earlier. I use my hand to form a ball and then use a spoon to drop it into boiling water. Because the mince mixture in my recipe is quite soft and difficult to roll to make a ball, I do not use the traditional tsukune method. But I wanted them to be almost perfect meatballs for this dish so I did not want to use the tsumire method.
What I did is shown in the photo below. Grab a handful of mince mixture with your left hand (I am a right hander), make a circle with your thumb and index finger and squeeze your hand to push the meat through the circle. The meat will come out like a ball. With your right hand, use a spoon to scoop the meatball off your left hand and drop it into the boiling water.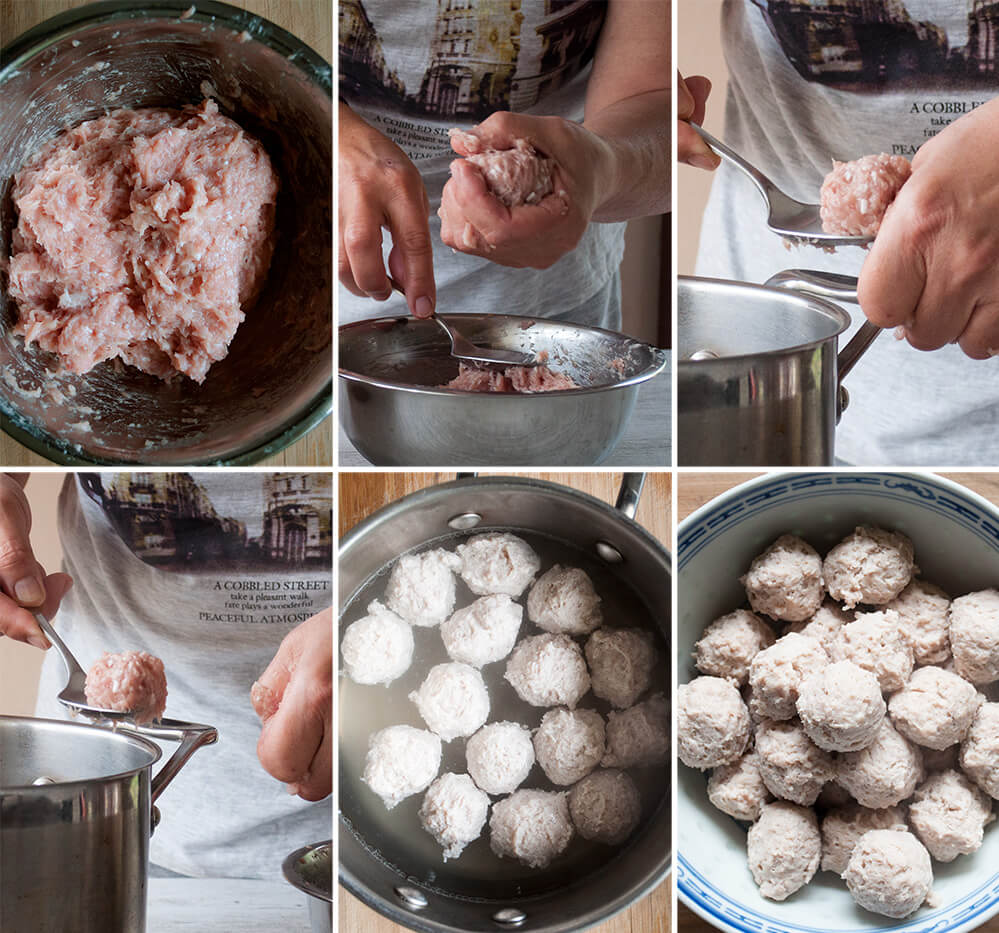 It is quite fun to make meatballs in this way. It is very fast and you get better at it as you make more. When I make a perfect ball shape, I feel really satisfied. Another benefit of making tsukune this way is that you get excellent chicken soup stock after boiling the chicken meat balls. I usually add crushed ginger and shallots (scallions) to the stock to make clear soup.
Best Skewers for Tsukune
When you serve tsukune as part of a yakitori dish, 2 or 3 meatballs are put through on a skewer, as yakitori is a dish with chicken on skewers. When I made tsukune for the first time, I only had standard thin round skewers which was the same skewers used for chicken thigh yakitori. But it was a big mistake.
When the tsukune skewer was placed on the yakitori grill, we could not rotate the meatballs easily to evenly chargrill around the surface of the meatballs. The meatballs rotated themselves around the skewer and we could not turn it around by holding the skewer!
So as you can see in the photos, I now use flat skewers called teppo gushi (鉄砲串, gun skewer). Please visit my Yakitori post which talks a bit more about the skewers. You can see the different skewers used for chicken thigh and tsukune in the photo below.
Tsukune can be served in many different ways but the most common tsukune dish is grilled tsukune with sweet soy sauce. And this is the most popular tsukune dish among my children. When we have a yakitori party, they always ask for tsukune.
My favourite tsukune dish apart from yakitori is tsukune nabe (つくね鍋, meatball hotpot). It is a simple hotpot to cook – tsukune and vegetables in a pot and served with dipping sauce such as goma-dare or ponzu. I add extra seasonings to the tsukune as the meat balls are simply cooked in boiling water. You can find the recipes for these dipping sauces in Japanese Dressings. I would like to post my tsukune nabe recipe but it is a bit too hot in Sydney to have a hotpot at the moment.
When I posted my Yakitori recipe, I touched on tsukune and said I was intending to post the recipe soon. Two months have passed since then and I finally got around to posting this recipe. I hope you enjoy it as much as yakitori.
Yumiko

TSUKUNE (JAPANESE MEATBALLS)
Tsukune (Japanese meatballs) is one of the regular yakitori dish items. Soft and bouncy chicken meatballs are skewered and chargrilled with sweet soy sauce, i.e. yakitori sauce. The key to my soft and juicy meatballs is the grated onion and the amount of fat in the chicken mince (ground chicken).
Recipe Type:
Appetiser, Main
Serves
:
8
skewers (24 meatballs)
Ingredients
450g (15.9oz)

chicken breast mince (ground) (note 1)

50g (1.8oz)

chicken fat finely minced (note 1)

½

tsp

salt

1

egg

(large)

1

tbsp

grated onion

1

tsp

grated ginger

(juice only)

1

tsp

light soy sauce

1½

tbsp

cornflour/corn starch

1½

tbsp

sake
Sauce
40ml (1.4oz)

soy sauce (normal Japanese soy sauce)

40ml (1.4oz)

mirin

½

tbsp

sugar
Instructions
Sauce
Add sauce ingredients to a pot and bring to the boil. Turn down the heat to medium or medium low and simmer for about 4-5 minutes to reduce the quantity by about a third (note 2).
Making Tsukune
Add chicken, chicken fat and salt in a bowl and mix well until the chicken mince becomes sticky.

Add the remaining ingredients, except 1 tablespoon of sake, to the bowl and mix well.

Add the remaining sake to the bowl gradually while mixing. The mixture is quite soft but do not add all of the sake specified if the mixture is too soft to grab by hand and form a ball.

Boil water in a pot. Coat a cutlery spoon with oil (not in ingredients).

Grab chicken mince with the left hand (I am a right hander) and squeeze out mince through the thumb and the index finger. The mince will come out forming a round shape (note 3).

Take it with the spoon and drop it into the pot. Repeat this for the rest of the mince.

Boil meatballs for 5-7 minutes until cooked through (note 4). Take the meatballs out and put aside. I cooked them in two batches.
Griling Tsukune (note 5)
Heat griller, griddle or BBQ (note 6). Oil the rack/grill where you place the meatballs.

Thread 3 tsukune onto flat skewers.

Baste tsukune with the sauce using a brush and cook under the griller or on the griddle/BBQ for 1-2 minutes until the meatballs are slightly burnt.

Turn over the skewers and cook further 1-2 minutes. Then baste with the sauce, cook 30 seconds on both sides.

Serve immediately.
Recipe Notes
1. You could have a mixture of 250g (8.8oz) breast mince and 250g (8.8oz) thigh mince, or 100% thigh mince. I could only find breast mince so chicken fat was added to get the similar effect.
You could have just 500g of breast mince but the meatballs may be slightly dry.
2. The time taken to reduce the sauce depends on the size of the pot. The larger the diameter the faster it reduces.
3. The size of the circle made with your thumb and index finger determines the size of the ball and therefore the number of meatballs made in total. My meatball was 3-3.5cm (1¼") in diameter.
4. Cooking time depends on the size of the meatballs. When the meatball is floating and feels light when you pick it up, it is cooked through.
5. I made tsukune on skewers as they were made when we had the family yakitori day. But you could cook individually if you like. Or two meatballs each on skewers instead of three.
6. The heat can be strong. Because tsukune is already cooked, all you need to do here is to coat with sauce and get them burnt slightly to give better flavour to them.
7. Tsukune can be frozen. After boiling, cool them down and freeze in an air tight container or freezer bag.