The soy-based, garlic flavoured sweet sauce gives a Japanese touch to this Western-style steak dish. Thinly sliced steak is so quick to cook, and with the rice and fresh green salad, Steak with Japanese Garlic Steak Sauce is a meal in itself.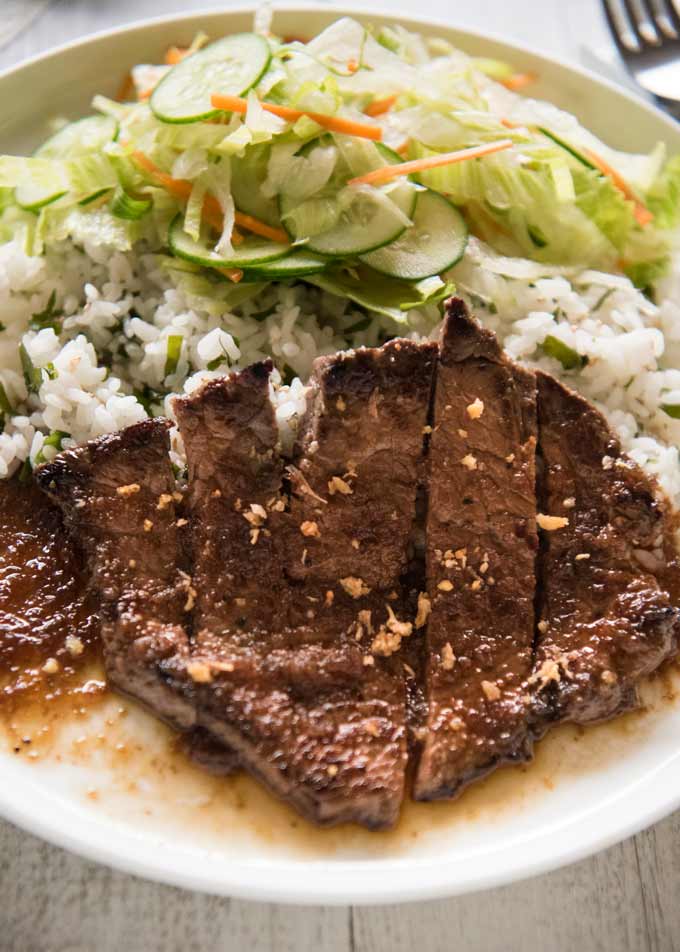 I go to Nozawa Onsen in Nagano prefecture to ski every year. I like Nozawa Onsen as I love onsen very much (they have 13 free-of-charge communal onsen/hot spring bath places in the village!). Also, I have a fond memory of Nozawa Onsen because my father used to take me and my siblings there every year to enjoy skiing when we were primary and high school age.
Nozawa Onsen has become a popular destination for the Aussie skiers and snow boarders. Unlike Niseko in Hokkaido, Nozawa Onsen still retains the authentic old Japanese onsen village atmosphere.
Today's dish is a copycat of the steak lunch from Yamabiko Rest House in Nozawa Onsen Ski Resort. It is one of the most popular dishes at lunch time and there is always a long queue for it. The flavour of the sauce may be slightly different, but I think it's pretty close.
The Steak in the Yamabiko Way
Unlike standard beef steak, my steaks are thinly sliced to about 1 cm/⅜" thick (this is also the Yamabiko way).
The positive side of using thin steaks is that you can cook them very quickly. My steaks only required 30 seconds each side to cook to medium rare or well-done.
The down side is that it is very difficult to cook them to medium rare because there is only a small difference in the cooking duration between rare, medium rare and well-done. I inadvertently cooked the steak to well done so many times when testing this dish.
But with the slightly sweet sauce, even the well-done steak was delicious to me.
Japanese Garlic Steak Sauce
It is a Japanese-style sauce, so it contains quite a bit of soy sauce.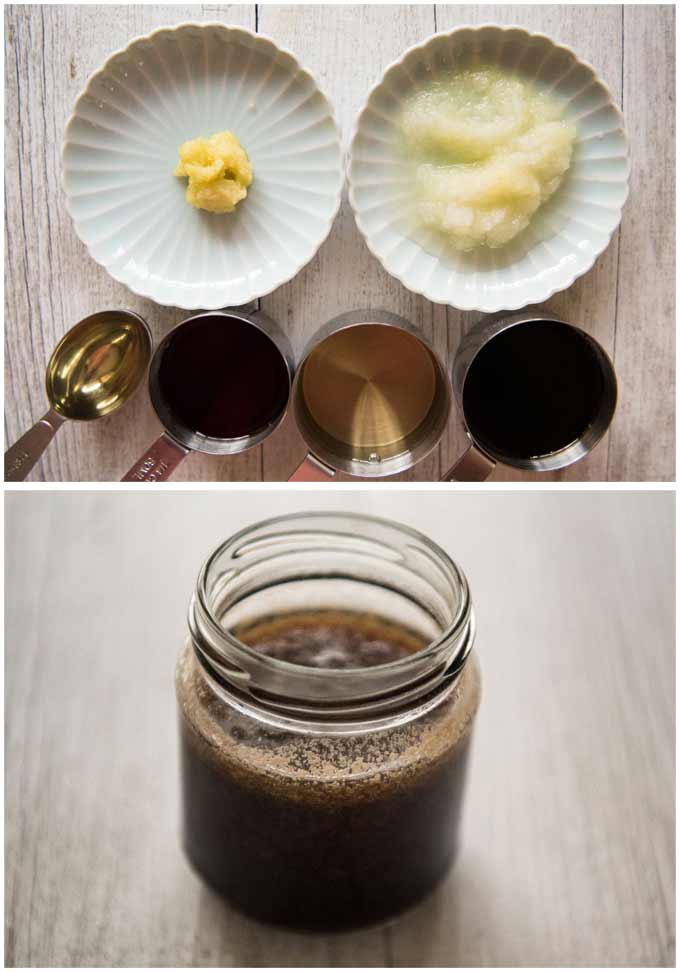 The ingredients below make 175ml which is about 4 servings:
2 cloves garlic grated (about 1 tsp)
1 tbsp onion grated
50ml/1.7oz soy sauce
50ml/1.7oz mirin
2 tbsp red wine
½ tsp beef (or chicken) stock powder
½ tbsp sugar
30ml/1oz water
1 tbsp oil
A dash of sesame oil
Mix all the ingredients, bring it to a boil and cook for a minute. That's it. Oh, I also sprinkle fried garlic over the steak with the sauce at the end. The fried garlic that I bought from the Asian grocery store gives a boost to the garlic flavour. See the photo below.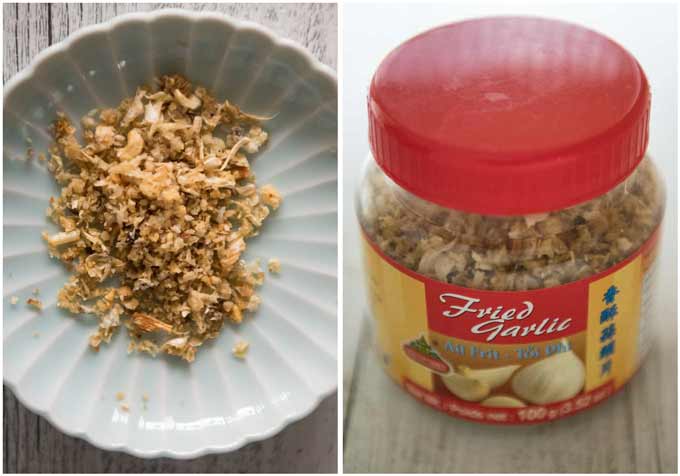 This steak sauce will go well with other meat dishes such as Hamburg steak and roast beef.
Serving Steak with Japanese Garlic Steak Sauce
I not only made a copycat of the garlic steak from Yamabiko Rest House, I served the steak in a very similar way to how it was served there.
As you can see in the photo of the dish I had at Yamabiko Rest House below, the steak is sliced into narrow strips (so that it is easier to eat with chopsticks if you prefer).
The sliced steak is then placed next to the mixed rice. On the side and the top of the mixed rice is fresh green salad. The sauce will then poured over the steak, and sprinkled with fried garlic pieces.
About Mixed Rice
The mixed rice served at Yamabiko Rest House contains the Japanese leaf vegetable called Nozawana (野沢菜) that looks similar to the turnip leaf. It originated from Nozawa Onsen as the name suggests. Nozawana is often served as a pickled vegetable.
The cooked rice is simply mixed with shredded pickled Nozawana to make Nozawana mixed rice. The slightly salty fermented Nozawana gives a great flavour to the rice.
If you can buy pickled Nozawana, by all means make Nozawana mixed rice. But where I live, I can't find Nozawana so I made up a mixed rice with chopped wakame seaweed and roasted white sesame seeds.
Mixed rice made by mixing ingredients with cooked rice is called 'mazegohan' (混ぜご飯) in Japanese, in opposed to 'takikomi gohan' (炊き込みご飯), which is the rice cooked with ingredients.
You can find several takikomi gohan on my website – Rice with Bamboo Shoots (Takenoko Gohan), Rice with White Radish (Daikon Takikomi Gohan), Gomoku Gohan (Japanese Mixed Rice), Shimeji Gohan (Rice with Shimeji Mushrooms).
When you servie the Steak with Japanese Garlic Steak Sauce in a similar way to the one at Yamabiko Rest House, it beccmes a meal in itself. All you need is a bowl of soup and perhaps a small side dish if you want to make it perfect.
Yumiko

Steak with Japanese Garlic Steak Sauce
The soy-based, garlic flavoured sweet sauce gives a Japanese touch to the Western-style steak dish. Thinly sliced steak is so fast to cook, and with the rice and fresh green salad, Steak with Japanese Garlic Steak Sauce is a meal in itself.
My version is a copycat of the steak lunch from Yamabiko Rest House in Nozawa Onsen Ski Resort in Japan.
Prep Time does not include the time required to cook rice.

Don't forget to see the section 'MEAL IDEAS' below the recipe card! It gives you a list of dishes that I have already posted and this recipe that can make up a complete meal. I hope it is of help to you.
Keyword:
beef steak, garlic sauce, Japanese garlic sauce, steak, steak sauce
Ingredients (tbsp=15ml, cup=250ml)
4

thin steaks

(about 1cm/⅜" thick, 125g/4.4oz each, note 1)

Pepper

1

tbsp

oil
Japanese Garlic Steak Sauce
Mixed rice
4

cups

cooked rice

4

tbsp

Wakame

, finely chopped (note 2)

2

tbsp

roasted white sesame seeds
Salad (4 cups in total)
Shredded lettuce

Sliced cucumber

Julienned carrot
Instructions
Japanese Garlic Steak Sauce
Put all the Japanese Garlic Steak Sauce Ingredients except sesame oil into a saucepan and bring it to a boil. Reduce the heat to low and cook for 30-45 seconds.

Turn the heat off and drizzle sesame oil if using.
Mixed Rice
Put the Mixed Rice ingredients in a bowl and using a spatula, gently mix them ensuring that the wakame seaweed and sesame seeds are evenly mixed with the rice.
Salad
Mix all the vegetables together, ready to use.
Steak
Leave the steaks out of the fridge for 30 minutes before cooking to bring them to room temperature.

Lightly sprinkle pepper on both side of the steak.

Heat skillet/BBQ at high temperature, then add 1 tablespoon of oil to the skillet.

Add the steaks onto the skillet and cook for 30 seconds. Turn them over and cook further 30 seconds.

Transfer the steaks to a cutting board. Slice them into 2.5cm/1" wide strips.
Serving
Place 1 cup of the Mixed Rice in the centre of each serving plate.

Place the sliced steak pieces partially covering the rice.

Put the Salad on the other side of the rice.

Pour 3 tablespoons each of the sauce over the steak and serve immediately.
Recipe Notes
1. Any steak of your choice is OK. If you prefer a thick slice, feel free to use it but it will take longer to cook.
My steak was sold as thinly sliced Wagyu rump steak, although the marbling of my beef wasn't enough for a Wagyu beef.
2. I used some frozen fresh wakame seaweeds. I rinsed them to defrost, then chopped them finely. You can use dried wakame seaweed if you like. Just rehydrate them, squeeze water out and cut them finely.
3. I bought a jar of fried garlic from the Asian grocery store nearby, but I believe for Aussies, Woolworths sells it too. It will be in Asian aisle.
4. Cabaret sauvignon or merlot would be good.
5. Nutrition per serving. It does not include Mixd Rice nor Salad but it does include the  garlic sauce.
serving: 182g calories: 405kcal fat: 27g (42%) saturated fat: 8.4g (42%) trans fat: 0.1g polyunsaturated fat: 2g monounsaturated fat: 13g cholesterol: 102mg (34%) sodium: 807mg (34%) potassium: 484mg (14%) carbohydrates: 9.6g (3%) dietary fibre: 0.4g (1%) sugar: 7.4g protein: 27g vitamin a: 0% vitamin c: 1.4% calcium: 3.2% iron: 12%
Meal Ideas
A typical Japanese meal consists of a main dish, a couple of side dishes, a soup and rice. I try to come up with a combination of dishes with a variety of flavours, colours, textures and make-ahead dishes.
Today's dish already contains rice and salad. So I just added one side dish and a bowl of miso soup. You can of course serve clear soup instead of miso soup.
I thought the side dish should be something that cleanses the palate since the garlic sauce is strongly flavoured. Since the Japanese Garlic Steak Sauce contains a lot of soy sauce, I decide to pick a dish that does not contain a lot of soy sauce. Tataki Kyuri (Smashed Cucumber Salad) is perfect for it.