Cold Nyūmen (Sōmen Noodles in Soup) is a perfect summer dish. It is a life saver dish particularly when the temperature soars and you have lost your appetite. These plain and simple chilled noodles have minimalist toppings. By using shiro dashi to make a cold broth, you can serve this dish in 5 minutes!
You may remember my recipe Sōmen (Japanese Cold Noodles), which I posted some time ago. Today's recipe uses the same thin noodles – sōmen noodles.
In the case of the Sōmen recipe, you eat the noodles with a dipping sauce. The noodles are served in chilled water, but you do not drink the water.
On the other hand, Cold Nyūmen is the dish of sōmen noodles served in a broth that you are meant to drink, just like hot udon noodle dishes such as Tempura Udon and Beef Udon (Niku Udon).
About Nyūmen
Many readers probably have tried udon noodles and/or soba noodles in hot broth with toppings. Cold soba noodles such as Zaru Soba are also known among many people outside Japan. These noodle dishes are commonly served at restaurants.
But sōmen noodles are not served at restaurants in general and therefore, you may never have had a hot sōmen noodle soup, which is called 'nyūmen' (煮麺).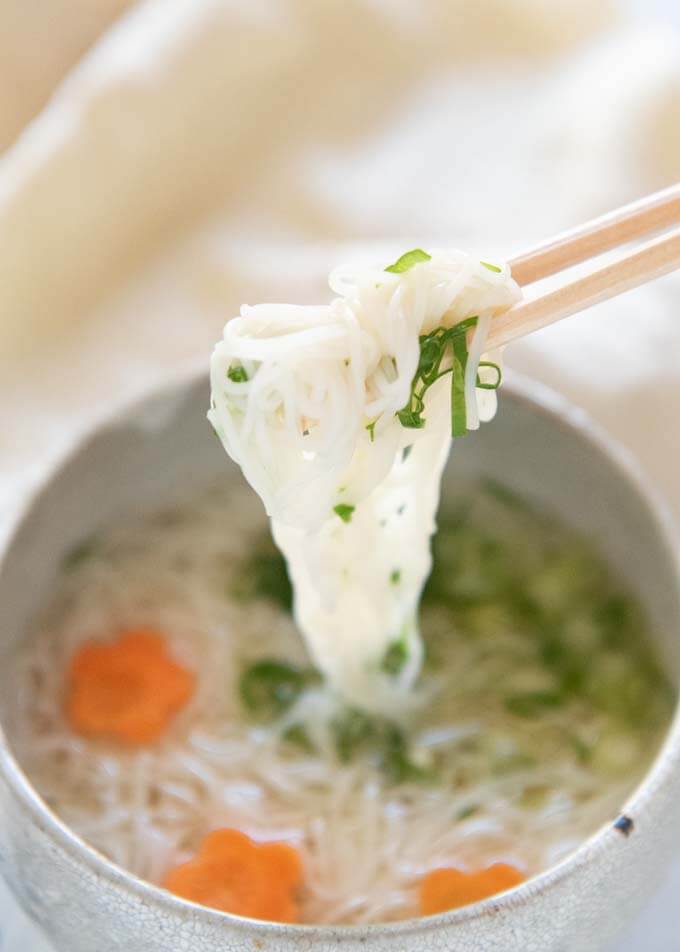 The word 'nyūmen' came from the combined words for 'niru' (煮る, cook) and 'men' (麺, noodles) because you cook the noodles in a broth. The word 'niru' became 'nyū'  for easier pronunciation.
Why then don't you call hot udon noodles 'nyūmen' is the sixty-four-dollar question. If you hear the word 'nyūmen', it is a hot noodle soup dish, and the noodles are sōmen noodles.
I chilled the broth and served sōmen noodles in it, hence I call it Cold Nyūmen.
What's in my cold Nyūmen
I wanted to make this noodle soup super-fast because you don't really want to spend a lot of time in the kitchen on a hot summer day. By using shiro dashi, you not only speed up the process of making a cold broth, but you also eliminate use of heat to make it (well, except boiling noodles).
Noodle Soup
Dried sōmen noodles
Light soy sauce or normal soy sauce
Chilled water
The standard sōmen noodles come in fine white strands but you may find coloured noodles too. I found green noodles, labelled as 'matcha sōmen' (the right pack in the photo below).
You can buy a bottle of shiro dashi at Japanese grocery stores. If you cannot find it, you can make it at home and keep it in the fridge. Please see my Shiro Dashi Recipe in the post Stir-fried Choy Sum with Deep Fried Tofu.
Alternatively, you can make a broth without using shiro dashi by mixing dashi stock, soy sauce and mirin. I included the recipe for making a broth without using shiro dashi. If you use konbu dashi, you can make a vegetarian Cold Nyūmen.
Toppings
Toppings for this dish can vary a lot. In my recipe card, I listed the two optional toppings that I tried. But you can add anything that goes with cold noodles.
Option 1: Finely chopped green onion and flower-shaped carrot pieces (per the photo of the ingredients above).
Option 2: Cooked prawns and shiraga negi (julienned green onion) – see the subsequent section for more details.
Other suitable toppings are sliced cucumbers, sliced fish cakes, blanched spinach, julienned perilla leaves and wakame seaweed. You can even add flavoured mushrooms such as Simmered Shiitake Mushrooms.
How to make Cold Nyūmen
You will be surprised to know that it is so fast to make, and no serious cooking is required.
Cook sōmen noodles as per the package instructions – usually you only need to boil for a couple of minutes.
Rinse noodles well to remove stickiness and quickly cool them down.
Mix the broth ingredients in a serving bowl.
Add the noodles to the bowl, put your choice of toppings on the noodles.
If you are making a broth without using shiro dashi, you will need to let the broth chill before serving. Naturally, this will take more time to prepare.
About Shiraga Negi
The finely julienned white part of green onions/shallots (Aussie) is called 'shiraga negi' (白髪葱), which translates to grey hair green onions, because of its appearance.
Shiraga negi does not have a strong onion smell compared to the finely chopped green onions. It also has a crunchy texture. Shiraga negi is often used as a topping for soup dishes and dishes that require a garnish.
You need to use the white part of the green onion stems and make it as follows.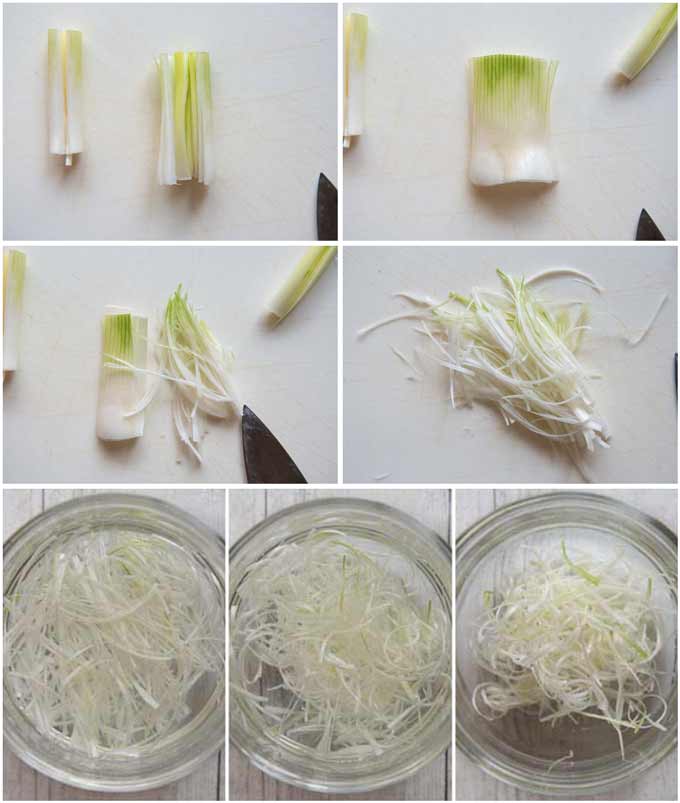 Cut the stem into 5cm / 2" long pieces.
Take each piece and make an incision lengthwise, up to the centre of the stem.
Open the incision so that the stem is flattened, outer skin up. If the core of the onion is greenish, remove it unless you want to add some colours to the shiraga negi.
Julienne the flattened onion along the direction of the fibre.
Transfer the julienned onions to the ice water for 5-10 minute. The shiraga negi strands become crispy and curl up.
Pat dry to use them.
When I made Cold Nyūmen to take photos for this post, I even added few ice cubes in the chilled water so that the ice cubes would float in the Cold Nyūmen, making the dish look cool. In the photo of matcha sōmen with the prawn toppings above, you can see a couple of floating ice cubes.
I hope you try this quick simple dish. It takes 5 minutes!
Yumiko

Cold Nyūmen (Sōmen Noodle Soup)
Cold Nyūmen is a perfect summer dish, particularly when the temperature soars and you have lost your appetite. Plain and simple chilled noodles have a minimalist topping.
I added two options for the toppings, but you can also change toppings as mentioned in note 4.
Don't forget to see the section 'MEAL IDEAS' below the recipe card! It gives you a list of dishes that I have already posted and this recipe that can make up a complete meal. I hope it is of help to you.
Keyword:
cold soup, Japanese noodle, noodle soup, sōmen noodles
Ingredients (tbsp=15ml, cup=250ml)
Broth (note 1)
300ml / 0.6pt

chilled water

1½

tbsp

shiro dashi

2

tsp

light soy sauce

(or normal soy sauce)
Toppings Option 1
2

tbsp

finely chopped shallots

(Aussie)/scallions

3

slices

carrot cut into a flower shape

(3mm / ⅛" thick, note 2)
Toppings Option 2
1 heaped

tbsp

shraga negi

(julienned green onion, note 3)

3

cooked prawns

, heads removed and peeled
Instructions
Blanch carrot pieces and cool them down (topping option 1 only).

Bring water in a medium-size saucepan to a boil.

Remove the tape around the bunch of sōmen noodles and place the noodles in the boiling water, spreading the strands.

Using chopsticks or a thin wooden spatula, stir the pot so that noodles are separated.

Boil for a couple of minutes per the instructions on the packet of the sōmen noodles.

Rinse well under running cold water to remove sliminess and cool them down quickly. Drain well.

Add the Broth ingredients to a serving bowl. Mix.

Transfer the noodles to the serving bowl.

Place the toppings of your choice (note 4) on the noodles and serve.
Recipe Notes
1. If you don't have shiro dashi, you can make a broth with 300ml dashi stock, 1 tablespoon light soy sauce, 1½ tablespoon mirin and a pinch of salt. Bring it to a boil, then cool it down.
2. I used a vegetable cutter to make plum flowers with the carrot slices. Please visit my post Sanshoku Bento, which shows the sample vegetable cutters. Note 1 in the recipe card of Sanshoku Bento also explains how to make a flower shape using a knife.
3. The section Shiraga Negi in this post explains how to make it.
4. I came up with a couple of toppings for this recipe, but you can pick anything that goes well with plain Japanese soup. Some more topping suggestions include (but not limited to) sliced cucumbers, sliced fish cakes, blanched spinach, julienned perilla leaves and wakame seaweed. You can even add flavoured mushrooms such as Simmered Shiitake Mushrooms.
Meal Ideas
A typical Japanese meal consists of a main dish, a couple of side dishes, a soup and rice. I try to come up with a combination of dishes with a variety of flavours, colours, textures and make-ahead dishes.
I have Cold Nyūmen on a hot summer day. It only makes sense to serve it with dishes that are cold/at room temperature and do not require a lot of cooking. Utilising make-ahead dishes is also a great idea.
When you don't have much of an appetite, you probably don't want too many dishes in a meal. So, I listed only three dishes today. Adjust the quantity to suit to your appetite.