One of my favourite hot pots, yosenabe (寄せ鍋) is a Japanese hot pot packed with seafood, chicken and vegetables. Unlike shabushabu, you don't need dipping sauces because yosenabe is cooked in flavoured soup. You can cook it all on the stove and serve, or let people cook piece by piece at the table for entertainment.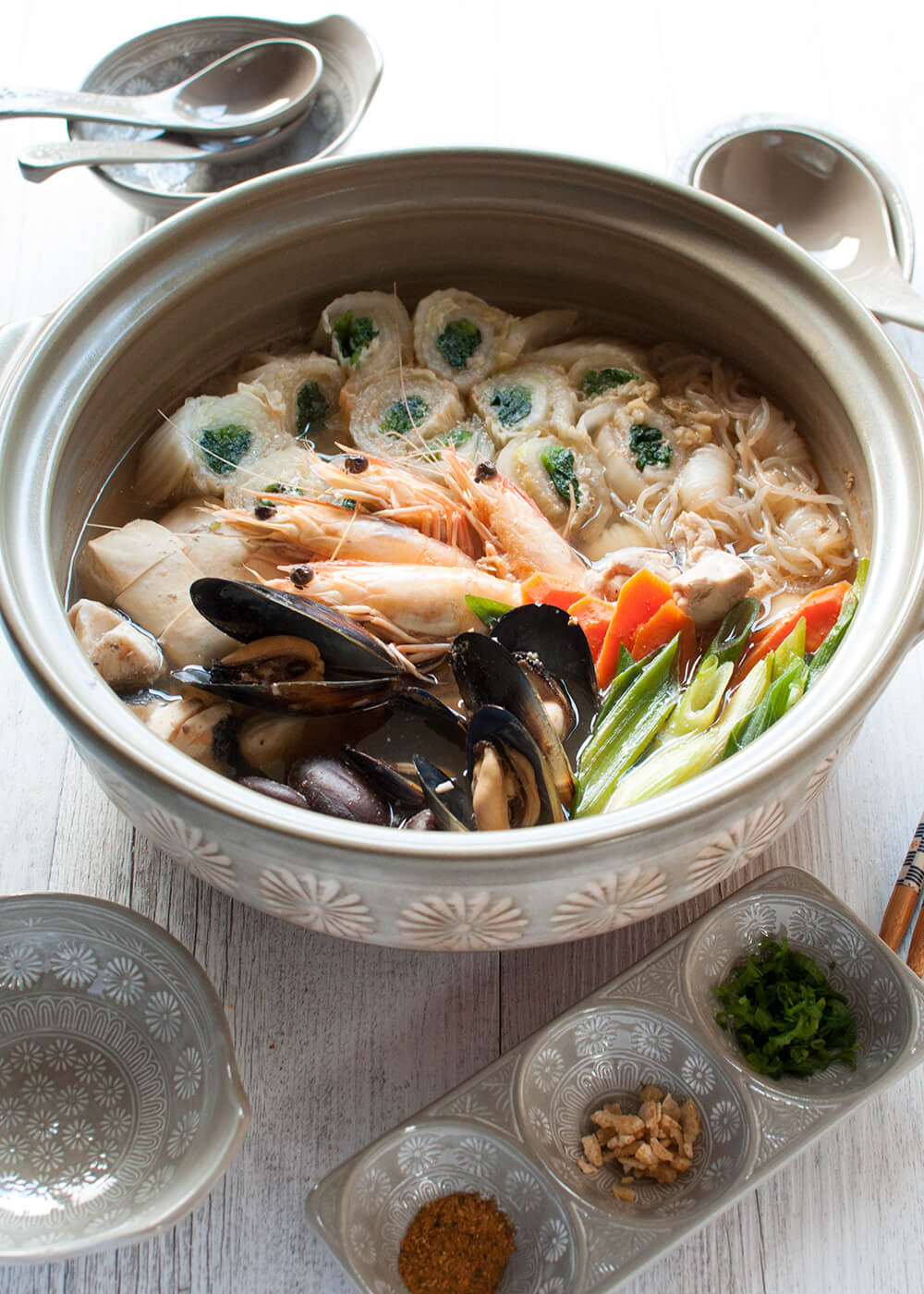 Yosenabe (寄せ鍋) is basically a combination Japanese hot pot. You can put in almost any kind of meat and vegetables that go well with the soup stock. Depending on the region in Japan, even the soup is made with different flavouring.
Yose (寄せ) comes from the verb, yoseru (寄せる) which means gather or collect. And nabe (鍋) is a pot. The name came from the way many ingredients are collected together in a pot and yosenabe is exactly that.
Yosenabe was my mother's favourite hot pot. Whenever there was a family gathering in winter, my mother treated us with yosenabe. She never made it herself though (she was not a good cook…). Yosenabe was ordered and got delivered from her favourite Japanese restaurant.
It came in a big clay pot called donabe (土鍋, see the photos of my yosenabe) filled with all the ingredients, with a separate pot of hot soup stock to be added when cooking. Even serving bowls, chopsticks, spoons and a rubbish bowl to discard bones and shells were included. So, my mother did not have to do anything, not even washing after the meal!  Well, she paid.
Perhaps because of this treat back then, I grew to like yosenabe very much. I also think yosenabe is one of the most luxurious hot pot dishes, along with sukiyaki and shabushabu, etc.
There was a survey on favourite hot pot dishes in Japan last year. Yosenabe ranked 1st among women and 2nd among men. Apparently Japanese men like sukiyaki best, but that came 2nd among women. I have already posted Sukiyaki. So, with today's recipe, you will be able to cook the top two favourite Japanese hot pot dishes.
YOSENABE INGREDIENTS
Most yosenabe are made up of seafood, meat, tofu products and vegetables. Here are the ingredients suitable for yosenabe, but not limited to:
Seafood: Non-oily firm, white meat fish such as cod, snapper, flat head, and latchet. Prawns (shrimps), clams, mussels, oysters, scallops, crabs, and squid.
Meat: Any part of chicken meat, thinly sliced pork, and chicken meat balls.
Tofu products: firm tofu, hard tofu, aburaage (deep fried thin tofu), and tofu puff (deep fried cube tofu).
Vegetables: Chinese cabbage, shallots (scallions), carrot, daikon (white radish), shiitake mushrooms, shimeji mushrooms, enoki mushrooms, cooked bamboo shoots, shungiku (chrysanthemum leaves), spinach, and shirataki.
Note: shirataki are noodles made from konnyaku potato flour. Please visit my blog, Sukiyaki for more details. Shirataki noodles come in a bag filled with water. You can also buy knotted shirataki which are specifically made for hot pots (see the photo of knotted shirataki below) so that you can pick them up easily with chopsticks. Shirataki can be purchased from Japanese/Asian grocery stores.
HOW TO COOK YOSENABE
There are two ways of cooking yosenabe. You can: (1) place all ingredients in a pot, add soup and cook it all at once or (2) heat up the soup in a pot, place the ingredients on a plate and let the diners cook it themselves on a portable cook top at the table.
In method (1), you will need to ensure that the vegetables are prepared in such way that they will all be cooked at the same time. This is one of the reasons why I pre-cooked the Chinese cabbage in my recipe.
Method (2) is interactive and great for entertaining. You don't need to worry about the cooking time of ingredients as the ones that take longer to cook can be left in the soup while you pick up other ingredients and eat as they are cooked.
AFTER EATING YOSENABE
There will be quite a bit of broth left over after eating yosenabe.  It is my family's tradition to make zosui (雑炊), also called ojiya (おじや). Zosui is a rice soup similar to congee, but unlike congee the rice is not cooked for very long . This broth is packed with flavours from all the ingredients, and rice cooked in it with beaten egg and chopped shallots is simply heaven. I will post a recipe for this next week!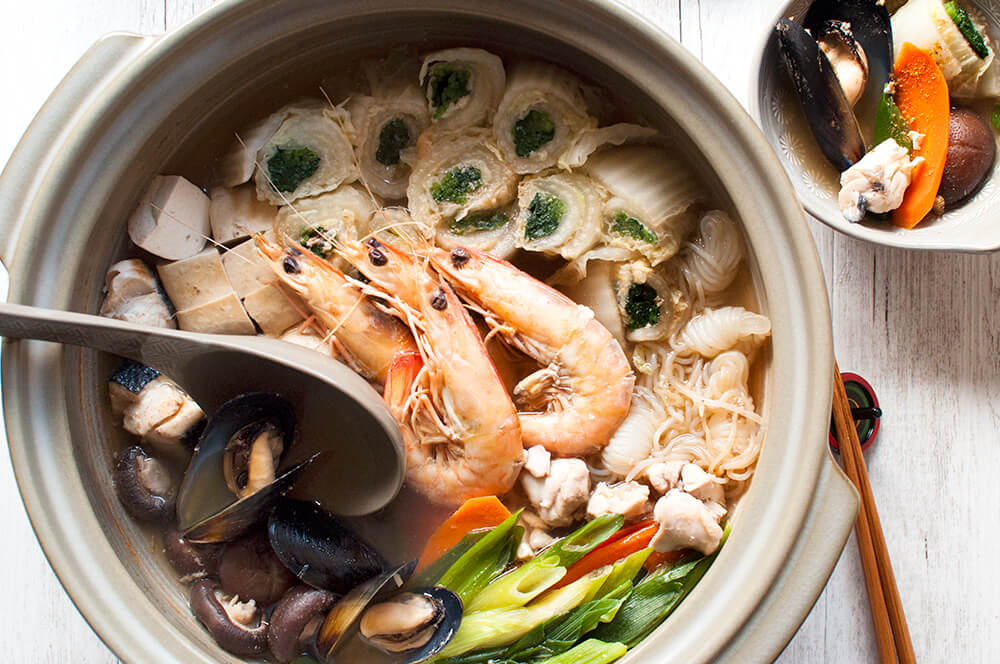 Yumiko

Yosenabe (Japanese Hot Pot)
One of my favourite hot pots, yosenabe is packed with seafood, chicken and vegetables. Unlike shabushabu, you don't need dipping sauces for this as yosenabe is cooked in flavoured soup. You can cook them all and serve, or let people cook piece by piece for entertainment. Cook Time assumes the hot pot is cooked at once.
Ingredients (tbsp=15ml, cup=250ml)
Fish and Meat
150g (5.3oz)

white meat fish fillets, cut into bite size pieces (I used blue eye cod)

4

medium size prawns

(shrimps), deveined (note 1)

4

mussels

, beard removed, shell cleaned

150g (5.3oz)

chicken thigh fillets, cut into bite size pieces
Vegetables
10

Chinese cabbage leaves

(350g (12.3oz))

½

bunch spinach

(100g (3.5oz))

50g (1.8oz)

carrot, diagonally sliced into 5cm (2") lengths

2

stems of shallots

(scallions), diagonally sliced into 5cm (2") lengths

6

shiitake mushrooms

, stem removed (note 2)

150g (5.3oz) or ½

pack

of firm tofu, cut into 6 small blocks

150g (5.3oz) or ½

pack

of knotted shirataki, rinsed and drained (note 3)
Soup Stock
600ml (20.3oz)

dashi stock (note 4)

40ml (1.4oz)

light soy sauce (note 5)

1

tbsp

sake

(Japanese rice wine)

½

tbsp

mirin
Instructions
Make Chinese Cabbage Rolls (note 6)
Boil Chinese cabbage in a large pot for about 8-10 minutes or until the thickest part of the stem becomes tender. Transfer the leaves from the pot to a strainer and drain.

Using the same pot and water used for Chinese cabbage, blanch spinach for a minute until the colour of the leaves become bright green colour. Drain in a strainer and run cold water over the spinach to quickly cool it down so that it is no longer warm.

Hold the bunch of Chinese cabbage vertically and squeeze out excess water. Do the same for the spinach.

(Please see the photo steps below the recipe for the remaining steps below) Place a bamboo sushi mat (if you have one) or two layers of baking sheets made into a square with the width of the baking sheet on the cutting board.

One leaf at a time, Chinese cabbage leaves need to be placed horizontally with the inside of the leaves facing up, slightly overlapping each other.

Starting from the end closest to you, place a Chinese cabbage leaf on the mat/paper.

Place a second leaf wrong way around so that the root end of the leaf is placed next to the tip of the leaf of the first cabbage leaf. Make sure that two leaves overlap slightly for continuity.

The 3rd leaf will now be placed in the same direction as the first leaf. Repeat with two more leaves.

Take half of the boiled spinach leaves and place them horizontally on your end of the Chinese cabbage, leaving a 1cm (3/8") gap.

Starting from your end of the mat or baking paper, pick up the end of the mat/paper using both hands and start rolling the cabbage slowly using the mat/paper to support. Place the middle fingers and the index fingers onto the vegetables to secure them when rolling.

Once the mat/paper goes over the rolled part of Chinese cabbage (be this time, Chinese cabbage covered the spinach (see the 3rd photo in the photo steps), move one hand to the outside of mat/paper to support the roll while pulling the mat/paper forward using the other hand.

When completely rolled, squeeze the roll while the mat/paper is still on the roll so that excess water will be removed while keeping the log shape (excess water will make the soup stock thinner). If you tilt the roll vertically, water drains better.

Repeat and make one more log. Cut the log into roughly 4cm (1 1/2") disks.
Soup Stock
Mix the Stock Ingredients together in a bowl or a jar.
To Cook at Once on Stove
Group each ingredient together and place them in a wide shallow pot. I always place prawns and shells in the centre for dramatic effect when cooked.

Pour the soup stock into the pot and heat over high heat with a lid on. Once it has started boiling, turn it down to medium low heat to simmer for about 5-8 minutes until all ingredients are cooked through.

Serve immediately.
To Cook on Dinner Table
Place ingredients on a large plate, grouping each ingredient together, accompanied by a pair of long chopsticks or tongs to pick up the ingredients (particularly seafood and met) and drop them into the pot.

Add the soup stock into a pot and place it on a portable cook top. Bring it to a boil.

Let each individual pick the ingredients of their choice and cook in the pot or let someone pick some ingredients and cook them in the pot for the others. You may need to adjust the heat depending on how full/empty the pot is.
How to Eat Yosenabe
You will need a ladle or a large spoon to pick up delicate ingredients and soup from the pot as well as small bowls for individuals.

Using individual's chopsticks or a ladle/spoon, take food from the pot into an individual bowl. Add some soup stock with a ladle/spoon to the bowl.

Add a dash of shichimi togarashi to the bowl, if you are using it.
Recipe Notes
1. My prawns were about 40g (1.4oz) each. I did not remove the head, nor the shells because I wanted to extract good flavour out of them. You can remove the head and shells if you like.
2. To decorate the surface of shiitake with flower pattern, I made 3 incisions crossing in the centre, then made v-shape cuts along these lines.
3. Shirataki is made from konnyaku potato flour. Details are in my Sukiyaki post. As you can see in the photos, my shirataki are knotted so that they are easier to pick up and do not spread everywhere unlike in the loose noodle style. You can buy knotted shirataki in Japanese/Asian grocery stores.
If you only have loose shirataki, that's also OK. You have to spread the noodles on the cutting board, about 20cm wide, and cut them in half so that you can pick up shirataki easier.
4. Because yosenabe soup stock is quite simple and does not contain strong flavours, it is important to use good dashi stock full of dashi flavour. I would recommend making awase-dashi which uses bonito flakes and konbu. Please refer to Home Style Japanese Dashi Stock.
You could also use instant dashi stock if you like. These days, you can even buy instant awase-dashi stock at Japanese and some Asian grocery stores in Sydney.
5. Light soy sauce is used to keep the colour of the soup stock lighter. Ordinary Japanese soy sauce is fine if you don't have light soy sauce. But if you are using ordinary soy sauce, you would want to add a good pinch of salt to the sauce as the light soy sauce contain more salt.
6. I made Chinese cabbage rolls because they look lovely and more professional as well as reducing the cooking time in the pot with other ingredients.
If it is too fiddly, you don't need to make Chinese cabbage rolls. You could simply cut each leaf in half vertically, then cut them into 5cm (2") lengths. While part of Chinese cabbage could be sliced diagonally if you wish so that they cook faster.
Spinach can be cut into two or three to shorten the length. They don't need to be pre-cooked but the white part of the Chinese cabbage leaves need to be cooked ahead of other ingredients as they take longer to become tender if they are very thick.