Seasoned with combinations of soy sauce, sake and sugar, Simmered Pumpkin is simple to cook and one of the best ways to enjoy the taste of Japanese pumpkin. It is quick to make and great to serve hot or cold.
The first thing that comes to my mind when I think of pumpkin recipes is Simmered Pumpkin (Kabocha no Nimono). I think that many Japanese people think the same way.
Even though this is a representative Japanese pumpkin recipe, it had been forgotten and sitting in my file until one of my readers recently requested it in her touching email.
About Kabocha
Kabocha (かぼちゃor 南瓜) is a variety of pumpkin  and is often called Japanese pumpkin or Kabocha squash.  But even among Japanese pumpkins, there are different species.
The Japanese pumpkin that I used today is pretty large by Japanese standards (well, everything here in Australia seems large anyway) and the colour of the skin is a bit different from those you find in Japan.
The kabocha sold in Japan is small and has very dark green skin. It can almost fit in one hand with fingers wide spread. But the Japanese pumpkin I used is about 3 times larger and the skin had the light brown and dark green pattern. Although it is sold as Japanese Pumpkin, this kind of pumpkin is also called Kent pumpkin.
Compared to butternut pumpkin, which might be more readily used in Western cuisines, Kabocha contains less calories. It is also a great source of vitamin A.
Preparing Pumpkin for Simmering
The skin of Japanese pumpkin is hard but edible. The flesh closest to the skin is a bit hard as well but the flesh closer to the centre where the seeds are is very soft. This makes it tricky when simmering pumpkin pieces in a pot.
Have you ever cooked pumpkin pieces only to find out that one side of the pumpkin piece is disintegrated while the other side is cooked perfectly? That's because of the different firmness of the flesh.
Here are the few things you can do to avoid inconsistency in the texture.
Cut the pumpkin into similar size pieces (about 4cm/1½" cubes) so that they cook at the same time.
Peel part of the skin off of each piece in a few patches to allow the simmering sauce penetrate  the hard part of the flesh.
Trim the corners and sides of each piece to prevent the corners from breaking easily.
Place pumpkin pieces skin side down when simmering so that the hardest part gets cooked more.
Cooking Technique – Mentori (面取り)
The cooking technique to trim corners and sides of vegetables is called 'mentori' (面取り). The name came from the fact that by removing a corner/side, you get ('tori', 取り) an extra flat surface ('men', 面).
This technique is commonly used when simmering vegetables, especially when there is a possibility of breaking the corners of the vegetables. I used this technique to prepare daikon/white radish in my recipe, Oden (Simmered One Pot Dish).
You can use either a knife or a peeler to remove the corners. The photo below compares pumpkin pieces before and after mentori.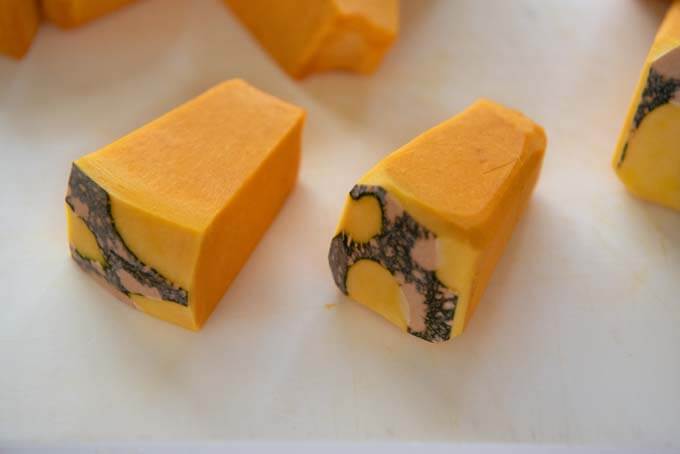 Flavouring of Simmered Pumpkin
The word 'nimono' (煮もの) means cooked dish/simmered dish. Most simmered dishes use dashi stock to give umami flavour to the dish. But Kabocha no Nimono (かぼちゃの煮もの) does not use usual dashi stock. Some recipes don't use stock at all so that you can make the most out of sweetness and flavour of the pumpkin.
I used konbu dashi today by simply rehydrating konbu in water but you can use just water instead.
For 250ml/8.5oz of water or konbu dashi, you will need 2 tablespoons of sugar, 1½ tablespoons of soy sauce and 1½ tablespoons of sake. To enhance the sweetness of the pumpkin, sprinkle sugar over the pumpkin pieces and leave it for 10-15 minutes before cooking.
Simmered Pumpkin (Kabocha no Nimono) can be served hot, at room temperature or cold. It keeps 3 days in the fridge. It is a great dish to go into a bento box!
Yumiko

P.S. Don't forget to see the section 'MEAL IDEAS' below the recipe card! It gives you a list of dishes that I have already posted and the new recipe in this post that can make up a complete meal. I hope it is of help to you.
Simmered Pumpkin (Kabocha no Nimono)
Seasoned with combinations of soy sauce, sake and sugar, Simmered Pumpkin is simple to cook and one of the best ways to enjoy the taste of Japanese pumpkin. It is quick to make and great to serve hot or cold.
Keyword:
kabocha, kabocha squash recipe, pumpkin, pumpkin recipe, simmered pumpkin
Ingredients (tbsp=15ml, cup=250ml)
600g/1.3lb

Japanese pumpkin

(note 1)

2

tbsp

sugar

250ml/8.5oz

konbu dashi

(or water)

1½

tbsp

soy sauce

1½

tbsp

sake
Instructions
Remove seeds using a spoon, including stringy tissues. Cut the pumpkin into about 4cm/1½" cubes (note 2).

Peel part of skin of each piece in patches and trim corners of each pumpkin piece (note 3).

Place pumpkin pieces in a shallow pot, skin side down. Make sure that the pumpkin pieces are snuggly fit in the pot without overlapping (note 4).

Sprinkle sugar over the top of the pumpkin pieces evenly and leave for 15 minutes.

Add remaining ingredients to the pot and bring it to a boil over high heat.

Reduce the heat to medium, place a drop lid on (note 5) and cook for 10-15 minutes until the pumpkin is cooked (a skewer can get through).

Turn the heat off and transfer the pumpkin to serving bowls.
Recipe Notes
1. There are different varieties of Japanese pumpkins. In Australia, Kent pumpkin is often labelled as Japanese Pumpkin and that is what I used today. It is larger in size than the Japanese version and the skin colour is different, but it works well with this recipe. If you can find the Japanese version of Kabocha, it's even better.
2. See the step-by-step photo in the post showing how to cut the pumpkin.
3. See the step-by-step photo in the post showing how to remove skin in patches and trim corners, which is a cooking technique called 'mentori' (面取り) in Japanese.
4. If the pot is too large, place a small bowl or a cup to fill the space so that the pumpkin sits on the bottom of the pot without extra room to move around.
5. A drop lid is called 'otoshibuta' (落し蓋) in Japanese. It is a round lid that is slightly smaller than the opening of a saucepan. It is traditionally made of wood but I have a stainless-steel lid. It is placed on top of the ingredients in a pot to ensure the heat is evenly distributed, and the ingredients cook faster, and stay in place without breaking apart. It also stops the liquid from evaporating quickly.
If you don't have a drop lid, you can make one with baking paper or aluminium foil. Cut a square in foil, fold the edges to make it a round shape with the diameter slightly smaller than the pot. Then poke the foil with a knife or a chopstick to make holes in several places.
6. Nutrition information per serving.
serving: 229g calories: 84kcal fat: 0.7g (1%) saturated fat: 0.2g (1%) trans fat: 0g polyunsaturated fat: 0.1g monounsaturated fat: 0.2g cholesterol: 0.6mg (0%) sodium: 427mg (18%) potassium: 626mg (18%) carbohydrates: 17g (6%) dietary fibre: 0.8g (3%) sugar: 10g protein: 3.4g vitamin a: 255% vitamin c: 23% calcium: 2.7% iron: 7.2%
Meal Ideas
A typical Japanese meal consists of a main dish, a couple of side dishes, a soup and rice. I try to come up with a combination of dishes with a variety of flavours, colours, textures and make-ahead dishes.
Given that Simmered Pumpkin (Kabocha no Nimono) is a long-standing home-cooking dish and also a vegetarian dish, I match it with other long-standing home-cooking dishes which can be vegetarian.
The recipe for the Main includes tiny dried fish but to make it vegetarian, omit the fish or replace it with other vegetables. For the other dishes and Rice where Dashi Stock is used, use Konbu Dashi in Varieties of Dashi Stock to make the dish vegetarian.