Ozōni is a special dish that most Japanese households serve on New Year's Day. It is a clear soup with cooked rice cakes and colourful ingredients such as prawns, shiitake, and mitsuba (wild Japanese parsley). Ingredients can vary and you can even make it vegetarian.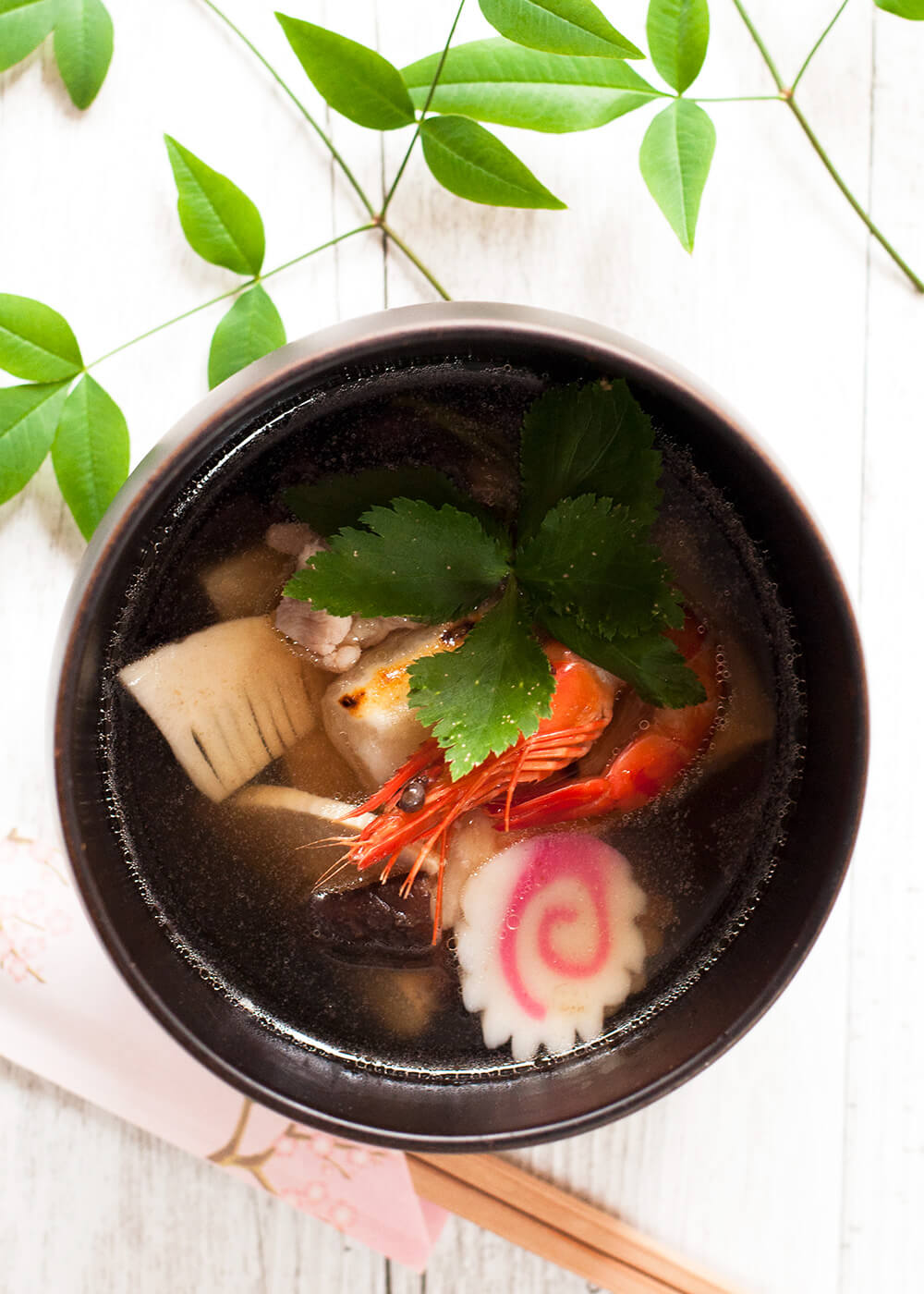 When you talk about Japanese New Year's feasts, you have to mention osechi ryori (お節料理, traditional Japanese New Year foods) and ozōni (お雑煮, clear soup with rice cake).
Very traditional osechi ryori is served in 4-5 layers of square boxes. Each layer contains numerous dishes that are dried, marinated and/or cooked so that they can last a few days even if left in a cool room without storing them in the fridge. These days, not many households serve osechi ryori in 5-layered boxes – 2 or 3 layers are most common.
When my mother was still active and able to cook, she served the 3-layer boxes of osechi ryori consisting of a dozen or more different foods. Some were store-bought foods but some were prepared by her several days before New Year's Day. You can click here (Wikipedia) to get some ideas of what osechi ryori looks like.
In the morning on New Year's Day, osechi ryori was displayed on the table with otoso (お屠蘇, medicinal sake), which was to be drunk ceremoniously to lead a healthy life. Sake is served from a small Japanese lacquered kettle and poured onto a flat drinking cup called sakazuki (盃).
Everyone needed to be seated at the table. We bowed and said in unison, "Akemashite omedeto gozaimasu," which means it is wonderful to have a beginning of the year. But it is often translated as simply "Happy New Year". It is followed by "Kotoshimo douzo yoroshiku onegaishimasu" which means "I look forward to your continued good will in coming year". Then starting from the head of the household, we took turns to drink sake from the sakazuki. Sakazuki comes in three sizes and I always went for the largest!
Once everyone had a sip of sake, we then started the feast. Towards the end of the feast, ozōni would be served to conclude the New Year's celebration feast. My mother used to say that we must have even a small amount of ozōni as it was part of the celebration.
Many of the osechi ryori foods are sweet or strongly flavoured to preserve them better. So it is quite comforting to have lightly flavoured clear soup at the end of the feast. And the texture of the omochi which became even stickier in the hot soup is something so special.
Ozōni recipes vary household by household and region by region. Even the same household could vary the ingredients to go into the soup. But you must have at least one rice cake as you can't call it ozōni otherwise.
Rice Cake
Rice Cake is "omochi" (お餅) in Japanese which is made from sticky rice called mochigome (餅米). Sticky rice is steamed and then pounded into sticky dough. This sticky dough is generically called "omochi" and is formed into different shapes while it is still soft.
As part of New Year's decorations, omochi is formed into a dome shape and 2 layers of domed omochi of different sizes are placed with a bitter orange called "daidai" (橙)on top and other ornamental decorations. This is called kagamimochi (鏡餅) and was originally an offering to the grain God. It is traditional to place kagamimochi in significant places inside the house, e.g. near the entrance door, Shinto altar, and decorated alcove.
For eating, there are many other shapes and forms of omochi, but in my family we ate omochi in a flat rectangular shape of about 4cm x 6cm x 1.5cm (1½" x 2⅜" x ½"). My father was fond of omochi so he always ordered several sheets of freshly made omochi from his favourite rice shop. Omochi sheets are about 20cm x 30cm (8″ x 11¾") and when delivered, they are quite soft. The omochi sheets have to be left to dry half way so that the large sheet can be cut into serving size blocks with a knife. It was my father's task to cut them into small rice cakes because it really needs strong arm muscles to cut though several sheets of semi-dried rice cake.
But nowadays, you can buy individually wrapped serving size omochi at supermarkets. Outside of Japan, you can buy them at Japanese grocery stores. See the top photo below.
Uncooked rice cakes are very hard but when you grill them over medium low heat, the outside gets char-grilled and the inside will start puffing up. Once the omochi gets well puffed up, they are cooked and ready to eat. See the bottom photo below.
Ozōni Ingredients
Apart from the rice cake, the ingredients that go into ozōni vary a lot, particularly between the Kanto region where Tokyo is and the Kansai region where Osaka and Kyoto are. My family is from the Kanto region and we usually add chicken pieces, kamaboko (steamed fish paste), bamboo shoots, shiitake mushrooms, and boiled prawns (shrimps) with mitsuba as a garnish.
Instead of prawns, we might use sliced carrots. Instead of mitsuba, you could use green leaves such as spinach. Sliced daikon (white radish) can be used instead of bamboo shoots. Instead of shiitake mushrooms, you could use shimeji mushrooms. You can be creative as long as the ingredients go well in Japanese clear soup.
In Kyushu (Western part of Japan), a piece of fish is added to ozōni!
My recipe today does not use kamaboko. Instead I use narutomaki, which is a different type of kamaboko with a pink swirl in the middle. See the photo of ingredients and narutomaki below.
Kanto Style Ozōni and Kansai Style Ozōni
Just like the method of cooking sukiyaki that I talked about in my recipe Sukiyaki, even ozōni soup is different between the Kanto region and the Kansai region. Kanto region soup is clear soup with salt and soy sauce flavour. But the Kansai version adds miso to the soup which makes the ozōni like miso soup. Kyoto style ozōni uses Saikyo miso (sweet white miso) in the soup, so the soup is a bit sweet.
The shape of the omochi is also different. As per my household, the Kanto region omochi is a thin rectangular block. But in the Kansai region, it is common to use small round omochi.
In my recipe, I added two pieces of rice cake per person, but it can be one each if you are not a big eater. One standard piece of omochi is about a half bowl of rice. So it is not excessive to have two omochi pieces in the soup!
It is so easy to make ozōni and of course, you can eat it anytime of the year.
Yumiko

Ozōni (Clear Soup with Rice Cake)
Ozōni is a special dish that most Japanese households serve on New Year's Day. It is a clear soup with cooked rice cakes and colourful ingredients such as prawns, shiitake, and mitsuba (wild Japanese parsley). Ingredients can vary and you can even make it vegetarian.
Ingredients (tbsp=15ml, cup=250ml)
2

small to medium size cooked prawns

(shrimp) (note 1)

25g (0.9oz)

chicken thigh fillet, no skin (note 2)

2

shiitake mushrooms

4

thinly sliced bamboo shoots

(note 3)

4

slices

of narutomaki

(note 4)

4

rice cakes
Clear Soup
400ml (13.5oz)

dashi stock (note 5)

¼

tsp

salt

½

tsp

light soy sauce
Garnish
4

stems of mitsuba

(note 6)
Instructions
Peel the shell of the prawns leaving head and tail intact.

Cut chicken thigh into 4 bite size pieces.

Remove the stems of shiitake mushrooms and cut into quarters (or half if small).

If the stems of mitsuba are long enough to make a knot, then take two stems together and tie an overhand knot.

Place the rice cakes under the griller. When the surface of the rice cakes start to burn with a bit of black on the surface (about 3 minutes), turn them over (note 7).

Cook further 3 minutes until the rice cakes puff up (this means all cooked and soft inside). Remove from the heat.

While grilling the rice cakes, add clear soup ingredients to a saucepan and bring to a simmer over medium high heat.

Add chicken and cook for a couple of minutes, then add shiitake, bamboo shoots and narutomaki slices. Cook for ½ -1 minute and turn the heat off.

Place two rice cakes in each serving bowl.

Divide ingredients in the soup into two equal portions and scatter them in the serving bowls.

Place a prawn in the centre of each bowl and add the soup.

Garnish with mitsuba and serve immediately.
Recipe Notes
1. You don't need to leave the head on but I thought it would look a bit luxurious.
You could buy fresh prawns and cook yourself, if you like.
2. I prefer chicken thigh to breast meat. But you can use breast or even tenderloin. I think that chicken would be best suited for this soup but you can use pork if you like.
The amount of meat is very small but I usually cook other dishes to go with ozōni. I buy a larger quantity of thigh fillets and put aside small pieces for this soup.
3. I bought a vacuum sealed tip of whole bamboo shoots at the Japanese grocery store as I needed to cook other dishes with them. Each bamboo shoot was about 8cm (3") tall. I cut off the tip, 4cm from the top, halved it and then sliced it into 2mm thick pieces.
You could also buy canned bamboo shoots, some of which are already sliced.
Instead of bamboo shoots, you could use sliced daikon (white radish) or turnip.
4. Narutomaki is a steamed fish paste which comes in a log shape with a pink spiral pattern. Unlike kamaboko which is also a steamed fish paste, narutomaki is usually served as a decoration or garnish.
You can find narutomaki in the freezer section of Japanese grocery stores.
5. Please refer to my post, Home Style Japanese Dashi Stock.
If you would like a vegetarian version of ozōni, eliminating the chicken and prawn, then please use vegetarian dashi stock, which you can find in Varieties of Dashi Stock.
6. Mitsuba is wild Japanese parsley or the Japanese version of Cryptotaenia. You can substitute it for boiled spinach, snow peas or other green leaves which do not have a very strong flavour.
If using spinach leaves, blanch them and cut into 4cm (1½") lengths. Snow peas can just be blanched but if large, cut it diagonally into two.
7. Cooking time varies depending on the heat of the grill. You could also use a stove top griller or BBQ griller. I tried a griddle pan to see if it would cook the rice cakes well. It will cook them but it takes much longer than direct heating method.