My children loved this when they were younger!  Sanshoku bento is a lovely looking rice dish with three toppings – seasoned beef mince, egg and peas. It is easy to make and so yummy.
The dish is great for kids and suitable for a Japanese style lunch box too. It is so beautiful that you don't want to break the perfect colour palette to mix the toppings into the rice, but you have to!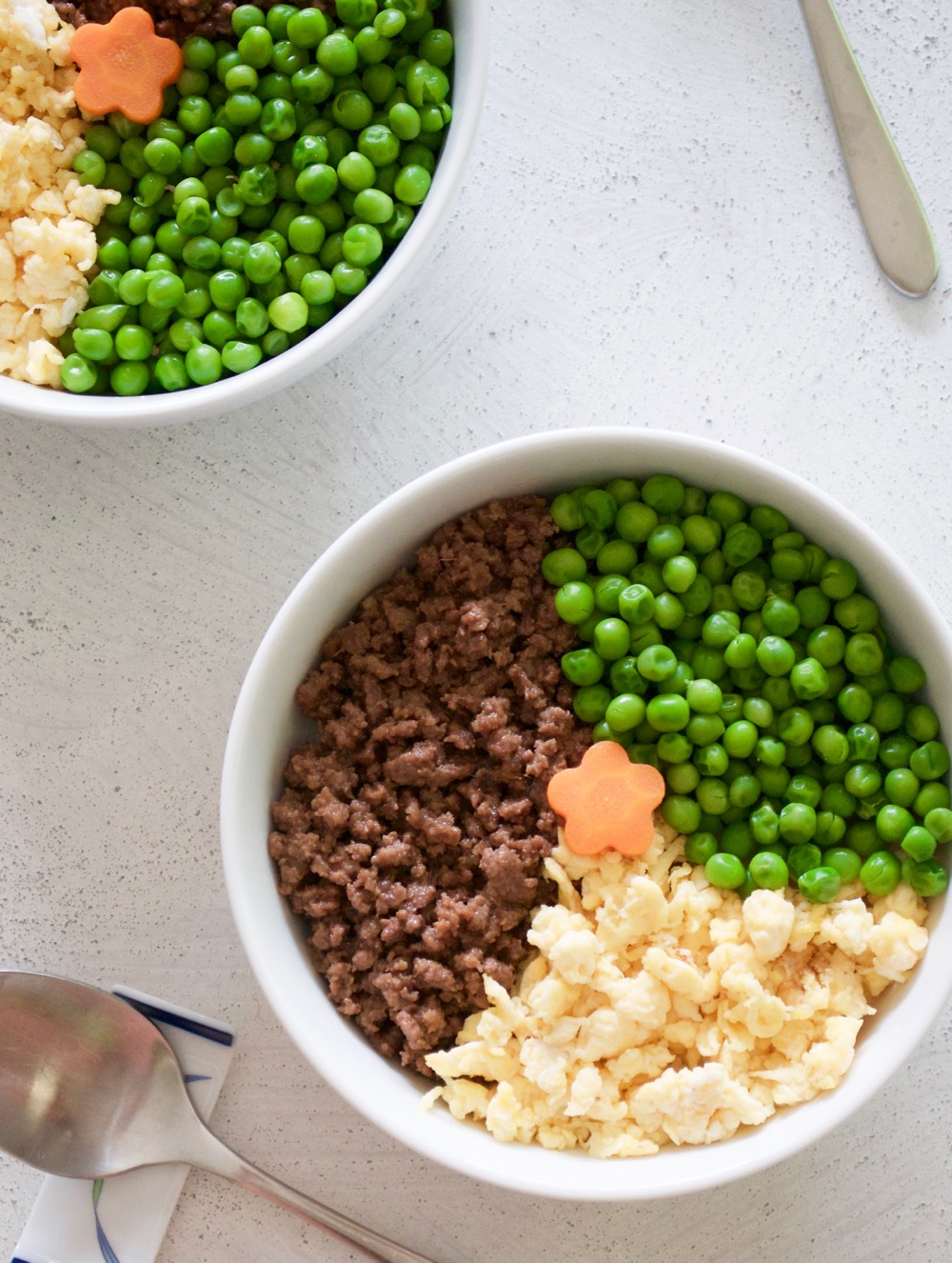 It is said that the Japanese first taste dishes by sight, then eat to appreciate the texture and flavour of the dish. Japanese chefs pay a lot of attention to the presentation of dishes. But you don't have to be a chef or a good cook to make an eye catching dish like this Japanese rice bowl.
This is usually called "sanshoku gohan" (三色ご飯, tri-coloured rice) or "sanshoku-don" (三色丼, tri-coloured rice bowl) when served at home. Sanshoku (三色) means "three colours", gohan (ご飯) is cooked rice and don (丼) is a short form of donburi (丼ぶり) which is a large bowl. So, it is a rice dish with toppings of three different colours.  When you make this in a lunch box, it should be called "sanshoku bento" (三色弁当) as bento is the take out form of the meal. (No more Japanese lessons today. I promise!)
All my children call this dish sanshoku bento regardless of how it is served because that's what I called it when I first served it to them about 30 years ago. As they were still little kids, I thought the word "bento" would excite them. It was only recently that I told Nagi what sanshoku bento meant but then she said "Well, we still call it sanshoku bento!" So here it is.
I used beef mince in this recipe but you can use pork mince or chicken mince which will be a lighter brown than the beef mince once cooked. You might find the flavour of the mince is much stronger than that of egg and peas. As egg and peas are lightly flavoured,  mince needs  to balance the flavours.
I personally prefer using other green vegetables in place of green peas but Nagi insisted I use green peas because (1) she loves green peas, and (2) that's how I served it a long long time ago. You can substitute green peas with snow peas or green beans, diagonally julienned, to add a crunchier texture to the dish. You could also use chopped spinach.
The egg in this dish is the Japanese style scrambled egg called "iritamago" (炒り卵), i.e. cooked through without leaving any moisture unlike Western style scrambled eggs. (Sorry, one more Japanese word to learn!)
The carrot in the centre (i.e. garnish) is cut into the flower shape. I have a set of vegetable cutters which is just like a set of cookie cutters. But they are much smaller (about 3cm / 1.2 inch in diameter) and the edge is very sharp. The photo below shows my vegetable cutters and the corresponding shape you can get (I cut the shapes from a white radish). From left to right, the shape looks like a chrysanthemum (I think), a bellflower, a cherry blossom and a plum flower.
You might find the vegetable cutters at a Japanese grocery store. If your country has a discount store called Daiso, you might find it there, too. If you don't have vegetable cutters, don't worry, you can make a carrot flower using just a knife. Please see the note in the recipe.
Unlike a usual Japanese meal, we eat sanshoku bento with a spoon. This is not a rule, but it is a challenge to eat sanshoku bento with chopsticks.
I think this is a great dish for kids. There are so many things about this dish which would excite children.
The beautiful colour combinations
The pretty flower in the middle
Easy to eat with a spoon
The slightly sweet, yummy flavour
There are no rules as to what should be the toppings to make it tri-coloured. I have seen some recipes with salmon flakes in place of the beef mince, and cooked carrots instead of green peas. You can also be more creative and partition the toppings in a different way and replace a carrot flower with a different shape!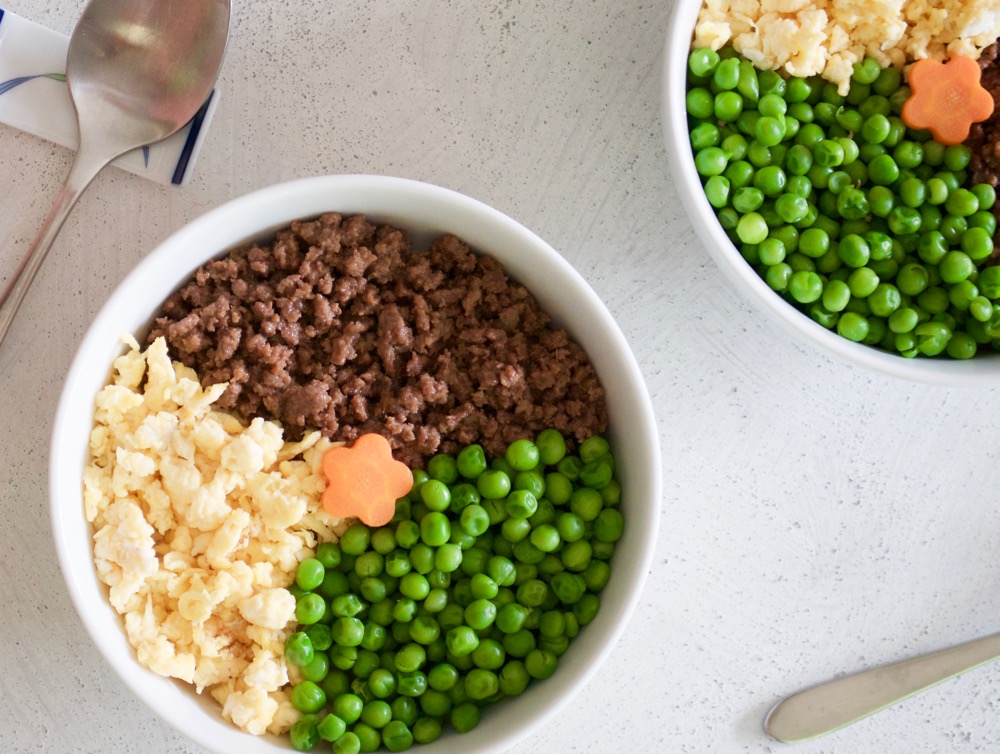 Yumiko

Sanshoku Bento (Tri-coloured Rice Bowl)
Lovely looking rice bowl dish with three toppings - egg, beef mince and peas. You can use pork mince or chicken mince if you like and the green element can be chopped snow peas or even spinach. Perfect for a kid's lunch!
Ingredients (tbsp=15ml, cup=250ml)
Peas
1

cup

of frozen peas

A pinch of salt
Iri Tamago (finely scrambled egg)
2

eggs

½

tbsp

sugar

1

tsp

sake

pinch

of salt
Decoration (optional)
2

round slices of carrot cut into flower shape

(3mm (⅛") thickness, Note 1)
Instructions
Add oil to a small pot or fry pan over medium high heat. Add ginger and stir for 30-60 seconds until you can smell the ginger fragrance, then add the beef mince. Stir fry the beef mince, making sure to break up the beef mince into each grain (It should take about 5 minutes).

When the beef mince is cooked through, add the remaining mince ingredients and mix together. Occasionally stir the ingredients until the liquid is almost evaporated. Be careful not to burn the mince. Turn off the heat and leave it aside until required.

Boil 2-3 cups of water in a small sauce pan. Add a pinch of salt and frozen peas. Cook for 2-3 minutes and drain.

Add the Iri Tamago ingredients in a bowl and beat lightly. Heat a small pot or deep small frying pan, preferably non-stick (Note 2), over medium heat and pour in the egg mixture.

Use two pairs of cooking chopsticks together and stir vigorously (Note 3) until the eggs are cooked through. The eggs should be broken up into small pieces, like the beef mince.

Place rice in 2 bowls. Make sure that the surface of the rice is flat and level.

Using a spoon, place half of the cooked beef mince on the rice, covering ⅓ of the surface, then add the eggs next to the mince covering another ⅓ of the surface. Fill the remaining ⅓ with the green peas. Repeat the same for the other bowl.

Place a carrot flower (if using) or any edible substitute in the centre for decoration. (Note 1)
Recipe Notes
1. If you have a vegetable cutter in a flower shape (see the post for samples), that would be the easiest. But if you don't, you can still make a flower carrot with a knife.
To make a plum flower shape with a knife: Slice one round slice (3mm / 0.1 inch thickness) taken from the length of the carrot. Make 5 small v-shape cuts around the edge of the round slice in equal spacing. Shape the edges of the petals by removing pointy edges.
Boil or microwave the flowers to soften them.
2. Iri tamago is meant to be cooked without oil hence non-stick pan would be the best. But if you don't have a non-stick pan, I would recommend heating a small amount of oil in the pan and wipe excess oil off before cooking the eggs.
3. If you don't have 2 pairs of cooking chopsticks, you can use a small egg beater or a fork. Or use whatever can break up the cooked egg into small pieces, like the cooked mince.
4. Nutrition below assumes 1 cup of cooked rice per serving.
serving: 434g  calories: 701kcal  fat: 29g (45%)  saturated fat: 9.5g (48%)  polyunsaturated fat: 2.3g  monounsaturated fat: 13g  cholesterol: 257mg (86%)  sodium: 990mg (41%) potassium: 553mg (16%)  carbohydrates: 71g (24%)  dietary fibre: 4.43g (18%)  sugar: 17g  protein: 33g  vitamin a: 46%  vitamin c: 14%  calcium: 6.7%  iron: 34%