Today's side dish, Poached Chicken Tenderloin with Mustard-miso Dressing, gives you two surprises. The chicken tenderloin is surprisingly moist, and the flavour of the dressing (made by combining mustard and miso) is surprisingly good. It really is a delicious dish.
Although chicken tenderloin is the main ingredient, I think that the Mustard-miso Dressing is the hero of today's dish. The sweet and sour miso dressing has a kick of Japanese mustard.
About Mustard-miso Dressing
When vegetables, meat, and/or seafood are dressed in Mustard-miso Dressing, the dish is called 'karashi sumiso-ae' (辛子酢味噌和え) or 'karashi miso-ae' (辛子味噌和え). The former contains vinegar, which I used today, and the latter doesn't.
As mentioned in my post Broccolini Karashi-ae (Mustard Dressing), dishes dressed or seasoned usually have the name suffixed with '-ae' (和え). I listed typical dressings such as 'karashi-ae' (辛子和え, mustard-based), 'miso-ae' (味噌和え, miso-based) 'sumiso-ae' (酢味噌和え, vinegar and miso-based) in this post.
Today's dressing is a mixture of these, i.e. the dressing is made with mustard, vinegar and miso.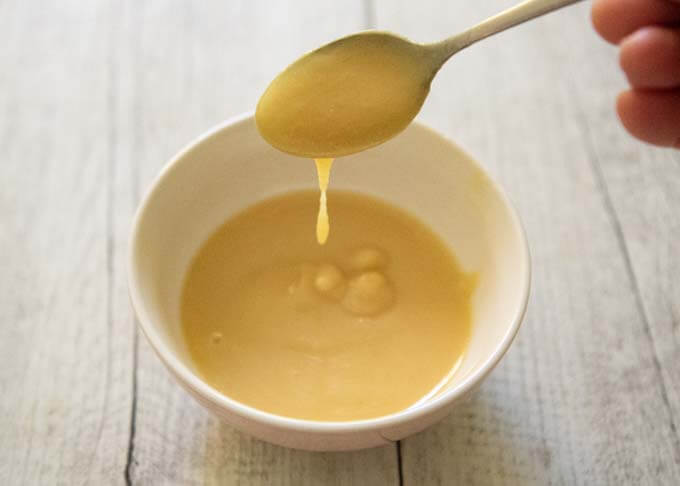 I could have called the dressing 'Mustard Vinegar Miso Dressing', but I thought that made the name of the dish too long.
About Japanese Mustard – Karashi
Japanese mustard is called 'karashi' (辛子) in Japanese. It comes in either powder or paste form. Karashi is quite spicy compared to the Western-style mustard because karashi is made from just the seeds of the Asian mustard without containing vinegar or any other seasonings.
I prefer using karashi in powder form as it keeps longer, and the spiciness is sharper. Karashi paste, which often comes in a tube, is handy to have. But I found that the hot spiciness is not as strong as the paste made from the karashi powder.
There is a particular way of making mustard paste from karashi powder.
Put karashi powder in a small bowl and add a small amount of warm water (40-50°C / 104-122°F).
Mix well until there are no lumps and make a thick paste (see the left photo below for the texture of the paste).
Place the bowl upside down on a plate and leave it for 10 minutes.
When ready to use, add warm water to loosen the paste if needed.
Using warm water enhances the spiciness. Even if you need a loose paste, you should initially make a thick paste to draw the maximum spiciness and fragrance from the karashi powder.
It takes 5-10 minutes for the enzyme in the powder to develop the spiciness. On the other hand, the pungent component of karashi paste evaporates easily. That's why you need to place the bowl upside down and leave it for a while. You can put cling wrap over the bowl, but Japanese people traditionally turn the bowl upside down like the photo above.
Karashi is often served as a condiment for Tonkatsu, Oden and Shumai.
What's in My Poached Chicken Tenderloin with Mustard-miso Dressing
There is a group of ingredients to be dressed and a group of ingredients to make Mustard-miso Dressing (karashi sumiso).
Chicken Tenderloin
Fineley sliced cucumber
Wakame seaweed
Cooking sake
Salt
Wakame seaweed can be frozen, fresh seaweed, or rehydrated from dried seaweed (cut or uncut). I used frozen salted fresh seaweed that I bought from a Japanese grocery store. I think that frozen salted wakame seaweed tastes better than the rehydrated dried seaweed.
Mustard-miso Dressing:
Sweet shiro miso
Sugar
Japanese mustard paste
Rice wine vinegar
Salt
You must use sweet shiro miso in this recipe. The best-known sweet shiro miso is called Saikyo miso (see the photo below) or Saikyo shiro miso. You can buy Saikyo miso at Japanese grocery stores. It is usually kept in the freezer because sweet shiro miso does not keep for long in the fridge like other types of miso due to the short fermentation process.
Some online shops also sell Saikyo miso.
Important note:
Most shiro miso sold at supermarkets and Asian grocery stores are not sweet shiro miso. The colour of these shiro miso is much paler than aka miso/brown miso, and close to Saikyo miso. But they do contain the same amount of salt as aka/brown miso, which is at least twice as salty as sweet shiro miso.
If you cannot find Saikyo miso or other sweet miso, try to find the miso with less salt. To compensate the saltiness, you will need to increase the amount of sugar and omit salt when making Mustard-miso Dressing.
How to make Poached Chicken Tenderloin with Mustard-miso Dressing
There are 4 components to making today's dish.
Preparing ingredients
Poaching chicken tenderloins
Making Mustard-miso dressing
Assembling
None of them are difficult at all and some steps can be done in parallel.
Preparation:
Remove membranes from the tenderloin if they are still attached to the flesh. Also remove the tendon – see the section, How to Remove the Tendon from Chicken Tenderloin in my post Marinated Chicken Tenderloin.
Sprinkle a pinch of salt over the sliced cucumber and leave it for 5-10 minutes to wilt. Squeeze the moisture out of the cucumbers.
If you are using dried wakame seaweed, rehydrate it by soaking in water for 5-10 minutes. In the case of frozen salted fresh wakame seaweed, rinse it and leave in water for 5 minutes to let it expand. If your wakame seaweed came in long strands, cut it into small pieces after rehydrated. Squeeze the water out of it when rehydrated.
Poaching:
The method of poaching is identical to the recipe for Marinated Chicken Tenderloin. Instead of rubbing sugar and salt on the chicken, sprinkle cooking sake and salt over the chicken pieces.
Mustard Miso-dressing:
Mix the dressing ingredients, except vinegar, until lump free.
Add the vinegar in a few batches and mix.
Assembling:
Slice poached chicken tenderloin into bite-size pieces.
Place chicken, cucumber and wakame seaweed in clusters.
Pour the dressing over.
Mustard-miso Dressing goes very well not only with chicken but also pork, prawns, octopus, squid, and scallops. Vegetables can be blanched green onion, broccolini, asparagus.
The dressing can keep in the fridge for a month.
Yumiko

Poached Chicken Tenderloin with Mustard-miso Dressing
Porched chicken tenderloin is surprisingly tender and moist. The amazing flavour developed by combining mustard and miso also surprises you. It's a really delicious dish.
Prep Time includes the time to rehydrate wakame seaweed.
Don't forget to see the section 'MEAL IDEAS' below the recipe card! It gives you a list of dishes that I have already posted and this recipe that can make up a complete meal. I hope it is of help to you.
Keyword:
chicken tenderloin recipe, miso dressing
Ingredients (tbsp=15ml, cup=250ml)
4

chicken tenderloins

(note 1)

100g / 3.5oz

cucumber

, thinly sliced

A pinch of salt

20g / 0.7oz

wakame seaweed

(rehydrated weight, note 2)
Mustard-miso Dressing
3

tbsp

sweet shiro miso

(60g / 2.1oz, note 3)

¾

tbsp

sugar

1

tsp

Japanese mustard (karashi) paste

(or English mustard in a jar)

3

tbsp

rice wine vinegar

A pinch of salt
Instructions
Preparation (note 4)
Chicken: If the chicken tenderloin came with thin transparent membranes around the flesh, gently remove them. Remove the tendon as per the section, HOW TO REMOVE THE TENDON FROM A CHICKEN TENDERLOIN in my post Marinated Chicken Tenderloin.

Cucumber: Sprinkle a pinch of salt over the sliced cucumbers and let them wilt for 10 minutes. Squeeze the water out of the cucumbers.

Wakame Seaweed: If you are using dehydrated wakame seaweed, soak it in water for 5 minutes, then squeeze the water out. If you are using salted fresh wakame, rinse it to remove salt, then soak in water for a few minutes and squeeze the water out. If your wakame seaweed is not pre-cut, cut it into 2-3cm / 2" square pieces.
Poaching Chicken Tenderloin
Place the chicken tenderloins in a small saucepan that can snuggly fit the chicken pieces in.

Sprinkle the Poaching Chicken ingredients over the chicken and leave it for 5-10 minutes.

Add water to just cover the surface of the chicken. Bring it to a boil.

When the colour of the bottom and sides of the chicken pieces change to whitish colour, turn them over and cook for 15 seconds or so. Remove the scum as it rises.

Turn the heat off, put a lid on and leave it on the cooktop until it cools down to lukewarm.

Transfer the chicken pieces to a cutting board and let them cool.
Mustard-miso Dressing
Put miso, sugar, and mustard in a small bowl and mix well until there are no lumps in the mixture.

Add vinegar in a few batches and mix the paste well to incorporate the liquid into the paste before adding the next batch of vinegar. The dressing should not be runny but should not be thick either (note 5).
Assembling
Using a sogi-giri cutting method (slanting cut), slice each tenderloin into 1cm thick pieces (note 6).

Divide the cucumber slices, wakame seaweed and chicken slices into 4 portions.

Place 1 portion each of cucumber slices and wakame seaweed in individual clusters on a serving bowl/plate.

Place 1 portion of chicken slices next to them, positioning them to have a good balance of three ingredients, but showing the chicken pieces as the key ingredient.

Dribble the sauce over the ingredients, mainly on the chicken.

Repeat for the 3 remining portions.
Recipe Notes
1. My chicken tenderloins were 150g / 5.3oz in total. Depending on the size of your tenderloin, you may reduce/increase the number of tenderloins because the amount of dressing is just right for the total volume of ingredients.
2. 20g / 0.7oz equates to about 2g / 0.07 oz of dehydrated (dried) wakame seaweed
3. I used Saikyo miso which is the best sweet shiro miso in my view. If you don't have sweet shiro miso (don't get confused with the brownish miso labelled 'shiro miso' as it is not sweet shiro miso), you can use brown miso. But increase the amount of sugar to 1 tbsp as shiro miso is sweeter than brown miso. It is better to use smooth miso paste so that you can maintain a smooth texture of the dressing.
4. I prepare the cucumbers and seaweed while letting the chicken cool down after poaching.
5. When you scoop the dressing with a spoon and tilt the spoon, the dressing should dribble easily.
If your paste is lumpy, put it through a fine mesh sieve or muslin to smooth it.
6. If you like, you can simply cut the tenderloin into small bite-size pieces.
7. Mustard-miso dressing can keep for a month in the fridge.
8. Nutrition per serving.
calories: 101kcal fat: 1.6g (3%) saturated fat: 0.3g (1%) trans fat: 0g polyunsaturated fat: 0.5g monounsaturated fat: 0.4g cholesterol: 27mg (9%) sodium: 792mg (32%) potassium: 219mg (6%) carbohydrates: 9.7g (3%) dietary fibre: 1g (4%) sugar: 7.9g protein: 10.3g vitamin a: 0% vitamin c: 1.4% calcium: 1.7% iron: 6.4%
Meal Ideas
A typical Japanese meal consists of a main dish, a couple of side dishes, a soup and rice. I try to come up with a combination of dishes with a variety of flavours, colours, textures and make-ahead dishes.
Since the flavour of today's side dish contains vinegar and sweet miso, I picked salted Salmon for main dish. Side dish 2 needs to be a vegetable dish with very light flavouring that is different from the flavours of other dishes in the meal. I picked Snow Pea Leaves Warm Salad, but Simmered Pumpkin is also a good dish.
For the soup, I avoided miso soup because of the use of miso in the side dish. Instead of Kakitama Iiru, you can serve other clear soup.