In this recipe, I will show you how to make the commonly used method of making Japanese dashi stock for home cooking. It is quite simple to make and flavour is no comparison to the instant dashi seasoning.
Depending on the dishes you make, you use different kinds of dashi (出汁) stock as seen in the list below.
Main varieties of Japanese dashi stock
Awase-dashi (合わせ出汁) – made from katsuobushi (鰹節, dried bonito flakes) and konbu (dried kelp)
Katsuo-dashi (鰹出汁) – made from katsuobushi (鰹節, dried bonito flakes) only
Konbu-dashi (昆布出汁) – made from konbu (昆布, dried kelp)
Niboshi-dashi (煮干し出汁) – made from niboshi (煮干し, dried small sardines/anchovies)
Shiitake-dash (椎茸出汁) – made from dried shiitake (椎茸) mushrooms
In the case of awase-dashi and katsuo-dashi, you can get dash stock twice from the same ingredients. The first dashi stock is called ichiban-dashi (一番出汁) and the second stock, which is made by reusing the same dashi ingredients, is niban-dashi (二番出汁). Please visit Varieties of Dashi Stock for the recipes of the dashi stocks listed above.
I like awase-dashi the most as it has the best flavour. But I often make katsuo-dashi because konbu is quite expensive and often I do not have konbu in my pantry.  Dashi made with just katsuobushi still has great flavour.
About Katsuobushi
Dried bonito flakes are shavings of dried bonito. Dried bonito itself is actually known as katsuobushi and it comes as a block of dried bonito meat. Bonito flakes themselves have a real name: kezuribushi (削り節). But these days, people use katsuobushi to mean dried bonito flakes as well and I certainly do so.   You can buy dried bonito flakes in large or small packets at Asian grocery stores.
In Japan, you can also buy a block of dried bonito meat and shave it yourself using a special bonito shaver. This device is a box with a drawer and has a sharp plane on top. You draw the bonito block across the plane to create shavings which then collect in the drawer.
I used to shave dried bonito when I was a child. It was one of children's chores, as pre-shaved dried bonito was not sold at the time. I hated shaving the bonito block when it became very small because it is fiddly. But I worked hard so that I would be allowed to chew the little left-over block when it became too small to shave.
You might find the bonito flakes amongst different packet brands may have a slightly different appearance. The differences are usually due to the way they are shaved, or different parts of the bonito block and also quality of the dried bonito. But any of them are just fine to use.
About Konbu
If you live in Australia, you might find that Japanese grocery shops do not sell konbu. This is due to Australian quarantine restrictions as they believe konbu contains high Iodine. But you can get konbu in Korean grocery shops. If you ever travel to Japan, make sure that you bring many packets of konbu as qaurantine restrictions are only for commercial importation.
In Japan, about 90% of konbu comes from Hokkaido (northern most of Japan's main islands). And konbu is sold in a packet indicating where within Hokkaido it is from.
My konbu pack in the photo below says it is from Hidaka which is the southern coast of Hokkaido. Depending on which area of Hokkaido seas it came from, the appearance, texture and flavour of konbu are different. Some are softer than others and some have stronger flavour.
Professionals use different types of konbu for different purposes but for home cooking, any kind of konbu should be fine in my view.
You will find that white powder is stuck on the surface of konbu. It is not dust but umami which surfaces when moisture from konbu evaporates. So DO NOT scrape off the white powder.
About Dashi Stock Pack
While you can make Japanese dashi stock from scratch like in my recipes, there are also more convenient ways  to make dashi using prepared products. You can buy Japanese dashi stock packs or dashi seasoning at Asian or Japanese grocery stores, perhaps even at super markets.
Japanese dashi stock pack comes in a sachet containing finely shaved bonito flakes. You place a pack in water and boil to infuse umami from the bonito fakes. Dashi seasoning comes as tiny grains in a bottle or packet. You simply add it to hot water or boiling water and stir.
Japanese dashi stock packs use real bonito flakes so it does not lose authenticity of flavour and you could get pretty good dashi out of it. Dashi seasoning is more artificial and less authentic as it is a granular bonito-flavoured seasoning (but still tastes good). I use them when I only need a small amount of dashi or I am in a hurry — which is often the case.
Naturally, the Japanese dashi stock pack is much better than the dashi seasoning. If the key feature of the dish is the dashi flavour such as osuimono (お吸い物, clear soup), I make dashi from scratch. Also, the dashi seasoning contains salt already so you have to take that into account when adding salty seasonings in a recipe such as soy sauce.
I thought it might be best to introduce a recipe which is a general purpose method for making dashi at home. This method is not listed in my other post Varieties of Dashi Stock. The method in that post includes the professional method of making dashi.
But you would only make dashi in the professional way if you entertain people regularly with Japanese food. Even most households in Japan do not use the professtional method. So, here is instead how most households make dashi stock. This is what I call "Home Style Japanese Dashi Stock".
Yumiko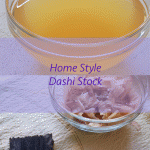 Home Style Japanese Dashi Stock
This method of making dashi is not how professionals make dashi, as they make two lots of dashi out of one set of dashi ingredients. I find that this home style method is more practical and still flavoursome, as the ingredients are the same as awase-dashi (professional method). The cooking time does not include the 30 minutes required to soak the konbu. Please also see
Varieties of Dashi Stock
for other types of dashi recipes.
Ingredients (tbsp=15ml, cup=250ml)
500

ml

water

5cm (2")

x 5cm (2") strip of konbu

(dried kelp)

15g (0.5oz)

katsuobushi

(dried bonito flakes)
Instructions
Gently wipe any dust off konbu if necessary using dry towel or paper towel. Do not wash or remove white powder stuck on the surface of konbu by scraping it off as it is the umami (旨味).

Add the water in a pot and soak the konbu for about 30 minutes if you have time. If you don't have time, don't worry.

Place the pot over medium heat. When small bubbles start appearing in the pot, reduce heat to minimum and cook for about 10 minutes.

Add katsuobushi and turn the heat up to medium. Cook for about 10 minutes.

Turn the heat off and wait until katsuobushi sinks to the bottom of the pan.

Line a few layers of muslin or a paper towel over in a sieve and pour all the contents in the pan to into the sieve. Let it drain naturally, lightly squeezing the katsuobushi (Note 1).
Recipe Notes
1. Do not squeeze the katsuobushi too hard as it will produce a slight bitterness.
2. You cannot keep dashi very long even in the fridge as it loses flavour. 2-3 days is the max, I would think. Freezing will also lose the falvour but if you don't mind losing it, you could freeze the stock.
3. If you would like to make dashi from store bought dashi pack or seasoning, just follow the instructions on the packet which should tell you how much you need for certain amount of water.