Wouldn't it be wonderful and more enjoyable if you knew Japanese eating etiquette, and you could have Japanese meals how Japanese do? It would be especially handy if you are travelling Japan too.
Here I listed a few things which you might not be aware of or find very confusing. I hope it helps!
Before and After A Meal
Sometimes you will be served with a small wet towel called "oshibori" (おしぼり) as soon as you sit at the table. This is common at good restaurants. Wet towels are to clean your hands before eating food, but are not for cleaning your face! You might find some men do wipe their face with it, though. I have not yet seen a woman doing that! Sometimes you may be served with a disposable wet towel instead of a regular towel.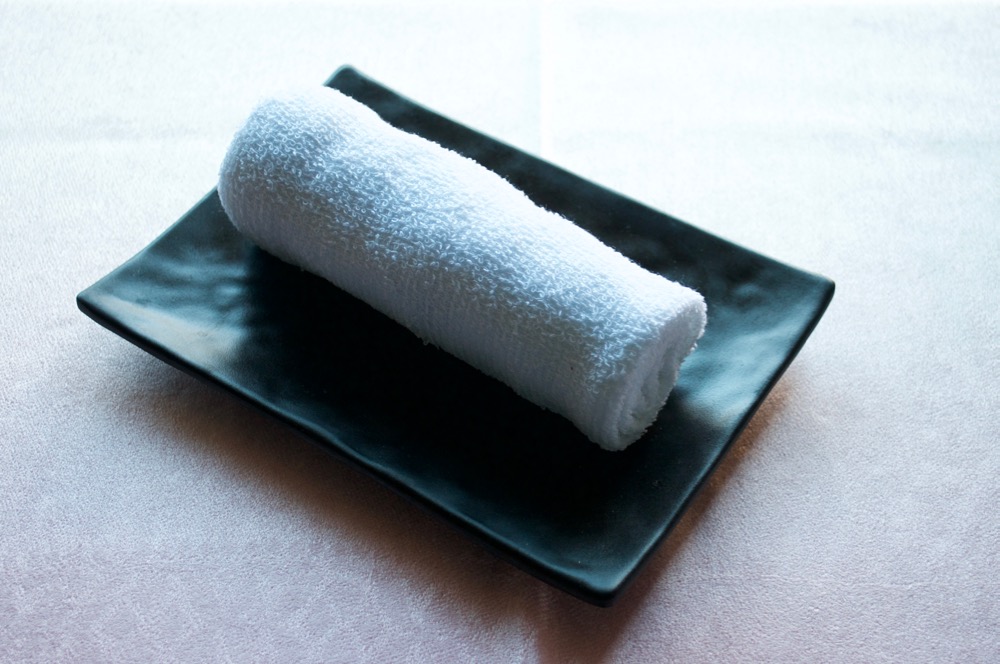 Before eating food, you are expected to say "itadakimasu" (頂きます). This phrase originated from "receive" or "eat" implies that you are receiving the lives of animals and plants, and by eating food, you can make your life alive. By saying itadakimasu, you show your gratitude to the ingredients as well as to those who are involved in the meal.
After eating food, you should say "gochisousama" (ご馳走さま) or "gochisousama-deshita" (ご馳走さまでした) which is a more polite version of  "gochisousama". The kanji characters 馳 and 走 mean "running around". Because people run around to grow produce, source ingredients, cook and serve food to you, you thank those involved in the dishes you have just eaten. "ご" and "さま" are to express gratitude in this context as well as politeness.
After gochisousama, you could add  "oishikatta-desu" (美味しかったです) which means "it was delicious". The word "oishii" (美味しい) is the present tense of delicious, i.e. it

is

delicious while "oishikatta" (美味しかった) is the past tense. The "desu" (です) at the end makes the expression more polite.
Before and after a meal, you are usually served with a cup of green tea. The way you hold a traditional Japanese tea cup is not the same as for Western tea or coffee because there is no handle! There is also a traditional way to hold the cup, though this is not always observed in more casual settings or at home. To hold the cup the traditional way, read on. With your dominant hand, pick up the cup as you would a regular glass. With your non-dominant hand, with your palm facing up, use your four fingers on that hand to gently support the base of the cup as you bring it to your mouth. In a more casual setting, you would not use your supporting hand and would lift the cup as you would any other cup with one hand. Please note that the way you hold a large tea cup at a tea ceremony is quite different from this.
About Chopsticks
It is important to hold and use ohashi (お箸, chopsticks) the right way. Here is WikiHow on how to use chopsticks – http://www.wikihow.com/Hold-Chopsticks. If you think about it, chopsticks are equivalent to knife and fork in Western cuisine.
Do not move plates/bowls using chopsticks.
You should not pass food from your chopsticks to someone else's chopsticks. This action is used in funeral rituals so it implies bad luck.
Do not stick chopsticks vertically into the bowl of rice. This is also associated with death and funeral ceremonies and people would be put off by it.
Do not point with your chopsticks. It is considered to be rude.
If chopsticks are offered with a chopstick rest, you should use it whenever you need to rest your chopsticks (see the top left photo below). If you are using waribashi (割り箸, disposable chopsticks) in a paper case and there is no chopstick rest, you can fold the paper case to use it as the rest (see the other 3 photos below in clock-wise order).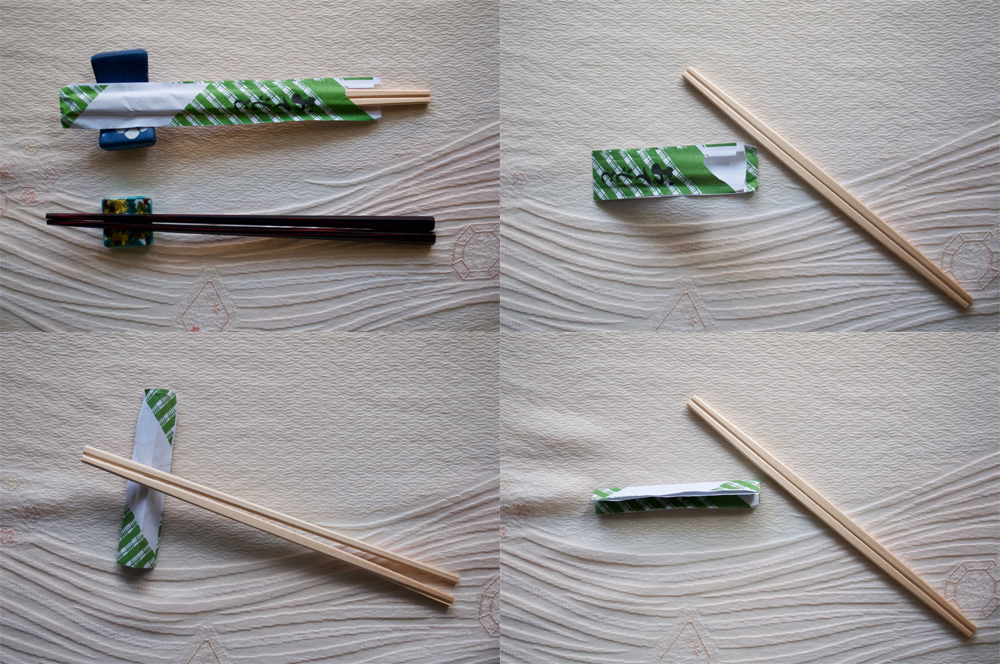 Plates and Bowls
Often, you will be served with a small plate in which to pour soy sauce when sashimi or sushi is served. Do not pour too much soy sauce into the plate. You are meant to leave only a small amount of soy sauce when done.
You

must

lift ochawan (お茶碗, rice bowl) or owan (お椀, soup bowl) from the table when eating. It is considered poor manners to eat from a rice or soup bowl without lifting from the table. See more details in the section, More on Etiquette below.
Sometimes, the lid of owan (お椀, soup bowl) is difficult to open. This is due to the vacuum effect of the soup bowl as the soup cools down. Gently squeeze the rim with your thumb and your index figure. This will slightly warp the rim of the bowl allowing the air to flow in and you can lift the lid easily.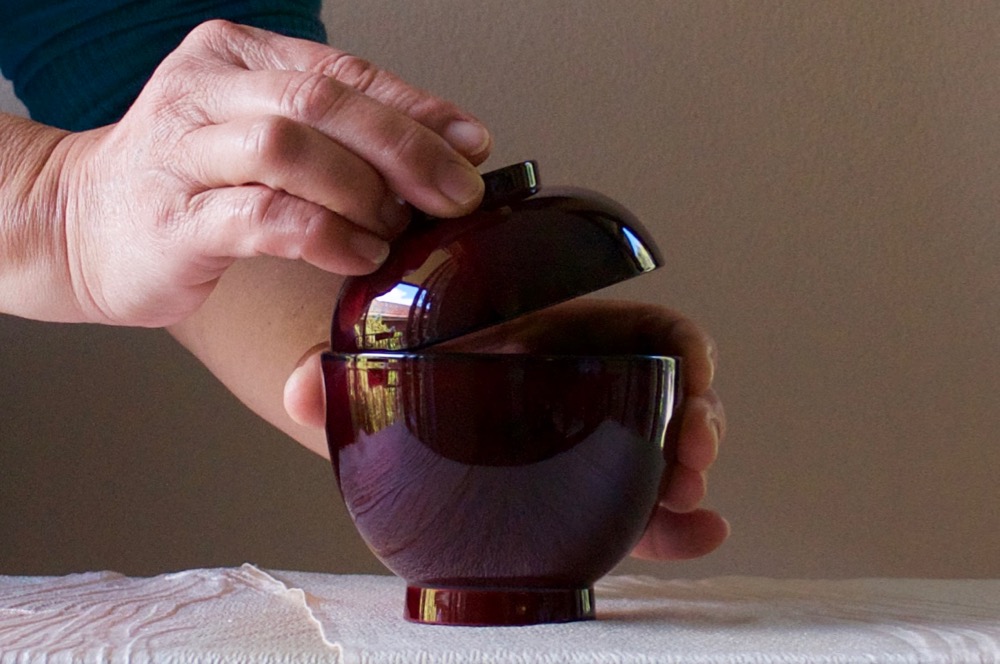 About Sushi
When eating nigirizushi (にぎり寿司, small sushi rice balls with raw fish on top), you don't dip the rice itself onto the soy sauce. You should hold the sushi upside down and dip the fish to the soy sauce (see the photo below – hold the sushi like the first photo below and then dip the fish side onto the soy sauce like the next photo). Then you will not end up with the rice collapsing into the soy sauce!  Note: I did not have a piece of freshly made nigirizushi at hand so I used a sushi sample made of wax which I bought in Japan. Can you tell it's fake?
If the sushi is of a type that is impossible to invert in order to dip into the soy sauce such as ikura (イクラ, salmon roe – see the 3rd photo below – fake again), use the garnish provided such as cucumber slice or pickled ginger to brush the soy sauce onto the topping.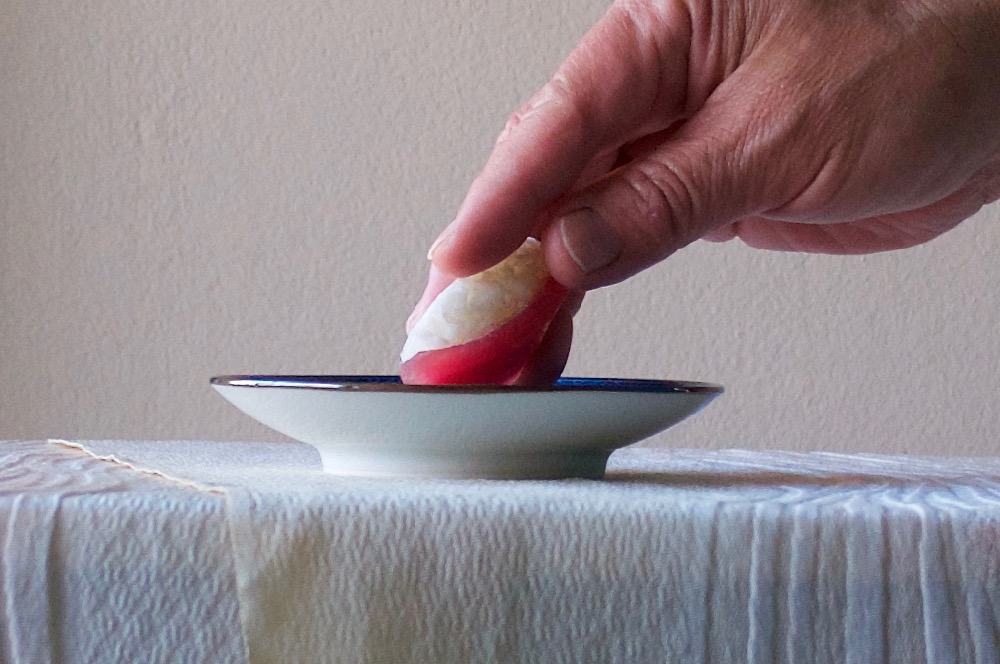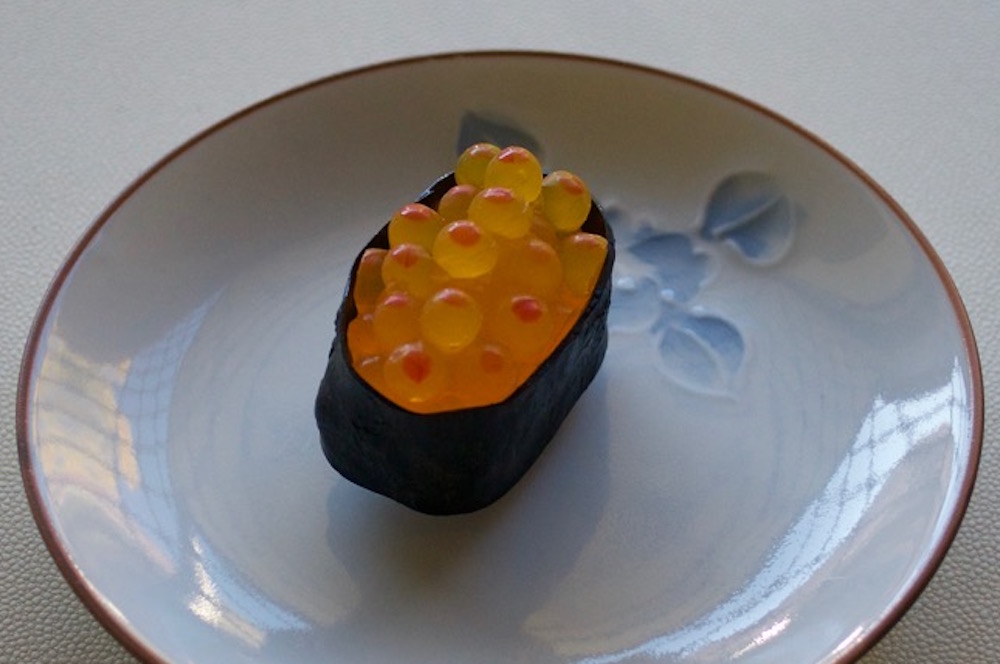 So called "sushi connoisseurs" eat nigirizushi by hand and you can of course do that. It is much easier to hold a sushi and turn it upside down by hand too. Also the expensive sushi restaurants tend to serve nigirizushi with very loose rice balls, allowing air between the rice grains so that the rice crumbles in the mouth. It would be more difficult to eat sushi with chopsticks with this high end sushi.
Nigirizushi is meant to be eaten in one go without biting. If it's too large or you are not used to eating a big mouthful, don't feel bad about biting in half. Or you can ask the sushi chef to reduce the amount of rice.
More on Etiquette
When eating rice from ochawan (お茶碗, rice bowl) or soup from owan (お椀, soup bowl), you must lift the bowl from the table. Shift portions of rice or ingredients from the lifted bowl to your mouth using your chopsticks. Leaving the bowl on the table and picking up rice/soup ingredients from the bowl is considered to be bad manners. This applies to only rice bowls and Japanese style soup bowls.
Placing the rim of ochawan (お茶碗, rice bowl) to your mouth and sliding the rice into your mouth with chopsticks is considered to be bad manners. You can place the rim of owan (お椀, soup bowl) to your mouth to sip soup, of course.
You should not  pick up a rice bowl with your hand while holding ohashi (お箸, chopsticks) in the same hand. This is not good manners.
Rice is not to be mixed with soup, food or sauce unless you are eating a rice bowl dish with topping. I know many Aussies eat rice with just soy sauce poured on it. But it is considered to be bad manners so I'd suggest that you do it at home, not at good restaurants.
Unlike Western etiquette, you can lift other small plates or bowls from the table to pick food off it in most cases with your chopsticks. But large plates, sashimi plates, plates with grilled fish, tempura plates etc should not be lifted.
When eating noodles, you should make a slurping noise. There are a few reasons for this. Firstly, when you slurp they say you get the full flavor and aroma by mixing your mouthful with air. Secondly, most noodle dishes are hot and slurping helps cool the noodles as you eat them. Finally, slurping is considered a cultural signifier that you are enjoying your meal! Japanese people find it strange when someone is not making a slurping noise when eating noodles. Although you might find that it is extremely uncomfortable to make noises when eating, you may want to try it and see the difference. But remember, it is generally only soup-based noodle dishes such as udon, soba, and ramen when you will slurp!
Good luck!
Yumiko