One of the most popular Japanese hot pot dishes, sukiyaki (すき焼き), is great for get-togethers with friends and family. Cooking thinly sliced beef, tofu and vegetables in sweet soy sauce flavour over a portable cooktop on the table is so much fun. It is quick to prepare and so tasty.
There are many hot pot dishes in Japan but I believe sukiyaki is one of the best known hot pots. Unlike other typical Japanese dishes, sukiyaki has a very short culinary history because the Japanese were not in the habit of eating beef until the end of the Edo period in the late 19th century. I am glad that I live in the 21st century because I cannot imagine not being able to eat beef!
In Japan, sukiyaki is considered to be a special dish simply because beef is extremely expensive there. Nowadays, Japan imports Aussie beef and the US beef to sell at affordable prices. But if you want to eat marbled beef from Japan, it often costs more than $150 per kilo (per 2.2lbs). And you do want marbled thinly sliced beef for sukiyaki if you can afford it.
Because the dish was so special and it rarely made it to the dinner table, I used to get very excited whenever my mother announced that we were having sukiyaki for dinner. Each one of my three siblings and I were staring at the beef slices in the pot so as not to miss a piece of cooked beef before it was taken by others. Four kids fighting for beef slices – imagine that! But it was very interactive and also fun.
Kansai Style and Kanto Style
There are two different methods of cooking sukiyaki. Kansai (関西, the western region of Japan which includes Osaka and Kyoto) style and Kanto (関東, the eastern region of Japan which includes Tokyo and surrounding prefectures) style.
In Kansai style, meat is cooked in the pot first, then you add sugar, soy sauce and sake to give the sukiyaki flavour. Then vegetables are added at the end. It relies on the water coming out of the vegetables to dilute the sauce so that the flavour is not too strong.
In the case of Kanto style, the sukiyaki sauce called warishita (割り下) is prepared separately. Warishita is a mixture of soy sauce, sake, sugar, mirin and dashi stock. Cook the beef and shallots (scallions) first, then add warishita, then the remaining vegetables.
In both styles, the flavour of sukiyaki might get too strong due to condensation. You then add some water or dashi stock to adjust the flavour.
My parents were from the Kanto region so I make sukiyaki in Kanto style as you can see in the recipe.
Sukiyaki Ingredients
Typical ingredients of sukiyaki are thinly sliced beef, shallots (scallions), shirataki (しらたき, konnyaku yum noodles), yaki-dofu (焼き豆腐, grilled tofu), shiitake mushrooms and shungiku (春菊, chrysanthemum greens).
To give colour to the dish, sliced carrots are sometimes added. In spring, bumboo shoots are added to give a seasonal touch to the sukiyaki dish. Instead of shiitake mushrooms, you could use shimeji mushrooms, enoki mushrooms or sliced king oyster mushrooms. I sometimes add Chinese cabbage cut into small pieces in winter time.
Shirataki is made from konnyaku potato flour. Its texture is like very firm jelly and the colour is light grey as seen in the photo below. It has virtually no calories but is very high in fibre. So it is a good diet food. It comes in a clear bag filled with water.  You can find shirataki at Japanese/Asian grocery stores. You will also find a jelly like block called konyaku (こんにゃく) at grocery stores along with shirataki. Konyaku is basically the same thing as shirataki but just in a different shape.
Yaki-dofu is a firm tofu about 3cm (1⅛") thick. Both sides of the tofu are char-grilled, making the tofu firmer so that it won't crumble when cooked with other ingredients. Unfortunately, I cannot find yaki-dofu even at Japanese grocery stores in Sydney. So I use firm tofu as an alternative.
Sukiyaki and Raw Egg
A traditional way of eating sukiyaki is to dip the cooked ingredients in beaten raw egg. I thought the reason for dipping in raw egg was because the flavour of the sukiyaki was so strong that you needed egg to compensate. But I was wrong.
Apparently one reason is that the egg lowers the temperature of the cooked piece of meat or vegetables so that you won't burn your tongue!
Another reason is that by dipping the cooked sukiyaki in raw egg, it enhances the flavours. I sometimes don't use raw egg to eat sukiyaki. I think that sukiyaki is delicious even without raw egg. But it is true that sukiyaki is yummier if you dip it in raw egg.
Yumiko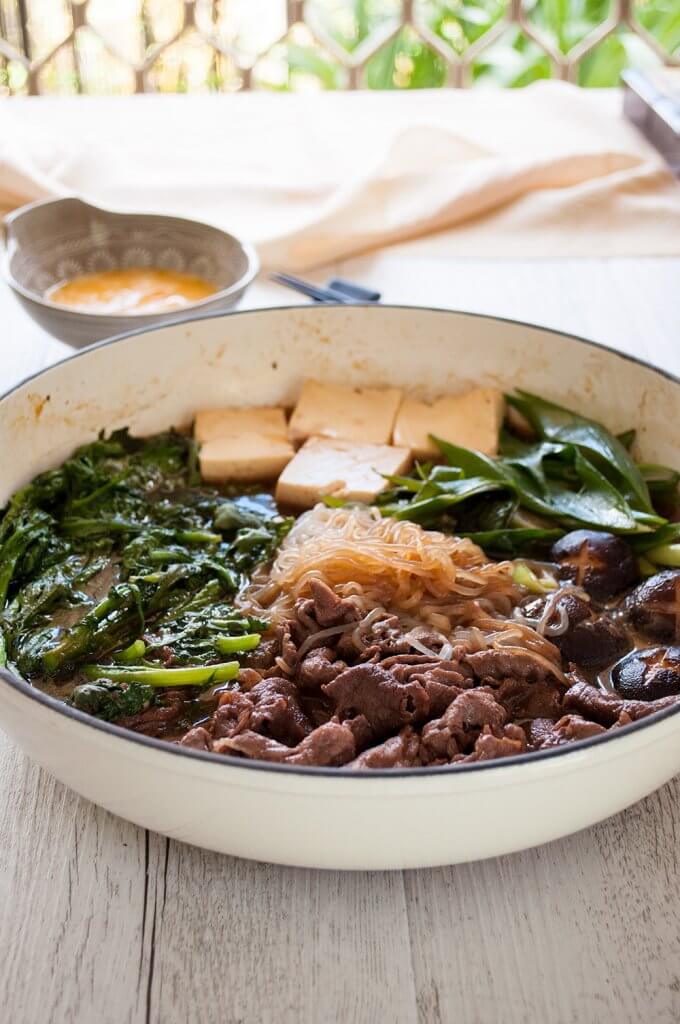 Sukiyaki
One of the most popular Japanese hot pot dishes, sukiyaki (すき焼き) is great for get-togethers with friends and family. Sukiyaki is so easy to prepare and tasty. Cooking thinly sliced beef, tofu and vegetables in sweet soy sauce flavour over a portable cooktop on the table is so much fun.
Ingredients (tbsp=15ml, cup=250ml)
Warishita (sukiyaki sauce)
90ml (3oz)

each of sake, mirin and soy sauce

3

tbsp

sugar

50ml (1.7oz)

dashi stock (note 1)
Sukiyaki Ingredients
250g (0.6lb)

beef, very thinly sliced (note 2)

2-3

stems of shallots

(scallions), about 140g (4.9oz)

4

shiitake mushrooms

1

pack of shirataki

(konyaku yum noodles), 350g (12.3oz) (note 3)

150g (5.3oz)

shungiku (edible chrysanthemum leaves, note 4)

½

pack of firm tofu

, 150g (5.3oz)
Serving
1

tbsp

cooking oil

(note 5)

50ml (1.7oz)

dashi stock (note 1) or water to adjust flavour if required

2

eggs
Instructions
Warishita
Add all the Warishita ingredients in a small pot and boil over high heat.

After letting it boil for 5 seconds or so, turn the heat off and put aside until required.
Preparing the Ingredients
Beef: If each slice of beef is very large, cut it into two. A slice larger than your palm might be too big to handle when eating.

Shallots: discard the roots and slice shallots diagonally into about 5cm (2") lengths.

Shiitake mushrooms: Chop off the stems of shiitake mushrooms. To decorate shiitake head (optional), make a shallow v-shape cut in the middle of the head, then another v-shape cut perpendicular to the first cut, making a cross (see the photo in the post).

Shirataki: Rinse shirataki in water. Spread the noodles on the cutting board, about 20cm (8') wide, and cut them in half. This is to shorten the noodles so that you can pick them up easily when eating.

Shungiku: Trim the end of the stem. Cut shungiku into about 10cm (4"). If the stems are extremely thick, like 1-1.5cm (½") thickness, cut the stem vertically in half.

Tofu: Cut the tofu block into two, then cut again perpendicular to the first cut making 4 small blocks.
Cooking and Serving
Group each ingredient together on a large plate.

Place each egg in a small bowl in which the individual can beat the egg and dip sukiyaki.

Heat a large fry pan with heavy base or shallow cast iron pot/casserole over high heat and add oil.

Sauté beef slices to lightly brown on each side, about 30 seconds. Add shallots and sauté for 15 seconds.

Add warishita and the remaining ingredients except shungiku, clustering each ingredient together for better presentation (if you wish).

Once the sauce starts boiling, turn the heat down to simmer and cook for a couple of minutes, then add shungiku.

Cook for another couple of minutes or until vegetables are cooked through, occasionally turning over the ingredients so that they will be cooked evenly.

Leave on low heat while eating sukiyaki directly from the pot. If the sauce is condensed too much to your liking, add some dashi stock or water to adjust and bring to simmer.
Recipe Notes
1. Please refer to Home Style Japanese Dashi Stock. You could also use konbu dashi which can be found in Varieties of Dashi Stock.
2. You can buy thinly sliced beef at Japanese/Asian grocery stores. If you cannot find it, you can make slices yourself. Please read my post Beef Rolls with Asparagus.
You can substitute beef with thinly sliced pork if you cannot eat beef.
3. Shirataki is made from konnyaku potato flour. Its texture is like very firm jelly. It comes in a clear bag filled with water. You can buy shirataki at Japanese/Asian grocery stores.
4. Common names of shungiku in English include garland chrysanthemum and chrysanthemum greens.
Some vegetable shops sell shungiku, often at Asian grocery stores but I find that in Sydney, it is rather seasonal (winter-spring vegetables). So I often use spinach as a substitute when I cannot find shungiku.
5. The proper way of cooking sukiyaki is to use a piece of beef fat to oil the pan. You only need about 4cm x 4cm (1½" x 1½"). If you can obtain beef fat, I strongly recommend that you use it. It will give the sukiyaki much better taste.