Yakisoba (焼きそば) is the Japanese version of stir-fried noodles. The noodles are cooked with sliced pork and plenty of vegetables, then coated with a special sauce. What distinguishes Yakisoba from other Asian stir-fried noodles is this special sauce, which is sweet and a little bit spicy.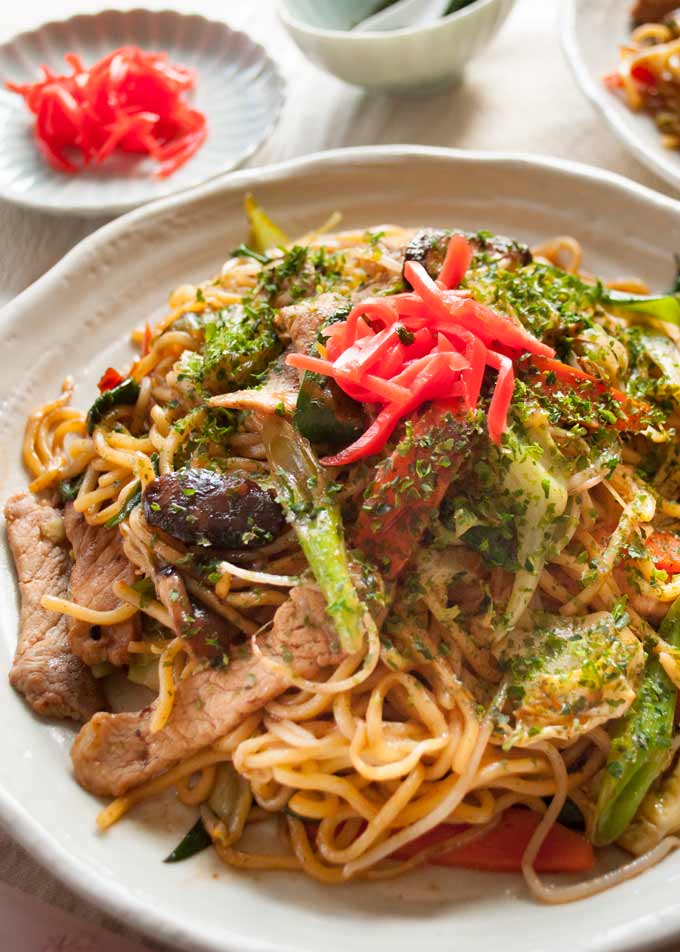 Yakisoba is known as one of the popular street foods in Japan. You will always find Yakisoba stalls wherever festivals are held. At the stalls, a large quantity of noodles are cooked on a huge iron plate. When you buy, your portion is taken directly from the iron plate and served hot.
What's in My Yakisoba
The ingredients are grouped into three – Main Ingredients, Yakisoba Sauce and Toppings.
Main Ingredients
Yellow Noodles
Thinly sliced pork
Carrot, thinly sliced
Cabbage, cut into bite size pieces
Shiitake mushrooms, thinly sliced
Bean sprouts
Green onion, sliced diagonally
Sesame oil to mix into the noodles (so that cooked noodles do not stick each other)
Oil to stir-fry ingredients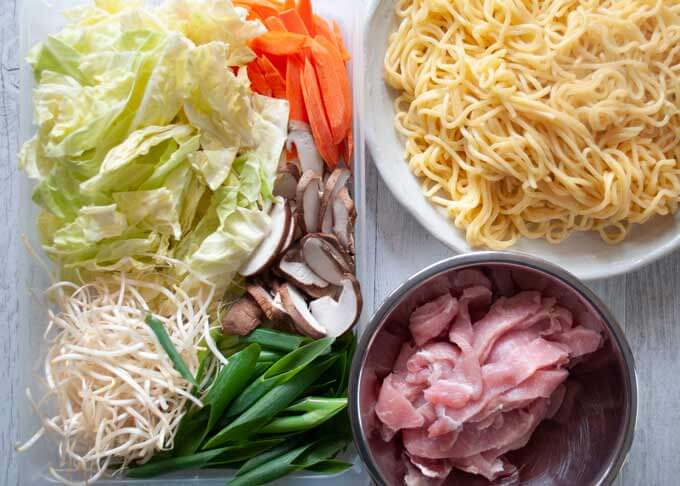 The Yakisoba sold at festival stalls normally has a very small amount of vegetables in it, but when you make it at home you can add plenty of vegetables. You don't need to use all these vegetables, but these are the ones most commonly used in Yakisoba in Japan. You can also use sliced onions and chopped Asian greens.
The meat can be chicken or beef slices, but pork is the most popular meat for Yakisoba.
Yakisoba noodles are yellow noodles made from ramen noodles that are steamed and coated slightly in oil so that they cook faster, and it is easier to separate each strand of noodle when stir frying.
If you are in Japan, you can buy a packet of noodles labelled as 'yakisoba noodles' or 'for yakisoba'. But in Australia, I cannot buy such noodles, so I substitute them with Chinese yellow noodles.
The most suitable Chinese noodles are round and of medium thickness (about 2mm/1⁄16″), and not oily. The photo below shows the yellow noodles I used in this recipe, but you do not have to use the same.
If you think about it, the ingredients are almost identical to those used in Yaki Udon (Stir Fried Udon Noodles), except for the noodles. But there are two important ingredients that make today's noodle dish special and totally different from Yaki Udon. They are a special Yakisoba Sauce and Yakisoba Toppings.
Yakisoba Sauce
Each household has a favourite Yakisoba sauce. Some people make their own by mixing different sauces. Some buy a bottle of Yakisoba sauce from a shop. I make my own by mixing different sauces.
Bull-Dog tonkatsu sōsu (sauce)
Bull-Dog usutā sōsu (sauce)
Soy sauce
Tomato sauce (Aussie) or tomato ketchup
Sugar
Dashi seasoning powder
Bulldog is a Japanese brand name. When I talk about my Yakisoba sauce, I have to talk about Bulldog sauces. Please see the subsequent section BULL-DOG – THE JAPANESE COMPANY for more details.
Yakisoba Toppings
The following ingredients are probably unfamiliar to many people, but they are the must-have toppings. Please see the subsequent section ABOUT AONORI AND BENISHŌGA for more details.
Aonori – dried seaweed flakes
Benishōga – red pickled ginger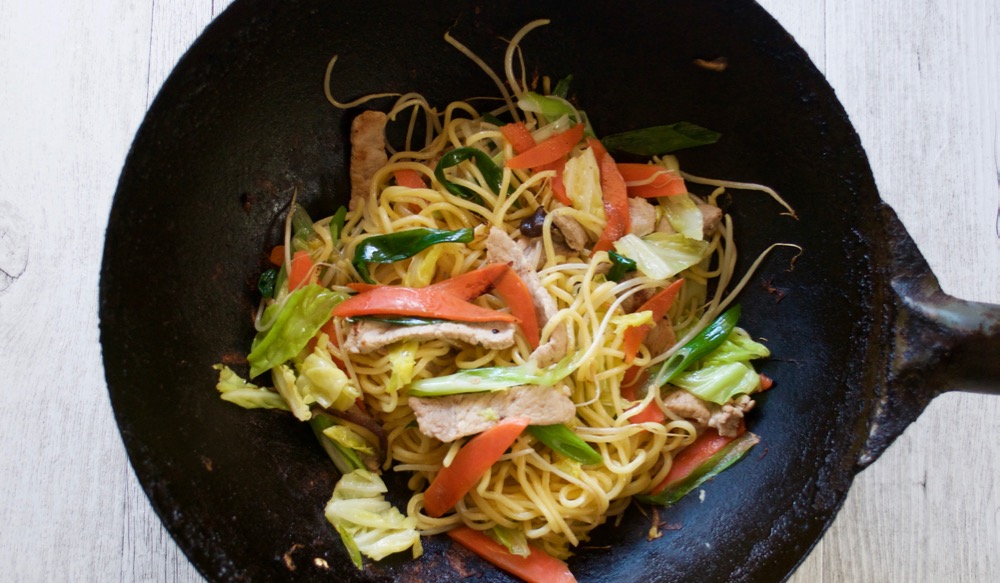 Bull-Dog – the Japanese Sauce Company
As you all know, soy sauce is one of the key seasonings of Japanese cuisine and can be used as a dipping sauce too.
But in Japanese home cooking, there is something called 'sōsu' (ソース, sauce), which is also used regularly. Japanese people even eat shredded cabbage or green salad with sōsu dribbled over the vegetables, instead of using the Western-style salad dressings.
The colour of Japanese sauce is dark brown, and it comes in different thicknesses. The sauce with a low viscosity is very similar to Worcestershire sauce.
The famous Japanese sauce company called 'Bull-Dog' (ブルドック, pronounce it 'burudokku' in Japanese) named this thin sauce 'Bull-Dog usutā sōsu' (ブルドックウスターソース).  The word 'usutā' is the Japanese pronunciation of Worcester. There is also 'Bull-Dog chūnō sōsu' (ブルドック中濃ソース) and 'Bull-Dog tonkatsu sōsu' (ブルドックとんかつソース).
Tonkatsu sōsu was made specifically to pour over Tonkatsu (Japanese Pork Schnitzel) or other bread crumbed deep-fried dishes such as croquettes and cutlets. It is the thickest and the sweetest sauce of the three Bulldog sauces.
Try tonkatsu sōsu on Korokke (Japanese Potato and Ground Meat Croquettes), Menchi Katsu (Ground Meat Cutlet), Deep-fried Horse Mackerel (Aji Fry) and even Creamy Shrimp Croquettes.
Chūnō sōsu sits between the other two sauces in both flavour and thickness. The word 'chūnō' (中濃) means medium thickness.
You can buy these sauces at Japanese/Asian grocery stores and even at some supermarkets. You can also buy Yakisoba sauce in a bottle, but just like any other foods, I like my home-made version of Yakisoba sauce.
About Aonori and Benishōga
There are two important toppings to complete Yakisoba. They are 'aonori' (青海苔, dried seaweed flakes) and 'benishōga' (紅生姜, red pickled ginger).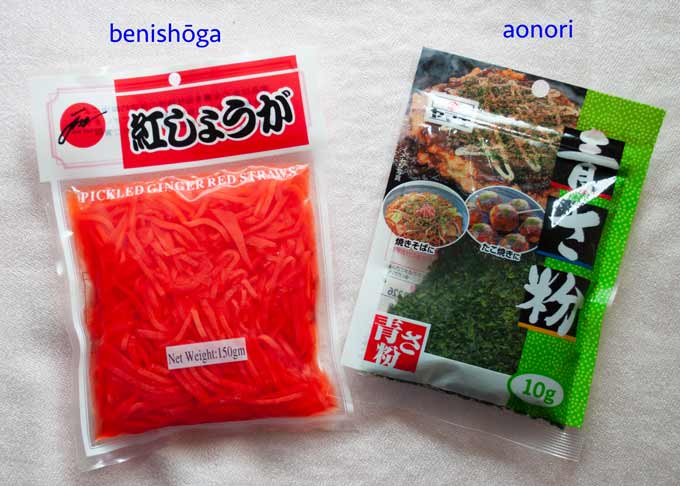 The word 'ao' (青) in aonori means blue, and nori (海苔) is the generic term for seaweed. Well, as you can see in the photo above, aonori is not blue but green.
Japanese people use the word 'blue' to express the colour 'green' quite often. For example, they say the colours of the traffic lights are red, yellow and blue, even though they are red, yellow and green. Green apples are called 'aoringo' (青リンゴ, blue apple).
In Japan, it is said that in the Heian period (which ran from 794 to 1192), when the capital of Japan was Kyoto, there were only 4 adjectives to describe colours. They were black, white, red and blue. So, each colour had to cover a wider range of real colours, e.g., calling something blue even if it is green. How interesting!
The word 'beni' (紅) in 'benishōga' means red and 'shōga' (生姜) is ginger. It is quite different from the pickled ginger served with sushi. Pickled ginger for sushi has a much lighter colour – either very faint pink or the natural colour of ginger. It is also slightly sweet, while red pickled ginger is not sweet and a bit salty.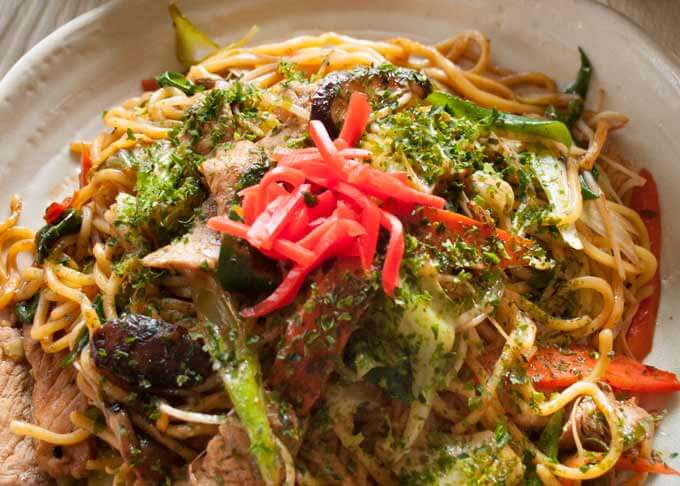 Although Yakisoba is still good without the toppings, I think that aonori over the mound of Yakisoba with benishōga on top makes Yakisoba great.
Yumiko

Watch How To Make It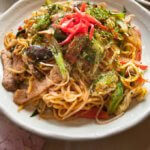 Yakisoba (Japanese Stir Fried Noodles) - New
Yakisoba (焼きそば) is the Japanese version of stir-fried noodles. The noodles are cooked with sliced pork and plenty of vegetables (cabbage, bean sprouts, carrots, shiitake mushrooms and green onions), then coated with a special sauce. Instead of pork, chicken or beef would also work well. You can use different vegetables that are suitable for stir-fry too.
Please see the video above this recipe card.
Don't forget to see the section 'MEAL IDEAS' below the recipe card! It gives you a list of dishes that I have already posted and this recipe that can make up a complete meal. I hope it is of help to you.
Keyword:
Japanese Stir-fried Noodles, Yakisoba, yakisoba sauce
Ingredients (tbsp=15ml, cup=250ml)
300g/10.5oz

yellow noodles

(note 1)

1

tbsp

sesame oil

2

tbsp

oil

(vegetable oil or peanut oil)

200g/7oz

pork

thinly sliced into bite size pieces (note2)

60g/2oz

carrot

thinly sliced diagonally

100g/3.5oz

cabbage

cut into bite size pieces (note 3)

3

shiitake mushrooms

sliced into 2mm / 1/16" thick

2

stalks

green onions

diagonally sliced

1

cup

bean sprouts
Yakisoba Sauce (Note 4)
40ml/1.4oz

Bulldog tonkatsu sōsu

(note 5)

50ml/1.7oz

Bulldog usutā sōsu

(note 5)

1

tsp

soy sauce

½

tbsp

tomato sauce

(in Aussie terminology)/tomato ketchup

1

tsp

sugar

½

tsp

dashi seasoning powder diluted in ½ tsp hot water

(note 6)
Instructions
Add all the Yakisoba Sauce ingredients into a cup or a bowl and mix well. Set aside until required.

Boil a sufficient amount of water in a saucepan and boil the noodles for 1 minute.

Drain and sprinkle sesame oil over the noodles and mix until all noodles are coated. This is to prevent the noodles from sticking to each other.

Heat oil in a wok or a large frying pan over medium high heat. Add the pork and sauté until the pork is almost cooked through (about 2-3 minutes).

Add the carrots and stir-fry for 30 seconds, then add the cabbage and shiitake mushrooms.

Stir-fry for about 1 minute until the cabbage is nearly cooked, then add the green onions and bean sprouts.

After stir-frying for 30 seconds, add the noodles. Mix the noodles and vegetables well (note 9).

Add the Yakisoba Sauce and mix quickly to ensure that all the noodles are coated with the sauce, and the colour of the noodles is consistent, without any light-coloured patches.

Transfer the noodles onto serving plates, piling them into a mound.

Sprinkle aonori over the noodles and add the benishōga on the top or the side of the noodles or serve in a separate bowl/plate for individual to add topping themselves.

Serve immediately.
Recipe Notes
1. Yakisoba noodles are the same as ramen or Chinese yellow noodles. The thickness of Yakisoba noodles is about 2mm/1⁄16", but you could use thicker noodles. See the photo in my post of the noodles I used.
I would not recommend very thin noodles as they will overcook easily and become doughy. I would not use Hokkien noodles either as they are quite oily and too heavy for Yakisoba in my view.
2. Any cut of pork suitable for stir-fry is fine. I happened to have pork scotch fillet. I sometimes use thinly sliced pork belly. It makes Yakisoba a bit richer, but I like it.
You can use chicken or beef, although pork is the most popular meat.
3. I randomly cut the cabbage into bite size pieces. The size of the pieces is about 5cm x 3cm/2" x 1¼". The shape does not have to be rectangular at all.
4. You can adjust the quantity of each ingredient to your liking. I used the Bulldog branded sauce, but you can use other brands if you like.
5. You can buy Bulldog sauces at Asian/Japanese grocery stores. See the photos in the post.
6. The dashi seasoning powder is used to add umami to the sauce. It is an instant dashi powder that you can buy at Japanese/Asian grocery stores or possibly at supermarkets (see Home Style Japanese Dashi Stock for samples).
Alternatively, you can add 2 tablespoons of bonito flakes when mixing the sauce with the noodles.
If you don't have either of them, you can omit this.
7. Aonori is quite different from yakinori (焼き海苔, roasted seaweed sheets used in sushi rolls). It is green and chopped into teeny tiny pieces (see the photo in post). It is used not only as a topping for Yakisoba but also for Okonomiyaki (Japanese Savory Pancake). It is sometimes added to the batter for Tempura.
You can buy aonori at Japanese grocery stores. See the post for a sample pack.
Although the flavour is quite different, you could substitute aonori with yakinori (roasted seaweed sheet). Julienne a small sheet of yakinori into about 2.5cm/1' long strips.
8. Benishōga is red pickled ginger. It comes either in sliced or julienned pieces in a packet/bottle (see the photo in post). If you have red pickled ginger slices, you can just julienne them.
You can buy benishōga at Japanese/Asian grocery stores and perhaps at some supermarkets. See the post for a sample pack.
Do not substitute the pickled ginger used for sushi for the red pickled ginger. The flavour of the pickled ginger for sushi is quite different and does not go well with Yakisoba.
9. From this step onwards, if the wok or frying pan is not large enough to cook all of the Yakisoba at once, cook in batches in individual serving portions or half the quantity. You will get a much better result than trying to cook a huge amount of noodles in a small wok/frying pan. I actually cooked my Yakisoba in batches.
When cooking in batches:
Before you add the noodles, take out the stir-fried meat and vegetables, leaving one serving portion in the wok/frying pan. Then add one serving of noodles and continue following the steps using one serving of the sauce. Repeat for the other servings.
10. Nutrition per serving, assuming 4 serving.
serving: 276g calories: 567kcal fat: 20g (31%) saturated fat: 4.1g (21%) trans fat: 0.2g polyunsaturated fat: 7.6g monounsaturated fat: 6.7g cholesterol: 42mg (14%) sodium: 366mg (15%) potassium: 757mg (22%) carbohydrates: 73g (24%) dietary fibre: 5.1g (20%) sugar: 11g protein: 24g vitamin a: 54% vitamin c: 31% calcium: 5.7% iron: 26%
Originally published in August 2016, updated in March 2020 with a video and improved photos & contents, further improved contents and video in February 2022.
Meal Ideas
A typical Japanese meal consists of a main dish, a couple of side dishes, a soup and rice. I try to come up with a combination of dishes with a variety of flavours, colours, textures and make-ahead dishes.
Yakisoba has a sweet rich flavour, so I matched it with a simple Spinach Ohitashi, which cleanses the palate. I also selected Izakaya-style Marinated Quail Eggs, and Edamame, which makes this the kind of meal that you may have at izakaya.
Tofu and wakame seaweed also go well with Yakisoba. I picked a miso soup with tofu and wakame seaweed, but you could have a tofu dish instead and a miso soup with vegetables.