When beef and pork patties are coated in breadcrumbs and deep-fried, you get a juicy soft cutlet called Menchi Katsu (Ground Meat Cutlet). It is another yōshoku (Western food) developed in Japan.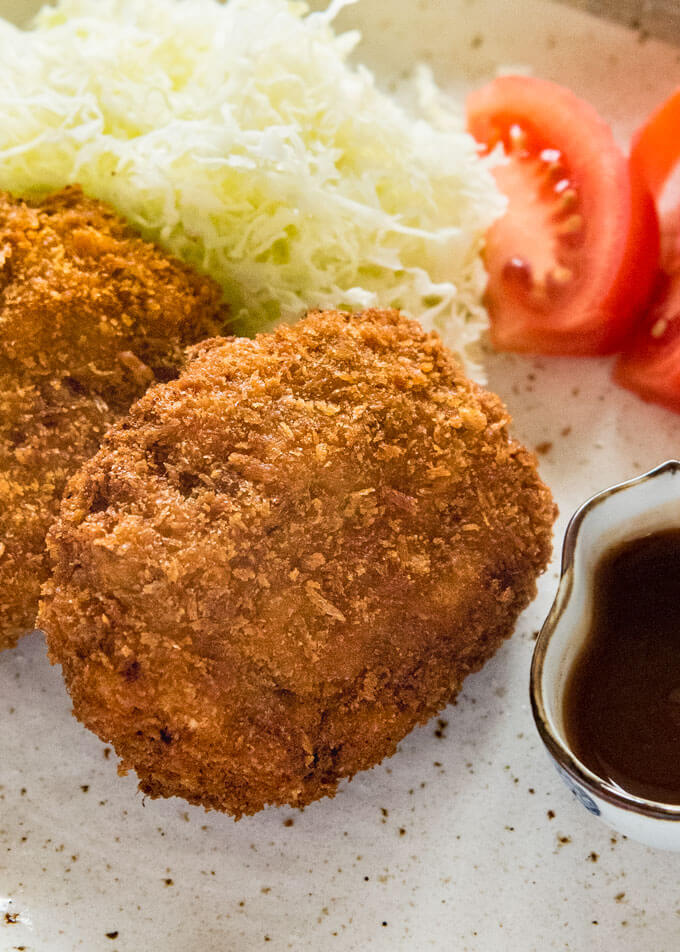 Menchi Katsu – A Hybrid of Korroke and Tonkatsu
Menchi Katsu's appearance is just like Korokke (Japanese Potato and Ground Meat Croquette) and when you see Menchi Katsu displayed along with Korokke at a shop in Japan, you really can't tell the difference.
But Menchi Katsu is mainly made of minced/ground beef and pork with sautéed onions, while Korokke is made of mashed potatoes with a small amount of minced/ground pork.
Since Menchi Katsu is a breaded deep fried meat, it's like Tonkatsu (Japanese Pork Schnitzel) and only difference is that the meat is ground meat. But unlike Tonkatsu, the filling is much softer and easier to bite into.
Menchi Katsu – A Japanese-made English
It is said that Menchi Katsu originated from a similar dish sold at a Western food restaurant in Asakusa. It was in Meiji period (late 19th century to early 20th century) and the dish was called 'minsu mīto katsuretsu' (ミンスミートカツレツ) meaning minced meat cutlet.
This name, 'minsu mīto katsuretsu' must have been a bit of challenge for the Japanese consumers to say.
Then in the early Shōwa period, which started in 1925, the owner of a meat shop in Kobe named it Menchi Katsu, following the example of another Western dish 'meatball', which was called 'menchi ball'.
The word 'mench' (in some regions in Japan, it is called 'minchi' which sounds closer to mince) is a Japanese version of 'mince'. Because a meatball is made of minced meat, it was called mench ball.
The word 'mince' is not that difficult to pronounce even for Japanese, unlike something like Great Barrier Reef (I had so much trouble getting it right – too many 'r's!). But sound of 'ce' does not exist in Japanese – it is similar to 'su' but not quite the same. And 'menchi' is probably much easier for Japanese people to pronounce than 'mince'.
You might call this dish 'rissoles', but I can tell you that for Japanese people, it is too hard to pronounce. 'R'!
Ground Beef and Ground Pork Patties
The main ingredients of Menchi Katsu are the equal portions of beef mince/ground beef and pork mince/ground pork. It is OK to just use beef or pork, but I find that the combination of the two gives better flavour and texture. The pork gives the patties juicy and the beef gives the flavour.
In Japan, you can buy pre-mixed minced/ground pork and beef. It is called 'aibikiniku' (合挽き肉) which means meat (niku, 肉) that is minced together (aibiki, 合挽き).
Aibikiniku is more commonly sold and used in cooking than 100% beef mince/ground beef in Japan. There are a few theories about the reason, but it seems that in addition to the fact that beef is expensive, pork is more suited to Japanese people's palate.
Flavours of Mench Katsu Patties
The ingredients of the Mench Katsu patties are very similar to the ingredients to make my Stewed Hamburg Steak (Nikomi Hamburg) – minced meat, sautéed onions, egg, breadcrumbs soaked in milk, nutmeg, salt and pepper.
But I mix a small amount of Worcestershire sauce and tomato ketchup (tomato sauce in Australia) into the patties to give flavour to them.
If you are one of those people like me who likes light flavour in general, you might not even need a sauce to be poured over the top. The sauce is just a mixture of Worcestershire sauce and tomato ketchup.
Menchi Katsu is quite a filling dish and is often packed in a bento box. It is also great to make a sandwich with Menchi Katsu inside. Yum!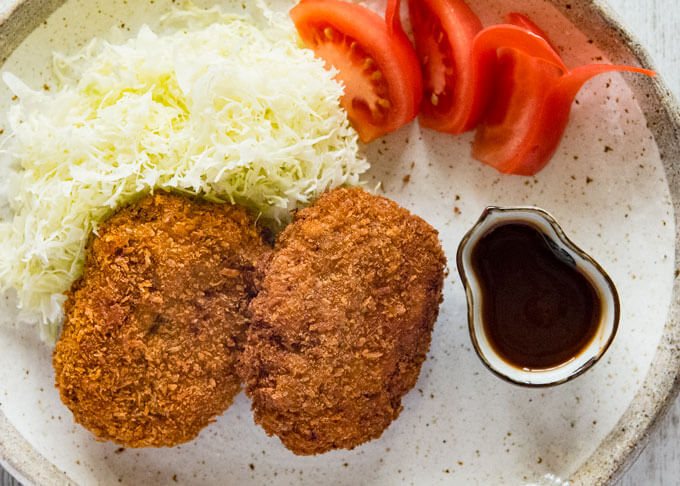 Yumiko

P.S. Don't forget to see the section 'MEAL IDEAS' below the recipe card! It gives you a list of dishes that I have already posted and the new recipe in this post that can make up a complete meal. I hope it is of help to you.
Menchi Katsu (Ground Meat Cutlet)
Menchi Katsu looks like a Japanese-style croquette but this is basically a deep-fried patty/rissole. While Japanese croquette is made of mashed potatoes with a small amount of pork mince, this is mainly beef and pork mince.

Keyword:
beef mince, cutlet, ground beef, ground pork, korokke, menchi katsu, pork mince
Ingredients (tbsp=15ml, cup=250ml)
Patty:
1

small onion finely chopped

1

tbsp

oil

250g/8.8oz

beef mince/ground beef

250g/8.8oz

pork mince/ground pork

3

tbsp

bread crumbs soaked in 2 tbsp milk

(note 1)

1

egg

1

tsp

tomato sauce/ketchup

2

tsp

Worcestershire sauce

½

tsp

salt

A

pinch

of pepper

A

pinch

of nutmeg
Frying:
1

tbsp

flour

1

egg beaten

1

cup

panko bread crumbs

(note 2)

Oil for deep frying
Sauce
4

tbsp

tomato sauce/tomato ketchup

4

tbsp

Worcestershire sauce
Garnish:
Shredded cabbage

Tomato wedges

Few stems of fresh parsley
Instructions
Sauce
Mix the Sauce ingredients well until there are no lumps of the tomato ketchup.
Making Patties
Add 1 tablespoon of oil to a frying pan and heat over medium high heat. Add chopped onions and sauté until they become translucent and the edges of the onion pieces start to brown. Put aside to cool.

Add all the Patty ingredients including sautéed onion to a bowl and mix well until it becomes sticky (note 3). Divide the mince mix into 8 equal portions.

Oil your hands, take one portion at a time and make a ball. Throw the mince ball from one hand to the other hand a couple of times to remove the air inside the patty.

Shape it into a flat oval with about 2-2.5cm/¾-1' thickness. Repeat step 3 and 4 to make 8 patties.
Frying
Arrange each of your ingredients on individual plates/bowls - patties, flour, beaten egg and panko. Place a new plate/cutting board next the panko.

Take a patty and coat it with the flour, then dunk in the egg, followed by the bread crumbs. Place it on the new plate/cutting board. Repeat for the rest of the patties.

Heat oil (about 3cm/1¼" deep) in a deep frying pan or a shallow pot over medium low heat to 160C/320F. Add a couple of breadcrumbs into the oil and if the bubbles around the crumbs are small and slowly increasing, it is the right temperature. If the crumbs are surrounded by lots of bubbles and surface instantaneously, the oil is too hot.

Add patties to the oil gently in 2-3 batches (note 4). Fry for about 3-4 minutes until the bottom half of the cutlet is golden brown. Turn it over and fry further 3-4 minutes (note 5). Transfer to a plate lined with paper towels to absorb excess oil.

Serve while hot with cabbage, tomato and parsley.
Recipe Notes
1. I used panko bread crumbs but if you don't have them, you can use normal breadcrumbs or even torn up fresh bread.
2. You could use normal bread crumbs. But using panko makes the coating very crunchy when fried.
3. If the patty is too soft to handle, you can add more panko.
4. Do not overcrowd the oil with too many patties.
5. Time taken to cook meat depends on the frying pan/pot, thickness of the patty etc. When meat is cooked through, you will feel the Menchi Katsu is lighter and floats in the oil.
6. Nutrition per serving (two Menchi Katsu pieces), assuming that the amount of oil absorbed into a Mench Katsu is 10% of the weight of the Mench Katsu.
serving: 273g calories: 758kcal fat: 55g (85%) saturated fat: 13g (65%) trans fat: 1.3g polyunsaturated fat: 17g monounsaturated fat: 20g cholesterol: 183mg (61%) sodium: 991mg (41%) potassium: 695mg (20%) carbohydrates: 35g (12%) dietary fibre: 1.9g (8%) sugar: 8.5g protein: 30g vitamin a: 5.5% vitamin c: 8.7% calcium: 10% iron: 28%
Meal Ideas
A typical Japanese meal consists of a main dish, a couple of side dishes, a soup and rice. I try to come up with a combination of dishes with a variety of flavours, colours, textures and make-ahead dishes.
The main is a deep-fried meat dish so I use fresh daikon in my salad to help digestion. I picked Snow Pea Leaves Nibitashi for a side to give a bright green colour to the meal. It also gives a different texture and flavour to the meal.
Miso soup can have any ingredients, but I think there is enough vegetables in the dishes and the addition of seaweed to the meal is always a good thing, so I chose Tofu and Wakame Miso Soup.