Crunchy outside, fluffy and a little bit sweet inside. Korokke (コロッケ, potato and ground meat croquette) is one of the very popular Japanese home cooking dishes. Have it with tonkatsu sauce (sweet Worcestershire sauce).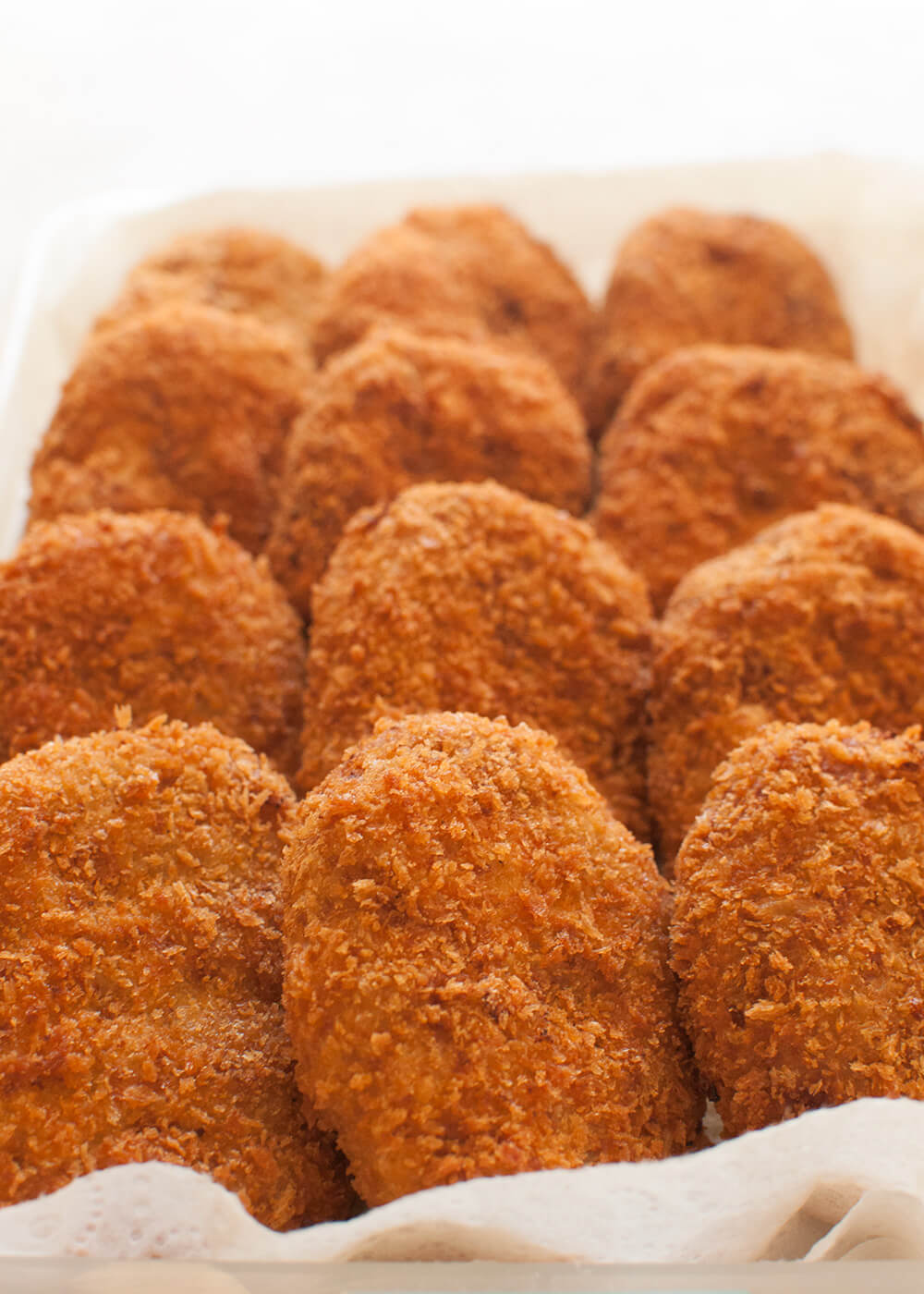 Korokke (コロッケ, potato and ground meat croquette) is somewhat different from any other croquette. Nothing is so satisfying than taking a big bite into a freshly fried hot korokke.
The name korokke came from the French dish croquette, by converting the sound into something similar and easier for Japanese people to pronounce. That's why the word is written in katakana, which is a set of phonetic characters to express sounds and foreign words, instead of kanji characters. If you compare the sound of croquette and korokke, you can hear the similarity, can't you?
While the French croquette is made with béchamel sauce, the inside of the traditional korokke is mainly potato with small amount of ground meat and onion. The potato mixture is flavoured with typical Japanese seasonings such as soy sauce, sake and mirin.
Korokke is also coated with panko breadcrumbs, which are much more coarse than usual breadcrumbs and make the outside of korokke very crunchy when deep fried.
Although traditional korokke was made of potato, onion and ground meat; nowadays korokke comes with vegetables and seafood instead of meat; and also béchamel sauce instead of potato.
The shape of korokke also varies. Instead of the flat oval shape which is the traditional korokke as in this recipe, you may have the flat round shape, the log shape and the ball shape.
Korokke was one of the regular dinner menus in my household when I was a child. In fact, it was probably the case in many households at that time. Even now, I believe korokke is a popular dinner dish.
If you live in Japan, you probably do not make korokke like I do in Sydney because you can buy delicious korokke at shops and they are not expensive at all. When I was a child, korokke was sold at the butcher. They made korokke from scratch with secret seasoning. Then, they deep fried it with panko breadcrumbs in front of you.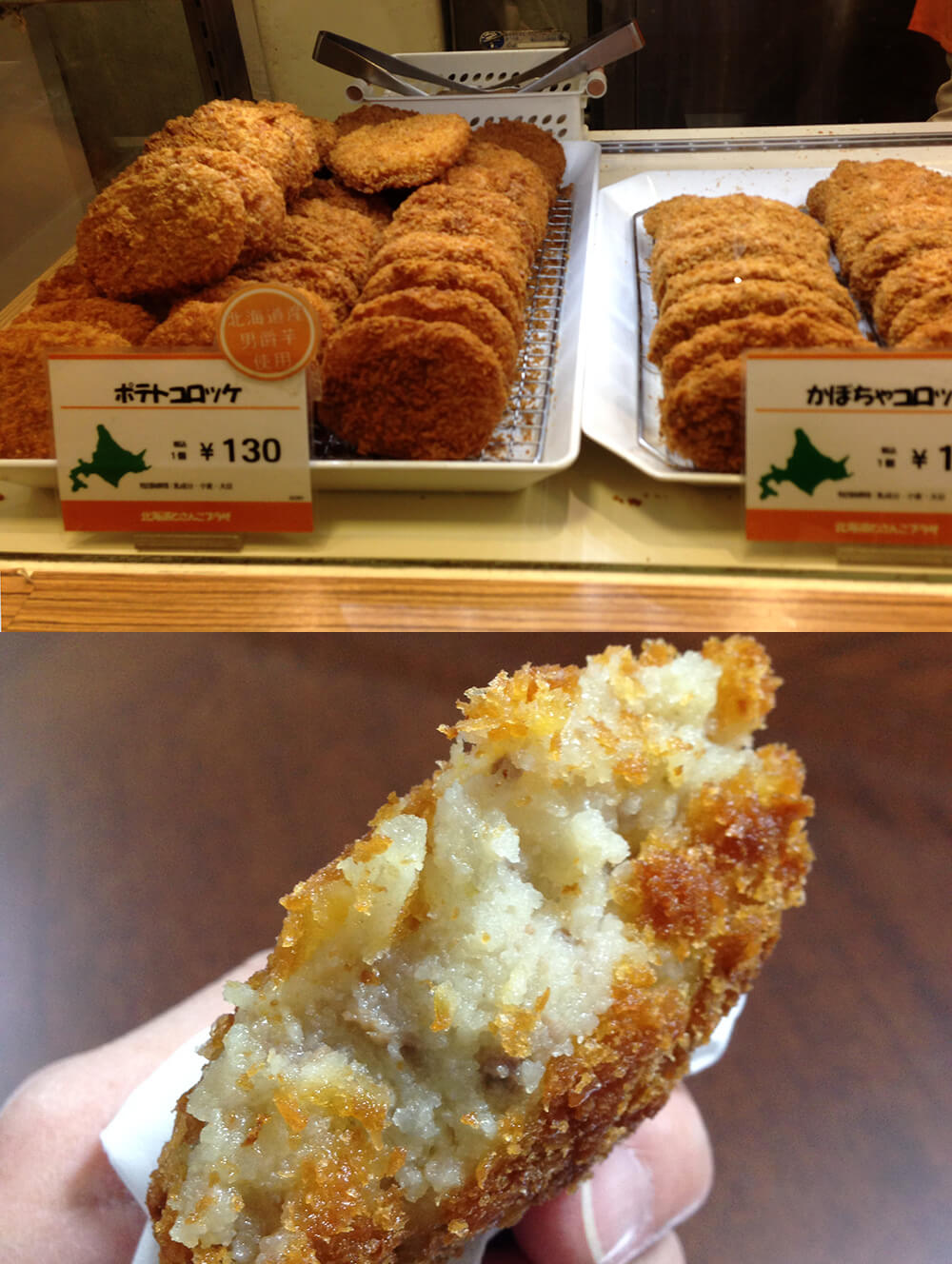 This tradition still exists and you can buy korokke at most butchers. But korokke is also sold at specialty shops and super markets. I still prefer buying korokke from a butcher, though. I don't know why but it tastes better in my view, perhaps because a korokke is freshly made.
Whenever I returned to Tokyo to see my parents, I never missed buying a korokke from the butcher my parents used to buy meat from. And I ate it while walking back to my parent's house. It was so good.
My parents were very conservative people. Given that they were both teachers, they valued morals and were very strict with manners. When my mother saw me eating a korokke while walking along the street, she almost had a fit. She said that it was disgraceful to eat food while walking, not to mention outside in public. I countered saying that it's the norm in Australia. She rolled her eyes.
But I think korokke is one of those things that tastes best when you eat it immediately after deep fried, especially while walking. It's just like a McDonald's hash brown. The pattie has flavours so I don't even use sauce if I eat korokke like this.
In addition to the texture of breadcrumb, what makes korokke so different from croquette is that korokke is slightly sweet inside. It took me a while to get the flavour close to those you can get from the butcher in Japan, but I think the korokke in this recipe is pretty close.
If you ever visit Japan, try a hot korokke from a butcher or a specialty shop. You will know exactly what I mean.
Yumiko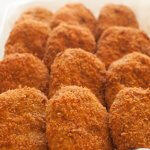 Korokke (Japanese Potato and Ground Meat Croquettes)
Crunchy outside, fluffy and a little bit sweet inside. It is one of the very popular Japanese home cooking dishes. Nothing is so satisfying than taking a big bite into the freshly fried hot korokke. Have it with tonkatsu sauce (sweet Worcestershire sauce). Cooking time assumes that the time taken to boil the potatoes is 30 minutes.
Ingredients (tbsp=15ml, cup=250ml)
600g/1.3lb

starchy potatoes

(note 1)

1

tbsp

oil

200g/0.4lb

pork mince

(ground pork) (note 2)

1

small onion finely diced

Salt & pepper
Coating
50g/1.8oz

flour

1

beaten egg

2

cups

Japanese bread crumbs

(note 3)

Oil for deep fry
To Serve
Shredded cabbage

Parsley leaves

Tonkatsu sauce

(note 4)
Instructions
Put potatoes in a saucepan and add water to cover the potatoes sufficiently. Turn the heat on high and bring to a simmer.

Cook potatoes until a bamboo skewer or a thin knife can get through to the centre of the potatoes easily. This will take 15-40 minutes depending on the size of the potatoes (note 5).

When the potatoes are cooked, drain into a colander. Peel the potatoes immediately and place them into the saucepan just emptied. It is very hot so use a cloth or layers of kitchen paper to hold the potatoes.

Using a potato masher, mash the potatoes mostly but leaving some tiny chunks of potatoes.

While boiling potatoes, heat 1 tablespoon oil in a fry pan over medium high heat. Add onion and sauté until the onion becomes translucent and soft (about 3-5 minutes). Add pork, salt & pepper and cook, breaking it up as you go until browned and cooked through.

Add the cooked mince to the potatoes in the pot (discard oil if accumulated in the fry pan), then the Korokke Flavouring ingredients. Mix well (note 6).

Divide the potato mixture into 12 equal balls. Flatten them and shape into oval patties, about 2cm/¾" thick.

Place flour, egg and breadcrumbs in a shallow plate or bowl individually.

Coat each patty with flour, egg, then breadcrumbs.

Heat oil in a deep fry pan over medium heat. Fry the patties for 1-2 minutes until the breadcrumbs become golden brown. You can fry more than one patty at a time but do not overcrowd the fry pan.

Serve immediately with shredded cabbage with a stem of parsley leaves, accompanied by tonkatsu sauce.
Recipe Notes
1. Starchy potatoes are best suited to this dish as they become nice and fluffy when cooked. The best to use are Russet (common in the US), Dutch Creams, King Edward or Red Delight. However, great all-purpose potatoes like Golden Delight, Coliban, Red Rascal and Sebago (popular in Australia) still work great.
2. Today, I used just pork mince but usually I use mixture of pork and beef mince. You could even use chicken if you like.
3. The quantity of breadcrumbs required is approximate as it varies depending on how much you coat the patties.
You can use normal breadcrumbs but the texture of outside would be different from korokke. Japanese breadcrumbs are much more coarse than standard breadcrumbs, hence they create a crunchier texture when cooked, which is the best part of korokke.
If you can't find Japanese breadcrumbs at Asian grocery shops, you can make them by placing stale white bread in the blender and coarsely grinding it.
4. I think that thick fruity tonkatsu sauce goes well with korokke. Please see my post, Yakisoba for more details about Japanese sauce. You can also see the tonkatsu sauce bottle in the photo below this recipe.
But if you don't have it, a mixture of Worcestershire sauce and tomato sauce (ketchup) can be a good substitute.
5. If you don't have time, you can cut the potatoes into 2.5cm (1") cubes, then boil in a pot of water just to cover the potatoes. When the potatoes ae cooked through, drain the water leaving the potatoes in a pot. Shake the pot over high heat for 15-20 seconds to evaporate excess moisture.
6. At this point, try to forma a patty to check the consistency of the potato mixture. If too dry, it tends to crack the edges of the patty and you need to add a bit more milk (not in ingredients) to make it moist.
7. You can breeze Korokke before deep frying. Individually wrap Korokke and place them in a ziplock bag and freeze.
Do not thaw Korroke before frying as the moisture form the Korokke makes it difficult to deep fry. Fry either frozen or slightly thawed in microwave.
The temperature of the oil should be about 180C/320F. Fry only a couple of Korroke at a time and do not turn them over.
When the centre of the Korokke is softened, it is ready.