I thought I already posted my Lotus Root Chips (Renkon Chips) recipe, but obviously I hadn't. This is a huge oversight on my part because it is so easy to make Lotus Root Chips, and they are so crunchy and tasty.
I have made a quite few dishes using lotus root. I posted Lotus Root and Mizuna Salad, Simmered Vegetables (Nishime), Steamed Lotus Root Balls, Deep Fried Lotus Root and Prawn Sandwiches (Renkon no Hasami Age), to name a few. Some dishes such as Gomoku-mame (Simmered Soybeans with Vegetables) and Scattered Sushi (Chirashi Sushi) use small pieces of lotus roots mixed with other ingredients.
I like the appearance of sliced lotus roots with so many holes. They make the dish pretty and visually interesting. The chips made from sliced lotus roots are no exception. They look cute.
Thickness of Lotus root slices is Critical
The method of making Lotus Root Chips is very similar to Burdock Chips, but you don't need to slice Lotus root as thin as the burdock. Well, it is still very thin but almost twice as thick as the burdock chips.
In the case of burdock chips, you need to slice the burdock root into 1-1.3mm/1⁄32-1⁄16″ thick slices. The thickness of the lotus root slice is 2-3mm/3⁄32-⅛" thick.
This is because you need to slice the lotus root against the direction of the fibre to show the holes, which makes the sliced lotus roots easy to break if they are too thin. On the other hand, burdock is sliced in the direction of the fibre, therefore it is harder to break even if it is half the thickness of the lotus root slices.
Different Shapes of Lotus Root
Lotus root is called "renkon" (蓮根) in Japanese. I talked about lotus root in my post Lotus Root and Mizuna Salad, with sample photos. I used to buy a long lotus root like the photo in the salad recipe, but the shops that sold lotus roots were limited and I had to go to Eastwood where many Chinese/Korean grocery shops are located.
But now I can find lotus roots at my local vegetable shop and Asian grocery stores. They have very short rhizomes between the roots (the narrow part) and 2-3 connected rhizomes are vacuum sealed in a plastic case.
It doesn't matter how long the rhizome is, Renkon Chips will turn out yummy.
What's in My Lotus Root Chips (Renkon Chips)
Lotus roots, sliced 2mm/3⁄32″ thick
Water with a small amount of vinegar
A few pinches of salt
Oil to deep-fry (not in the photo)
I used a slicer that has the variable thickness to choose from. 2mm/3⁄32″ was the thickest I could slice into with this slicer. My slicer is Kyocera brand. You can buy it in various kitchenware shops. Kyocera have a fixed-thickness slicer as well as variable thickness slicer (3 thicknesses). I have a variable thickness slicer, which is more versatile.
If you are using a knife to slice the lotus root, 2mm/3⁄32″ thick might be challenging. You can cut it into slightly thicker slices, but no more than 3mm/⅛" thick.
Depending on the season, you may not be able to find fresh lotus roots. You can make Renkon Chips from frozen sliced lotus roots also. Frozen sliced lotus roots come in different thicknesses. You will need the thinnest slice, which is 3mm /⅛" thick. Here is the sample bag and slices of frozen lotus roots.
Vinegared water is required to prevent the sliced lotus roots from discolouring. It also removes bitterness, although the bitterness and discolouration are not as severe as with burdock.
You don't have to use a large quantity of oil to deep-fry sliced lotus roots. My oil was only 1.5cm/⅝" deep.
How to Make Lotus Root Chips (Renkon Chips)
There are no tricks or special techniques to making Renkon Chips. As long as the temperature of the oil is maintained to 160-170°C/320-338°F, you can make tasty crunchy chips.
Pat-dry each slice of lotus root using kitchen paper.
Heat oil to 160-170°C/320-338°F.
Deep-fry lotus root slices in batches until lightly browned.
Transfer to a tray lined with kitchen paper.
Sprinkle a few pinches of salt over the cooked lotus roots.
Pat-drying each lotus root slice is a little bit of a tedious job to do, but you must remove the water on the lotus root completely. Otherwise, the oil will splash when you put the lotus roots in.
Lotus root shrinks a lot when cooked, so you can slightly overcrowd the oil with the lotus roots in the pan.
It is important to remove the lotus roots from the oil a tiny bit before they become golden brown because the chips continue to brown after being transferred to the tray.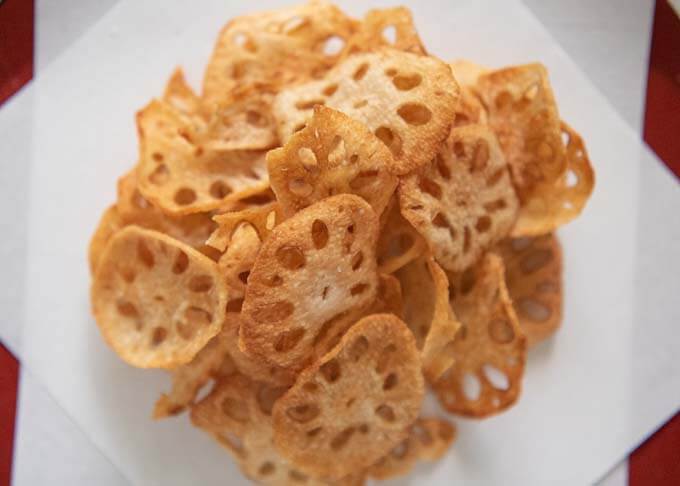 If your lotus root is thick, the chips will become brown, but the centre of the chips won't be crunchy. If this happens, you can put the fried chips in the microwave for about 30 seconds to make them crunchy.
Lotus Root Chips (Renkon Chips) are easy to make and a good alternatives to the potato chip. They contain much less oil than potato chips and are much higher in fibre. They also have an appealing shape.
Renkon Chips are also great toppings for salad to add a different texture like the photo below. You can use them in place of croutons.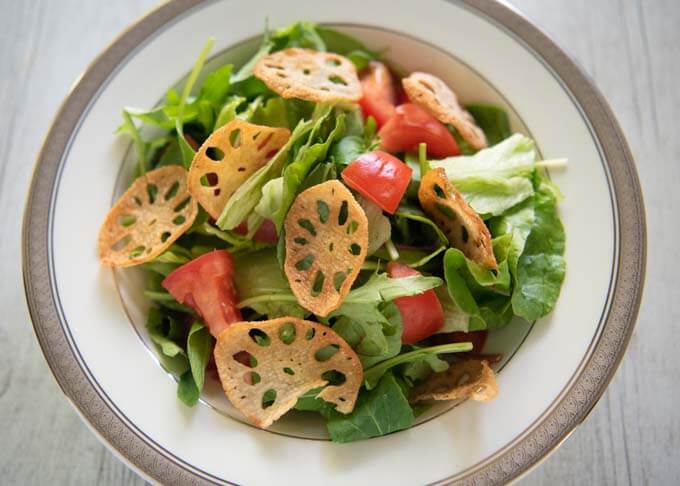 Yumiko

Lotus Root Chips (Renkon Chips)
Lotus Root Chips (Renkon Chips) is so easy to make. It's just like potato chips, but Lotus Root Chips are not only crunchy and tasty, but also healthier than potato chips. They contain less oil and more fibre.
Cook Time assumes that lotus roots are deep-fried in 4 baches.
Don't forget to see the section 'MEAL IDEAS' below the recipe card! It gives you a list of dishes that I have already posted and this recipe that can make up a complete meal. I hope it is of help to you.
Keyword:
home-made chips, lotus chips
Ingredients (tbsp=15ml, cup=250ml)
200-250g/7.1-8.8oz

lotus root

peeled

1L/2.1pt

water

1

tbsp

vinegar

2-3

pinches

salt

Oil
Instructions
Add vinegar to the water in a bowl and mix.

Thinly slice the lotus root crosswise into 2-3mm/3⁄32-⅛" thick rounds (note 1). As you slice lotus roots, put the slices in the vinegared water.

Drain the lotus roots and pat-dry each slice using kitchen paper so that the oil will not splash when deep-fried.

Heat oil in a frying pan to 160-170°C/320-338°F (note 2). The depth of the oil is about 1.5cm/⅝".

Take a handful of lotus root slices and gently put them in the oil (note 3). Using a long pair of cooking chopsticks or metal tongs, quickly separate each slice.

Cook for about 2-3 minutes (note 4) until the surface of the lotus roots becomes slightly coloured (very light brown).

Turn them over and cook for a further couple of minutes until the slices become light brown. By then, you will see the size of the slices become about ⅔ - ¾ of the original size.

Transfer to a tray lined with a couple of layers of kitchen paper (note 5).

Repeat for the rest of the lotus roots. I fried them in 4 batches (note 6).

Sprinkle a few pinches of salt and let them cool down completely.
Recipe Notes
1. I used a slicer to slice the lotus root into 2mm/3⁄32" thick pieces. If you are using a knife to slice the lotus root, slicing it to 2mm/3⁄32" thick might be difficult. But try to slice it into no more than 3mm/⅛" thick. If too thick, the chips can get too browned before they are cooked through and become crispy.
If you can't find a fresh lotus root, you can use thinly sliced frozen lotus roots. Japanese/Asian grocery stores sell them in a pack. Frozen lotus root packs come in a few different thicknesses. Make sure that you buy the thinnest slices, which should be 3mm/⅛" thick.
2. If your slices are 3mm/⅛" thick, set the oil temperature to 160°C/338°F and fry for a longer time. This will ensure that the centre of the chip is cooked well and crispy.
3. You can overcrowd the oil by slightly overlapping the slices each other because the lotus root shrinks when deep-fried.
4. Depending on the thickness of the lotus root slices and the oil temperature, the cooking time varies.
5. The lotus roots continue to cook and become slightly darker even after they are placed on the tray. So you need to take them out of the oil before they become too brown.
6. Eat one chip to see if it is crunchy to the centre of the lotus root. You might find that the middle part of the slice is not crunchy, particularly if your slice is thick. If this is the case, spread the chips on a microwave-safe plate lined with a sheet of kitchen paper and microwave them for 30 seconds or so to crisp up.
7. You can keep Renkon Chips in a ziplock bag for a day or so without losing crispness.
8. Nutrition per serving. It assumes 200g/7.1oz of lotus root is used and the oil absorption rate is 3%.
serving: 104g calories: 93kcal fat: 3.1g (5%) saturated fat: 0.2g (1%) trans fat: 0.0g polyunsaturated fat: 0.5g monounsaturated fat: 2.2g cholesterol: 0mg (0%) sodium: 243mg (10%) potassium: 363mg (10%) carbohydrates: 16g (5%) dietary fibre: 3.1g (12%) sugar: 0.5g protein: 1.6g vitamin a: 0% vitamin c: 46% calcium: 2% iron: 5%
Meal Ideas
A typical Japanese meal consists of a main dish, a couple of side dishes, a soup and rice. I try to come up with a combination of dishes with a variety of flavours, colours, textures and make-ahead dishes.
Although chips are not usually included as a side dish in a typical Japanese meal, I thought I could serve it with yōshoku (Japanese-style Western food) dishes.
Given that Renkon Chips are a vegetarian dish, I came up with a set of vegetarian dishes. Vegetarian Curry should go well with the chips. To cleanse the palate, I picked Sunomono (vinegar dressing). Any vinegar-based side dish will be good.
Where the recipe indicates 'dashi stock', use vegetarian dashi stock such as konbu dashi to make it vegetarian.