For the New Year's feast, Japanese people often serve Simmered Vegetables called Nishime. Various vegetables are cooked in a slightly sweet soy-based light broth. A good dashi stock and meticulous preparation of each ingredient are the keys to a good-looking dish.
Nishime is a generic word for the traditional dish of vegetables, with or without meat, cooked in a flavoured broth until the broth is reduced to a minimum amount. So you can also call my dish Chikuzenni a nishime.
The ingredients and the methods of making nishime vary region by region. Chikuzenni originated from the northern part of Kyushu, which used to be called 'Chikuzen'.
Like Chikuzenni some nishime dishes include meat but some contain just vegetables. Sometimes you stir-fry meat and vegetables before simmering them in a broth. The flavouring also varies.
Nishime and Osechi-ryōri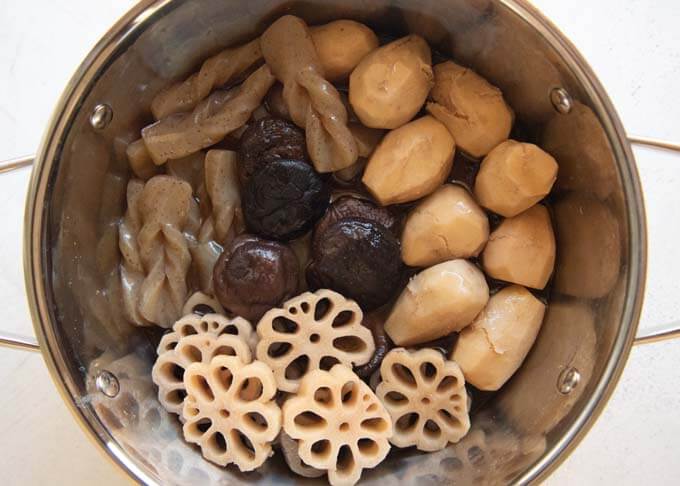 Nishime is one of the dishes in osechi-ryōri (お節料理)/ osechi (お節 or おせち), which is a special collection of food served at New Year in Japan. There is a good reason for it. Each vegetable included in nishime has a particular meaning celebrating the New Year.
For example, taro roots grow by adding smaller taros to the main root. So, it symbolises the wish to be gifted with many children. The holes in lotus roots symbolise a 'bright view of the future'.
The flower-shaped carrots are meant to be plum flowers. Plum flowers bloom in very early spring ahead of many spring flowers in Japan.  Because of this, the plum flower is seen as a symbol of good fortune. The red and white colour of the flowers also relate to good fortune.
Osechi-ryōri consists of many other dishes that can last several days in cool room temperatures. Like nishime, each dish symbolises something that is related to good health, good luck, fortune, or good relationships.
I am sorry that I missed the timing of this post by a week. This recipe should have been out before end of the year so that you can cook and get ready for New Year.
What's in My Simmered Vegetables (Nishime)
Vegetables:
Lotus roots
Carrot
Dried shiitake mushrooms
Taro
Snow peas
Lotus root is a seasonal vegetable so you may not find fresh lotus roots all year round. In that case, use frozen sliced lotus roots as an alternative. You can buy them at Japanese/Asian grocery stores.
Taro is called 'satoimo' (里芋) in Japan. But satoimo might be a slightly different species from taro because the size of satoimo is no more than 4cm / 1½"  long, while taro can grow to 3-4 times larger (or even more) than satoimo. The texture of taro and satoimo are similar when cooked but satoimo is a bit slimy.
I always try to find a small taro that is similar to the Japanese taro in size. But if I can't find a small taro, I use a large taro and cut it into smaller cuboids.
Other than the vegetables I used above, burdock, bamboo shoots, and green beans are often included in Nishime.
Simmering Broth for Nishime: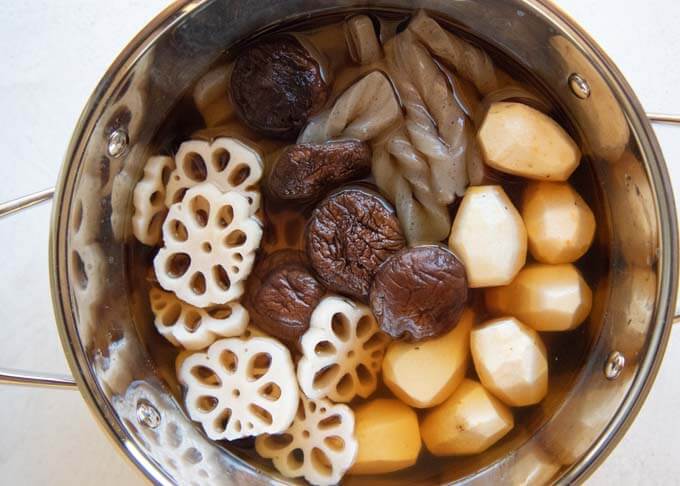 Dashi stock
Shiitake dashi (soaking liquid of shiitake mushrooms)
Mirin
Sugar
Cooking sake
Light soy sauce
Light soy sauce is used here to preserve the natural colour of the vegetables as much as possible. But if you only have normal soy sauce, you can substitute it.
For vegetarian, use konbu dashi instead of standard dashi stock, awase dashi.
Simmering Broth for Carrot:
Carrot pieces are cooked without soy sauce so that the bright colour of the carrot pieces can be preserved.
How to Make Nishime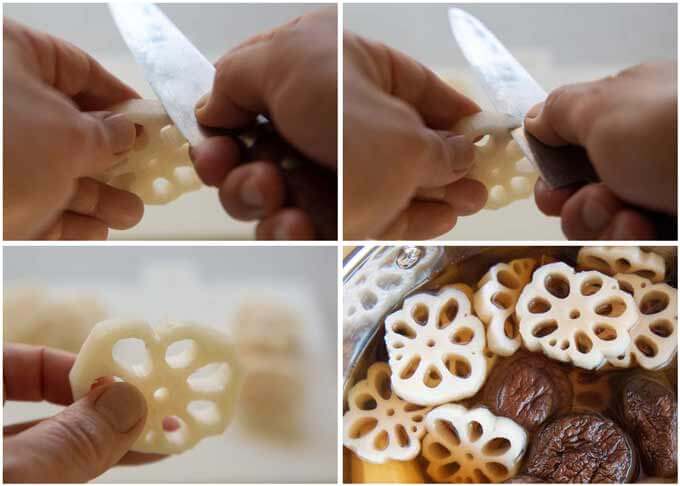 Cut/slice vegetables into similar size pieces.
Blanch snow peas, cool them down quickly and drain.
Cook carrots in the Simmering Broth for Carrot. Leave the carrots in the broth.
Cook lotus roots, shiitake mushrooms, taro and konnyaku in the Simmering Broth for Nishime until the broth almost evaporates.
Place the vegetables, except carrots, on a serving plate. Cluster the same vegetable together, and scatter the carrots.
This is optional but I made flowers from lotus root slices (photo above) and carrot pieces (photo below). It takes a bit of time to make vegetable flowers, but it is worth the effort as the dish looks more attractive.
I used a vegetable cutter to make carrot discs into plum flower. Then using the technique in the photo above to make petals more interesting. Because the petals are twisted, it is called 'nejiri-ume' (ねじり梅), which means twisted plum. Photo below shows my vegetable cutters and I used large plum and small plum cutters today.
Because the carrots are flower-shaped pretty pieces, scatter them over the vegetables. Piling them up in a cluster is not the best way to show them off. If you don't make carrot flowers, you can pile the carrots up like other vegetables.
But even if Nishime is a typical New Year's celebration food, I cook it all year round. When seasonal vegetables are not available, I either use frozen vegetables or simply exclude them.
The plain flavour of the simmering broth brings out the true flavour of each vegetable. It is such a comfort food. You can serve a small amount of nishime as an appetiser as well.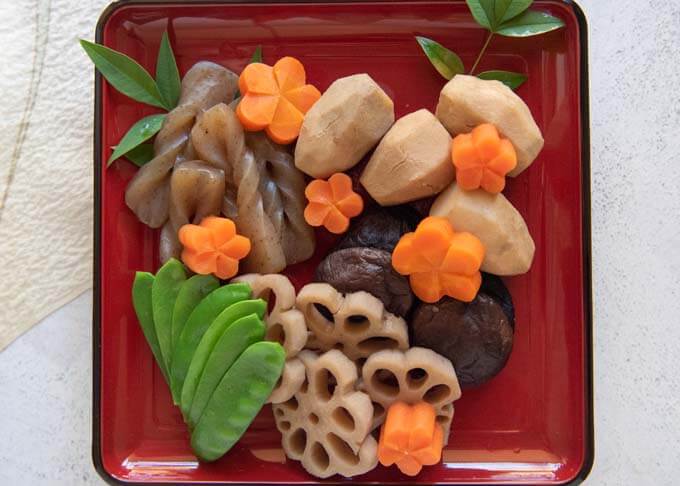 Yumiko

Simmered Vegetables (Nishime)
Simmered Vegetables (Nishime) is often served in New Year's feasts. Various vegetables are cooked in slightly sweet soy-based broth. A good dashi stock and meticulous preparation of each ingredient are the keys to a good-looking dish.
If you use konbu dashi for dashi stock, you can make it a vegan dish.
Don't forget to see the section 'MEAL IDEAS' below the recipe card! It gives you a list of dishes that I have already posted and this recipe that can make up a complete meal. I hope it is of help to you.
Keyword:
nimono, simmered dish, vegetable dish, vegetarian dish
Ingredients (tbsp=15ml, cup=250ml)
Vegetables (note 1)
150g / 5.3oz

lotus roots

(note 2)

8

dried shiitake mushrooms (medium size)

rehydrated in 250ml / 8.4oz water

280g / 9.9oz

taro

(small, note 3)

250g / 8.8oz

konnyaku

100g / 3.5oz

carrot

15

snow peas

(small, note 4)
Simmering Broth for Carrot
Simmering broth for Nishime
400ml / 13.5oz

dashi stock

200ml / 6.8oz

shiitake dashi

(liquid from shiitake musrooms)

2

tbsp

mirin

½

tbsp

sugar

2

tbsp

cooking sake

2

tbsp

light soy sauce
Instructions
Preparing vegetables
Lotus roots: peel the skin thinly and slice into 8mm / 5⁄16" thick pieces.

Optional:Take each slice and make shallow V-shape incisions between the holes around the circle to make the lotus slice look like a flower (see the photo in the post).

Shiitake mushrooms: Squeeze water out and remove the stems. Preserve the water (shiitake dashi).

Taro: Cut the top and bottom ends off. Peel skin vertically.

Konnyaku: Slice into 8mm / 5⁄16" thick pieces. Make 2.5cm / 1" incision in the centre of each slice lengthwise. Make a twisted konnyaku by putting one end through the incision.

Carrot: Slice the carrot into 1cm / ⅜" thick discs.

Optional: Using a flower-shaped vegetable cutter, cut each slice into flowers (note 5). Curve each flower-shaped slice and make nejiri-ume (note 6).

Snow peas: Remove ends and the side strings by pulling the end along the side of the pod.
Blanching Snow peas:
Bring water in a small pot to a boil. Add a pinch of salt and blanch for a minute. Drain and cool them down quickly in cold running water. Pat dry. If your snow peas are large, cut them in half diagonally.
Cooking Carrots
Add carrot pieces and all Cooking Carrot ingredients to a pot. Bring it to a boil, then reduce the heat to low.

Cook for about 10 minutes until the carrots are cooked through. Turn the heat off and let it cool (leave carrots in the broth).
Cooking Other Vegetables
Add all the Simmering Broth for Nishime ingredients to a large pot. Add lotus roots, shiitake mushrooms, taro and konnyaku pieces to the pot.

Bring it to a boil with a lid on. Reduce the heat to low and cook for 10 minutes.

Remove the lid and continue to cook for another 10 minutes or so until the liquid almost evaporates. Turn the heat off.
Serving
Place lotus roots, taro, shiitake mushrooms and konnyaku on a serving plate, clustering the same vegetables together.

Place the snow peas on the front part of the plate.

Drain carrots and scatter them over the vegetables.
Recipe Notes
1. The quantity of vegetables can vary but it is good to have a balanced quantity of each ingredient.
You can also add or replace the ones in this recipe with burdock, bamboo shoots and green beans.
2. If you cannot find fresh lotus roots, you can buy sliced frozen lotus roots from Japanese/Asian grocery stores. They might come in halved slices but that's OK.
3. My taro was small, about 5cm / 2" long. I can't always use small taros as very large taros are more commonly available where I live.
If you can only find a large one, cut into smaller cuboids and remove the edges to prevent them from breaking.
4. If your snow peas are large, you need fewer of them and cut in half diagonally after blanching.
5. Vegetable cutters are just like cookie cutters but much smaller (about 3cm / 1¼" in diameter) and the edge is very sharp. I used the shape of a plum flower (see the photo in post).
To make a plum flower shape from a slice of carrot using a knife instead of a cutter: Peel the skin. Make 5 small V-shaped cuts around the edge of the round slice in equal spacing. Shape the edges of the petals by removing pointy edges. If you have no time, you don't need to make them into flower shapes but peel the skin.
6. How to make nejiri-ume (see the photos in post):
Place the tip of a small knife into the centre of the flower and make 5 shallow incisions from the centre of the flower to the outer edge between the petals. The depth of the outer edge should be 2-3mm.
Place the tip of a small knife into the centre of the flower with the blade slightly left side (for the right hander) of one of the incisions.
While keeping the tip stationed, move the blade to the next incision on the left, gradually deepening the slice so that it meets the depth of the incision on the left. You should have a petal diagonally sliced.
Meal Ideas
A typical Japanese meal consists of a main dish, a couple of side dishes, a soup and rice. I try to come up with a combination of dishes with a variety of flavours, colours, textures and make-ahead dishes.
Although I have not posted many of the New Year's dishes yet, I do have a few dishes that can be served for a New Year's feast. So, I listed dishes that resembles osechi-ryōri.