Gomoku-mame (五目豆, Simmered Soybeans with Vegetables) is a wonderful, healthy vegetarian dish. Soybeans are cooked with diced root vegetables in a sweet soy sauce flavour. It keeps well for several days in the fridge and you can freeze it, too.
If you have stayed in Japanese style accommodation called ryokan (旅館) and had a Japanese style meal there, you probably remember that the Japanese meal consists of many small dishes as well as a main dish, rice and soup.
Even at home, people try to serve many different kinds of dishes as it is the Japanese dietary habits, washoku (和食). By following these habits, people will usually eat well balanced meals.
Whenever I had time, I tried to serve many small dishes to the family. I even served grilled fish in the morning, just like ryokan. This is obviously one of my deep-rooted habits and to this date, I still eat a big breakfast with a substantial amount of protein, even on my own. Otherwise, I get hungry in about 2 hours.
So, I developed a routine of having a dinner-like meal for breakfast, a good sized lunch and a very small amount of dinner with wine (yes, I need wine). I even eat sashimi, steak, curry (any cuisine), stew, pasta, etc. for breakfast. Any meal, really. My son is one of those who eats just toast or something very light for breakfast and he cannot believe how much I eat in the morning. He once said to me, "You eat a lot for your age". Well, thanks but I am active and need energy, don't I?
If you are a busy person and do not have much time to cook during the week, it would be almost impossible to serve so many small dishes freshly made every day. And this is where something like gomoku-mame (simmered soybeans with vegetables) comes in handy.
Simmered soybeans is one of the dishes I made in a large quantity on a weekend and served as a side dish a few times over a certain period of time. It is good as a side as well as an appetiser, particularly with sake. You can even freeze it.
It consists of 5 ingredients, which is where the name comes from. Gomoku (五目) means five items and mame (豆) is beans. Some people interpret this as 5 items including soybeans but some count 5 ingredients in addition to the beans, making it 6 items in total.
Other than soybeans, the ingredients included in gomoku-mame vary slightly household by household. But the common ingredients are carrot, burdock, lotus root, shiitake mushrooms, konnyaku, konbu (kelp), and bamboo shoots. I happened to have 5 suitable ingredients to go with soybeans so I used carrot, shiitake, lotus root, konnyaku and konbu this time.
The uniqueness of the simmered soybeans is that the vegetables are all diced into similar sizes to the soybeans so that they display colours and textures in a well-balanced way. I used dry soybeans and cooked them first but if you can obtain cooked soybeans, then all you need to do is dice the vegetables and cook in the flavoured sauce.
COOKING DRIED SOYBEANS
I could not find cooked soybeans. I tried Coles, Woolworths, Harris Farm, and the health food shops. They sell other beans in a tin such as cooked kidney beans, cannellini beans, and chickpeas but no soybeans.
So, I had to cook dried soybeans from scratch by soaking them overnight and boiling them. It is a very simple process but it takes time. If you are fortunate enough to be able to buy cooked soybeans, by all means, you can skip the first part of my recipe, cutting back the cooking time by an hour. Because it takes time to cook soybeans from dried beans, I usually cook more than what I need and freeze the excess.
You need to soak the dried beans overnight in water about 3 times of the volume of the beans. They do soak up a lot of water and increase the bean size. You will then boil the beans in the soaking water. It will take about 1 hour depending on how firm/soft you want them to be. For my simmered soybeans, I cooked them for 50 minutes and I will cook for a further 15 minutes with vegetables.
When the beans start boiling, they produce a lot of white foam on the surface. You will need to remove them occasionally and ensure that most of it is removed.
FLAVOURING
Traditional Simmered Soybeans does not use dashi stock. It uses the liquid from the boiled soybeans, liquid from soaked shiitake, soy sauce, sugar and mirin. So, it is 100% vegetarian. It is said that the liquid from the boiled soybeans contains good bean flavour and so does the shiitake liquid. This is really a typical Japanese way of cooking the ingredients so that you will taste each ingredient without getting lost in additional flavours.
But if you find that the flavour needs a bit more umami or if you are using soybeans that are already boiled, you can add a small amount of dashi stock. I sometimes made simmered soybeans with dashi stock when I accidentally drained the soybeans without preserving the liquid.
FREEZING
Simmered Soybeans keeps in the fridge for about 5 days. It also freezes well. However, konnyaku is not great when frozen as it becomes like rubber. So, if your simmered soybeans contain konnyaku, I would recommend that you remove the konnyaku pieces before freezing. If you already know before cooking that you will freeze it, you may make it without konnyaku in it.
Yumiko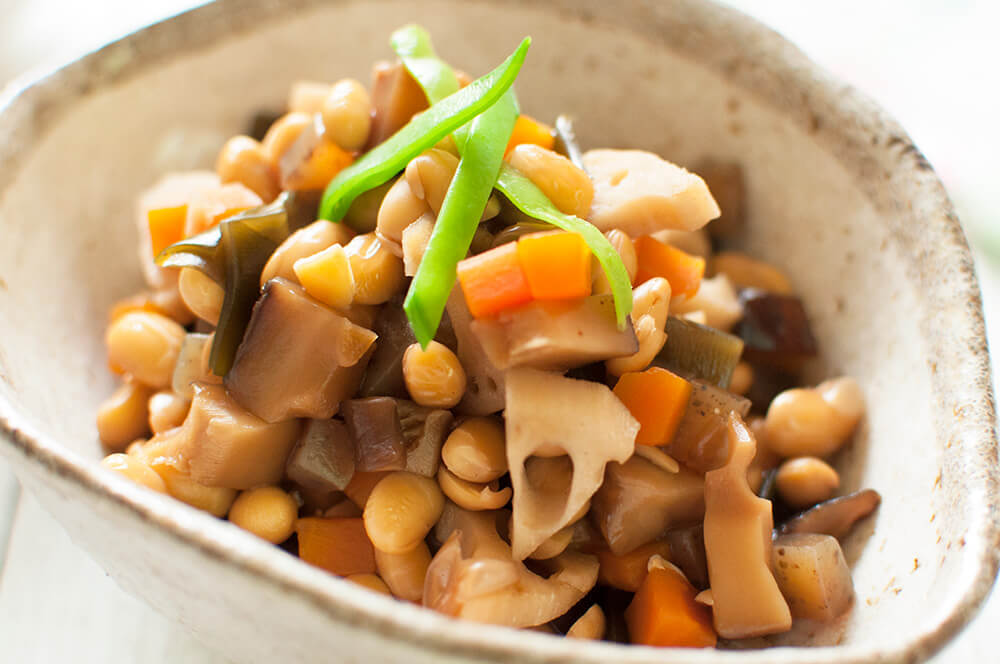 Gomoku-mame (Simmered Soybeans with Vegetables)
Gomoku-mame (五目豆, Simmered Soybeans with Vegetables) is a wonderful, healthy vegetarian dish. Soybeans are cooked with diced root vegetables in a sweet soy sauce flavour. It keeps well for several days in the fridge and you can freeze it, too. Please note that the prep time does not include the time taken to soak the soybeans in water.
Ingredients (tbsp=15ml, cup=250ml)
300ml (10.1oz)

dry soybeans soaked in 1L water overnight (note 1)
5 Vegetables
4

dried shiitake mushrooms

, rehydrated (note 2), cut into 7mm (1/4") cubes

50g (1.8oz)

carrot, diced into 7mm (1/4") cubes

50g (1.8oz)

lotus root, sliced into 5mm (3/16")thick, then cut to 6 pieces (note 3)

50g (1.8oz)

konnyaku, diced into 7mm (1/4") cubes

10cm x 10cm (4" x 4")

konbu (dried kelp)

, cut into 8mm (5/16") squares
Garnish (optional)
blanched snow peas

, julienned
Instructions
Place the soybeans together in the soaking water in a pot over high heat and bring to a boil.

Reduce the heat to medium low and cook for 50 minutes (note 4) without a lid on, occasionally removing the white foam that accumulates on the surface. The water level should always be above the surface of the beans. Add extra water if required.

When beans are cooked, add all the vegetables to the pot. Adjust the water level to just cover the beans and vegetables.

Add the Flavouring ingredients and turn the heat up to high. When it starts boiling, remove scum, if any, then bring down the heat to medium. Place a drop lid on (note 5) and cook for 15 minutes.

Turn the heat off and leave to let the vegetables absorb the flavour.

Serve in a bowl to share or in small bowls individually, with few pieces of julienned snow peas on the top.
Recipe Notes
1. 300ml (10.1oz) of dry soybeans weighs 240g (8.5oz). When fully soaked, the weight of the beans becomes about twice of the original weight. In my case, it weighed 500g (17.6oz).
2. When rehydrated, my mushrooms weighed about 50g (1.8oz).
3. The diameter of my lotus root was 5-6cm (2"-2 3/8") so I cut each slice into 6 pie shapes. If much larger in diameter, you would need to cut each slice into more pieces so that the size of each piece is similar to the other vegetables.
4. The time required to cook soybeans varies depending on how firm/soft you want the beans to be. You can check it by eating a bean from time to time.
5. A drop lid is called otoshi buta (落し蓋) in Japanese. It is a round lid which is slightly smaller than the opening of a saucepan. It is traditionally made of wood but I have a stainless steel lid. It is placed on top of the ingredients in a pot to ensure the heat is evenly distributed, ingredients cook faster, and stay in place without breaking apart. It also stops the liquid from evaporating quickly.
If you don't have a drop lid, you can make one with aluminium foil. Cut a square out of foil, fold the edges to make it a round shape with the diameter slightly smaller than the pot. Then poke the foil with a knife or a chopstick to make holes in several places.
6. If you are using soybeans which are already cooked, start from Step 3 and add ½ teaspoon of dashi powder.