Japanese Vegetable Soup (Kenchinjiru) was originally a Buddhist dish that is vegetarian. Root vegetables and tofu are sautéed and cooked in flavoured dashi broth. It is quite filling but you don't need to worry about the calories.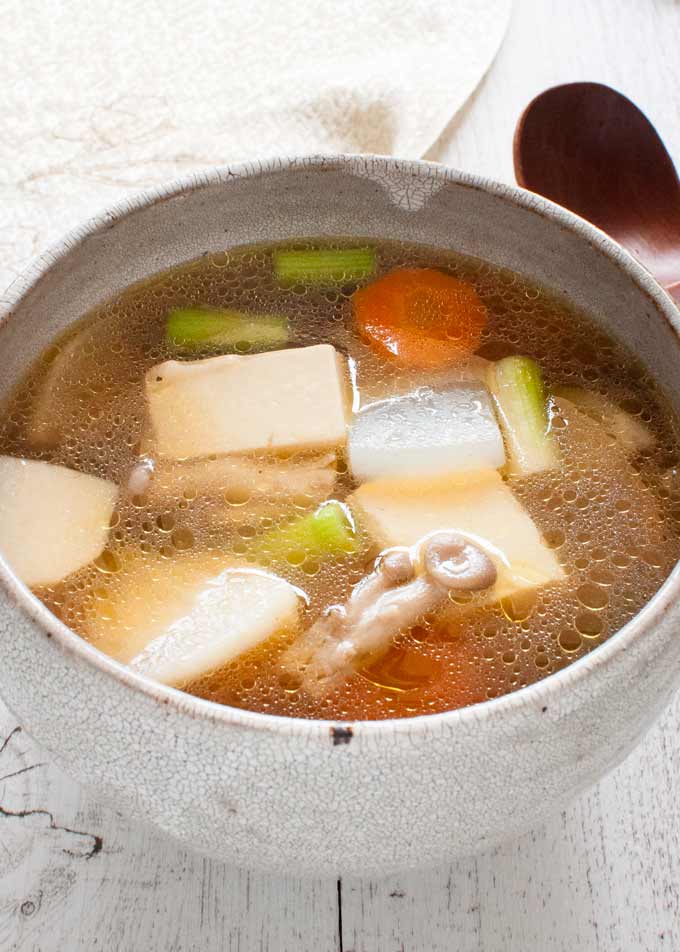 If you are on a diet, this is one of the best homemade vegetable soup recipes I would recommend to you. It's less than 200 calories per standard Japanese serving. It is only made up of vegetables, but the ingredients are sautéed in sesame oil, then cooked in the soy sauce-based broth, giving quite a good flavour.
The word 'kenchinjiru' (けんちん汁) means 'kenchin soup'. The word 'jiru' (汁) is the same word as 'shiru' as in 'misoshiru', meaning soup. But 'kenchin' doesn't mean vegetable and even for Japanese, 'kenchin' is a strange name and the sound is so unlike Japanese.
An old saying is that the name came from a temple in Kamakura, west of Tokyo, called Kenchō-ji. The sound of the word 'Kenchō' evolved over time and became 'kenchin'.
The story goes like this:
There was a Buddhist ceremony at Kenchō-ji temple. The number of people who attended the ceremony was unexpectedly large. The monks were preparing food for people but they realised that there wasn't enough tofu to serve for the entire people.
The monks were wondering what to do and one of them came up with a brilliant idea. He scrambled tofu into smaller pieces and cooked them with other vegetables and served as a soup dish.
The name of this soup was taken from the name of the temple and was called 'Kenchōjiru'. But the sound changed later and became Kenchinjiru. So Kenchinjiru is an accidentally developed dish.

Japanese Vegetable Soup (Kenchinjiru) Ingredients
The most commonly used root vegetables are carrot, daikon (white radish), burdock, taro, and konnyaku. I also use tofu, and often mushrooms and shallots/scallions are added.
In addition to these, I saw some recipes using aburaage, Chinese cabbage, and lotus roots. I also found Kenchinjiru recipes on the internet adding chicken or pork. But strictly speaking this is not correct as Kenchinjiru is meant to be only vegetables.
Today, I did not have burdock so I used carrot, daikon, taro, konnyaku, shimeji mushrooms, tofu and shallots. Only after I finished cooking, I remembered that I had a bag of frozen shredded burdock that I could have used. Oh well. Next time!

About Taro Roots
Taro is a tropical root vegetable. It has a hairy skin that is inedible but what's inside is delicious when cooked. There are varieties of taro . In Japan, I only saw small taro roots, about 5cm/2" long at most. But in Australia, the size of taro varies a lot and a large taro can be so big that you can't hold it in one hand.
Perhaps because I am used to Japanese taro roots, I prefer small taro roots (photo below). They're more cumbersome to peel and prepare but they are closer to the Japanese taro roots in size and texture (see the vegetable above carrots in the ingredients photo above) .  But the Japanese one is a little bit slimier when peeled.
Making Tofu Firmer
For today's recipe, silken tofu is not suitable as it is too fragile. The best tofu is firm tofu (also called momen tofu) because the texture is soft but not as easily scrambled as silken tofu. Hard tofu lacks a delicate texture.
Although tofu pieces are added almost at the end, they get cooked with root vegetables which will break them if the tofu is soft. That's why the firm tofu needs to be firmed up further during the preparation.
The softness of tofu is determined by the amount of water in it. So, you just need to get rid of some water from the firm tofu.
One method is to place the tofu on a tilted cutting board with a little weight on top of the tofu and press it gently. This is the method I used in the recipe.
Another method is to heat the tofu wrapped in kitchen paper and heat it up in the microwave for 1-2 minutes.  Be careful not to cook it for too long as the tofu might explode.
Simple Dashi Broth
Many Japanese dishes have flavours based on dashi stock, soy sauce, and sake with or without mirin. Japanese Vegetable Soup (Kenchinjiru) is no exception. It is a plain flavouring but a little bit of oil and sesame oil makes the broth tastier. It becomes a little bit richer but not too rich, so that you can eat a lot without getting sick of it.
My recipe says 4 servings but it is the Japanese serving size of soups such as miso soup. If you are serving it like the Western style soup, it will be 2-3 servings. You can keep the soup in the fridge for few days. If you are not serving it straight away, add shallots/scallions later.
Japanese Vegetable Soup (Kenchinjiru) is served hot and considered to be a winter dish. But unless it is in the middle of a hot summer there is no reason why you can't make this dish and enjoy a healthy meal.
Yumiko

PS: I added a new section 'MEAL IDEAS' below the recipe card. It gives you a list of dishes that I have already posted and the new recipe in this post that can make up a complete meal. I hope it is of help to you!
Japanese Vegetable Soup (Kenchinjiru)
Japanese Vegetable Soup (Kenchinjiru) was originally a Buddhist dish. Root vegetables and tofu are sautéed and cooked in flavoured dashi broth. It is quite filling but you don't need to worry about the calories.
If you use vegetarian dashi stock such as konbu dashi or shiitake dashi, it becomes 100% vegetarian.
Servings are based on a standard Japanese soup bowl. If serving as a Western style soup, it serves 2-3 bowls of soup.
Keyword:
kenchinjiru, vegetable soup
Ingredients (tbsp=15ml, cup=250ml)
½

pack firm tofu/momen tofu

(about 200g/7.1oz)

50g/1.8oz

carrot thinly sliced to 3mm thick

(note 1)

70g/2.5oz

daikon

, sliced to 3mm/⅛" thick then into quarters or 1/6 pie shape (note 2)

50g/1.8oz

shimeji mushrooms

, de-clustered to individual or a few tiny bunch of mushrooms

100g/3.5oz

taro

, peeled and cut into bite size pieces

125g/4.4oz

konnyaku

(1/2 pack)

500ml/1.1pt

boiling water

1

stem shallot/scallions

, cut to 2.5cm/1" long

1

tbsp

sesame oil

½

tbsp

oil
Dashi Broth
800ml/1.7pt

dashi stock

(note 3)

2

tbsp

soy sauce

2

tbsp

sake

A pinch of salt
Instructions
Wrap the tofu in kitchen paper and place it on a tilted cutting board. Place a small cutting board or a container with a weight in it on the tofu. Leave it for 30 minutes or so. Do this step before preparing the vegetables.

Cut konnyaku lengthwise into three equal strips. Then slice each strip perpendicular to the first cut to 5mm thick. Pouer boiling water over the konnyaku pieces. Drain.

Cut the pressed tofu into half, horizontal to the cutting board. Cut the two layers of tofu lengthwise to half, then cut to 1.5cm thick perpendicular to the second cut.

Add sesame oil and oil in a saucepan and heat over high heat.

Put all the vegetables except shallots and tofu into the pan and stir fry until the vegetable pieces are coated in oil (1-1.5 minutes).

Add tofu, then the Dashi Broth ingredients. Bring it to a boil, place a lid on and cook for about 5 minutes or until the vegetables are cooked through. While cooking, remove the scum from time to time.

Add the shallots to the pan and cook for 15 seconds or so, then turn the heat off.

Serve while hot.
Recipe Notes
1. My carrot was thin so I just sliced it to make a round shape. If your carrot is fat, cut it into half or quarters vertically, then slice it.
2. Depending on how thick the daikon is, adjust the size of the pie shape. The idea is to make it slightly larger than the carrot pieces.
3. For vegetarian dashi stock, please visit Varieties of Dashi Stock.
4. You can keep the soup in the fridge for a few days. If not serving, add shallots/scallions later to prevent discolouration.
5. Nutrition information per serving assuming 4 servings.
serving: 377g  calories:194kcal  fat: 9.7g (15%)  saturated fat: 1.2g (6%)  polyunsaturated fat: 2.6g  monounsaturated fat: 4.9g  cholesterol: 2mg (1%)  sodium: 801mg (33%) potassium: 678mg (19%)  carbohydrates: 15 (5%)  dietary fibre: 3g (12%)  sugar: 2.7g  protein: 11g  vitamin a: 42%  vitamin c: 12%  calcium: 13%  iron: 9.3%
Meal Ideas
A typical Japanese meal consists of a main dish, a couple of side dishes, a soup and rice. I try to come up with a combination of dishes with a variety of flavours, colours, textures and make-ahead dishes.
I decided to make up meal with dishes that are light on stomach. With lots of ingredients in the soup, I thought simple Sashimi would be the best match.
If you replace Sashimi with a vegetarian dish and follow the recipe instructions for the vegetarian version of Steamed Lotus Root Balls, you will make a vegetarian meal.