Tosazu is a light Japanese dressing made of vinegar, soy sauce, mirin and bonito dashi stock. It is a delicious way to enjoy fresh oysters. Try three different toppings on Oysters with Tosazu Dressing.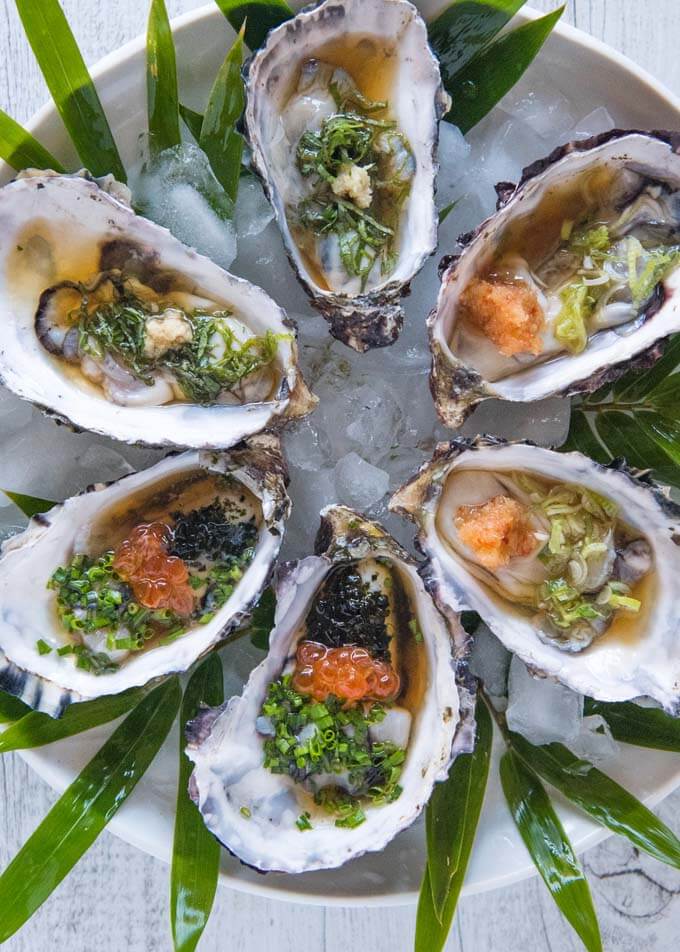 I love fresh oysters. In Australia, it is quite common to buy shucked oysters from a fish shop and serve them straight to the table with lemon wedges. What a simple way to enjoy oysters!
But today, I will show you a very light dressing that goes perfectly well with fresh oysters without overpowering the flavours of the oysters.
About Tosazu
Tosazu (土佐酢) is a vinegar-based Japanese dressing and is also the mildest dressing. It is a variation of the fundamental dressing called Sanbaizu (三杯酢). Tosazu is made by adding bonito dashi stock to Sanbaizu.
Kōchi Prefecture in Shikoku used to be called 'Tosa' (土佐) and it is famous for bonito fishing. Hence, the vinegar dressing with bonito dashi stock is called Tosazu (Tosa + zu).  The word 'zu' means vinegar and the sound changes  from 'su' (酢, vinegar) for easier pronunciation.
The recipes for both Sanbaizu and Tosazu are in the post Japanese Dressings. But I changed the proportion of ingredients slightly to make Tosazu for oysters.
Rice wine vinegar 2 parts
Soy sauce 2 parts
Mirin 1 part
Bonito dashi stock 3 parts
The recipe in Japanese Dressings indicates 4-5 dashi stock portions for the same portion of other ingredients. But for today's dish, a reduced amount of dashi is better suited as the juice from the oyster makes the dressing thinner.
Dashi stock should be made from bonito flakes to call this dressing 'Tosazu' but konbu (kelp) can also be added.
As per my post Home Style Japanese Dashi Stock, these dashi stocks are called Katsuo-dashi (bonito flakes only) and Awase-dashi (bonito flakes + konbu). You can use either type of dashi stock to make Tosazu.
Toppings for Oysters with Tosazu Dressing
Tosazu goes well with certain types of garnishes and I decided to add three different toppings to my oysters.
Spicy Topping (top in the photo above) – momiji oroshi (grated daikon with chillies) and finely chopped shallots/scallions. This is a bit spicy with red chilli in momiji oroshi. The recipe for momiji oroshi is in Tuna Tataki (Seared Tuna) with Ponzu.
Authentic Topping (bottom right in the photo above) – finely sliced perilla leaves and grated ginger. This is a typical combination of garnishes and often used with ponzu when having Chilled Tofu (Hiyayakko).
Luxury Topping (bottom left in the photo above)  – finely chopped chives, ground dried wakame seaweed and ikura (salmon roe). I call it luxury as ikura is not a cheap ingredient. I bought 50g of ikura in a small bottle for $12. But, I can assure you that the oysters looked gorgeous – just like those served at restaurants.
You can serve oysters with just Tosazu if you like but I think these toppings give different dimensions to the dish.
Preparing Oysters
When Japanese people buy oysters, they clean them before eating, regardless of eating them fresh or cooking them.
Oysters often come with cracked shell pieces unless they were shucked skilfully. It is not in the Japanese culture to serve food with inedible broken shell pieces.
There are a few different methods of cleaning raw oysters – rinse with grated daikon, rinse with cornflour/corn starch, rinse with salt.
I found that salt is the easiest way to clean oysters.
Place oysters without shells in a colander and add some salt (2 teaspoons for a dozen oysters).
Using your hand, massage the oysters gently. The blackish slimy liquid comes out.
Rinse the oysters thoroughly until the water dripping from the oysters is clear.
Drain well.
It takes less than a minute to clean them, but you will be surprised how black the water gets.
If my kids read this section, I know they will roll their eyes because in Australia people just eat oysters straight from the shell without rinsing. They think that my very Japanese trait of obsessive cleanliness is in action.
In fact, I eat oysters without cleaning them when we have oysters at my family gatherings, etc (I am becoming an Aussie!). But I just thought it would be good to show you how Japanese people do it. And if you don't want to do it, you can omit this.
Serving Oysters with Tosazu Dressing
Oysters served in shells look fresh and appetising. One of the two shells of an oyster is a flat shell and the other side of the shell has a depth that looks like an oval bowl. When adding a dressing to oysters, you will need to use a bowl-shaped shell.
Unfortunately, most of the bowl-shaped oyster shells do not have a flat bottom and they are very difficult to stay on a plate without being tilted to one side. That's why fresh oysters in shell are served on either crushed ice, a bunch of seaweed, or on salt.
I did not want to waste a large amount of salt and I don't live close to the sea. So, I used crushed ice and placed the shells on it. Below the ice are the bamboo leaves from my back yard for a decoration.
If your oysters do not come in shells, which is often the case in Japan, then serve them in a small bowl with some green leaves. The photo below is an example of how you can serve oysters with the Luxury Topping in a bowl. Well I forgot to add wakame seaweed but I hope you get the idea.
The toppings need such a small quantity of ingredients that you might worry about ending up with unused ingredients such as perilla leaves and dried wakame seaweed. But don't forget that I have recipes using these ingredients.
Try Chicken Patties Wrapped in Perilla or Stuffed Sardines with Perilla and Pickled Plum. You could also add them to salad or use them to present grilled fish or sashimi as seen in Saikyo Yaki Fish, Marinated Sashimi Tuna, Japanese-style Kingfish Tartare (Kingfish Tataki).
Wakame seaweed is a great addition to any kind of Miso Soup!
Yumiko

P.S. Don't forget to see the section 'MEAL IDEAS' below the recipe card! It gives you a list of dishes that I have already posted and the new recipe in this post that can make up a complete meal. I hope it is of help to you.
Oysters with Tosazu Dressing 3 Ways
Tosazu is a light Japanese dressing  made up of vinegar, soy sauce, mirin and bonito dashi stock. It is a delicious way to enjoy fresh oysters. Try three different toppings on Oysters with Tosazu Dressing.
Total Time does not include time required to make Tosazu but even if you make it from scratch, it takes only 5 minutes or so.
Keyword:
dressing, Oyster, Tosazu
Serves
:
4
Servings (3 each)
Ingredients (tbsp=15ml, cup=250ml)
1

dozen

oysters in opened shells

(note 1)

1

tbsp

salt

4

tbsp

Tosazu

(for 12 oysters, note 2)
Spicy Topping (for 12 oysters)
2

tbsp

momiji oroshi

(note 3)

2

tbsp

shallot/scallions

, finely chopped (note 4)
Authentic Topping (for 12 oysters)
4

perilla leaves

½

tbsp

grated ginger
Luxury Topping
2

tbsp

chives

, finely chopped

1

tbsp

dried wakame seaweed

, ground finely (note 5)

20

g

ikura

(salmon roe)
Instructions
Prepare Oysters (optional, note 6)
Remove oysters from the shells and place the oysters in a sieve. Sprinkle salt over the oysters and massage gently several times with your hand.

Rinse the oysters well under cold running water and drain well.

Clean the shells, removing tiny broken shell pieces. Drain water well.

Return the oysters back to the shells and place them on a large serving plate.
Oysters with Spicy Topping
Pour 1 teaspoon of Tosazu over each oyster, then place ½ teaspoon of shallots on each oysters.

Pick ¼ teaspoon each of momiji oroshi, squeeze slightly to get excess moisture out if necessary, and place it on the oysters.
Oyster with Authentic Topping
Roll perilla leaves together and cut the roll to 1mm thick all the way through. Untangle the rolled strands.

Pour 1 teaspoon of Tosazu over each oyster.

Spread equal portions of perilla on the oysters, then place a small pinch of grated ginger in the centre of each oyster.
Oyster with Luxury Topping
Pour 1 teaspoon of Tosazu over each oyster.

Sprinkle 1 teaspoon of chives on each oyster, covering half of the lip-side of the oyster.

Sprinkle ground seaweed over the white side of the oyster.

Place several ikura in the center of each oyster.
Recipe Notes
1. If you can only buy fresh oysters without shells, you can serve them together in a small bowl (see the photo in post).
2. Please see the recipe in my post Japanese Dressings and the revise the portion of dashi stock to 3 parts as described in my post.
3. Please see the recipe in Tuna Tataki (Seared Tuna) with Ponzu.
4. If stems are thick, cut in half lengthwise first, then finely chop them so that the chopped pieces are not too big.
5. I used a NutriBullet to grind the dried wakame seaweed. It worked surprisingly well and the wakame became almost powdery. I initially tried a mortar and pestle, then used a rolling pin to crush the wakame pieces. I even tried to chop them with a knife but neither method worked.
Instead of grinding them, you could rehydrate and place them as small sheets of seaweed.
6. Japanese people do clean oysters before eating. You will be surprised how dark the water gest when you clean them. If you are shucking oysters at home, perhaps you needn't do this as you know they are clean and you don't want to lose the oyster juice inside the shell.
7. Nutrition per oyster with authentic topping. Spicy topping is almost the same with marginal higher vitamins %. Luxury topping is a couple of % higher due to salmon roe.
serving: 56g calories: 45kcal fat: 1.2g (2%) saturated fat: 0.3g (1%) trans fat: 0g polyunsaturated fat: 0.5g monounsaturated fat: 0.2g cholesterol: 25mg (8%) sodium: 129mg (5%) potassium: 94mg (3%) carbohydrates: 3.2g (1%) dietary fibre: 0g (0%) sugar: 0.6g protein: 4.9g vitamin a: 2.7% vitamin c: 6.7% calcium: 0.4% iron: 14%
Meal Ideas
A typical Japanese meal consists of a main dish, a couple of side dishes, a soup and rice. I try to come up with a combination of dishes with a variety of flavours, colours, textures and make-ahead dishes.
In my household, we serve raw oysters only on special occasions such as birthdays, Mother's Day and Christmas celebrations. So, it is not easy to make up a set of dishes with Oysters with Tosazu Dressing 3 Ways as an everyday meal idea.
What I listed below are the dishes that might be great to have on a special occasion for a small to medium size gathering, having had Oysters with Tosazu Dressing as an appetiser.
Appetiser: Oysters with Tosazu Dressing 3 Ways – today's recipe
Dish Option 1: Temakizushi (Hand Rolled Sushi) – if you like seafood!
Dish Option 2: Shabu-shabu Hotpot – if you have a portable cooktop to cook on a dining table, that would be great
Dish Option 3: Sukiyaki – you can cook Sukiyaki on the stove and take the pot to the table for everyone to pick
Dish Option 4: Yakitori – perfect for outdoor gathering!