Chilled Tofu is a great appetiser with beer or any other drinks, particularly in summer time. It is one of the simplest dishes you'll ever encounter, but with various toppings Chilled Tofu gives you depth of flavour. This is a great vegetarian dish.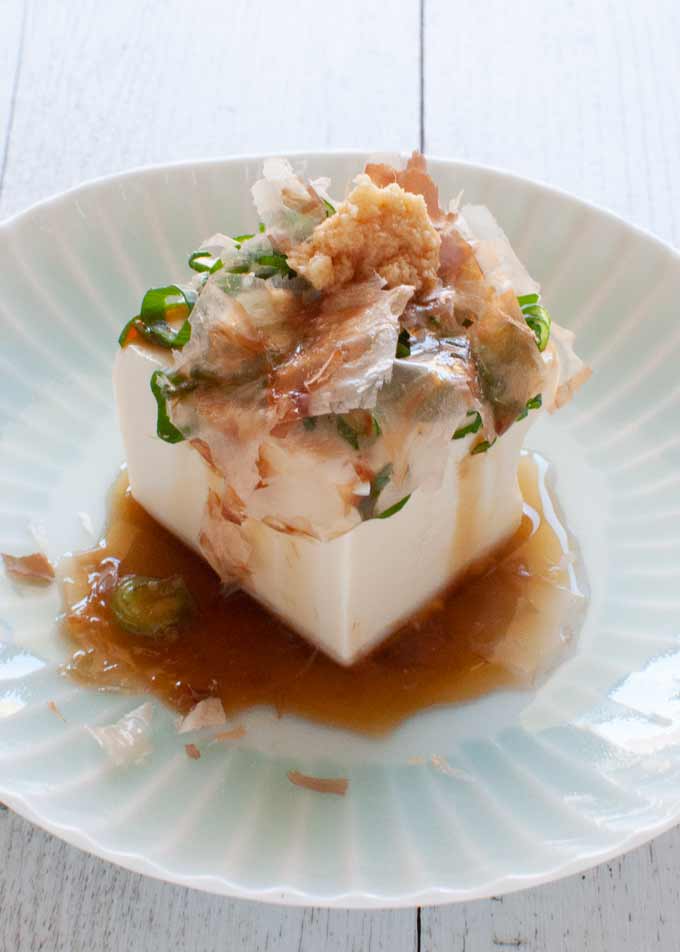 Chilled Tofu with toppings is called 'hiyayakko' (冷奴) in Japanese. The word 'hiya' (冷) means chilled, that makes sense. But you may wonder why the next word is not 'tofu'. The name of this dish appears to have been invented in the 18thcentury during the Edo period.
When a Japanese feudal lord went out he was accompanied by servants whose kimono sleeves had symbols that consisted of 4 squares and looked just like a block of tofu cut into quarters. And these servants were called 'yakko' (奴).
Because the tofu cut into quarters looked like the symbol on yakko's kimono sleeves, they called the dish hiyayakko. It's a funny story, isn't it?
The name of the dish does not resemble tofu at all, but it has become a magic word for people who seek something cool or cold in the summer time. Summer in Japan is quite humid and hot which sometimes affects appetite. Cold Hiyayakko with a glass of beer on a hot summer day. How perfect can that be?
Toppings for Chilled Tofu
The combinations of topping ingredients for Chilled Tofu are limitless, but today I have included four toppings with quite different textures and flavours.
Ginger, Shallots/Scallions and Bonito Flakes – This is a very common topping combination as it requires almost no effort to prepare. You could have only one or two of these toppings if you don't have all of them at hand. You could also replace shallots with julienned perilla leaves. Pour soy sauce or ponzu to eat.
Aburaage and Perilla – Aburaage slices are toasted and placed on top of julienned perilla leaves. Crunchy aburaage goes so well with perilla. My recommendation for the sauce is ponzu dressing but you can use soy sauce instead. You can substitute perilla with chopped shallots/scallions, too.
Mentaiko and Okra – Mentaiko is the whole roe sack of pollock roe that is cured with salt, then marinated in seasonings and chilli powder (more details below). Boiled okra gives a slightly slimy texture but goes well with salty and spicy mentaiko. This topping is accompanied by soy and mirin-based dashi sauce.
Miso Eggplant – Sautéed diced eggplants are cooked in sweet miso flavoured sauce with a touch of chilli. This topping can also be served warm on warm (boiled) tofu – great in winter.
All of the above are quite easy to make. If you have time, you can make all four of them and serve 4 chilled tofu blocks with different toppings. Or simply pick one of your favourite toppings.
About Mentaiko (明太子)
It is also called 'karashi mentaiko' (辛子明太子) where 'karashi' means chilli in this context. Mentaiko actually originates from Korea. In Japan, there is a similar food called 'tarako' (たらこ), which is also the whole roe sack of pollock or other type of cod. But tarako is just cured with salt.
Both tarako and mentaiko are popular foods that are great to eat with rice due to the saltiness. Tarako is often served grilled but in the case of mentaiko, it is almost always served raw. See the photo of Mentaiko below. It usually comes as a pair since the fish carries a pair of roe sacks.
The simplest way of serving mentaiko is to cut a sack into bite size pieces without removing the thin skin that hold the eggs. I often eat them with freshly cooked rice. Place a piece of mentiako on rice, spread the eggs and eat them together. They are so tasty.
In Sydney, mentaiko is sold frozen at Japanese grocery stores, and possibly at some Asian stores. I live very close to Eastwood where many Korean grocery shops and restaurants are located. I found a Korean banchan (small dishes) shop near Eastwood station that sells mentaiko. It is not labelled as mentaiko so I ask for marinated fish raw.
Silken Tofu vs Firm Tofu
I prefer the soft texture of silken tofu and when eating it fresh, silken tofu gives an elegant touch to my Chilled Tofu. However, there are no rules as to how soft/hard the chilled tofu should be. If you prefer harder tofu, you can use firm tofu/momen tofu instead.
When I was a child, I liked firm tofu better than silken tofu as firm tofu had much more flavour of tofu/soy beans than silken tofu. I guess it is obvious given that silken tofu contains more water than firm tofu.  Even when we had a chilled tofu, I begged my mother to buy a firm tofu just for me.
Of those four toppings, I serve my Chilled Tofu with ginger, shallots and bonito flakes most often simply because there is no cooking involved. Ginger also gives a refreshing taste which is perfect on a hot summer day.
Yumiko

PS: I added a new section 'MEAL IDEAS' below the recipe card. It gives you a list of dishes that I have already posted and the new recipe in this post that can make up a complete meal. I hope it is of help to you!
Chilled Tofu (Hiyayakko) 4 Ways
Chilled Tofu is a great appetiser with beer or any other drinks, particularly in summer time. It is one of the simplest dishes you will ever encounter and you can use various toppings.
With the exception of the Mentaiko and Okra Topping, other toppings can be 100% vegetarian if you use vegetarian dashi stock such as konbu dashi.
Prep Time and Cook Time are based on the time required to make Mentaiko and Okra topping or Miso Eggplant topping as they take longer than the others.
Keyword:
chilled tofu, cold tofu, hiyayakko
Ingredients (tbsp=15ml, cup=250ml)
1

pack silken tofu

(about 300g), quartered and chilled (note 1)
Ginger, Shallots and Bonito Flakes Topping
4

tbsp

shallots/scallions

, finely chopped

4

tbsp

bonito flakes

2

tbsp

grated ginger
Aburaage and Perilla Topping
1

sheet aburaage

2

cups

boiling water

4

perilla leaves

finely julienned

Ponzu dressing

(note 2)
Mentaiko and Okra Topping
Miso Eggplant Topping
40

g

eggplant

diced to 5mm cube

1

tsp

sesame oil

½

tsp

oil

3

tbsp

dashi stock

½

tsp

miso

¼

tsp

sugar

¼

tsp

chilli bean paste

(note 4)
Instructions
Chilled Tofu with Ginger Shallots and Bonito Flakes Topping
Place chilled tofu piece in individual serving bowls/plates.

Place quarter each of shallots, bonito flakes, then ginger on top of chilled tofu.

Serve with soy sauce to be poured on when eating.
Chilled Tofu with Aburaage and Perilla Topping
Pour boiling water over aburaage to remove excess oil, then squeeze water out. Cut the aburaage in half lengthwise, then cut into 5mm/3/16" wide strips crosswise.

Heat a frying pan over medium high heat. Add the aburaage pieces and cook until each side of the aburaage gets slightly burnt. Remove from the pan and cool down.

Place a quarter each of perilla and aburaage on the chilled tofu and serve with ponzu dressing.
Chilled Tofu with Mentaiko and Okra Topping
Mix the Sauce ingredients together.

Stab each okra on the side with a knife to make a tiny incision.

Bring water in a saucepan to a boil. Add a pinch of salt and okra pieces.

Boil for 1-2 minutes until okra pieces are softened. Do not boil too long.

Drain and place the okra under cold running water to quickly cool them down.

Remove the stem end of each okra and slice crosswise into 2mm (1/16") slices. They are a bit slimy.

Break the thin skin of mentaiko and scrape the eggs off the skin.

Put okra pieces and the mentaiko eggs in a bowl and mix well ensuring that the mentaiko mixes evenly with the okra.

Place the mentaiko and okra mixture on top of chilled tofu.

Serve with the sauce to pour over when eating.
Chilled Tofu with Miso Eggplant Topping
Heat sesame oil and oil in a small frying pan or a saucepan over medium high heat. Add eggplant pieces and sauté for 1-2 minutes until the eggplants are wilted.

Add the remaining ingredients to the pan, mix well and bring it to a boil.

Turn the heat off and cool it down.

Place the Miso Eggplant on each of the chilled top pieces and serve.
Recipe Notes
1. Tofu does not have to be a silken tofu. If you prefer a harder texture with a bit more tofu flavour, use firm tofu instead.
2. Please see Ponzu dressing recipe in my post, Japanese Dressings.
Instead of making ponzu dressing, you could buy a bottle of ponzu at Japanese/Asian grocery stores if you prefer.
Instead of ponzu dressing, you can use normal soy sauce or light soy sauce.
3. Mentaiko is the whole roe sack of pollock roe that is cured with salt, then marinated in seasonings and chilli powder. Please see my post for more details and a photo.
4. Chilli bean paste is called doubanjiang or toban-djan (豆板醤). You can buy a bottle of doubanjian at Asian grocery stores.
5. Nutrition information is for one serving when served 4 servings as appetiser, with Miso Eggplant Topping.
serving: 99g  calories:68kcal  fat: 4.6g (7%)  saturated fat: 0.6g (3%)  polyunsaturated fat: 2.2g  monounsaturated fat: 1.5g  cholesterol: 0.1mg (0%)  sodium: 52mg (2%) potassium: 132mg (4%)  carbohydrates: 2g (1%)  dietary fibre: 0.5g (23%)  sugar: 1.2g  protein: 5.8g  vitamin a: 0.2%  vitamin c: 0.6%  calcium: 6.5%  iron: 4.9%
Meal Ideas
A typical Japanese meal consists of a main dish, a couple of side dishes, a soup and rice. I try to come up with a combination of dishes with a variety of flavours, colours, textures and make-ahead dishes.
Chilled Tofu is usually consumed in summer. So, I picked a summery dish for the main. Chilled tofu topping in the photo below is my favourite, ginger, shallots and bonito flakes but you can pick any of the four toppings.