It is in the middle of winter here in Sydney. Although Sydney winter is very mild, I start feeling like having a hot pot as soon as the temperature dips below 15°C / 59°F. Chanko Nabe is a hot pot dish consumed by sumo wrestlers. A chicken-based broth with lots of different ingredients, Sumo Wrestler's Hot Pot is so delicious.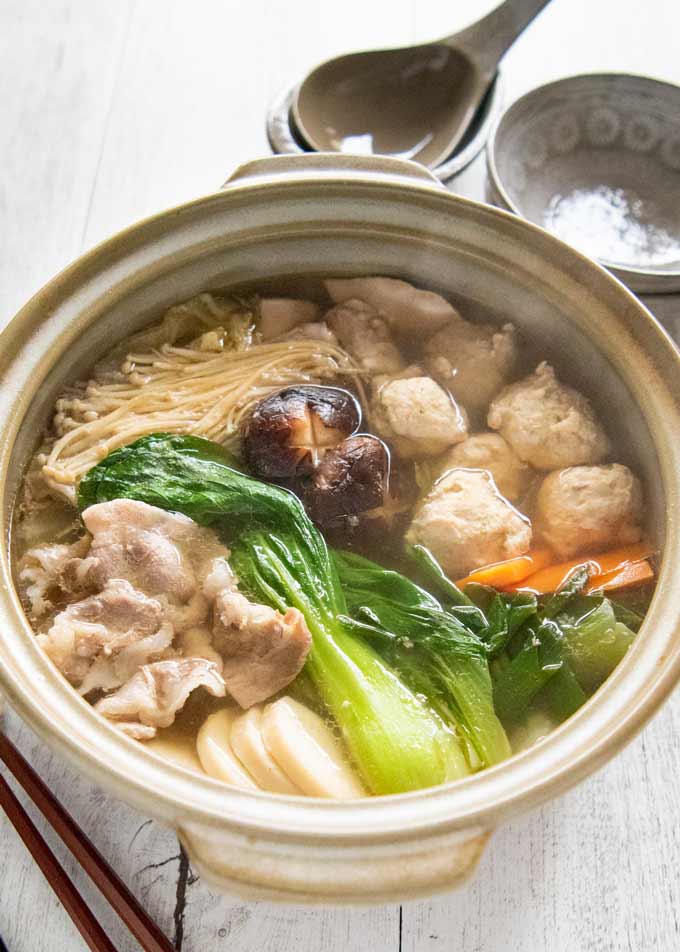 I like everything about 'nabe ryōri' (鍋料理, hotpot dishes). I like them so much that I even eat them in the heat of summer, with the aircon turned on high.
The reason why I like them is because they are easy to prepare, you can eat all sorts of meat and vegetables in one dish, and they are filling but not heavy. And what comes after the hot pot is Zōsui (Japanese Rice Soup, Ojiya) or noodle soup made with the left-over broth and finish the meal on a high note!
About Chanko Nabe
Most of the hot pot dishes in Japan are local specialties. In my post Salmon Hot Pot (Ishikari Nabe), I showed you my old hot pot recipe book that contained local specialty nabe ryōri from all over Japan.
Today's hot pot dish, Chanko Nabe (ちゃんこ鍋), is not in this cookbook because it is not related to a region of Japan. Chanko Nabe is a specialty hot pot or stewed meal at sumo stables.
Any dishes cooked by sumo wrestlers at sumo stables are called 'chanko' (ちゃんこ). If they cook a ramen, it becomes chanko ramen. Today's dish is nabe (鍋, hot pot), hence it is Chanko Nabe.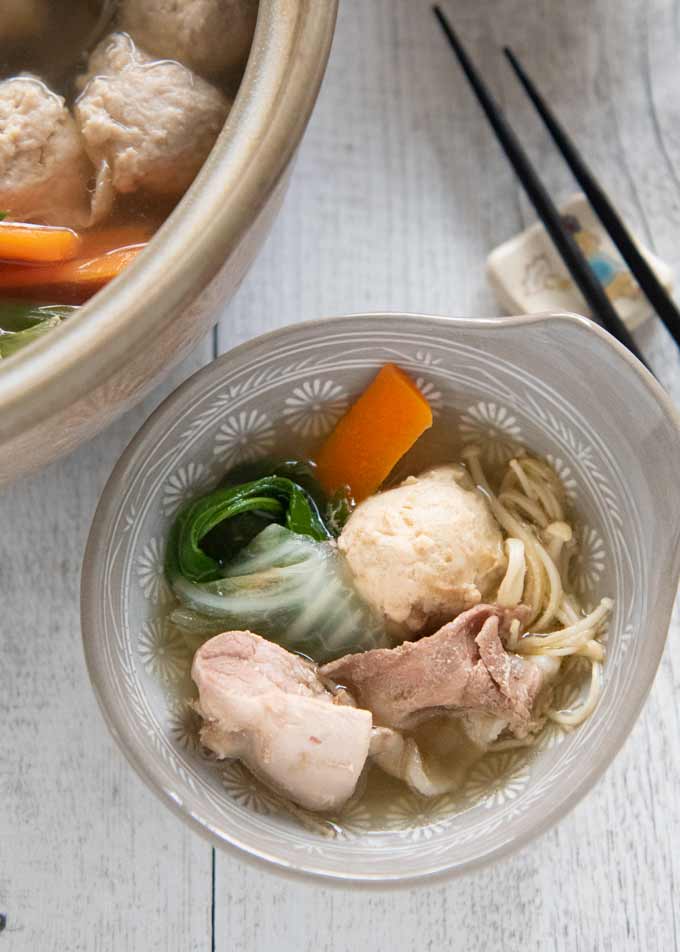 Each sumo stable has its own recipe for Chanko Nabe. The soup stock varies significantly by stable and the ingredients of the hot pot also vary greatly. I used chicken and pork meat for protein today but some sumo stables add seafood.
There are Chanko Nabe with miso flavour or even kimchi flavour. But the most common flavoured soup stock of Chanko Nabe is a chicken broth.
It is said that during the sumo tournament, the stables do not add meat from animals with four legs to their dishes and they only use chicken. This is a superstitious good-luck practice as the sumo wrestlers should be standing on two legs to win. They should not put their hands on the ground like a four-legged animal.
In Ryōgoku, Tokyo where the sumo wrestling stadium is located, you will find many Chanko Nabe restaurants owned by ex-sumo wrestlers. I went to one of them near Ryōgoku station with my friends last year. The restaurant is called Kirishima (霧島), which was the owner's ring name when he was an active sumo wrestler. The hot pot (photo below) was delicious with generous servings.
What is in my Chanko Nabe
Today, I made a hot pot dish similar to the one served at Kirishima.
Chanko Nabe Broth:
Unlike other Japanese hot pot broth, Chanko Nabe broth has garlic, which makes it a little bit like Chinese-style broth.
Chicken broth
Cooking sake
Mirin
Salt
Soy sauce
Grated garlic
Grated ginger
I understand that the broth of Kirishima Chanko Nabe is made from chicken and pork bones but I made the broth with just chicken carcass and a piece of konbu. It takes less than 1.5 hours to make a broth from scratch which is much faster than the broth with pork bones.
You can use Asian chicken bouillon powder if you don't have time to make a broth. The chicken bouillon like the one below from Asian grocery store is the closest to the home-made chicken broth. Note: This powder contains salt so you need to reduce the amount of salt when making a broth with this.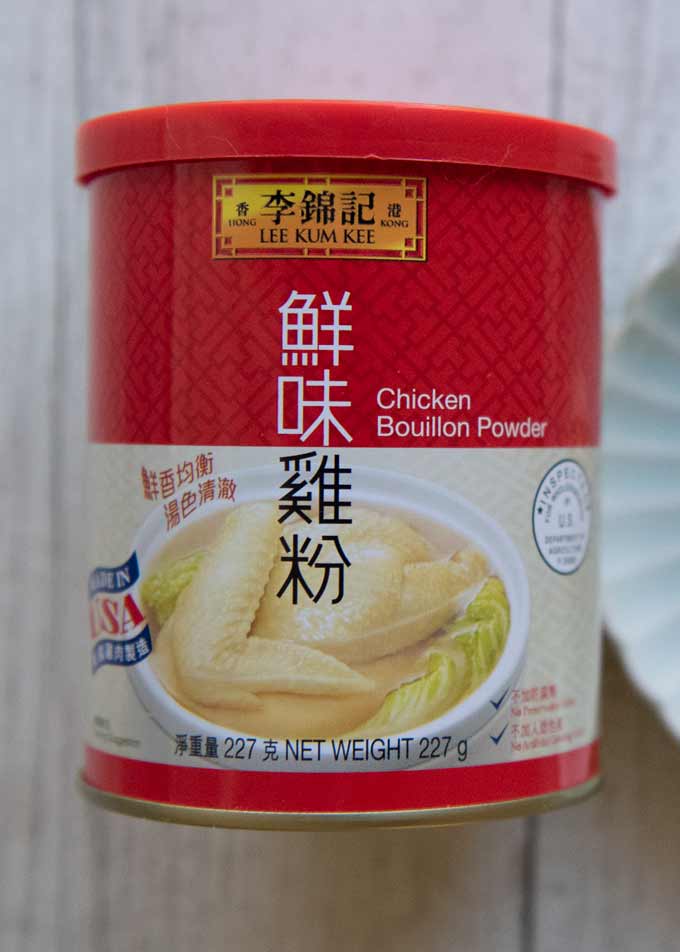 Chanko Nabe Ingredients:
The ingredients can vary a lot. There are no rules really as to what should and should not go into the hot pot – unless you are a sumo wrestler and about to go into a tournament (then avoid pork!). Many of these listed below are in the Kirishima Chanko Nabe.
Tsukune (Japanese Chicken Meatballs) – several balls.
Pork belly – thinly sliced.
Chicken thigh fillets – cut to large bite-size pieces.
Chinese cabbage- cut into 4-5cm / 1½-2" long pieces.
Bok choy – outer leaves separated, centre cluster halved or quartered.
Carrot – thinly sliced into rectangle shapes.
Shallot/scallions – cut 5cm / 2" long.
Shiitake mushrooms – stem removed (cut a decorative star on the head if you want).
Enoki mushrooms – bottom of the stem removed.
Kamaboko (I used white kamaboko) – thinly sliced.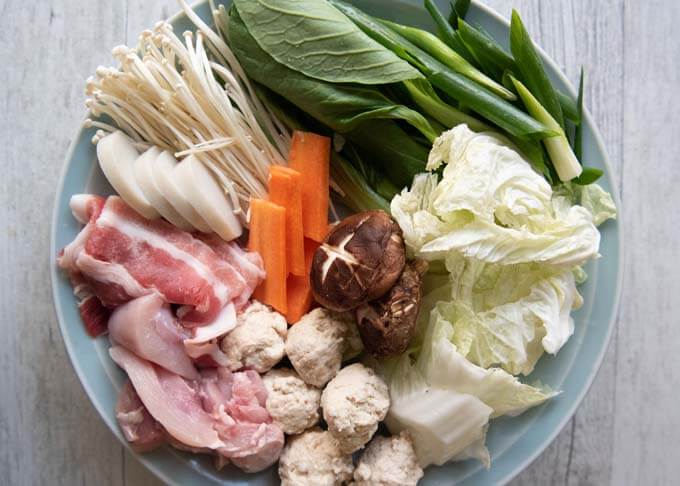 Other alternate ingredients:
Spinach
Fish cakes
Tofu
Shimeji mushrooms
Mizuna
Bean sprouts
How to Serve and cook it
A lot of Japanese hot pot dishes such as Sukiyaki and Yosenabe come with a large plate of ingredients separated from a pot of broth. The idea is to display the beautifully prepared ingredients to the diners, then to allow the diners to pick and cook at own pace.
You can serve Chanko Nabe in the same way. But when we had the Chanko Nabe at Kirishima, the ingredients were already in the pot with the broth. Then the pot was heated in front of us. I don't know why it was served this way, perhaps Chanko Nabe at Kirishima is served just as it is served at the sumo stable.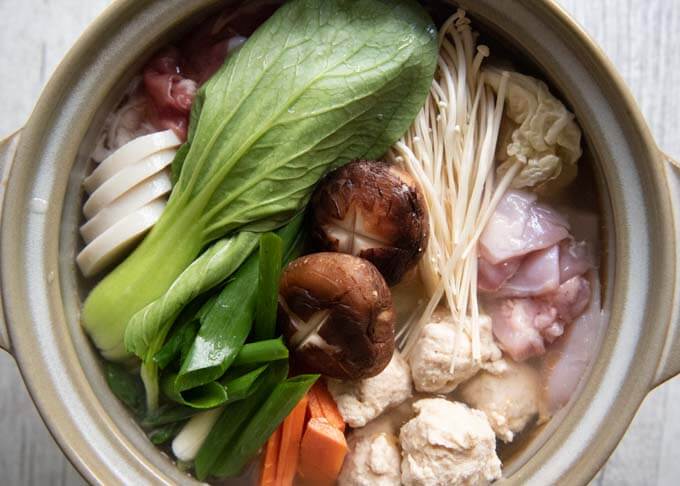 It is up to you how you want to serve the hot pot. But in my recipe, I put all ingredients together in the pot to cook.
It would be very entertaining to enjoy hot pot in a large pot cooked on a portable stove at the dinner table. If you have a clay pot, it would be even more authentic. But a shallow metal pot is fine, too. The pot needs to be about 10cm / 4" deep or a bit more, but not too deep.
You can start eating when the raw meat ingredients are fully cooked. Make sure that you take some broth to eat with the meats and vegetables as the flavour comes from the broth.
After eating all the meat and vegetables, you should have some broth left in the pot, which is packed with flavours. Add cooked rice to make Zōsui (Japanese Rice Soup, Ojiya) or make a simple udon noodle soup by just adding udon noodles and beaten eggs with chopped shallots (photo below). It's so tasty.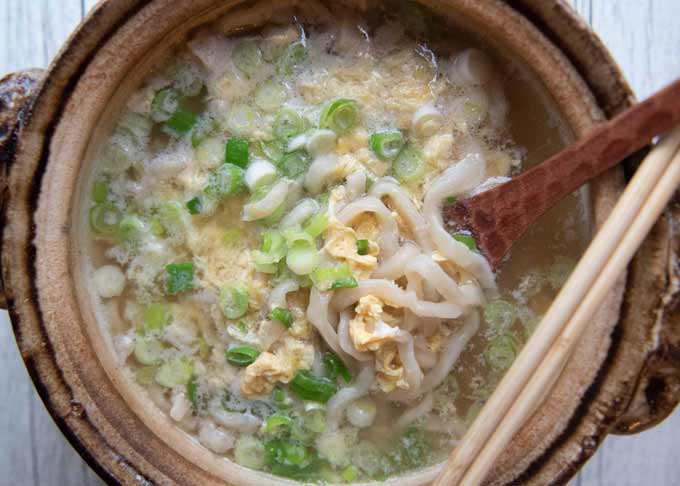 I know the northern hemisphere is getting hotter day by day. But do you know what? Sumo wrestlers eat Chanko Nabe all year round. If they can, you can do it too.
If you like hot pot dishes, here are some more dishes in my collection.
Yumiko

Chanko Nabe (Sumo Wrestler Hot Pot)
Chanko Nabe is a hot pot dish consumed by sumo wrestlers. The chicken based broth and lots of different ingredients are so delicious.
Just like any other hot pot dishes, the list of ingredients is long but you don't have to have all ingredients.
Time to make Tsukune is not included. I separated the time to make Chicken Broth since it can be made ahead of time. Cook Time is only to make Chanko Nabe Broth as you only need to prepare the hot pot dish and let the diners cook.
Don't forget to see the section 'MEAL IDEAS' below the recipe card! It gives you a list of dishes that I have already posted, and this recipe, so you can make up a complete meal. I hope it is of help to you.
Keyword:
chicken broth, hot pot, Japanese hot pot, sumo stew
Ingredients (tbsp=15ml, cup=250ml)
Chicken Broth (make ahead)
1000ml / 2.1pt

water

1

whole chicken carcass

cut to half (about 600g)

1

piece

konbu

(5cm x 10cm / 2" x 4")
Chanko Nabe Broth
750ml / 1.6pt

chicken broth

(made per the instruction, note 1)

100ml / 3.4oz

cooking sake

1

tsp

salt

2

tbsp

mirin

½

tbsp

soy sauce

2

tsp

sesame oil

1

clove

garlic

grated

1

tsp

ginger

grated
Chanko Nabe Ingredients
6

Tsukune

balls (note 2)

100g / 3.5oz

pork belly

thinly sliced

100g / 3.5oz

chicken thigh fillet

cut to bite size pieces

1

cluster bok choy

(about 60g / 2.1oz)

150g / 5.3oz

Chinese cabbage leaves

35g / 1.2oz

carrot

1

stem

shallot/scallions

2

shiitake mushrooms

25g / 0.9oz

enoki mushrooms

4

slices

kamaboko

(5mm / 3⁄16" thick)
Instructions
Chicken Broth (make ahead)
Soak the konbu in a bowl of water (you will use this water later).

Bring water (not in ingredients) in a large pot to a boil, add the chicken carcass.

When it starts boiling again and the surface of the chicken carcass becomes white, drain and rinse the chicken carcass well, removing guts and other brown bits.

Add the chicken carcass and the konbu to the pot. Add 1000ml / 2.1pt water including the water from the konbu to the pot and bring it to a boil.

Remove scum and reduce the heat to simmer. Cook for minimum 30 minutes, preferably 1 hour. Remove scum occasionally until no more brownish scum comes to the top.

Put through a sieve. If the amount of broth is less than 750ml / 1.6pt, add water.
Chanko Nabe Broth
Add all the Chanko Nabe Broth ingredients in a pot and bring it to a boil.

Turn the heat off and leave until required.
Preparing Ingredients
Bok choy: Remove outer leaves. Cut the central cluster of small leaves vertically to half or quarters depending on the thickness of the cluster. Wash well, particularly at the bottom of the stems where dirt collects. If the outer leaves are large, diagonally cut in half.

Chinese cabbage: If the leaf and the stem is very wide, halve vertically, then slice leaves diagonally. To diagonally slice, place the stem-end to the left (for a right hander) on the cutting board. Place a knife diagonally tilted to the right and slice the leaf diagonally to 5cm / 2" long pieces, by placing a knife.

Carrot: Cut a carrot to 5cm / 2" long, then slice vertically to 2-3mm / 1⁄16- ⅛" thick. If the rectangle is very wide, halve it vertically. Alternatively, slice the carrot diagonally.

Shallot/Scallions: Diagonally cut to 5cm / 2" long.

Shiitake mushrooms: Remove the stems. To decorate shiitake head (optional), make a shallow V-shape cut in the middle of the head, then another V-shape cut perpendicular to the first cut, making a cross (see the photo in the post).

Enoki mushrooms: Trim the end of the stems that are woody. If mushrooms are stuck together at the bottom, divide it into smaller bunches.
Serving
Place all the ingredients in a pot (note 3), clustering each ingredient together.

Add the broth to the pot and heat the pot on a portable stove (note 4).

Serve with small serving bowls.
Recipe Notes
1.   If the chicken broth you made from scratch per this recipe is not enough, add water to make it 750ml / 1.6pt.
If you are in a hurry and do not have time to make chicken broth from scratch, skip the instructions for Chicken Broth and substitute 750ml / 1.6pt of chicken broth with 1 tablespoon of powdered chicken broth diluted in 750ml / 1.6pt boiling water. Omit salt as the powdered chicken bouillon usually contain sufficient amount of salt. Then, adjust the saltiness to your palate.
Asian chicken bouillon powder is the best for this hot pot, e.g. the Lee Kum Kee chicken bouillon powder that is sold at Asian grocery stores (see the photo in the post).
Do not use the Western-style chicken soup stock as the flavour is quite different.
2. Unless you are making Chanko Nabe soon after making Tsukune, it is a bit of an effort to make only a half dozen Tsukune for the hot pot. I usually save some when making Tsukune and freeze them. Thaw in the microwave before using.
3. A clay pot like the one in the post is ideal as it retains heat very well. If using a cooking pot, use a shallow pot of at least 10cm / 4" deep but not too deep. If the pot is too deep, it will be difficult to pick up food from the pot.
4. If you don't have a portable stove to cook Chanko Nabe at the dining table, you can cook it on the cooktop and serve when all ingredients are cooked through.
5. After eating all the ingredients, you can add noodles to finish the meal. Since the broth is chicken based, either udon noodles or ramen noodles are best suited.
Alternatively, you can add cooked rice and make Zōsui.
6. Nutrition per serving. Assumed that only a half of the broth is consumed. Since working out the nutrition details for the home-made broth is difficult, I assumed the broth is made with chicken powder.
serving: 577g calories: 650kcal fat: 49g (75%) saturated fat: 16g (80%) trans fat: 0.1g polyunsaturated fat: 7.9g monounsaturated fat: 22g cholesterol: 165mg (55%) sodium: 547mg (23%) potassium: 1044mg (30%) carbohydrates: 18g (6%) dietary fibre: 3.2g (13%) sugar: 7.7g protein: 28g vitamin a: 154% vitamin c: 86% calcium: 12% iron: 15%
Meal Ideas
A typical Japanese meal consists of a main dish, a couple of side dishes, a soup and rice. I try to come up with a combination of dishes with a variety of flavours, colours, textures and make-ahead dishes.
For today's Meal, I got the idea from the Chanko Nabe lunch set that we had at the ex-sumo wrestler's restaurant, Kirishima in Ryogoku, Tokyo. While cooking the hot pot, we had a plate of karaage chicken wings and some pickles. They sometimes serve fish cakes instead of karaage so, as an alternative, I listed Satsuma Age.
After finishing Chanko Nabe, add rice or udon noodles to the pot with an egg to make a tasty dish to finish the meal!