This is a very elegant and light salad that takes no more than 10 minutes to make. Snow pea leaves and aburaage (fried thin tofu) are simmered in a lightly flavoured dashi broth. Use konbu dashi to make a vegetarian version of Snow Pea Leaves Warm Salad.
When I posted Spinach Ohitashi Salad I talked about where the word 'ohitashi' (お浸し) came from. Today's dish has a very similar name to 'ohitashi' and it is called 'nibitashi' (煮浸し). Can you recognise the same characters between the two?
About Nibitashi (Warm Salad)
The word 'nibitashi' means cook and immerse. It is one of the cooking methods where vegetables (or fish) are cooked in flavoured dashi broth. The traditional way of making nibitashi is to leave the ingredients in the broth for a while after turning off the heat so that the flavour from the broth penetrates the ingredients.
However, I find that many nibitashi recipes serve the dish without resting at the end. I tried both but I think the longer you leave it the better the ingredients taste. In my recipe, I allowed for 15minutes to rest minimum but if you have more time, don't hesitate to leave the dish longer.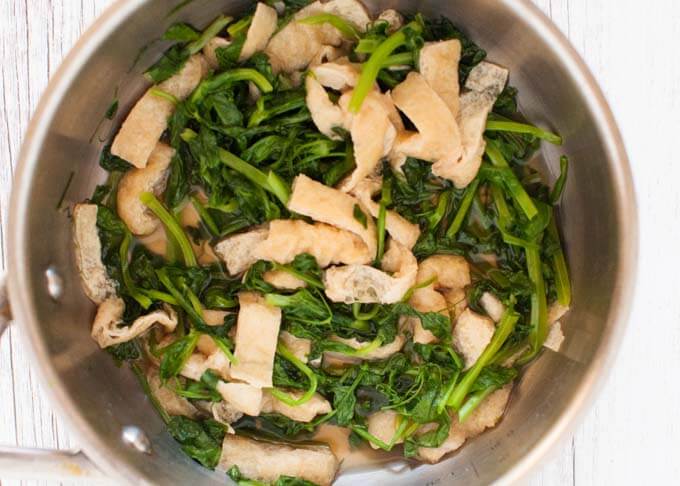 Although the name of today's dish is 'Warm Salad', nibitashi can be served at any temperature. If you prefer it to be served hot or warm, re-heat and serve after resting.
About Snow Pea Leaves
You might be familiar with snow peas but you may never have cooked and eaten snow pea leaves. They are edible and have quite good flavour.
They are also called snow pea shoots or snow pea tips. Don't get confused with snow pea sprouts that are the baby sprouts from snow pea seeds. On the other hand, snow pea shoots are the tip part of the grown snow pea stalks with broad leaves intact. Here is a photo of a bunch of snow pea leaves (with aburaage).
Snow pea leaves are tender and when cooked, you can taste a hint of the snow pea flavour in them. The stalks can be a little bit stringy if grown too much and thick.
In Australia, you can buy snow pea shoots in a pack at vegetable shops, where other packed salad leaves are. If you go to Asian vegetable shops, you may find loose snow pea shoots too.
Typical Nibitashi Ingredients
The most popular nibitashi are eggplant nibitashi and green leaves with aburaage nibitashi. In Japan, a particular green leaf called 'komatsuna' (小松菜) is by far the most popular green leaves ingredient for nibitashi.
Komatsuna looks like a smaller version of choysum (Chinese green leaves) but the stems are thinner and tenderer. Unfortunately, komatsuna is not available in Australia.
Other than these vegetables, mizuna, okura, spinach are often used in nibitashi, mostly with aburaage.
Flavoured Dashi Broth
Such a simple dish with just snow pea leaves and aburaage must have a great flavoured dashi broth, so that you can not only enjoy the ingredients but also the broth itself.
The flavoured dashi broth for today's nibitashi is a simple mixture of good dashi stock, light soy sauce, mirin and salt.
When you make a vegetable nibitashi like today's recipe, I encourage you to make a very good dashi stock using konbu and bonito flakes if at all possible. If you are using a packet of dashi stock, try to find the stock that uses only bonito flakes and/or konbu.
I called today's dish 'Warm Salad' but in Japan, nibitashi is served in a small bowl as a side dish. When the Japanese side dish is mainly vegetables and can be served cold, I find that it is difficult to distinguish between side and salad when describing it in English as they are interchangeable.
Snow Pea Leaves Nibitashi can be made ahead up to 2-3 days before serving.
Yumiko

PS: I added a new section 'MEAL IDEAS' below the recipe card. It gives you a list of dishes that I have already posted and the new recipe in this post that can make up a complete meal. I hope it is of help to you!
Snow Pea Leaves Warm Salad (Nibitashi)
Snow pea leaves and aburaage (fried thin tofu) are simmered in a lightly flavoured dashi stock. This salad can be served warm, cold or at room temperature. This is a great make-ahead dish.
Use konbu dashi and make it 100% vegetarian.
Keyword:
snow pea, snow pea leaves, snow pea recipe, warm salad
Ingredients (tbsp=15ml, cup=250ml)
100g/3.5oz

snowpea leaves/snowpea shoots

(note 1)

1

sheet aburaage

(note 2)

2

cups

boiling water
Sauce
150ml/5.1oz

dashi stock

(note 3)

1

tbsp

light soy auce

(note 4)

½

tbsp

mirin

¼

tsp

salt
Instructions
Cut the bunch of snow pea shoots into 5cm/2" long pieces so that they are easier to pick up when eating.

Pour 2 cups of boiling water over aburaage to remove excess oil, then squeeze water out. Cut the aburaage in half lengthwise, then cut into 5mm/3/16" wide strips crosswise.

Add the Sauce ingredients to a saucepan and heat over high heat.

When the sauce starts boiling, add aburaage and then snow pea leaves. Push the snow pea leaves down with chopsticks or a fork so that they are submerged in the sauce.

After it starts boiling and snow pea leaves are all wilted, turn the heat off and leave it for minimum 15 minutes (note 5).

Transfer the snow pea leaves and aburaage to serving bowls and pour all the broth over the top.
Recipe Notes
1. Snow pea leaves (also called snow pea shoots/tips) are snow pea stalks with broad leaves intact (see the photo in post). They are not the same as snow pea sprouts. You can buy a pack of snow pea leaves at vegetable shops where other salad leaves are sold.
2. You can buy aburaage from Japanese/Asian grocery stores, it is usually sold frozen. More details about aburaage can be found in my post, Shimeji Gohan.
3. I would encourage you to make dashi stock from scratch using konbu (kelp) and bonito flakes (Awase Dashi). But if you are using a dashi pack, try to find a pack with no additives.
If you need to use other kind of dashi pack, reduce the amount of salt in the Ingredients as the dashi pack already contains salt.
Use konbu dashi to make the dish 100% vegetarian.
4. You can substitute it with normal Japanese soy sauce. Dark soy sauce is not suitable for this dish.
5. Some recipes serve immediately after turning off the heat but I find that letting it cool for 15 minutes or more allows the flavour of the broth penetrate the vegetables.
But if you are in a hurry, you can serve it immediately. It's still delicious.
You can make ahead up to 2-3 days and leave it in the fridge. If you prefer it to be served hot/warm, re-heat before serving.
6. Nutrition information per serving:
serving: 430g  calories: 91kcal  fat: 3.9g (6%)  saturated fat: 0.7g (27%)  polyunsaturated fat: 1.8g  monounsaturated fat: 0.9g  cholesterol: 1.2mg (0%)  sodium: 1031mg (43%) potassium: 324mg (9%)  carbohydrates: 7.1g (2%)  dietary fibre: 1.9g (8%)  sugar: 4g  protein: 7.4g  vitamin a: 11%  vitamin c: 50%  calcium: 6.8%  iron: 10%
Meal Ideas
A typical Japanese meal consists of a main dish, a couple of side dishes, a soup and rice. I try to come up with a combination of dishes with a variety of flavours, colours, textures and make-ahead dishes.
Once in a while, it is good to have a meal made mostly with vegetables. Today's Meal Ideas are just like that. With exception of the prawns/shrimps in Tempura, everything is vegetables. To supplement protein, I added the tofu dish as a side.
Even if most of the ingredients are vegetables, try to use different vegetables to make up a meal if possible.
The ingredients of the Miso Soup can be any combinations of vegetables.