Fried Tofu Patties (Ganmodoki) is a fritter made of tofu as a base, with finely chopped vegetables mixed in. It is a vegetarian food and developed for Shōjin Ryōri (Buddhist vegetarian cuisine) as an alternative to meat.
The Japanese name of this dish, 'ganmodoki' (がんもどき or 雁もどき) means 'goose-like'. The word 'gan'  (がん or 雁) means goose and 'modoki' (もどき) means pseudo/ look-a-like. People sometimes shorten the name and call it 'ganmo'.
Ganmodoki was originally made with konnyaku, which looked like goose meat and tasted like goose meat. However, ganmondoki of recent times that is made with tofu does not taste like meat at all.
It also has another name, 'hiyuōzu' (飛竜頭 or ひりょうず), which is not as commonly used as ganmodoki, and the name is nothing to do with goose. It is said that the appearance of ganmodoki is similar to the Portuguese dessert, filhós. The Japanese people pronounced it 'firyōsu' (フィリョース) and the sound evolved to become hiyuōzu. They do look similar although one is sweet and the other is savoury!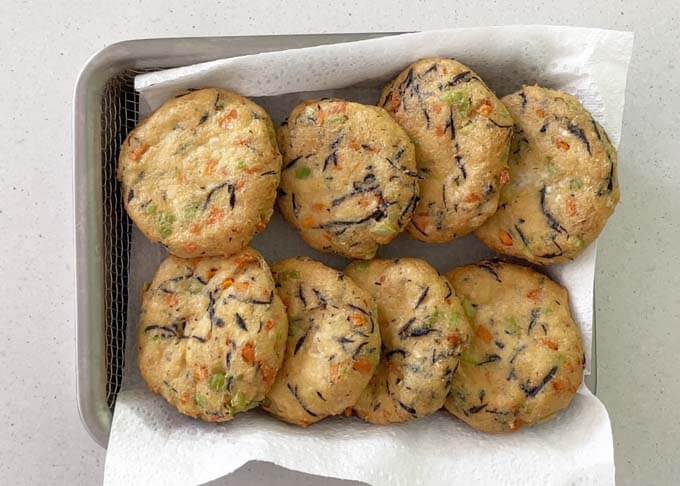 Perhaps most Japanese households do not make ganmodoki from scratch anymore since they can buy freshly made ganmodoki from supermarkets and tofu shops. Grilling or simmering is the common use of store-bought ganmodoki. Oden is a typical dish for it.
But if you are making ganmodoki from scratch, I would strongly recommend that you eat it while hot, with just soy sauce and grated ginger as a dipping sauce. They are really delicious.
What's in My Fried Tofu Patties (Ganmodoki)
Tofu has to be included as the patty base, but other vegetables can be substituted.
Momen tofu (firm or lite firm tofu)
Beaten egg
Salt
Corn flour/cornstarch
Finely diced carrot
Finely chopped edamame beans
Hijiki seaweed, rehydrated
Oil to fry
As briefed in the 'HOW TO' section below, you need to dehydrate the tofu to become much firmer so that you can form a patty with the tofu mixture. For this very reason, you don't want to use silken tofu.
I once used an extra hard tofu, thinking that I could omit the dehydration process. I could make patties without dehydrating tofu, but the texture of the ganmodoki was a bit coarse and hard. It was delicious, though.
As for the vegetables, I think that carrot should be included to give a bright colour. I used edamame for a green colour, but you can chop green beans or snow peas instead. Other suggested vegetables are burdock, lotus roots, and ginkgo nuts.
Instead of hijiki, you can add finely chopped konbu (kelp) after konbu dashi or awase dashi was extracted from it. I always freeze the piece of konbu after making dashi.
How to Make Fried Tofu Patties (Ganmodoki)
The process of making the patties and frying them does not take much time, but dehydrating tofu takes 6-12 hours depending on the tofu and weight you use. Watch the video.
Dehydrate the tofu by placing a heavy weight on top of the tofu.
Crush the dehydrated tofu in a mortar or a bowl until the tofu becomes like a thick paste with a slightly coarse texture.
Add the rest of the ingredients, excluding oil, and mix well.
Make patties with the tofu mixture.
Deep-fry the tofu patties.
I used 2 packs of 300g/10.6oz momen tofu. The label of the tofu pack indicated the net weight of 300g/10.6oz, but when I took the tofu out of the pack and weighed it, it was 350g/12.3oz (both of them!). I assumed that the tofu must have absorbed the water in the pack.
After dehydrating, the weight of each tofu became about 200g/7.1oz, totalling just over 400g/14.1oz.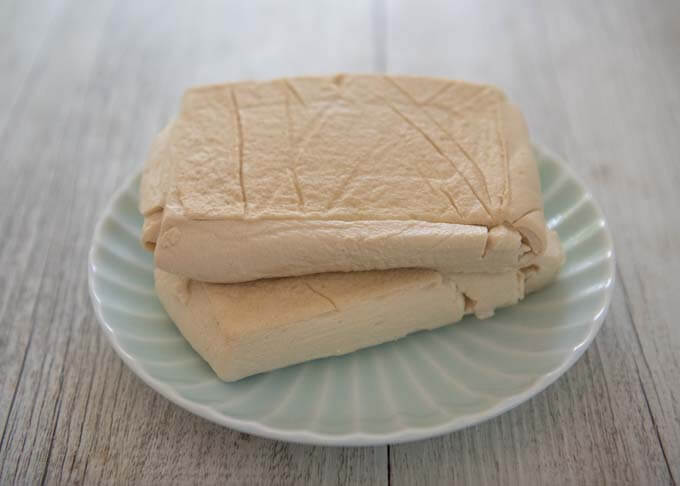 Ganmodoki is not as oily as you think
You don't coat the tofu patties with flour or corn flour/cornstarch to deep-fry them. This method of deep-frying ingredients without any coating is called 'suage' (素揚げ), which I mentioned in my post Agedashi Nasu.
Suage has the least oil absorption rate (ratio of weight of oil absorbed against the weight of ingredient) among all the deep-frying methods.
It depends on the ingredients, but in general the oil absorption rate of suage is 3%, Karaage is 6%, crumbed deep-frying such as Chicken Cutlet is 10%, and Tempura is 15%. The more you put coating on, the more oil is absorbed. Some vegetables absorb a lot of oil even if you use the suage method, e.g., the oil absorption rate of eggplant without coating is 14%.
When you eat freshly fried ganmodoki, you can tell that it does not contain much oil. The inside is light and fluffy, and it tastes so good.
You can freeze ganmodoki. You can add ganmodoki to Oden or simmer with other vegetables.
Yumiko

Watch How To Make It
Fried Tofu Patties (Ganmodoki)
Fried Tofu Patties (Ganmodoki) is a fritter made of tofu as a base, with finely chopped vegetables mixed in. It is a vegetarian food. The outside is slightly crunchy and inside is fluffy and soft. It is best to eat it straight after deep-frying, with soy sauce and grated ginger. See the video.
The Total Time does not include the time to remove excess water from the tofu, which takes 6-12 hours.
Don't forget to see the section 'MEAL IDEAS' below the recipe card! It gives you a list of dishes that I have already posted and this recipe that can make up a complete meal. I hope it is of help to you.
Keyword:
fried tofu recipes, tofu recipes, vegetarian recipes
Ingredients (tbsp=15ml, cup=250ml)
2

packs

momen tofu

(2 x 300g/10.6oz pack, note 1)

50g/1.8oz

carrot

finely diced

40g/1.4oz

edamame beans

(note 2)

1

tbsp

dried hijiki seaweed

(rehydrated, note 3)

1

egg

beaten

2

tbsp

corn flour

½

tsp

salt

Oil to deep-fry
Instructions
Wrap two blocks of tofu in a couple of layers of paper towel and place them on a rack in a tray (note 4). Cover it with cling wrap.

Place another tray on top of the tofu with a weight of 1.5-2kg/3.3-4.4lb (note 5). Leave it in the fridge for 6-12 hours until the weight of the tofu becomes about 400g/14.1oz in total.

Randomly chop edamame beans into smaller pieces (about quarter size). Squeeze water out of the rehydrated hijiki.

Put the tofu in a large mortar, a bowl, or a stand mixer and break it into very fine pieces, almost like a coarse paste.

Add corn flour/cornstarch and salt to the tofu and mix well.

Add a half of the beaten egg to the tofu and mix well. If the tofu mixture is still very firm, you can add some more egg, but if the mixture is very soft, do not add any more egg. If the mixture is too soft, you cannot form round patties.

Put all the vegetables into the tofu mixture and mix well, ensuring that the vegetables are evenly spread.

Transfer the mixture to a tray, levelling the surface. Divide the mixture into 8 equal portions by drawing lines (note 6).

Put a small amount of oil (not in ingredients list) on your hand, take a 1/8 portion of the tofu mixture and form a round patty of about 7cm/2¾" in diameter.

Put oil in a frying pan or a wide saucepan up to 2-2.5cm/¾-1" deep, and heat to 160°C/320°F.

Put tofu patties into the oil. Deep-fry for 2.5-3 minutes on one side until lightly browned. Turn them over and cook further 2.5-3 minutes. The surface of the ganmodoki should be light brown, not dark brown.

Transfer the ganmodoki to a tray/plate lined with kitchen paper to absorb excess oil.
Recipe Notes
1. Although it was labelled as 'net weight 300g/10.6oz, it weighed 350g/12.34oz when I took the tofu out of the pack. It probably absorbed the water in the pack.
You could use an extra hard tofu and omit the dehydration process, but the texture of the patties might be slightly harder. Silken tofu is not suited for this recipe.
2. I used frozen edamame beans since fresh edamame beans in pods are not sold in Sydney. Edamame is one of those vegetables that freeze well. Defrost them before using.
3. When my hijiki was soaked in water and rehydrated, it weighed 25g/0.9oz. My hijiki was very small and took only 10 minutes to soak. If your hijiki is much longer and fatter, it will take 20-30 minutes to rehydrate. Chop them to shorten the length.
Instead of hijiki seaweed, you can use finely julienned konbu after soaking in water and softening it. You can also use the konbu that you used to make dashi stock. I keep konbu pieces in the freezer after making dashi stock out of them.
4. I placed a rack beneath the tofu so that the extracted water does not go back into the tofu at the bottom. If you are not using a rack, place 4-5 layers of kitchen paper under the tofu.
5. I used a pack of 6 cartons of small milk and a can of food to make up for the required weight (see the step-by-step photo in the post).
6. I find that using a tray is easier to divide the tofu mixture than a bowl. But if you don't want to do it so that you can avoid another bit of washing up, that's OK.
7. Having freshly cooked hot ganmodoki with soy sauce and grated ginger as a dipping sauce is the best way to enjoy the home-made ganmodoki.
You can keep ganmodoki in the fridge for a few days. You may want to grill to warm them up or simmer in a dashi-based flavoured broth, e.g., Oden.
The excess ganmodoki pieces can be frozen too.
8. Nutrition of 1 ganmodoki.
serving: 105g calories: 175kcal fat: 15g (23%) saturated fat: 1.5g (8%) trans fat: 0g polyunsaturated fat: 3.9g monounsaturated fat: 8.4g cholesterol: 23mg (8%%) sodium: 168mg (7%) potassium: 177mg (5%) carbohydrates: 3.6g (1%) dietary fibre: 1.5g (6%) sugar: 2.0g protein: 9.1g vitamin a: 22% vitamin c: 1.8% calcium: 17% iron: 10%
Meal Ideas
A typical Japanese meal consists of a main dish, a couple of side dishes, a soup and rice. I try to come up with a combination of dishes with a variety of flavours, colours, textures and make-ahead dishes.
Having a tofu-based dish, Fried Tofu Patties (Ganmodoki), as a side dish, I decided to pick a main dish with a rich flavour. Simmered Chicken Drumette in Sweet and Sour Sauce is perfect for this.
The other side dish needs to contain vegetables.