It's filling yet not so heavy. Paper-thin pork slices are cooked just like Shabu-shabu Hotpot and quickly cooled down. A mound of chilled Pork Shabu-shabu on plenty of lettuce leaves is quite a healthy salad. It can be a main dish as well. The sesame soy dressing is perfect for it.
People in the Northern Hemisphere might still be experiencing hot days, even if it is supposed to be autumn. When I was living in Japan, I noticed that people lost their appetite during the humid, hot summer. Japanese people say that they just want a simple, light, and cold dish to get through the day.
Today's dish, Pork Shabu-shabu Salad, is exactly what they need. It's simple and fast to cook, light on your stomach, and cold. And it's so delicious that you can eat a lot of fresh salad without realising.
Chilled Pork Shabu-shabu
Shabu-shabu is a hotpot dish. As you can see in my post Shabu-shabu Hotpot, very thinly sliced meat is cooked in a pot of boiling water together with various vegetables.
The sliced meat is so thin that you only cook it for 5-10 seconds. Each piece is about 1mm/1/16" thick (see the photo below).
To serve cooked pork slices on salad, the slices need to be cooled down quickly. If I have time, I cover the cooked pork slices and leave them in the freezer for 15 minutes or so until they are almost cooled down.
If I am in a hurry I place the pork slices in ice water as soon as they are cooked, then transfer them to a plate. I line up a plate of sliced pork, a bowl of ice water and a new plate next to the pot with boiling water on a stove.
Pick up a slice, cook it for 5 seconds, then transfer to the ice water. When the second slice goes into the ice water, I transfer the first one to the plate. It's a production line and takes less than 5 minutes to cook them all.
Pork or Beef?
Traditionally, Shabu-shabu Hotpot is a beef dish. But when it comes to home cooking in Japan, pork shabu-shabu is much more popular than beef. There was a survey a few years ago about pork vs beef in shabu-shabu and almost 75% of the people surveyed said 'pork'.
The main reasons pork was the preferred meat for shabu-shabu were (1) beef is much more expensive in Japan, (2) pork is not as heavy on the stomach as beef.
You could make today's Shabu-shabu Salad with beef slices if you prefer. But my preference is pork.
Regardless of the type of meat you use, obtaining paper-thin slices is the key. My frozen sliced pork loin was 1mm/1/16" thick and it took only 5 seconds to cook a slice.
You could also use thinly sliced pork belly, which is more economical, and many Japanese households use it. I found a tray of thinly sliced pork belly at Coles supermarket. The slices were about 2mm thick.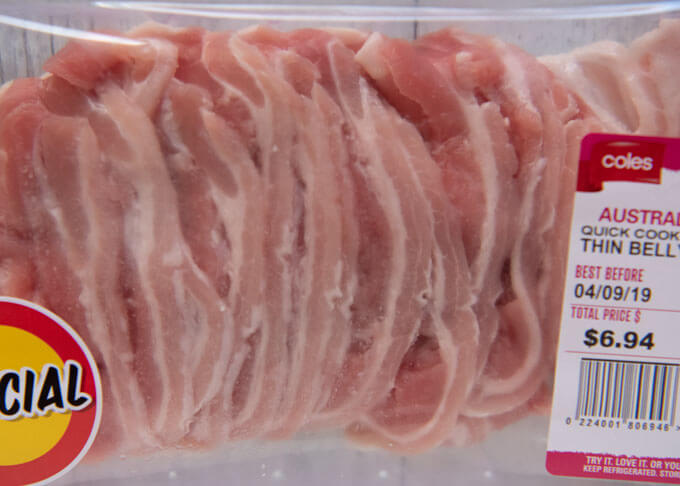 I tried shabu-shabu with these pork belly slices. The flavour was great but they were a bit chewy unfortunately due to the thickness of the slice. If you are using them for today's Pork Shabu-shabu Salad, I would suggest that you pound each slice and make them thinner before cooking.
Vegetables for Salad can be anything
My salad included tons of shredded lettuce, sliced cucumbers, sliced red onions and tomato wedges.
I like the bright green colour of the lettuce as I think it goes well with the pale colour of the blanched pork slices. Adding tomato wedges brightens up the colour of the dish even further.
But you can have other salad leaves, or even boiled vegetables to go with the Pork Shabu-shabu Salad. Just think about the colour combinations.
For example, if you are using whitish vegetables such as cauliflower, you probably want to add red or green such as sliced carrots, tomatoes, or chopped shallots/scallions to make the salad more appetising.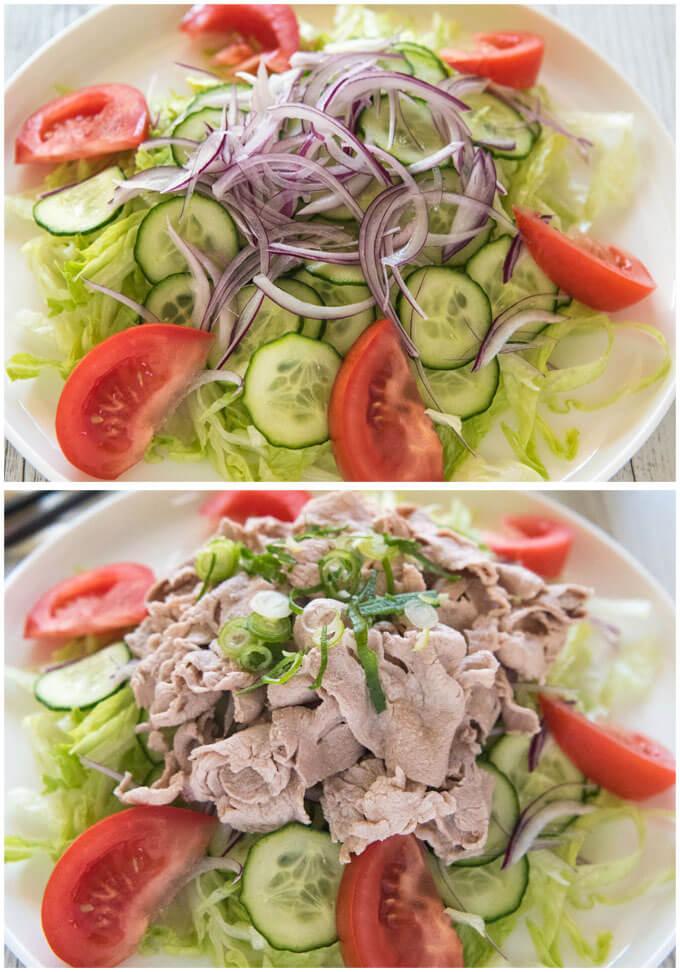 Dressing Options
Today, I made a Sesame Soy Dressing to go with the salad. It is made with grated roasted white sesame, soy sauce, vinegar, sesame oil, mirin, sugar, grated ginger, and grated apple. Combine all ingredients in a jar and shake it. That's all it is.
The dressing is slightly sweet, which makes it pleasant to eat with shabu-shabu pork. The addition of grated apple makes the dressing milder. Apple and pork are a good match!
If you like garlic, you could add a small amount of grated garlic to it and make a slightly modern version of Sesame Soy Dressing.
Many of the recipes on internet similar to my Pork Shabu-shabu Salad suggest a ponzu dressing to eat it with. Ponzu should go well with the pork. My Shabu-shabu Hotpot recipe listed ponzu as one of the two dipping sauces.
I tried both Sesame Soy Dressing and Ponzu with today's salad and I liked the former better. The citrus flavour of the Ponzu was a bit too sharp for me. If I were to use beef slices instead of pork, I would use Ponzu dressing, especially if using Wagyu beef. The citrus in the Ponzu makes the beef taste lighter and more refreshing.
Today's recipe is very quick to make and great to have on a hot summer day. When I made this dish, it was still cool in Sydney but I certainly enjoyed the dish. It was a perfect dinner for me, who prefers a light meal in the evening (don't worry, I eat substantial food in the morning and at lunch time).
Yumiko

Pork Shabu-shabu Salad
Paper-thin pork slices are cooked just like Shabu-shabu Hotpot and quickly cooled down. The mound of chilled Pork Shabu-shabu on plenty of lettuce leaves is quite a healthy salad. It can be a main dish as well. The sesame soy dressing is perfect for it.
Total Time does not include time to chill the cooked pork in the freezer (about 15 minutes).
Don't forget to see the section 'MEAL IDEAS' below the recipe card! It gives you a list of dishes that I have already posted and this recipe that can make up a complete meal. I hope it is of help to you.
Keyword:
Japanese salad, Pork, Shabu-shabu
Ingredients (tbsp=15ml, cup=250ml)
100g/3.5oz

thinly sliced pork

(1-2mm/1/16" thick, note 1)
Vegetables (note 2)
2

cups

shredded lettuce

50g/1.8oz

cucumber

, thinly sliced

20g/0.7oz

red onion

, thinly sliced

½

tomato cut to 6 wedges
Sesame Soy Dressing
½

tbsp

grated roasted white sesame seeds

1⅓

tbsp

soy sauce

1

tbsp

rice wine vinegar

1

tbsp

sesame oil

1

tsp

mirin

¼

tbsp

sugar

1

tbsp

grated apple

½

tsp

grated ginger
Shabu-shabu
500ml/1.1pt

water

1

tbsp

sake

(cooking rice wine)

½

tsp

salt

A

bowl of

ice water

(optional, if you are in a hurry)
Garnish
1

tbsp

finely chopped shallots/scallions
Instructions
Add all the Sesame Soy Dressing ingredients to a jar, place a lid on and shake well until the sugar dissolves.
Cooking Shabu-shabu Pork
Bring 500ml water with ½ teaspoon salt in a pot to a boil, add sake to the water, then reduce the heat to low so that the water is gently simmering.

Pick up a pork slice, lower it into the simmering water and jiggle for 5 seconds or so until the pork slice becomes whitish and there are no patches of pink flesh (note 3).

Transfer the pork to the ice water to cool down (optional, if you are in a hurry). Then transfer to a plate.

Repeat steps 5 and 6 for the rest of the pork slices (note 4).
Assembling
Spread the lettuce on a serving plate, then spread the cucumber slices and onion slices on top (note 5).

Place the tomato wedges around the lettuce.

Drain the pork slices well (if the bottom of them is wet) and place them on top of the salad, topped with chopped shallots/scallions.

Serve with the Sesame Soy Dressing.
Recipe Notes
1. I bought a pack of frozen shabu-shabu pork at an Asian grocery store. The meat was pork loin and the thickness of the slices was about 1mm/1/16". Unless you have an electric slicer, it is pretty hard to slice so thinly by hand, unfortunately.
You can also use thinly sliced pork belly. For Aussies, Coles supermarket sells it and the slices are 2mm thick. They can be a bit chewy when cooked so you may want to pound them to make them thinner before cooking.
Thaw the meat if frozen, then leave it at room temperature before cooking.
2. You can substitute to other kinds of vegetables. Even boiled vegetables can work well with the Pork Shabu-shabu and the Sesame Soy Dressing.
3. Depending on the thickness of the meat, time taken to cook pork slices vary. My paper-thin slice needed only 5 seconds. Do not cook at high temperature for a long time. The meat hardens and loses flavour into the water.
It is important not to cook many pork slices in the simmering water at once as the temperature of the water drops and it will take long time to cook meat through.
4. When I use ice water, I cook a pork slice while leaving the cooked pork in the ice water. When I place the newly cooked pork in the ice water, I transfer the previous slice to a plate.
5. You can mix them all and spread on a plate if you like. You could also plate the vegetables on one side and place the pork next to it.
6. Nutrition per serving. You probably don't consume the entire dressing but the nutrition assumes all dressing is consumed.
serving: 420g calories: 531kcal fat: 36g (55%) saturated fat: 505g (28%) trans fat: 0.1g polyunsaturated fat: 13g monounsaturated fat: 12g cholesterol: 64mg (21%) sodium: 1232mg (51%) potassium: 1079mg (31%) carbohydrates: 24g (8%) dietary fibre: 7.6g (30%) sugar: 11g protein: 30g vitamin a: 175% vitamin c: 26% calcium: 27 % iron: 35 %
Meal Ideas
A typical Japanese meal consists of a main dish, a couple of side dishes, a soup and rice. I try to come up with a combination of dishes with a variety of flavours, colours, textures and make-ahead dishes.
I decided to have Pork Shabu-shabu Salad as a main dish. To supplement protein, I picked Satsuma Age as Side dish 1.
Side dish 2 can be almost anything but I tried a dish that fills you up a bit with a different flavour to other dishes in the meal.