Somen (or sōmen) is a very thin noodles served cold which makes it a perfect summer dish. Noodles are served in chilled water and the dipping sauce is also chilled. It is a very simple dish but wonderful to pop in between heavy meals to give your stomach a little bit of a rest.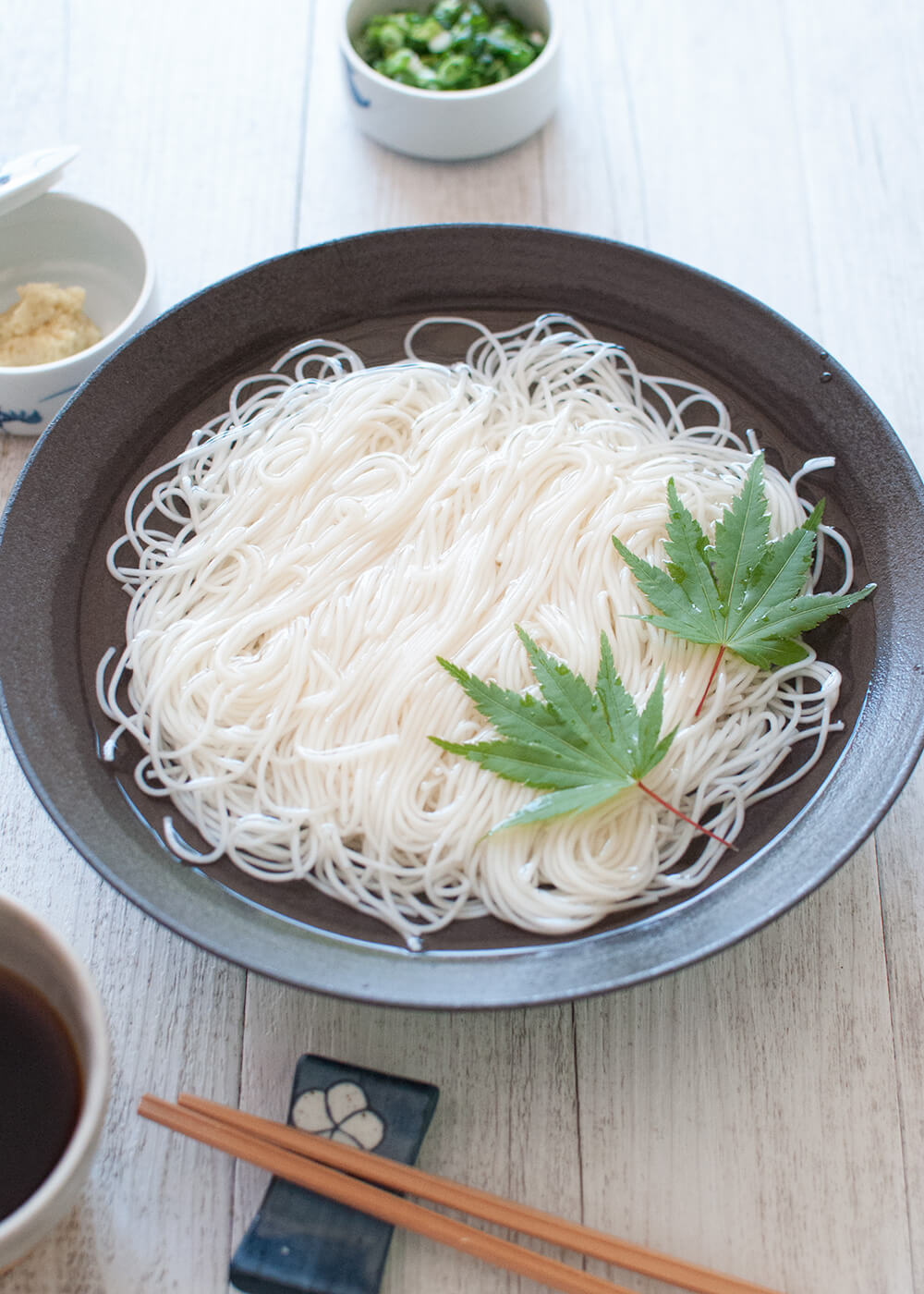 It is summer in Australia and we sometimes get extremely hot days where the temperature does not come down even in the evenings. On those days, I don't feel like spending hours preparing for a meal. My appetite also becomes somewhat suppressed.
9 out of 10 times in such weather, I eat cold thin noodles with a small number of side dishes. It is a very simple meal but the plain cold noodles are so refreshing. Extremely thin strands of noodles also have cooling effects, I think, because they resemble streams of water.
The thin noodles I cooked today are called 'sōmen' (そうめん or 素麺). You might also have heard the name 'hiyamugi' (ひやむぎ or 冷麦), which are also thin noodles. They are both made in the same way and ingredients are the same – flour, salt and water. They are also sold as dried noodles, usually bunched into each serving and tied with a tape (see the photos below).
Sōmen can be served warm in soup as well as served cold like today's recipe. When served cold, we call it 'hiyashi somen' (冷やしそうめん) where 'hiyashi' (冷やし) means chilled. Sōmen cooked in hot soup is called 'nyūmen' (煮麺) meaning cooked noodles.
Sōmen vs Hiyamugi
The only difference between the two is the thickness of the noodles. If the thickness of each strand is 1.3mm (0.05″) or less, then it is called sōmen. If the thickness is between 1.3mm (0.05″) and 1.7mm (0.07″), it is called hiyamugi. Thicker than 1.7mm (0.07″) and it becomes udon noodles.
If you go back to the origin of sōmen and hiyamugi in 14th – 15th centuries, you'll find that the method of making them by hand was different. But when noodle making machines were introduced during the industrial revolution in the Meiji period, both noodles became almost the same except the thickness of the noodles.
Sōmen is a bunch of white thin noodles but in the case of hiyamugi, you sometimes find the bunch with a couple of pink or green strands included in it. Apparently, colouring strands was introduced to purely distinguish hiyamugi from sōmen.
But these days, you can even find the entire sōmen noodles coloured in green, pink, orange etc with even flavouring!
You can even buy sōmen at supermarkets these days. I haven't seen hiyamugi sold at supermarkets but if you go to Japanese grocery stores, you can buy hiyamugi.
Dipping Sauce and Condiments
You will need dipping sauce to go with the sōmen. The sauce is a mixture of dashi stock, soy sauce, and mirin. It is a very simple formula to make dipping sauce – 4 portions of dashi stock + 1 portion each of soy sauce and mirin. I use this formula to make dipping sauce not only for cold noodles but also tempura. I actually said exactly the same thing in my post Zarusoba (Cold Soba Noodles)!
In the case of zarusoba, I included chopped shallots (scallions) and wasabi paste as condiments that are to be mixed in the dipping sauce. But for sōmen dipping sauce, I use grated ginger instead of wasabi. Ginger goes very well with sōmen (or hiyamugi), probably because grated ginger is considered to be a summer flavouring.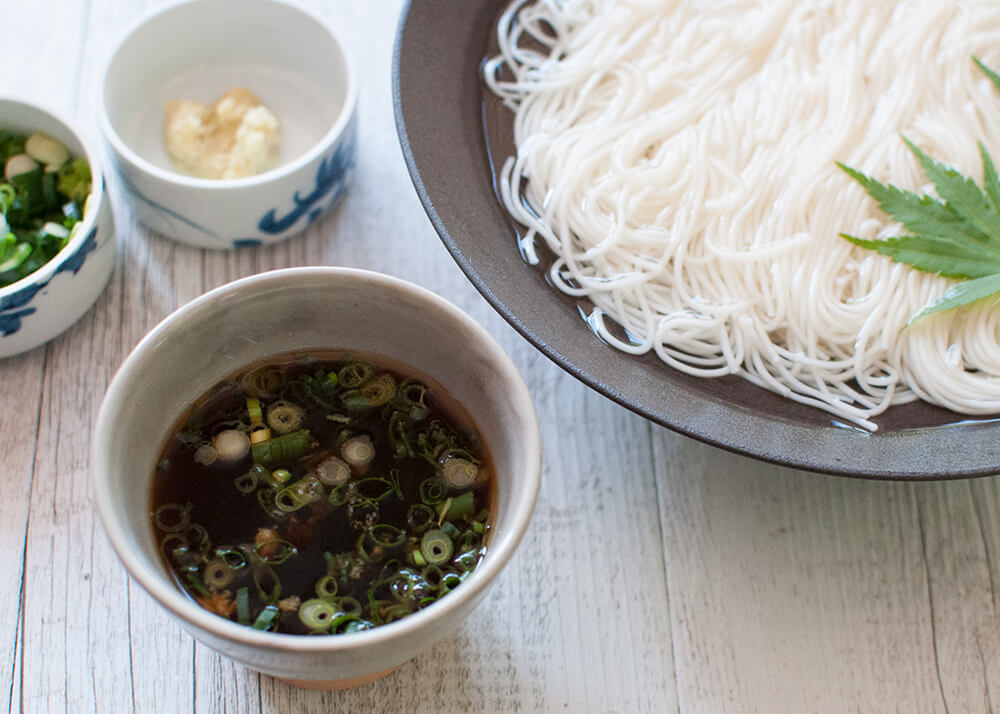 Serving Noodles to Emphasise Coolness
The most common way of serving sōmen is to place the noodles in a bowl filled with cold water. I sometimes add ice cubes to the water if the water is not cold enough.
Unless I am in a hurry, I even place the noodles to line up in the same direction so that they look like a stream of water. Drop a couple of Japanese maple tree leaves in to make it more like a real stream.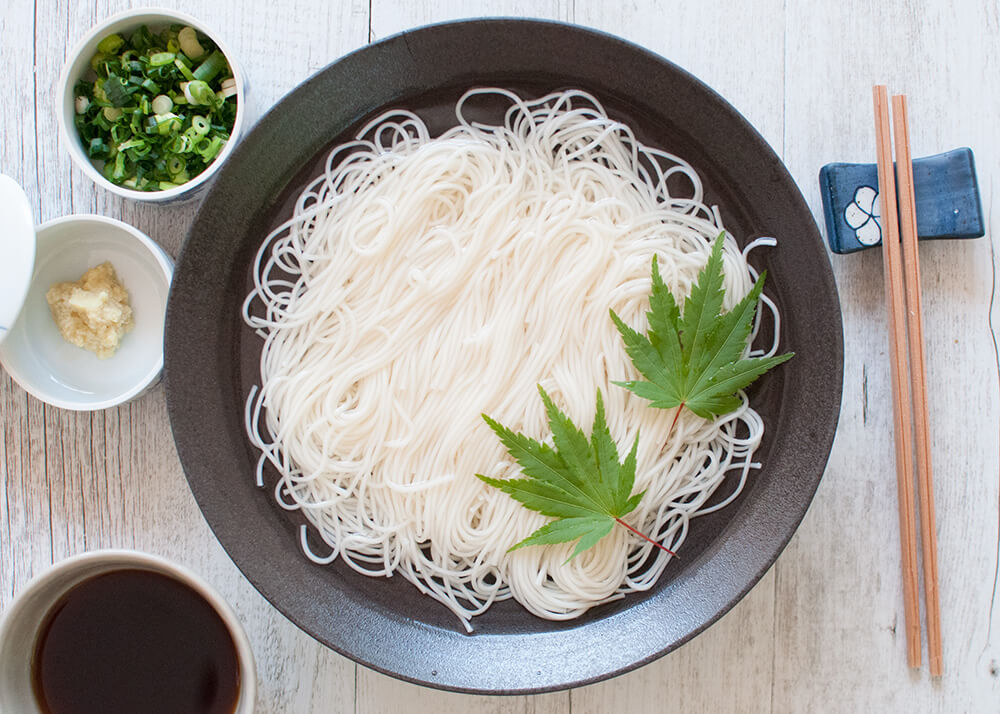 Instead of serving noodles in a bowl of water, you could place ice cubes on a deep plate and place groups of sōmen noodles on them. Using a bamboo basket to serve the noodles also creates a cool atmosphere.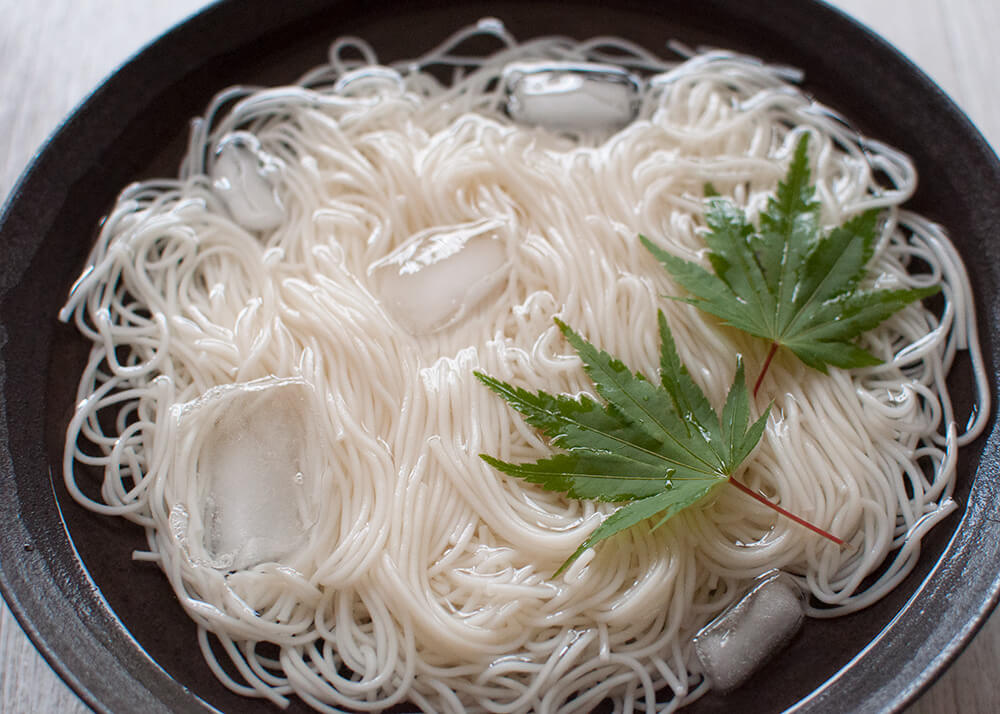 Today's dish is perhaps not for people in northern hemisphere at the moment but I wouldn't mind eating cold noodles even in winter! "Eating cold noodles in a warm room while outside is snowing" sounds luxury to me, just because we don't get snow here in Sydney.
And remember, you need to make slurping noises to eat noodles!
Yumiko

Cold Thin Noodles in Chilled Water (Hiyashi Sōmen)
Somen (or sōmen) is a very thin noodles served cold which makes it a perfect summer dish. Noodles are served in chilled water and the dipping sauce is also chilled. It is a very simple dish but wonderful to pop in between heavy meals to give your stomach a little bit of a rest.

If you use dashi stock made from konbu (kelp), the dish will become a vegetarian dish.
Ingredients (tbsp=15ml, cup=250ml)
2

bunches of

dried sōmen noodles

, about 200g (7oz) in total (note 1)

Chilled water or a handful of ice cubes
Condiments
2

tbsp

finely chopped shallots

(scallions)

1

tbsp

grated ginger

Japanese maple tree leaves , shiso (perilla) leaves, or cucumber slices

(optional)
Instructions
Add all the Dipping Sauce ingredients to a small saucepan and bring it to a boil.

Remove from the heat and cool it down quickly by leaving the pan in the cold water for a while, then place it in the fridge to chill.

Boil water in a large saucepan. Remove the tape around each bunch of sōmen noodles and place the noodles in the boiling water by spreading the strands.

Using chopsticks or a thin wooden spatula, stir the pot so that noodles are separated.

Boil for about 2 minutes (note 3). Drain using a sieve and rinse well.

Place noodles in a serving bowl, add chilled water (or water + ice cubes), just enough to cover the noodles.

Using chopsticks or tongs with soft edges, take a small number of noodles at a time and gently lay them in the same direction so that the noodles line up nicely (optional).


Decorate the noodle bowl with leaves or cucumber slices, if using. Serve with dipping sauce and condiments.
Recipe Notes
1. You can buy sōmen at supermarkets as well as Japanese/Asian grocery stores.
Instead of sōmen, you can use hiyamugi if you like. Boiling time will be slightly longer if you use hiyamugi.
2. If you are a vegetarian, please use konbu-dashi - refer to Varieties of Dashi Stock.
3. If the boiling water starts bubbling and is likely to overflow, adjust the heat to simmer. Using a deep saucepan also helps prevent the boiling water from overflowing.
4. Serving in cold water is one option to present the coolness of the dish. You can simply serve the noodles on a plate without water but it is probably a good idea to scatter several ice cubes. Otherwise, the noodles might stick each other after a while and you may find it difficult to take just a mouthful size of noodles.