It takes a mere 10 minutes to make this salad. My Japanese Pasta Salad is a spaghetti salad dressed in Kewpie mayonnaise with Dijon mustard. It is slightly creamy but not heavy. Japanese Pasta Salad is also great as a side or a light meal.
Most pasta salad recipes you will find on internet are macaroni salad like Nagi's Macaroni Salad. But today's Japanese Pasta Salad is made with spaghetti. When you order a Western-style meal in Japan, Japanese Pasta Salad is often served as a side.
When I was a uni student, I often had meals at the café next to the university, which served Western-style dishes such as Hamburg steak, cutlet etc. They always came with shredded cabbage, tomato wedges and either potato salad or pasta salad, all on one plate.
Today's recipe is very similar to what I used to eat back then and loved.
Ingredients of Japanese Pasta Salad
I use standard spaghetti and break the strands in half before boiling them. If the noodles are too long, it is quite annoying to eat as a side with chopsticks. Instead of spaghetti, you can use various shapes of macaroni as a substitute.
The other ingredients are thinly sliced ham, cucumber and onion. That's all.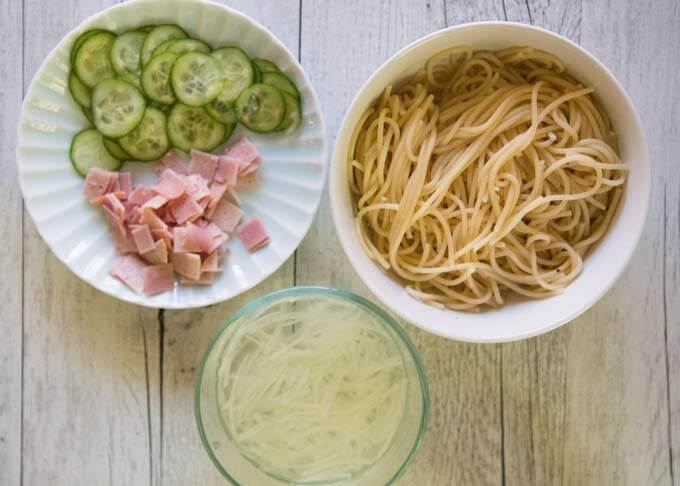 Come to think of it, it is quite similar to the ingredients of Japanese Potato Salad that I posted. I guess that's why Japanese Pasta Salad and Japanese Potato Salad can be exchangeable as a side dish.
Julienned carrot and/or corn kernels would be good to add to the above ingredients, or as alternatives too.
Dressing for Japanese Pasta Salad
This is a creamy salad with Kewpie mayonnaise and Dijon mustard. But it is not heavy or oily at all.
Simply mixing 3 tablespoons of Kewpie mayonnaise and 2 teaspoon of Dijon mustard with a pinch of salt & pepper will do the job. If you would prefer the dressing a little bit runny, you can add a tablespoon of milk.
I talked about Kewpie mayonnaise in my post Japanese Potato Salad but the photo of Kewpie mayonnaise is on the post Okonomiyaki (Japanese Savoury Pancake) if you would like to see it.
You could use Western-style mayonnaise but it will change the flavour of the dressing. Kewpie mayonnaise is not as sour as the Western-style ones and not so sweet either.
Serving Japanese Pasta Salad
Japanese Pasta Salad is not a very colourful salad as the mayonnaise dressing makes it look whitish and pale.
So, I would suggest that you do one or both of the following when serving it as a salad.
Place Japanese Pasta Salad on green lettuce leaves.
Serve Japanese Pasta Salad on a dark plate or a bowl.
If you compare the above with the same salad served on a whitish plate, you will see how appetising the salad looks on green leaves or a dark plate/bowl.
As mentioned in the earlier paragraph, Japanese Pasta Salad can also be a good side for a Western-style dish. When you feel that there is something missing on a plate, try this salad. It only takes about 10 minutes.
You can also make ahead as it can keep for 2-3 days in the fridge, which makes it perfect for a bento box too!
It only contains a small amount of protein. On one of those days when I feel like a quick meal, I have Japanese Pasta Salad as a main with fresh salad to go with it – no rice of course.
Yumiko

P.S. Don't forget to see the section 'MEAL IDEAS' below the recipe card! It gives you a list of dishes that I have already posted and the new recipe in this post that can make up a complete meal. I hope it is of help to you.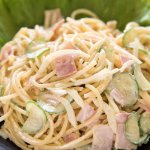 Japanese Pasta Salad (Spaghetti Salad)
It takes a mere 10 minutes to make this salad. My Japanese Pasta Salad is a spaghetti salad dressed in Kewpie mayonnaise with Dijon mustard. It is not heavy and is great even as a light meal.
Cook Time depends on the type/brand of pasta you use. My pasta needs 8 minutes to cook al-dente.
Actual Total Time is about 10 minutes as you can do the preparation while cooking the pasta.
Recipe Type:
Salad, Sides
Keyword:
Kewpie mayonnaise, mayonnaise dressing, pasta salad, spaghetti
Ingredients (tbsp=15ml, cup=250ml)
100g/3.5oz

spaghetti

, broken in halves (note 1)

2

tsp

vinegar

25g/0.9oz

leg ham slices

, cut to 1cm/3/8" square (note 2)

40g/1.4oz

cucumber

, thinly sliced

A pinch of salt

20g/0.7oz

onion

, thinly sliced
Dressing
3

tbsp

Kewpie mayonnaise

(note 3)

2

tsp

Dijon mustard

1

tbsp

milk (more or less, optional)

A pinch of salt & pepper
To Serve (optional)
A couple of lettuce leaves
Instructions
Cook pasta in a pot with sufficient amount of salted water as per the packet instructions.

Drain pasta and sprinkle vinegar over the pasta, toss and leave to cool down.

While cooking pasta, sprinkle a pinch of salt over the cucumber slices and leave for 5 minutes to soften, then squeeze the moisture out.

Leave the sliced onion in a bowl of cold water for 5 minutes, then squeeze moisture out (note 4).

Mix the Dressing ingredients in a bowl. If you prefer slightly runny dressing, add milk to adjust consistency.

Add pasta, ham, cucumber and onion slices to the bowl and mix gently ensuring that the dressing coats every strand of spaghetti.

Place lettuce leaves (if using) on a serving plate and place the pasta salad in a mound in the centre.
Recipe Notes
1. Instead of spaghetti, you can use macaroni if you like.
2. I used a slice of leg ham but you can use other hams, even salami.
3. Kewpie mayonnaise is a Japanese brand of mayonnaise. It is creamier than the Western-style mayonnaise and not very sour, or sweet. See the photo of Kewpie mayonnaise in the post Okonomiyaki (Japanese Savoury Pancake). It is sold at major supermarkets.
You can use Western-style mayonnaise instead of Kewpie brand but the flavour of the dressing will be different.
4. This is to take the bite out of the onions. Some onions are sweet and do not have a strong bite. In that case, you can skip this step.
5. You could also add corn kernels and/or julienned carrot to the salad.
6. Nutrition per serving.
serving: 187g calories: 435kcal fat: 20g (31%) saturated fat: 3.3g (16%) trans fat: 0.1g polyunsaturated fat: 10g monounsaturated fat: 5g cholesterol: 53mg (18%) sodium: 1039mg (43%) potassium: 414mg (12%) carbohydrates: 41g (14%) dietary fibre: 2.1g (8%) sugar: 3g protein: 22g vitamin a: 1.7% vitamin c: 2.3% calcium: 2.6% iron: 13%
Meal Ideas
A typical Japanese meal consists of a main dish, a couple of side dishes, a soup and rice. I try to come up with a combination of dishes with a variety of flavours, colours, textures and make-ahead dishes.
Japanese Pasta Salad goes well with Western-style main dishes. I picked Tonkatsu but you could have Korokke (Japanese Potato and Ground Meat Croquettes), Stewed Hamburg Steak (Nikomi Hamburg),  Diced Beef Steak (Saikoro Steak), etc.
Since I wanted to include a bowl of rice in the meal, I decided to make Japanese Pasta Salad as a side to the main dish. You could even place the pasta salad on the main dish plate.