Bite-sized beef steak, Diced Beef Steak is a Japanese invention. It is easy to pick up with chopsticks. Wasabi flavoured sauce and a sauce with grated onion, apple and garlic are both soy-based and bring Japanese flavour to the steak, which is otherwise a typical Western-style dish.
Diced beef steak is called 'saikoro sutēki' (サイコロステーキ) in Japanese. The word 'steak' became a Japanese word but it is pronounced in the Japanese way, i.e. sutēki (ステーキ).  Saikoro (サイコロ) means dice, which is exactly what this steak looks like.
Although steak is a Western-style dish, saikoro steak is sometimes served in kaiseki ryori, a Japanese-style full course dinner. This is probably because it can be eaten with chopsticks. And the type of beef cooked as part of kaiseki ryori is, almost without exception, Wagyu beef.
However, when you cook it at home, diced beef steak does not have to be Wagyu beef. Wagyu beef is no doubt delicious and melts in your mouth, but it is rather expensive. So, I used eye fillet in my recipe. You can also use other cuts of meat that are good for steaks. But if possible buy a very tender steak meat.
Because the steak is meant be picked up with chopsticks and popped in your mouth, and not cut into a small bite-sized piece with a knife and fork, it is important to use tender meat such as eye fillet so that you don't need to chew a lot.
In Japan, there are two kinds of saikoro sutēki meats. One kind is just like the diced meat in this recipe, i.e. a block of meat cut into cubes.
The other kind is so-called processed meat cubes, which are sold as perfectly cut cubes. This type of saikoro sutēki is produced by mixing cheap cuts of meat pieces with some fat and binding them together. It is very tender and sold at fraction of the cost of solid beef.
When I was in Japan, I occasionally bought beef steak made like this and served it for dinner. I love steaks but could not afford to buy super expensive steak meats unless it was a special occasion. But the meat was tender and I could still enjoy the flavour of beef (I won't miss it, though).
This kind of meat may only exist in Japan where beef is pretty pricy compared to other types of meats.
Japanese Style Steak Sauces
I included two soy-based sauces in my recipe:
Wasabi flavoured sauce – simply mix equal portions of soy sauce, sake and mirin with a small amount of wasabi paste. The slight kick of wasabi gives a unique flavour to the sauce.
Grated onion sauce – mix grated onion, apple and garlic with equal portions of soy sauce, sake, mirin, water and a bit of sugar. This sauce is slightly sweeter and fruity. Grated onion and apple also allows the sauce to cling onto the meat better.
You might find that the sauce is a bit salty when tasted directly from the mixture but when poured over the steak, it becomes thinner with the juice from the meat. It is a little bit saltier than my palate but less than that would result in lack of flavour when poured over the meat. You can always control the quantity of sauce over the meat!
In addition to the above sauces, you could use ponzu dressing (citrus soy sauce) for diced beef steak. You can find the recipe for ponzu dressing HERE. I would recommend adding grated daikon (white radish) on the steak, then pour the ponzu dressing over it. This is pretty much the same as my recipe, Beef with Grated Daikon and Ponzu Dressing. The only difference is that the meat is cubed instead of sliced.
It is a very simple dish. Because the meat is diced into 2.5cm (1") cubes, it cooks very fast. Cook rice (or even bread instead), make green salads and serve with instant miso soups. Perfect for a mid-week meal!
Yumiko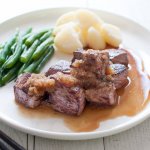 Diced Beef Steak (Saikoro Steak) with Japanese Style Sauces
Bite-sized beef steak, Diced Beef Steak is a Japanese invention, easy to pick up with chopsticks. Both sauces are soy-based – one with wasabi flavour, the other one with grated onion, apple and garlic. It is so fast to cook!
Ingredients (tbsp=15ml, cup=250ml)
Steak
400

g (0.9lb)

beef eye fillet steaks

, 2.5cm (1") thick (note 1)

Salt and pepper

1

tbsp

oil
Grated Onion Sauce
50

g (1.8oz)

onion

50

g (1.8oz)

grated apple

1

clove

garlic

, grated

1

tbsp

each soy sauce

, sake, mirin, water

1

tsp

sugar
Garnish for Wasabi Sauce (optional)
2

tbsp

grated daikon

2

mitsuba leaves or finely chopped shallots

(scallions)
Instructions
Cut the beef into 2.5cm (1") cubes.

Heat oil in a fry pan over high heat until it starts to smoke.

Place the beef cubes in the pan without overlapping and cook for 1 minute.

Turn them over and cook further 30 seconds+, then cook 4 sides to brown until all sides are browned - about 1.5 - 2 minutes.

Transfer to serving plates.

If using the wasabi sauce, top with grated daikon and mitsuba/scallions (if using) and serve with the sauce.

If using the grated onion sauce, pour the sauce over the beef cubes and serve.
Grated Onion Sauce
Add all ingredients to a small saucepan and heat over high heat. When started boiling, reduce the heat to low and let it simmer for 1 minute.

Turn the heat off and leave until required.
Wasabi Sauce
Add all the ingredients except wasabi small to a saucepan and heat over high heat. When started boiling, turn the heat off. Let it cool.

Add wasabi paste and mix well until wasabi is dissolved.
Recipe Notes
 1. You can use any kind of beef that is suitable for a steak. If possible, I would recommend using a very tender beef. Wagyu beef is of course great for this if you can get it.
2. Wasabi is the Japanese horseradish that is light green but its taste is quite different from horseradish. It is hot but does not have prolonged burning aftertaste. 
You can increase the amount of wasabi if you prefer a stronger wasabi flavour and a bit of kick.
You can buy wasabi at Japanese/Asian grocery stores as well as supermarkets these days. Wasabi usually comes in a tube as paste but you may find powdered wasabi in a small can. If using wasabi powder, mix warm water with the powder and make paste and leave for a while covered.