Japanese potato salad is like semi-mashed potatoes mixed with vegetables, ham, egg and mayonnaise. Small pieces of carrots, cucumbers, onions, ham and eggs make it visually appealing. It is not too creamy, not too rich, but flavoursome. What makes this potato salad stand out is the mushy texture and the famous Japanese mayonnaise, Kewpie mayonnaise.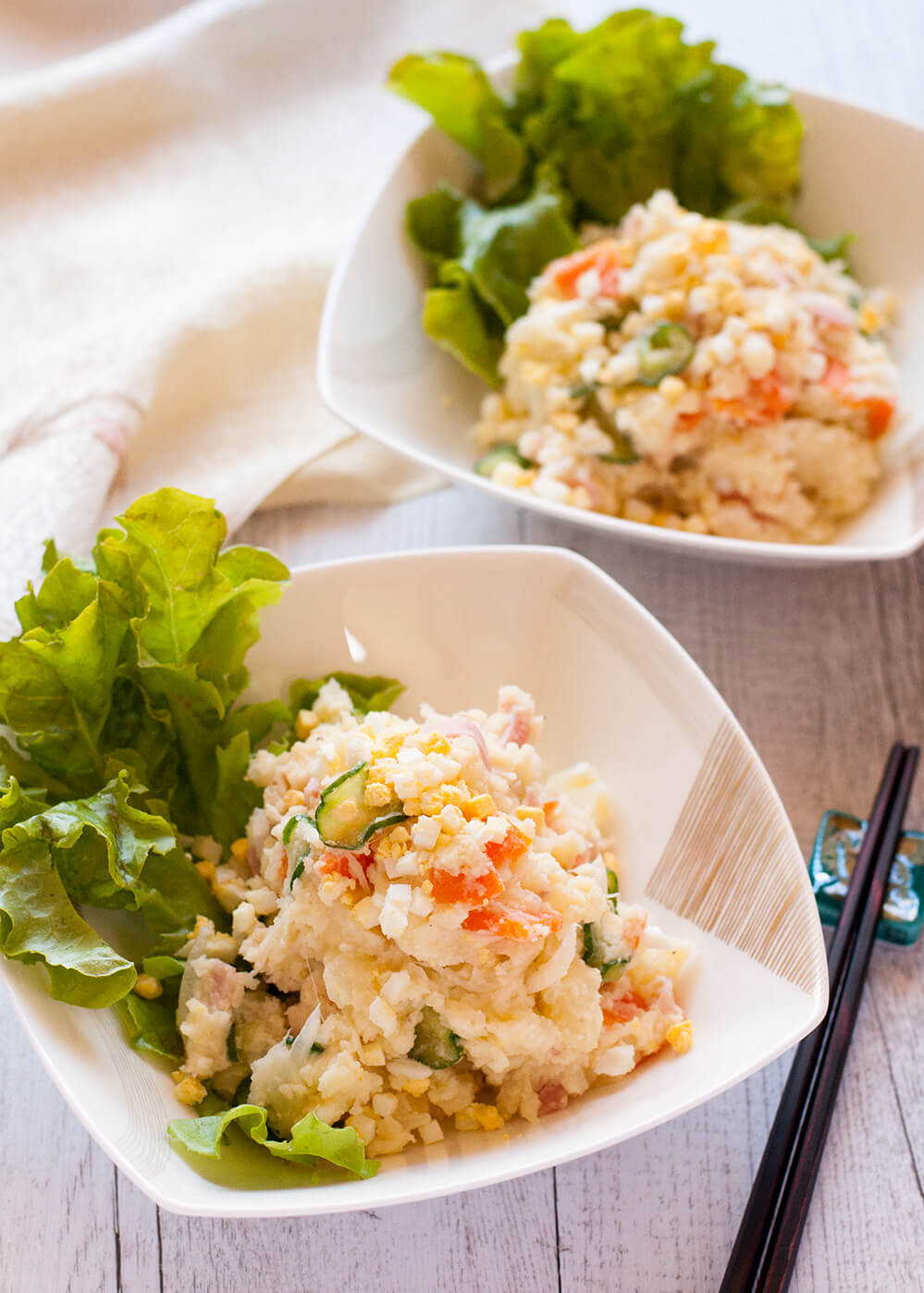 I have not tried all the potato salads that exist in the world but I am almost certain that every single cuisine has a potato salad unique to its region. And Japan is no exception. Just like most other Japanese dishes, the Japanese version of potato salad does not use cream at all but it does use the reputable kyuupee mayonehzu (キユーピーマヨネーズ, Kewpie mayonnaise).
The texture of the potato salad is almost like half mashed potatoes but much more flavoursome. Of all the potato salads I have tried, Japanese potato salad is one of my favourites.
There are many variations to the Japanese potato salad and I sometimes change ingredients, too. The basic ingredients are potatoes (of course), sliced carrots, sliced cucumbers, sliced onion, and sliced ham. This is what I use but I sometimes add boiled eggs for extra colour. And this is the recipe that I am introducing today.
Japanese potato salad is a regular home cooking salad. But it is also a regular breakfast side dish served at cafés in Japan. When you order toast at a café in Japan, it often comes with a fresh salad and a small amount of potato salad. Potato salad can also be the filling for sandwiches. I have never seen potato salad sandwiches sold in Sydney but they are quite easy to make. It's nearly all carbohydrates but aren't they delicious? I love starchy things – rice, noodles, bread, potatoes…
I think that the major differences between Japanese potato salad and other Western style potato salads are the way potatoes are prepared and the dressing, Kewpie mayonnaise.
Potatoes
As you can see in the photo, the potatoes are semi-mashed and they do not retain the cubed shape like many other potato salads. Naturally, the suitable potatoes for the Japanese potato salad are those suitable for mashed potatoes, i.e. starchy potatoes such as Russet (common in the US), King Edward or Red Delight. But all-purpose potatoes like Golden Delight, Coliban, Red Rascal and Sebago (popular in Australia) still work. I actually used Sebago. Starchy potatoes become nice and fluffy when cooked and mashed.
The professional method of boiling potatoes is to boil them whole with the skin on. Potatoes boiled with the skin on are fluffier and less watery, which is the key to the Japanese potato salad.  But the down side of this method is that they take a long time to cook and peeling the skin while still hot is a bit of a challenge.
I used this method but the potatoes were quite large and it took me about 40 minutes to cook through the potatoes. When peeling the skin, I used a cloth to hold the potato but I couldn't help saying, "Ouch! Ouch! Hot, hot!". It was a hard work.
If you don't have much time, you can peel the potatoes and cut them into smaller chunks, perhaps into quarters or 6 pieces, then boil. I wouldn't recommend cutting them smaller than that so that the potatoes can retain as much fluffy texture as possible. I would also recommend that, after draining the potatoes, you dry the potatoes by cooking them over high heat in a pot for 15-20 seconds. Shake the pot while heating so that moisture of the potatoes evaporates without burning them.
Other Ingredients
The least number of ingredients of the potato salad I have seen was 4, not including dressing. Potatoes, sliced carrots, cucumbers and onions. So these are the minimum ingredients to make Japanese potato salad. I guess the basic colours are there if you serve with a green salad leaf or a parsley sprig.
Thinly sliced ham is very common in the salad and my memory of potato salad always had sliced ham in it. Boiled egg cut into tiny diced pieces are often added, too. Sometimes you will find corn kernels in it. Instead of ham, prawns could be used but I would not call it a very traditional Japanese potato salad.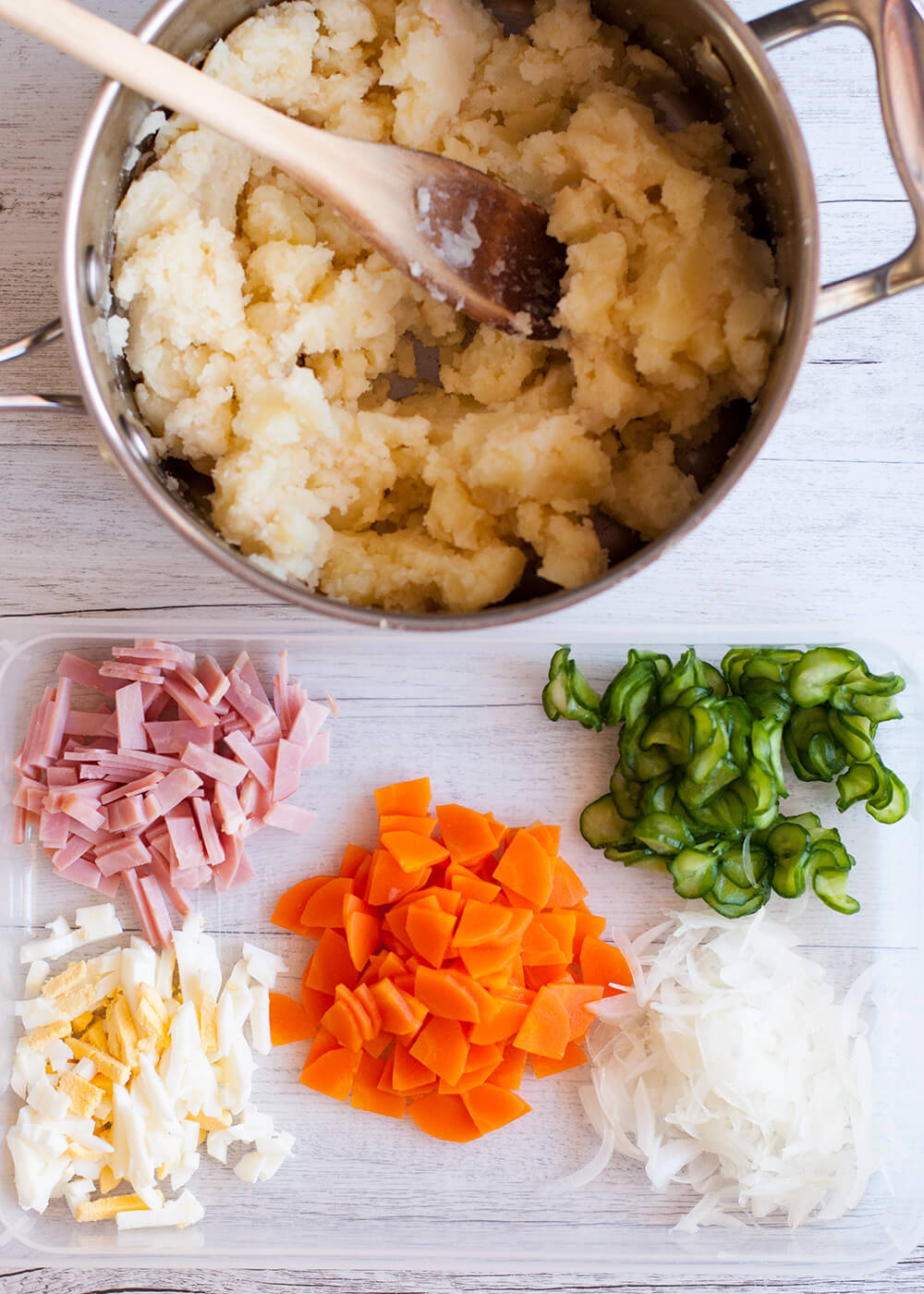 Kewpie Mayonnaise
Unless you use Kewpie mayonnaise, it won't be Japanese potato salad, I am afraid. It just tastes different if you use other types of mayonnaise. Kewpie mayonnaise is not like the Western style mayonnaise at all. It is creamy and less sour. There is something about Kewpie mayonnaise that makes you get addicted to it.
Kewpie mayonnaise is used worldwide nowadays, even at posh restaurants. At regular sushi restaurants, or at  sushi train shops, Kewpie mayonnaise is heavily used, although I never even attempt to eat it because it is not real sushi according to my dictionary.
Kewpie mayonnaise was actually created based on the US mayonnaise. The founder of Kewpie Corporation tasted mayonnaise in 1920 when he was in the US and decided to market it in Japan.  The first Kewpie mayonnaise was on the market in 1925. The brand name came from the US doll "kewpie". I am not sure why the founder chose this doll as the brand name. All I know is that kewpie dolls were very popular among the girls when I was little and I certainly had a kewpie doll.
I hardly use mayonnaise in my dishes but I like Kewpie mayonnaise better than Western style mayonnaise. I find that the Western style mayonnaise has stronger acidity and is sometimes oilier. But it is just me who has strong Japanese taste buds.
In addition to Kewpie mayonnaise, vinegar could be added to the potato salad to give a bit of acidity and moisture. But I only use mayonnaise with Dijon mustard, salt and pepper. Dijon mustard is a new addition to this recipe as I hardly used Dijon mustard when I was in Japan but I think it works very well.
When I posted Okonomiyaki (Japanese Savoury Pancake), I touched on Kewpie mayonnaise as the recipe included mayonnaise. If you have already made okonomiyaki, you might still have Kewpie mayonnaise left over. Why don't you make potato salad with the remaining mayonnaise?
Yumiko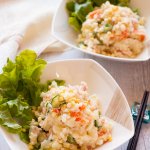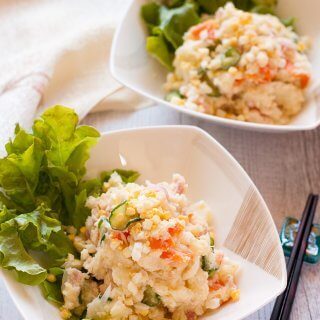 Japanese Potato Salad
Japanese potato salad is like semi-mashed potatoes mixed with vegetables, ham, egg and mayonnaise. Small pieces of carrots, cucumbers, onions, ham and eggs make it visually appealing. It is not too creamy, not too rich, but flavoursome. Please note: Cooking time assumes that the time to boil potatoes is 20 minutes.
Ingredients (tbsp=15ml, cup=250ml)
800g (1.8lb)

starchy potatoes

(note 1)

90g (3.2oz)

cucumber

90g (3.2oz)

onion

90g (3.2oz)

carrot

50g (1.8oz)

thinly sliced ham

(note 2)

2

boiled eggs

6

tbsp

Kewpie mayonnaise

2

tsp

Dijon mustard

Pepper

(white pepper preferred)

Salt
To Serve
Green leaf lettuce leaves
Instructions
Put potatoes in a saucepan and add water to cover the potatoes sufficiently. Turn the heat on high and bring to a simmer.

Cook potatoes until a bamboo skewer or a thin knife can get through to the centre of the potatoes easily. This will take 15-40 minutes depending on the size of the potatoes (note 3).

Slice cucumber thinly into 2mm (1/16") slices (note 4). Sprinkle with a pinch of salt over the cucumber slices and leave them for 10 minutes. The cucumber should become wet and soft. Rinse and squeeze out excess water.

Cut the onion in half crosswise, then slice as thinly as possible lengthwise. Sprinkle a pinch of salt over the onion slices and leave them for 10 minutes. Rinse and squeeze out excess water.

Cut the carrot into quarters lengthwise (note 5), then slice 2mm (1/16") thick perpendicular to the initial cut. Boil the carrot slices in a small saucepan for few minutes until tender. Drain.

Cut sliced ham into about 3cm x 5mm (1⅛" x ⅜") pieces.

Dice boiled eggs into 5mm (3/8") cubes (note 6).

When the potatoes are cooked, drain into a colander. Peel the potatoes immediately and place them into the saucepan just emptied. It is very hot so use a cloth or layers of kitchen paper to hold the potatoes.

Using a potato masher, mash the potatoes half way leaving some chunks of potatoes. Then cool down to at least close to room temperature.

Add cucumber, onion, carrot, mayonnaise, mustard, freshly ground pepper (few twists) and a couple of pinches of salt to the potato. Using a round wooden spoon, mix well.

Reserve a tablespoon of cubed boiled egg for decoration, add the rest of the boiled egg to the potato and gently mix.

Place a mound of potato salad on a serving plate or in a bowl with green leaf lettuce on the side. Sprinkle the remaining boiled egg over the potato salad.
Recipe Notes
1. Starchy potatoes are best suited to this dish as they become nice and fluffy when cooked. The best to use are Russet (common in the US), Dutch Creams, King Edward or Red Delight. However, great all-purpose potatoes like Golden Delight, Coliban, Red Rascal and Sebago (popular in Australia) still work great.
2. Ham can have different names depending on the country. As long as the ham does not require cooking, is not smoked, not like salami and not sweet, then you can use any kind of ham.
3. If you are running out of time and have large potatoes, then you could peel and cut the potatoes into quarters or 6 pieces to boil. This should reduce the boiling time significantly.
In this case, I would strongly recommend that you dry the boiled potatoes to remove excess moisture by placing the drained potatoes back in the saucepan over high heat and shaking the pan for 15 -20 seconds. The moisture should evaporate and the corners of the potatoes will start breaking and become mushy. Be careful not to burn the potatoes.
4. I used Lebanese cucumber the diameter of which is about 3cm (1⅛"). If your cucumber is a thick large one, I would suggest that you cut it in half or quarters lengthwise, then slice it.
5. My carrot was about 4cm (1 ½") in diameter. If the carrot is very thin, you can just halve it lengthwise. If very large, you may have to cut it into 6 pieces lengthwise.
6. If you have an egg slicer, you can dice them easily. Place the egg long ways (this is not the standard egg slicer is designed to place the egg) and slice. Holding the egg together, turn the egg 90 degrees (the egg is still placed long ways). Sice again. Then rotate the egg 90 degrees sideways and slice.
If you don't have a slicer, you could use a knife to chop them but the egg yolk tends to stick to the side of the knife. You can use a thread to at least slice them neatly if you want. Simply place a thread around the egg leaving the ends of the thread crossed ove each other. Then pull the both ends of the thread outward. It will make the circle of the thread placed around the egg smaller, cutting through the egg. Once the egg is sliced, then knife can be used to dice them.