A super easy Japanese stir fry from Okinawa, goya chanpuru is full of bonito flakes, which is unique for a stir fry dish and so flavoursome that you will get addicted to it. It is not greasy at all and my version is made with pork slices instead of SPAM which is the real version of goya chanpuru.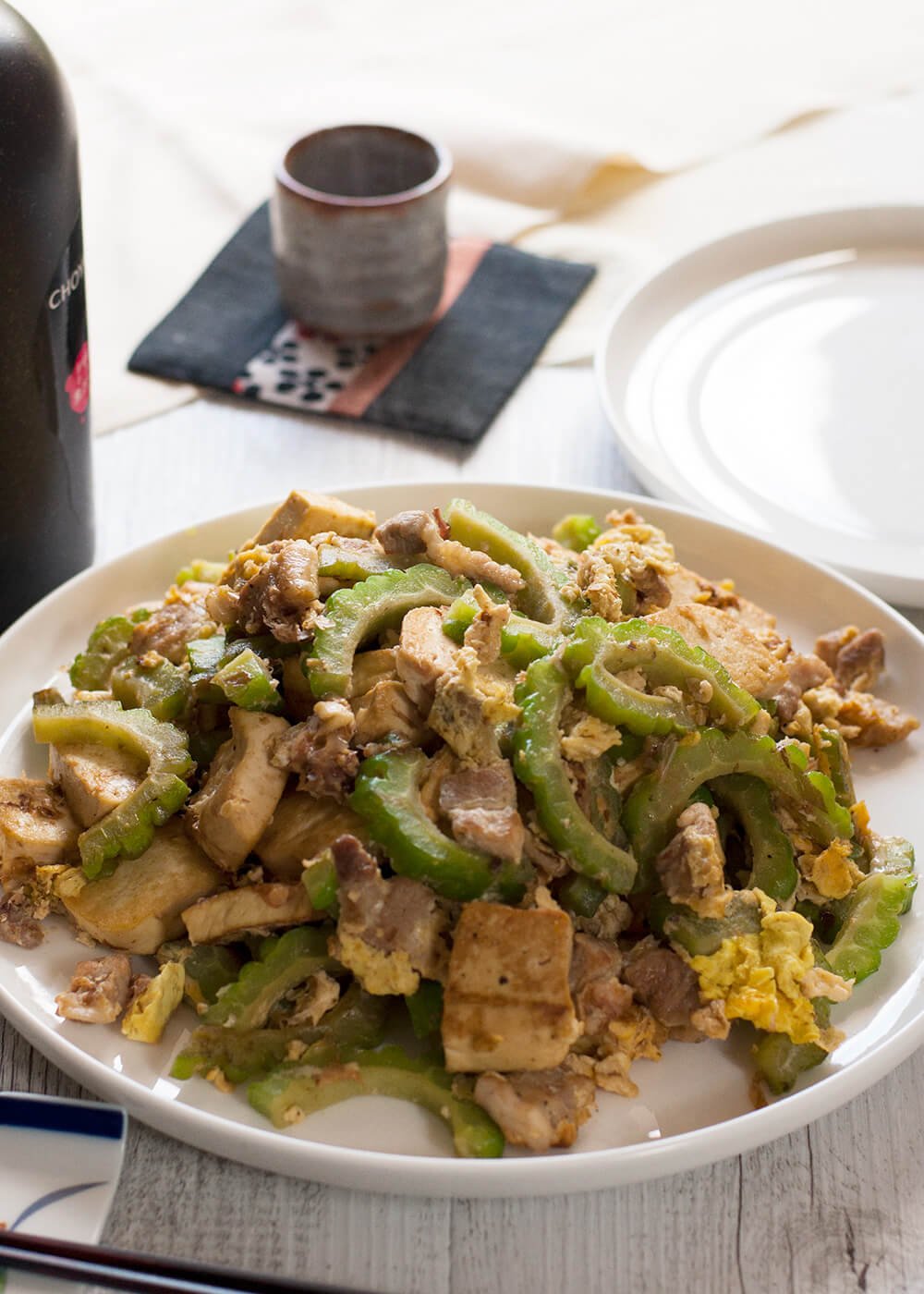 Nagi talked about the trip to Japan a couple of times lately in her blog, RecipeTin Eats. I was also in Japan and have just returned to Sydney. I was there from 21st January for almost 6 weeks.
It is quite a challenge to stock up 6-7 recipes in advance while you are away from home and I must admit that I missed one a couple of weeks ago. Sorry about that.
The original trip was not meant to be this long and was just for skiing. But my friends who went to ski with me wanted to travel to Okinawa, particularly the small islands such as Yaeyama Islands and Kerama Islands. I had been to Okinawa but had never been to these islands, so I decided to join them.
Okinawa is the southern-most prefecture of Japan and consists of hundreds of islands. It's famous for beautiful beaches and coral reefs just like the Great Barrier Reef in Australia. Although the scale is not as big as that of the Great Barrier Reef, the beauty is not inferior to that of Australian reefs.
There is so much to talk about Okinawa that it would be wiser for me to let you read Wikipedia here than trying to explain it to you in this blog. But I can talk a little bit about the typical food in Okinawa that I tried and I would recommend that you try if you are in Okinawa.
Rafute (ラフテー) is a braised pork belly dish which is similar to my recipe, Kakuni, but with the unique flavour of garlic and the local sake called awamori. It is usually served in a bowl with a few big cubes of pork belly with the skin on. The pork is tender and flavoursome.
Okinawa soba (沖縄そば) is a noodle soup dish with stewed sliced pork belly, shallots (scallions) and red pickled ginger as toppings. Sometimes kamaboko (fish cake) is also added. The wheat noodles are similar to that of ramen but thicker. It is strange to call it "soba" as "soba" usually means buckwheat noodles. The broth is made from pork, konbu (kelp) and bonito flakes.
If you change the topping from pork belly slices to stewed pork spare ribs, it becomes Soki soba (ソーキそば). If you use cooked pig's trotters, it becomes tebichi soba (てびちそば).
When we arrived at Ishigaki airport and took a taxi to our minshuku (民宿, a family run small lodge), I asked the taxi driver where he would recommend we have a meal. One of his recommendations was a little restaurant only a stroll away from our minshuku.
The taxi driver said that it was a secret restaurant where only the locals go. 'Such restaurant must be great', I thought and I was right. We had Okinawa soba there and it was fantastic.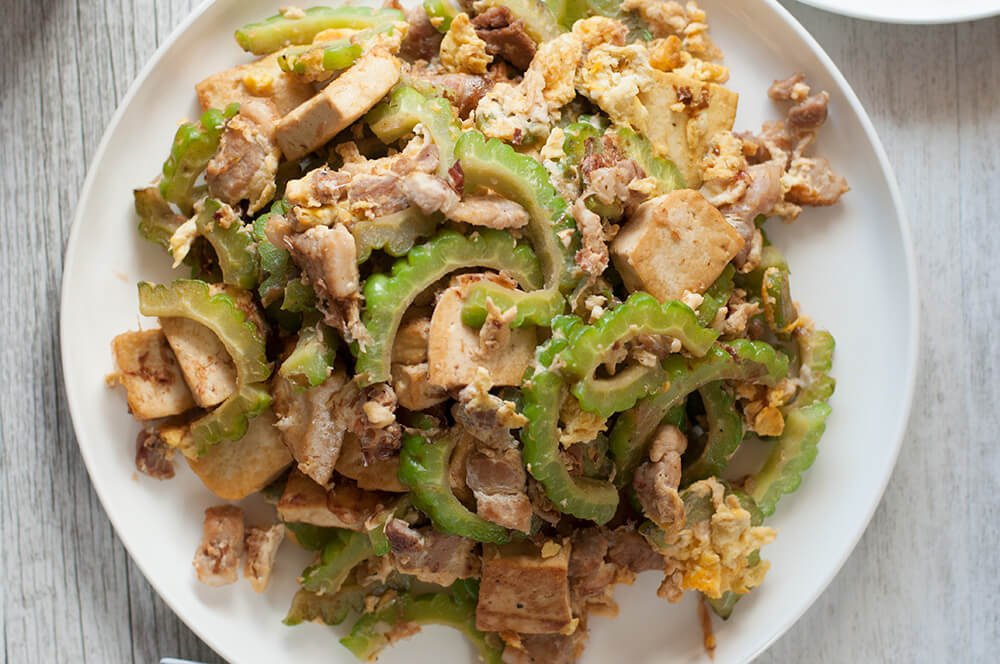 Goya chanpuru (ゴーヤチャンプルー) is another representative Okinawan dish along with rafute and Okinawa soba. The word "chanpuru" sounds similar to the Indonesian word "campur" which means mix/stir and indeed, goya chanpuru is a bitter melon stir fry dish.
"Goya" means bitter melon in Okinawa dialect. In standard Japanese, it is called "nigauri" which actually means  "bitter melon". The Okinawan language is quite different from standard Japanese and it is almost like a foreign language. For example, "welcome" in Japanese is "yohkoso"(ようこそ) but Okinawans say "mensohre" (めんそーれ).
Goya looks quite unique as you can see in the photo below. It has warts like bumps all over it. When you cut it into half lengthwise, you will see spongy white tissue with seeds inside. You would need to removed seeds and spongy tissue and discard. As the name suggests, bitter melons are quite bitter if you don't treat them before cooking. One way of removing bitterness is to use salt and draw moisture out of the bitter melon after slicing them. I have included this step in my recipe.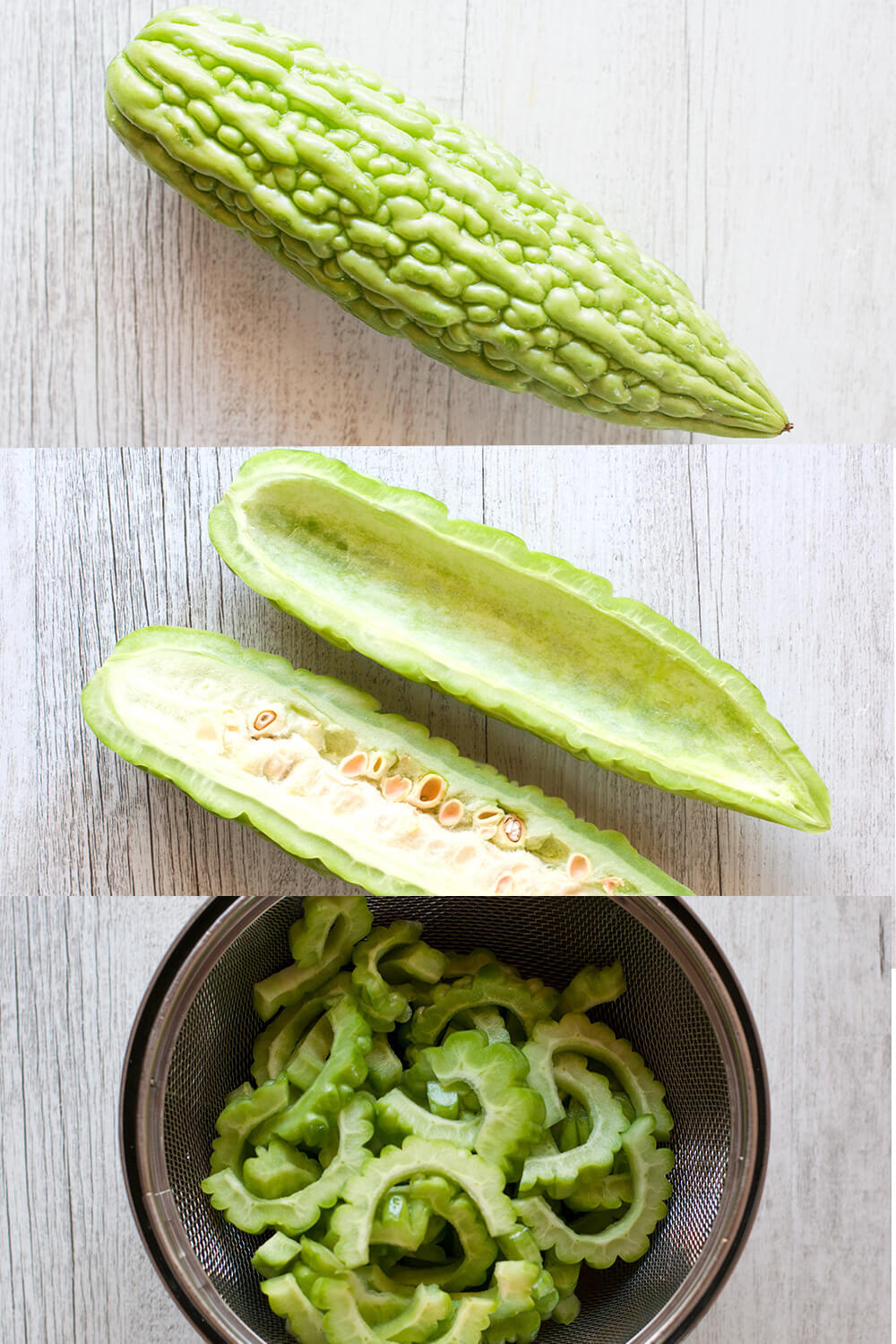 Just like any other home style dishes, goya chanpuru also has variations but I understand that the ingredients of the very traditional goya chanpuru are just bitter melon, tofu (Okinawan island tofu which is harder than firm tofu), luncheon meat (SPAM – yes, SPAM is served even for breakfast in Okinawa) and eggs. But many restaurants add bean sprouts and julienned carrots to it and use pork slices instead of SPAM.
At the noodle restaurant, we also ordered goya chanpuru. Their goya chanpuru had SPAM in it. Bean sprouts and carrots were also added to the very traditional version as you can see in the photo "Typical Okinawa dishes" above. This dish was also tasty.
Before leaving Sydney for my Japan trip, I cooked goya chanpuru using sliced pork. I wanted to compare the flavour of my goya chanpuru with the dish I would eat in Okinawa.
If the flavour was quite different, I was going to adjust my recipe and cook it again. But luckily, the flavour was quite close to what I ate at the restaurant so I am posting my goya chanpuru here as per my original recipe.
Other than using pork slices instead of luncheon meat, I retained the original version by using only bitter melon, tofu and eggs. But if you wish, you can add bean sprouts and/or carrots. I added a note for that.
I hope you like it.
Yumiko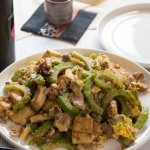 Goya Chanpuru (Bitter Melon Stir Fry Okinawan Style)
A super easy Japanese stir fry from Okinawa, goya chanpuru is full of bonito flakes, which is unique for a stir fry dish and so flavoursome that you will get addicted to it. It is not greasy at all and my version is made with pork slices instead of SPAM which is the real version of goya chanpouru.
Ingredients (tbsp=15ml, cup=250ml)
1

bitter melon

(mine was 340g (12oz))

180g (6.3oz)

pork belly, thinly sliced (note 1)

200g (7oz)

hard tofu, cut into 1.5cm (5/8") thick bite size slices (note 2)

1

tbsp

oil

2

tsp

sesame oil

5g (0.2oz)

bonito flakes

3

eggs

, beaten
Flavouring
2

tsp

soy sauce

2

tsp

sake

2

tsp

water

1½

tsp

salt
Instructions
Cut bitter melon in half length-wise. Remove seeds including fluffy white core using a spoon. Cut the halves into 0.5-1cm (3/16"-3/8") thick pieces width-wise.

Place bitter melon in a bowl, add 1 tsp salt and toss (do not massage) to cover bitter melon pieces with salt. Leave for 10 minutes, then rinse and drain well. This is to remove bitterness of goya.

Heat oil in a large frypan or a wok over high heat. Add tofu and cook both sides until lightly browned, about 2-3 minutes. Remove from frypan/wok.

Add sesame oil to the frypan/wok over high heat. Add pork and cook for about 2 minutes until slices are almost cooked through.

Add bitter melon to the frypan and stir gently without breaking the bitter melon slices. Cook for about 1 minute until surface of the bitter melon starts getting cooked.

Return the tofu to the frypan/wok. Add the Flavouring ingredients and mix so that the flavour coats the ingredients evenly.

Add the egg and leave for 15 seconds without mixing. Then shake the frypan/wok to toss the ingredients and mix the egg with other ingredients.

Turn the heat down to low. Add bonito flakes and gently mix, then turn off the heat.

Serve immediately.
Recipe Notes
1. You can go very traditional and use luncheon meat if you wish. Instead of pork belly, you could also use other cuts of pork but not those used for stewing.
2. I used a packet of hard tofu which is suitable for stir fry. This is harder than firm tofu. If you can only find firm tofu, you would need to firm up the tofu a little bit more before cutting it.
To firm up the tofu, place the tofu on a cutting board next to the sink with the side away from the sink lifted slightly. Place a flat plastic container or a tray on the tofu with a small weight on it. Leave for 10-15 minutes. This will press the tofu and let excess water out of tofu.
Silken tofu is not suited for stir fry as it can easily crumble.
3. If you would like to add bean sprouts and/or julienned carrots, I would suggest that you reduce the amount of tofu by 1/3. Use 50g (1.8oz) each of bean sprouts and carrots. Alternatively, you could simply add these vegetables and increase the quantity of flavouring ingredients.
Carrots should be added before bitter melon and bean sprouts should be cooked after bitter melon.