Adding wasabi mayonnaise gives a Japanese touch to salad. Root Vegetable Salad is very simple, consisting of only carrot, burdock and cucumber, but it is quite satisfying with a creamy Wasabi Dressing.
Most people might know wasabi as a green paste that comes with sushi. But you can use wasabi just like you use mustard in dressings and with mayonnaise. Because wasabi = Japan, salad dressings somewhat become Japanese-style when mixed with wasabi.
About Wasabi
Wasabi is also called Japanese horseradish – a plant that grows in wet fields. The part used for wasabi paste is the base part of the stem. You grate the stem and use it for sushi, sashimi, etc.
I don't know about your country, but in Australia fresh wasabi stems are impossible to buy unless you are a restauranteur. They are so expensive that even in Japan many restaurants/sushi shops do not use fresh wasabi.
Many restaurants use artificially made wasabi that consists of horseradish and green colouring. The wasabi in tubes that you can buy at Japanese/Asian grocery stores or supermarkets are most likely fake ones. Powdered wasabi is no exception.
If you have access to a fresh wasabi stem, you are a lucky person and I envy you. Freshly grated wasabi is nothing like the fake wasabi paste from both a texture and flavour perspective.
If you are buying wasabi in a tube at a Japanese or Asian grocery store, try to find a wasabi labelled as 'hon-wasabi' (本わさび) as these contain about 50% real wasabi (see the photo above). The texture and flavour is much better than the fake ones.
My Wasabi Mayonnaise
Wasabi is used worldwide these days and I see many salads or dips with Wasabi Mayonnaise. But most of them are simply a mixture of wasabi paste and mayonnaise. Sometimes lemon juice or honey is added to them.
My version of Wasabi Mayonnaise is a little more authentic. In addition to wasabi and mayonnaise (preferably Japanese Kewpie mayonnaise), soy sauce, vinegar and mirin are added to it with a pinch of salt to adjust the saltiness.
The soy sauce slightly darkens the colour of the greenish mayonnaise, but when mixed with the vegetables, the colour of the Wasabi Mayonnaise won't matter at all.
Salad Suited for Wasabi Mayonnaise
I personally think that Wasabi Mayonnaise can be a dressing for all kinds of vegetables, but some vegetables are better dressed with creamy dressing than liquid dressing such as French dressing.
I think that liquid dressings are better suited to salads with lots of leaves while root vegetables and vegetables with stems such as broccoli and asparagus are better off with a creamy dressing.
Today I picked two root vegetables – carrot and burdock. To give a different colour and texture to the salad, I added cucumber, which goes well with Wasabi Mayonnaise.
To get each piece of vegetable well coated with the Wasabi Dressing, I shaved the carrot and burdock. This method of cutting the vegetable is called 'sasagaki' (笹がき) cut.
Sasagaki Cut (shaved): Step-by-step Photo
I touched on sasagaki cut in my post, Braised Beef & Burdock with Ginger (Shigureni) and described how to do it. But I did not include the step-by-step photos then, so I am adding the photos here. Basically, you shave the root vegetable in a similar way to sharpening a pencil with a knife.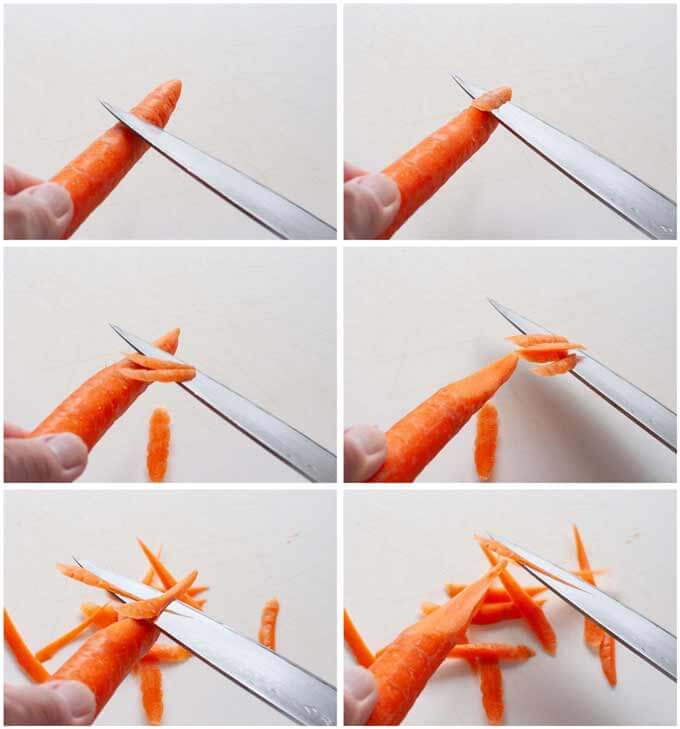 In this photo, I used a very thin carrot and all I needed to do was to shave it from the tip of the root. But if your carrot is thick, halve or quarter it vertically to make thin sticks, then shave each stick.
Fresh burdock can also be shaved in the same way, but the shaved pieces must be soaked in water straight away so that the burdock pieces do not turn brown and the bitterness within the burdock is also removed. You only need to soak them for 5 minutes or so and you will see the water becoming brownish.
If you can't easily buy a fresh burdock root like me, you can use shaved frozen burdock instead. I use them quite often. They are available at Japanese/Asian grocery stores.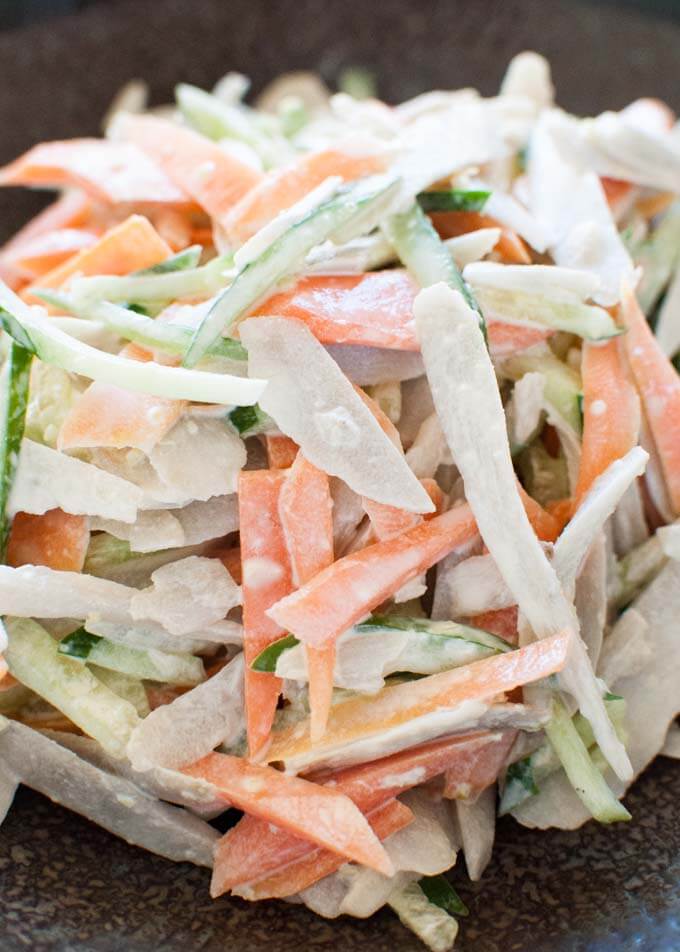 Wasabi Mayonnaise goes well with many different vegetables. I'd suggest that you experiment with your favourite vegetables. I sometimes make vegetable sticks such as celery, daikon, cucumber, carrot and serve with Wasabi Mayonnaise on the side.
Yumiko

PS: I added a new section 'MEAL IDEAS' below the recipe card. It gives you a list of dishes that I have already posted and the new recipe in this post that can make up a complete meal. I hope it is of help to you!
Root Vegetable Salad with Wasabi Mayonnaise
Adding Wasabi Mayonnaise to a salad gives it a Japanese touch. Root Vegetable Salad is a very simple salad consisting of only carrot, burdock and cucumber, but it's quite satisfying with a creamy Wasabi Dressing.
Keyword:
root vegetable, wasabi, wasabi mayonnaise
Ingredients (tbsp=15ml, cup=250ml)
60g/2.1oz

carrot

100g/3.5oz

burdock

(fresh or shaved frozen, note 1)

60g/2.1oz

cucumber
Instructions
If your carrot is very thick, halve or quarter vertically to make thin sticks. Make sasagaki cut carrot (shaved carrot) from each stick. See the post for how to do sasagaki cut.

Boil water in a small saucepan and blanch the carrot pieces for 30–60 seconds (note 4). Drain and cool.

If you are using frozen shaved burdock, thaw them and drain excess water if necessary. Skip steps 4 and 5.

If you are using a fresh burdock root, scrape off the skin using the back of the knife, then make sasagaki cut burdock. As you shave the burdock, place the burdock pieces in a bowl filled with water (note 5). Leave them for 5 minutes.

Boil water in a small saucepan and cook the burdock pieces for a couple of minutes (note 4). Drain and cool.

Slice the cucumber thinly diagonally, then julienne the sliced cucumber slices lengthwise.

Mix all the vegetables in a bowl.

Mix wasabi paste, soy sauce, vinegar and mirin in a small bowl, ensuring that there are no lumps of wasabi paste.

Add mayonnaise to the bowl and mix well.

Transfer the wasabi mayonnaise to the bowl of vegetables and mix well to coat every piece of vegetable with the mayonnaise.

Taste test and adjust with salt if required. Serve as a salad, or in small bowls/plates as appetiser.
Recipe Notes
1. You can buy burdock that are already shaved into sasagaki cut. They are sold frozen at Japanese/Asian grocery stores.
2. If you are using wasabi powder, mix the powder with water to make wasabi paste. The degree of kick of heat and wasabi flavour depends on the brand of wasabi you use. You can increase the amount of wasabi if you prefer it to be spicier.
3. I used Kewpie mayonnaise, which is available at Japanese/Asian grocery stores as well as supermarkets. The Western style mayonnaise and Kewpie mayonnaise are a bit different in flavour – the former is sweeter. I made wasabi mayonnaise using both types of mayonnaise and both of them came out fine.
4. The time to blanch/cook root vegetables depends on the thickness of sasagaki cut and also how crunchy/soft you want them to be.
5. Fresh burdock becomes brown when exposed to air. Soaking in water, it prevents the burdock pieces from becoming brown. It also removes the bitterness.
6. Nutrition information per serving:
serving: 132g calories: 156kcal  fat: 12g (17%)  saturated fat: 1.7g (9%)  polyunsaturated fat: 6.3g  monounsaturated fat: 2.5g  cholesterol: 5.8mg (2%)  sodium: 666mg (27%) potassium: 321mg (10%)  carbohydrates: 13.7g (5%)  dietary fibre: 4.1g (16%)  sugar: 2.7g  protein: 1.8g  vitamin a: 101%  vitamin c: 5.9%  calcium: 19.4%  iron: 1.8%
Meal Ideas
A typical Japanese meal consists of a main dish, a couple of side dishes, a soup and rice. I try to come up with a combination of dishes with a variety of flavours, colours, textures and make-ahead dishes.
Today's salad is a little bit rich with the wasabi mayonnaise, so I picked a light main (despite being beef). The soup can be any kind, but I thought clear soup would go well with the other dishes selected. If you would like to avoid egg in the soup, as the mayonnaise contains eggs, I would suggest Dried Tofu Skin Soup – Clear Soup.