This is not just a simple bowl of udon noodles but curry flavoured noodles with pork, shallots (scallions), aburaage (deep fried tofu) and fish cakes – Curry Udon. I made the curry sauce from scratch and flavour is amazing – almost noodle restaurant quality.
Plain udon noodles with clear broth and minimal toppings are great when I feel like a bowl of light noodle soup. But sometimes I crave a hearty curry flavoured udon noodle soup with meat and vegetables as toppings.
It is something about the combination of curry and dashi stock that is quite different from the curry sauce used on rice. Whoever invented this curry flavoured broth for udon noodles must be a clever person. Who would have thought the Western flavour of curry mixed with a typical Japanese seasoning – dashi stock, soy sauce and mirin – to create a wonderful curry flavoured broth? The flavour is quite different from the original curry but so tasty and addictive.
The majority of Curry Udon recipes make curry flavoured broth by mixing dashi stock and a block of store-bought curry roux which is sold to make Japanese curry on rice. I talked about different types of curry roux packs in my blog, Katsu Curry (Japanese Curry with Chicken Cutlet).
But the traditional curry flavoured broth that you will find in udon noodle shops is not made from the store-bought curry roux. Curry flavoured broth is made from scratch using curry powder and this is the way I make the broth, too.
It is surprisingly simple to make and quite flavoursome. The sauce ingredients are mostly pantry staples – curry powder, dashi stock, soy sauce, mirin and corn flour (corn starch). In my recipe, I used turmeric powder to improve the colour of the broth so it is a bit brighter.
Corn flour (corn starch) is used to thicken the broth, which helps keep the noodles hot for a long time as well as coat every strand of noodle with the flavoursome broth. It would not be a curry udon unless the curry flavoured broth is thickened.
I used thinly sliced pork belly, aburaage (deep fried thin tofu), chikuwa (fish cake) and shallots (scallions) mixed in the curry broth. But you can use chicken instead or omit some of them. Instead of shallots (scallions), some people use sliced onion. You can also add mushrooms such as shiitake mushrooms or shimeji mushrooms.
You can omit meat and fish cakes to make it vegetarian, too. Use konbu dashi stock (see my blog, Varieties of Dashi Stock) instead of bonito-based stock. The broth is so tasty that you could actually eat curry udon with no meat and vegetables, or with just a sprinkle of finely chopped shallots (scallions).
About Udon Noodles
I used vacuum sealed fresh udon noodles that only require blanching before serving. There are various brands of vacuum sealed fresh udon noodles sold at Japanese/Asian grocery stores, and possibly at supermarkets. Because of the vacuumed packaging, it keeps quite a while and you can store it in the pantry.
Each vacuum sealed pack contains one serve worth of fresh udon noodles. Some brands sell them individually, some in a bag containing 3-5 individually sealed packs. I made curry udon a few times to prepare for this post and each time, I bought a different brand of fresh udon noodles.
The photos below are a Japanese brand containing 5 packs (bottom right), a Korean brand containing 3 packs (top left) and a vacuum sealed pack (top right). You might find subtle differences in the quality of the noodles but the curry flavoured broth is so good that you probably won't notice or care about the noodles so much.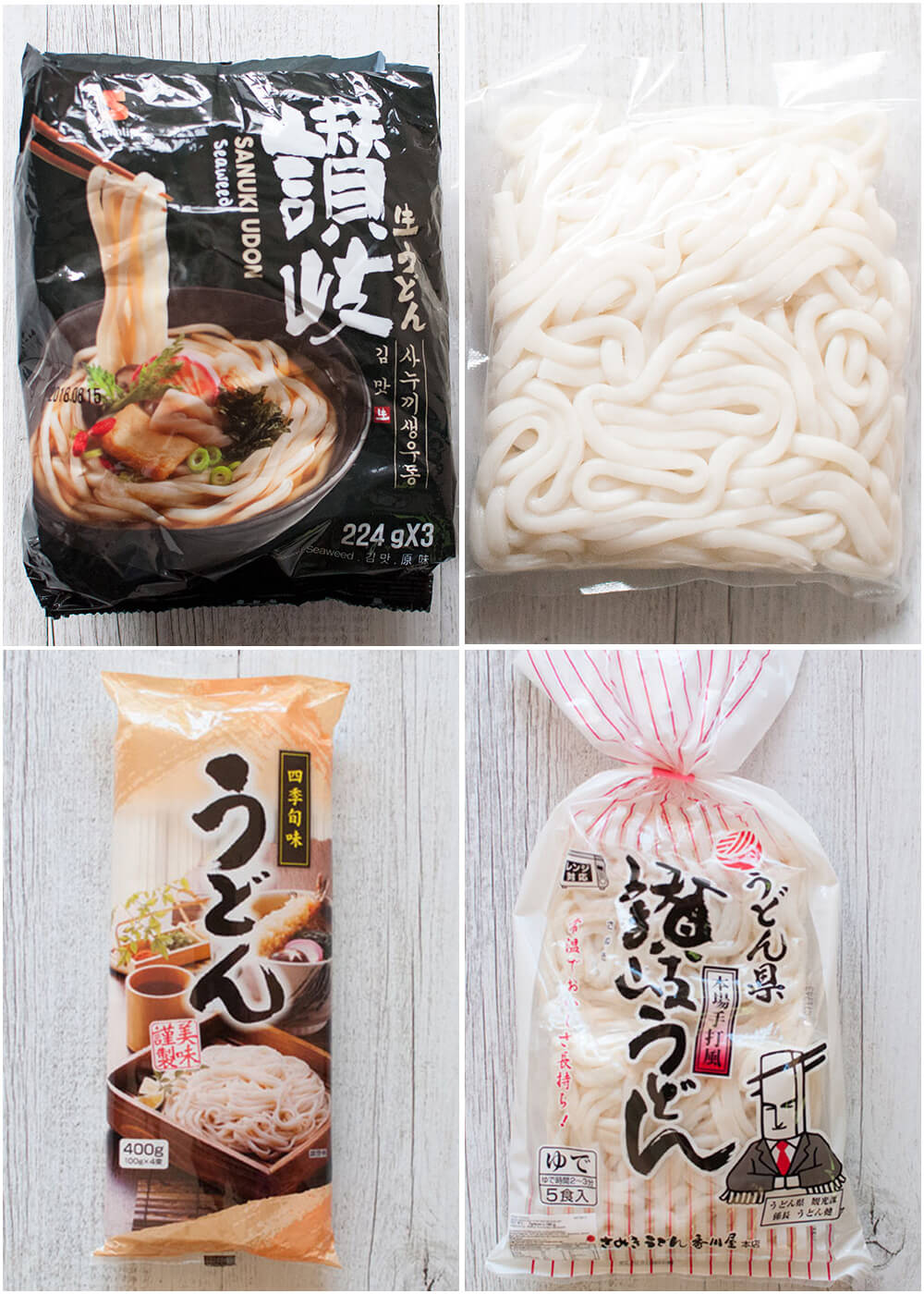 Fresh noodles do not need to be cooked a lot. They only require blanching. If the instructions on the back of the package say so, you can also reheat the noodles in the microwave. Cut open the vacuum sealed bag half way along the seam to let the steam out before heating (otherwise the bag will explode!). My Japanese package indicates that a couple of minutes in the microwave should be sufficient.
Instead of fresh udon noodles, you can use dried udon noodles (bottom left in above photos). You will need to boil the noodles much longer but the dried noodles keep longer in the pantry. You can also control the quantity of noodles you want to use without wasting the remaining noodles, while left over fresh noodles cannot stay fresh too long even in the fridge.
Dried udon noodles won't become as thick as the fresh noodles even after boiling. But you could get al dente texture from them while fresh noodles are a bit on the soft side.
Any kind of hot udon noodle soup is considered to be a winter dish as not many people would want to eat hot soup in the middle of summer. But when it comes to curry udon, there are many people in Japan who declare that they can eat it even on a hot humid day and I am one of them. It must be the curry flavour that makes me want to eat it regardless of the season.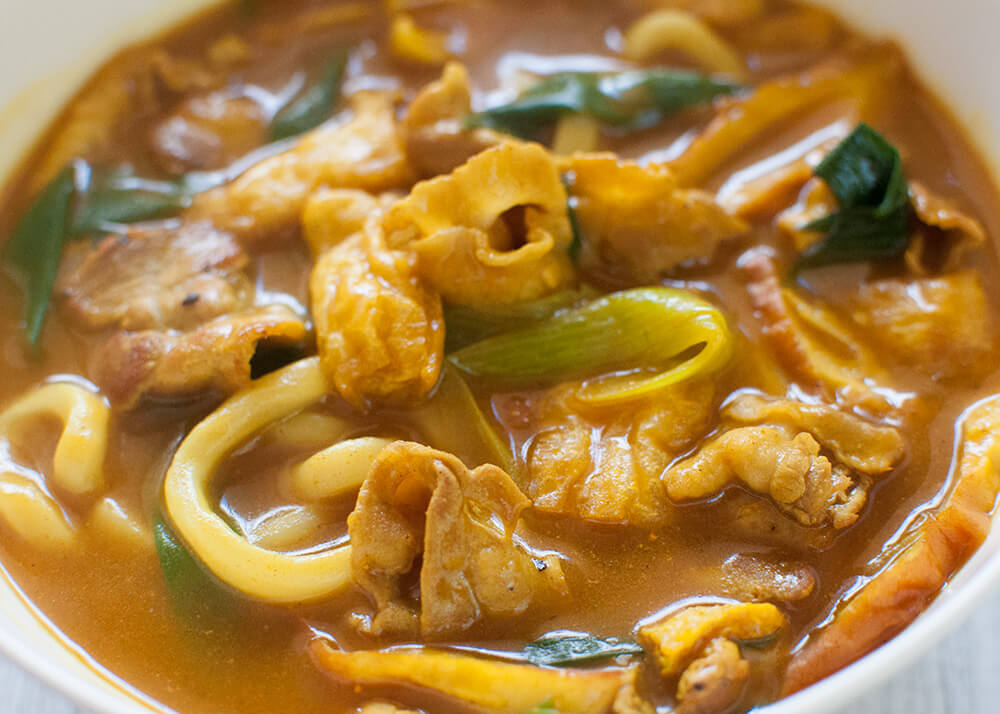 When I cook a dish to post in my blog, I usually end up cooking few times so that I can adjust the flavours and correct photofraphy mistakes. By the time I am ready to post the recipe, I would have eaten the dish so many times that I normally don't feel like eating the same dish for a while.
But it was not the case when I cooked curry udon. Even after cooking curry udon few times and drafted the post, I could eat it again. It is so addictive. I hope you try my curry udon.
Yumiko

Curry Udon
This is not just a simple bowl of udon noodles but curry flavoured noodles with pork, shallots (scallions), aburaage (deep fried tofu) and fish cakes. I made the curry sauce from scratch and flavour is amazing. Omit meat and fish cakes and make it a vegetarian version of curry udon with konbu dashi stock.
Ingredients (tbsp=15ml, cup=250ml)
2

servings of fresh udon noodles

(note 1)

4

shallots

(scallions)

2

short chikuwa sticks

(note 2)

1

aburaage

150

g

pork belly

, thinly sliced into bite size pieces (note 3)

700

ml

dashi stock

1

tsp

oil

Salt & pepper
Curry Mixture
1

tbsp

curry powder

1

tsp

turmeric powder

2

tbsp

cornflour/corn starch

5

tbsp

dashi or water

3

tbsp

soy sauce

2

tbsp

mirin
Instructions
Cut shallots diagonally into about 5cm (2") long pieces. Slice chikuwa diagonally into 4 cm long, 5mm (3/16") wide pieces.

Pour boiling water (not in ingredients) over the aburaage to remove excess oil and squeeze moisture out. Cut the aburaage into two lengthwise, then cut them crosswise into 1.5 - 2cm (½") wide pieces.

Add all the Curry Mixture ingredients to a bowl and mix well using a whisk, ensuring that corn flour is dissolved.

Add oil to a large fry pan or a saucepan and heat over medium high heat. Add pork, season with a pinch of salt and pepper, and cook for 1-2 minutes until the pork pieces are nearly cooked.

Add shallots, chikuwa and aburaage to the pan and cook further 30 seconds.

Add dashi stock and turn the heat up to high. When it starts boiling, scum might surface. Remove as much as possible.

Mix the curry mixture in the bowl again ensuring that corn flour has not collected at the bottom of the bowl. Add the mixture to the pan and turn down the heat to medium.

The sauce will start to thicken. When the sauce starts boiling, turn the heat off.

Transfer heated udon noodles to two serving bowls and pour curry sauce over the udon.

Serve immediately.
Heating Up Udon Noodles (note 4)
Boil water in a sauce pan that is large enough to blanch 2 servings of udon noodles.

Add udon noodles and boil until the water starts bubbling again or follow the instruction on the pack. Drain (note 5).
Recipe Notes
1. You can use dried udon noodles if you can't find fresh noodles. Follow the instructions on the package to boil dried noodles.
Fresh udon noodles and dried udon noodles can be purchased at super market and Asian/Japanese grocery stores.
2. Chikuwa is a log-shaped grilled fish cake with a hole in the middle. There are thick, large chikuwa that usually come in a pack of two and small, thin chikuwa, five in a pack. I used three short ones. If you would like to see a photo of the short chikuwa pack, please visit Oden (Simmered One Pot Dish).
Chikuwa is sold at Japanese/Asain grocery stores and comes frozen.
3. You can use other parts of pork or chicken. In both cases slice thinly and cut into bite size pieces. It is rare to use beef. If you are using lean meat, you may need to add a bit more oil when cooking.
4. Alternatively, you can use the microwave to heat the udon up if the udon package indicates so. My udon needed a couple of minutes in the microwave to heat up. Ensure that the vacuum sealed bag is opened to let the steam out while heating.
Udon noodles heated in microwave are slightly softer than the noodles blanched in boiling water.
5. Drain well as excess water will make the broth thin.
6. I could not obtain the nutrition information for chikuwa sticks so I substituted it with fish cake to obtain nutrition figures. There are some differences in nutritional values between these ingredients but differences seem to be not significant.