Katsu curry is just a variation of Japanese curry with a chicken cutlet on top. I have used a store-bought block of Japanese curry roux which is commonly used in Japanese households. Chicken cutlet (Japanese version of chicken schnitzel) brings the Japanese curry up to the next level. It's so delicious and filling.
It is not an exaggeration to say that Japanese curry rice (カレーライス, pronounce it as "karee raisu") is the national home cooking dish. Everyone, particularly children, love it. When Japanese people say "having curry tonight", it is the Japanese curry that is made from the store-bought block of curry roux.
When I was in junior high school, I saw the first TV commercial about the curry roux that was not too hot and with a bit of sweetness. It was suitable for children. This curry was called House Vermont Curry from House Foods Corporation. The roux contained apple and honey to reduce the spiciness so that even little kids could eat curry.
Apparently, the name "Vermont" came from the state of Vermont in the USA, which was known for folk medicine with apple cider vinegar and honey. At the time of the first TV commercial, this folk medicine was well known and popular so House Foods just borrowed the name "Vermont".
The commercial was a big hit and everyone was humming the commercial song "apple and honey, apple and honey… House Vermont Curry!". I think I did too, and most likely asked my mother to make curry for dinner. And absolutely every household bought the roux and made curry for their kids. I suppose the Japanese Curry Rice became a national dish then.
The roux is already made with all flavours packed inside the block which melts easily in hot liquid, so all you need is to chop the meat and vegetables, cook, then add the roux. It is so easy to make yet so flavoursome.
The photo below is the beef curry I made by just following the instructions on the pack. I used Java Curry (the middle one in the photo of the curry packs above). Because it was medium hot roux, the colour of the curry is darker than that of mild curry.
The Japanese curry is quite different in flavour and consistency from other authentic curries such as Indian curry. The sauce is thicker than other curries in the world. It is similar to the consistency of béchamel sauce.
It seems to contain different types of herbs so it doesn't smell or taste like other curries at all, yet the depth of flavour is uniquely attractive for some reason and you can't stop eating it. Well I couldn't and my son couldn't when I made a first attempt at Japanese curry for this post.
You can buy Japanese curry roux at Japanese/Asian grocery stores. I think even Woolworths and Coles sell them in the Asian grocery section. The packets are made specifically for overseas consumers as they are written in English including the directions to make the curry.
My recipe today is not just a standard Japanese Curry Rice but Katsu Curry which has chicken cutlet on it. It would be a high calorie dish but you sometimes need something like that. I certainly do and eat just salad for dinner the next night to balance the calorie intake.
The word "katsu" (カツ) is a short form of "katsuretsu" (カツレツ) which came from the English word "cutlet" and means the same thing.  Can you see the similarity in the sound? Well, the Japanese language does not have the sound of 't' (phonetic symbol /t/). The closest is "tsu" in this case, hence "katsuretsu". Because the word was derived from a foreign language, it is written in katakana instead of kanji characters.
I love cutlet in any form with any kind of meat or seafood, particularly when coarse Japanese bread crumbs are used. I like the sound when I bite into the cutlet coated in crunchy bread crumbs.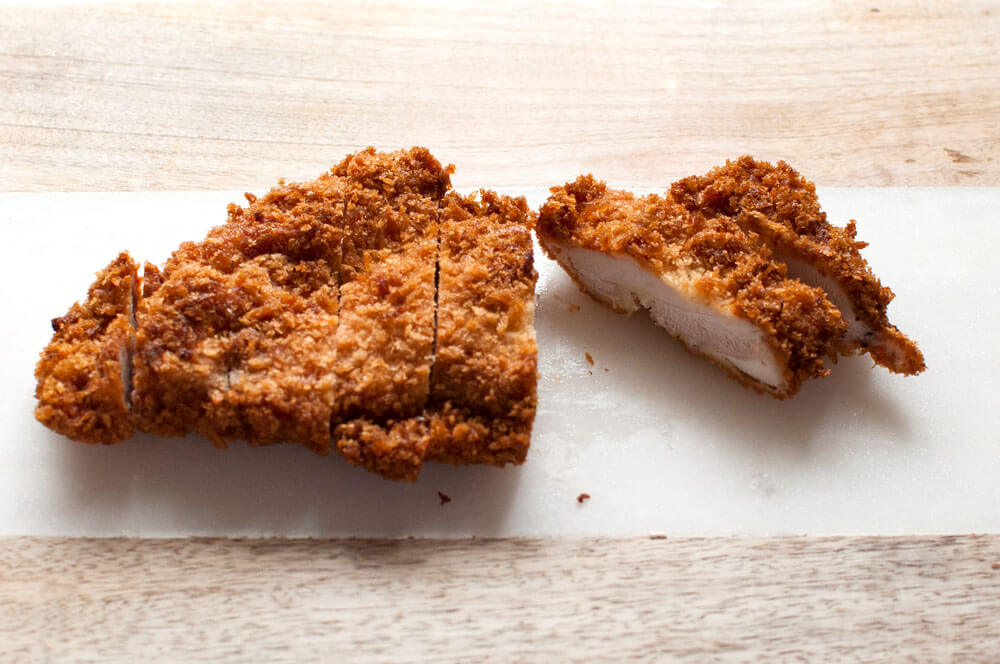 You will notice that the size of vegetables in my recipe is smaller than those I cut for the beef curry in the photo above. this is because I wanted the cutlet to stand out even after pouring curry. Katsu curries served at restaurants often do not have anything in the sauce.
When I finished cooking and photo taking, I sent my kids the photo of my katsu curry. Both daughters asked in unison "can I have the leftovers?" But Nagi was a touch faster than her sister and she secured the leftovers.
I may have to make another batch for my other daughter but wait a moment! They can make their own with this recipe, can't they?
Yumiko

Katsu Curry (Japanese Curry with Chicken Cutlet)
Katsu curry is just a variation of Japanese curry with a chicken cutlet on top. I have used a store-bought block of Japanese curry roux which is commonly used in Japanese households. It is not an exaggeration to say that Japanese curry = store-bought curry roux. Chicken cutlet brings the Japanese curry (Japanese version of chicken schnitzel) up to the next level. It's so delicious and filling.
Ingredients (tbsp=15ml, cup=250ml)
Curry
400

g

(14oz) onion, sliced into 1cm (⅜") wide pieces

250

g

(8.8oz) potato, cut into 1.5cm (⅝") cubes

100

g

(3.5oz) carrot, sliced 7mm (¼") thick (note 1)

1

tbsp

oil

½

packet of 230g

(8.11oz) House Vermont Curry Mild (note 2)

800

ml

(28oz) water

4

cups

of cooked rice

(hot)
Chicken Cutlets
150

g

(5.3oz) x 4 chicken thigh fillets (note 3)

Salt and pepper

30

g

(1.1oz) flour

1

beaten egg

1

cup

Japanese breadcrumbs (panko breadcrumbs)

(note 4)

Oil to deep fry

(note 5)
Instructions
Making Curry
Add 1 tablespoon of oil into a pot and heat over medium high heat. Add onion and sauté for a few minutes or until onion becomes translucent and edges start getting slightly burnt.

Add potatoes and carrots into the pot and stir for a couple of minutes or until the surface of vegetables starts getting cooked.

Add water and turn the heat up to bring to a boil. Then reduce the heat to low to medium and simmer for about 7 minutes or until the vegetables are nearly cooked through.

Break the curry roux cake into small blocks along the lines and add them into the pot. Stir gently to blend the curry roux over low heat.

Place the lid on and cook over low heat for about 10 minutes or until the curry roux is completely dissolved. Stir occasionally. Check the consistency of the sauce. It should be like béchamel sauce. If too thick, adjust with some water. If too thin, cook further without the lid. It will thicken when cooled down as well.

Turn the heat off.
Making Chicken Cutlets
If the thickness of the thigh fillet is not even, cut into the thick part of the meat horizontally without cutting all the way through, then open it so that the fillet's thickness becomes consistent (to cook evenly).

Season the chicken all over with salt and pepper.

Place flour, egg and breadcrumbs in a shallow plate or bowl individually and line them up in this order with an additional clean plate or a small baking tray next to the breadcrumb plate.

Working one fillet at a time, coat a fillet with flour. Shake off excess flour, then place it in the egg to coat all over. Allow excess egg to drip, then transfer to the breadcrumbs.

Cover the entire fillet with breadcrumbs, making sure that a good layer of breadcrumbs is stuck on both sides. Repeat for the rest of the fillets.

Heat oil in a deep frypan to 170-180C (338-356F). (note 6)

Gently place a fillet into the oil. Depending on the size of the frypan, you may fry two at a time.

Fry for about 3-4 minutes or until the bottom side is browned. Using tongs, flip the fillet and cook for further 3-4 minutes until the other side is browned.

Transfer the cutlet onto a tray lined with paper towel to drain excess oil, and rest for 5 minutes.
Serving
If the curry is cooled down, heat it up again over low heat until bubbles come up around the edge. (note 7)

Cut each chicken cutlet into 2.5cm (1") wide strips.

Place a cup of hot cooked rice onto one side of a plate. Place sliced chicken cutlet next to the rice, leaning it on the rice so that there will be a space to pour the curry.

Pour curry next to the cutlet and serve immediately.
Recipe Notes
1. If the carrot is fat, you may halve or quarter it lengthwise, then slice it.
2. I happened to have a mild curry pack. But you can use medium hot or hot curry or even another brand instead of House Food.
Different kinds/brands of roux might require different amounts of water. Please follow the instructions on the pack.
3. I used chicken thigh fillets but you can use breast fillets if you like.
4. The quantity of breadcrumbs required is approximate as it varies depending on how much you coat the fillet.
You can use normal breadcrumbs but Japanese breadcrumbs are much more coarse than standard breadcrumbs, hence they create a crunchier texture when cooked, which goes well with curry sauce.
If you can't find Japanese breadcrumbs at Asian grocery shops, you can make them by placing stale white bread in the blender and coarsely grinding it.
5. Vegetable oil, canola oil or sunflower oil is good to use. Olive oil does not work with this dish. The depth of the oil in the pan should be at least twice as deep as the thickness of the meat to fry.
6. To check the temperature of the oil without using a thermometer:
a. Drop a small number of breadcrumbs into the oil. The breadcrumbs will spread with tiny bubbles around them.
b. Stick a pair of bamboo chopsticks into the oil. Bubbles appear around the chopsticks and come up constantly.
7. When the curry cools down, the sauce thickens. The consistency of the sauce should be like béchamel sauce. Check the consistency of the sauce after re-heating and if too thick, adjust with water.