Simple Pickled Celery is so easy to make. All you need is celery and salt with a bit of lemon and chilli. Yet, so yummy. Simplest is the best, sometimes. Just plan ahead to allow for marinating time.
There are so many different kinds of pickled vegetables in Japan. Most of them are salty but there are sweet and/or sour flavours as well. They sometimes use sake kasu (酒粕, lees) to pickle, giving a slightly alcoholic flavour to the pickled vegetables.
Note: Sake kasu is the lees left over from sake production. It looks like dough, not sticky, and usually comes in a sheet. It retains about 8% ethanol so reasonably alcoholic. Typically, sake kasu is used as marinade together with other seasoning, to make amazake (甘酒, sweet sake) by adding water and sugar, or to make kasujiru (粕汁, sake lees soup) by mixing with miso.
These are the several typical pickling bases:
Shiozuke (塩漬け) – salt-based
Shoyuzuke (醤油漬け) – soy sauce-based
Misozuke (味噌漬け) – miso-based
Mirinzuke (味醂漬け) – mirin-based
Suzuke (酢漬け) – vinegar-based
Amazuzuke (甘酢漬け) – sweet vinegar-based
Kasuzuke (粕漬け) – sake lees-based
Nukazuke (糠漬け) – rice bran-based
As you might have guessed, zuke means pickle or marinade.
Note: Nuka (糠, rice bran) is a by product of the rice milling process (the conversion of brown rice to white rice). In addition to using it for pickling, Japanese often add rice bran to the water when boiling bamboo shoots to remove harshness of the bamboo shoots.
When I was a child, almost all households made nukazuke at home. Mix rice bran with salt water, konbu (kelp) and chilli. Throw in a vegetable scrap, replacing with a new scrap every day for at least 1 week during which time a lactobacillus culture will develop. After that you can pickle almost any kind of vegetables in a nuka base. As long as you mix the nuka base every day to air it, it will keep many years.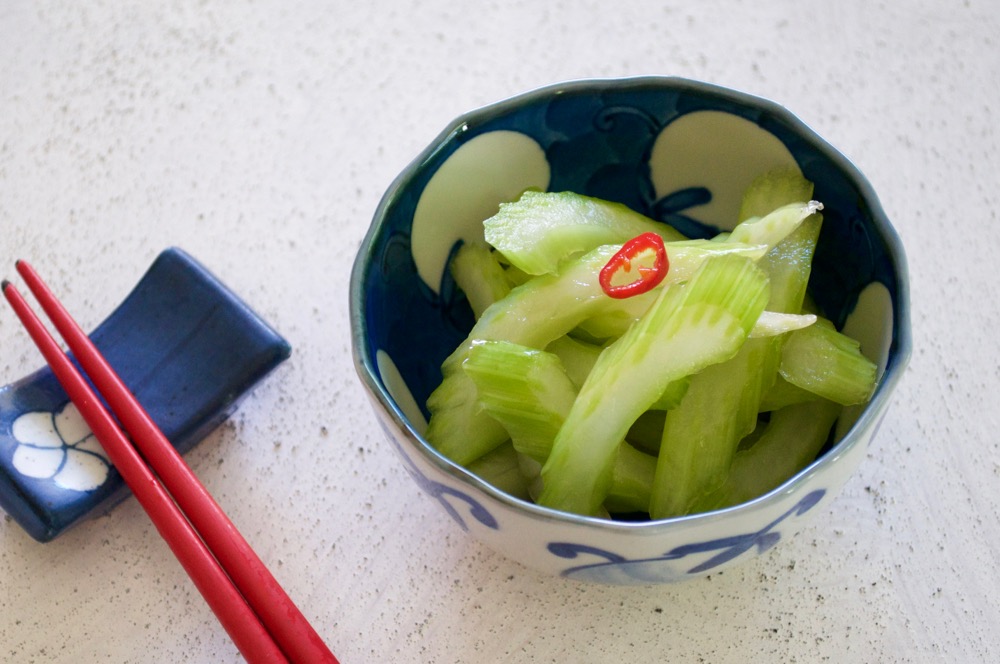 These days, you can buy many different kinds of pickled vegetables at supermarkets and department stores including nuka-zuke. Households which make their own pickles must be a minority in Japan now.
The variety of Japanese pickled vegetables available in Australia is quite limited and they are not cheap. So I try to make simple pickles at home. This 'Simple Pickled Celery' is one of them. I leant how to make this from the vegetable shop in Tokyo near where my parents lived. The owner of the vegetable shop is an old lady and this is her recipe. My father loved this pickle and always bought a bag or two from this shop.
You only need a few ingredients to make Simple Pickled Celery and it is so easy to make. I use a zip-lock plastic bag so washing up is also minimal. It keeps a couple of weeks in fridge. I normally have a small amount of pickled celery as a side whenever I have Japanese or Asian meal with rice.
Because of the salty flavour, you can eat cooked rice with only pickles if you have no other dishes to accompany. It is not the best from a nutrition perspective but if you just want to fill your stomach quickly or you don't feel like having a heavy meal, it works.
Yumiko

Simple Pickled Celery
Sliced celery is simply marinated in salty water with a touch of citrus and chilli. Excellent side dish.This is a great way of using up left over celery.
Ingredients (tbsp=15ml, cup=250ml)
3

stalks of celery

200ml (6.8oz)

of boiled water

10g (0.35oz)

salt (Note 1)

½

tbsp

lemon rind

, julienned (Note 2)

½

tsp

sliced chilli

(optional)
Instructions
Add the salt to the boiled water and mix well to dissolve. Allow to cool down to room temperature.

Slice celery into 5mm (3/8") slices diagonally.

Put the salty water into a zip lock plastic bag. Add celery, lemon rind and chilli. Shake the bag so that the salty water coats every celery piece.

Seal the zip lock bag, removing as much air from the bag as possible. Leave it in the fridge for at least half a day to pickle.

To serve, drain salty water and place in a small plate or a bowl.
Recipe Notes
1. The amount of salt varies depending on how salty you want the pickles to be. This is 5% salinity which is slightly saltier than sea water. You can adjust the saltiness to your liking.
2. It would be ideal to use yuzu citrus instead, if you can get it. I can't find fresh yuzu in Australia so I used lemon. You could substitute lemon with lime too.