This is a quick side dish. Eggplant goes so well with miso and green capsicum adds bright colour to the dish. My Miso Stir Fry with Eggplant, Capsicum and Pork uses thinly sliced pork but you can make it with mixed pork (ground pork). Or even without meat. Then it becomes a vegetarian dish.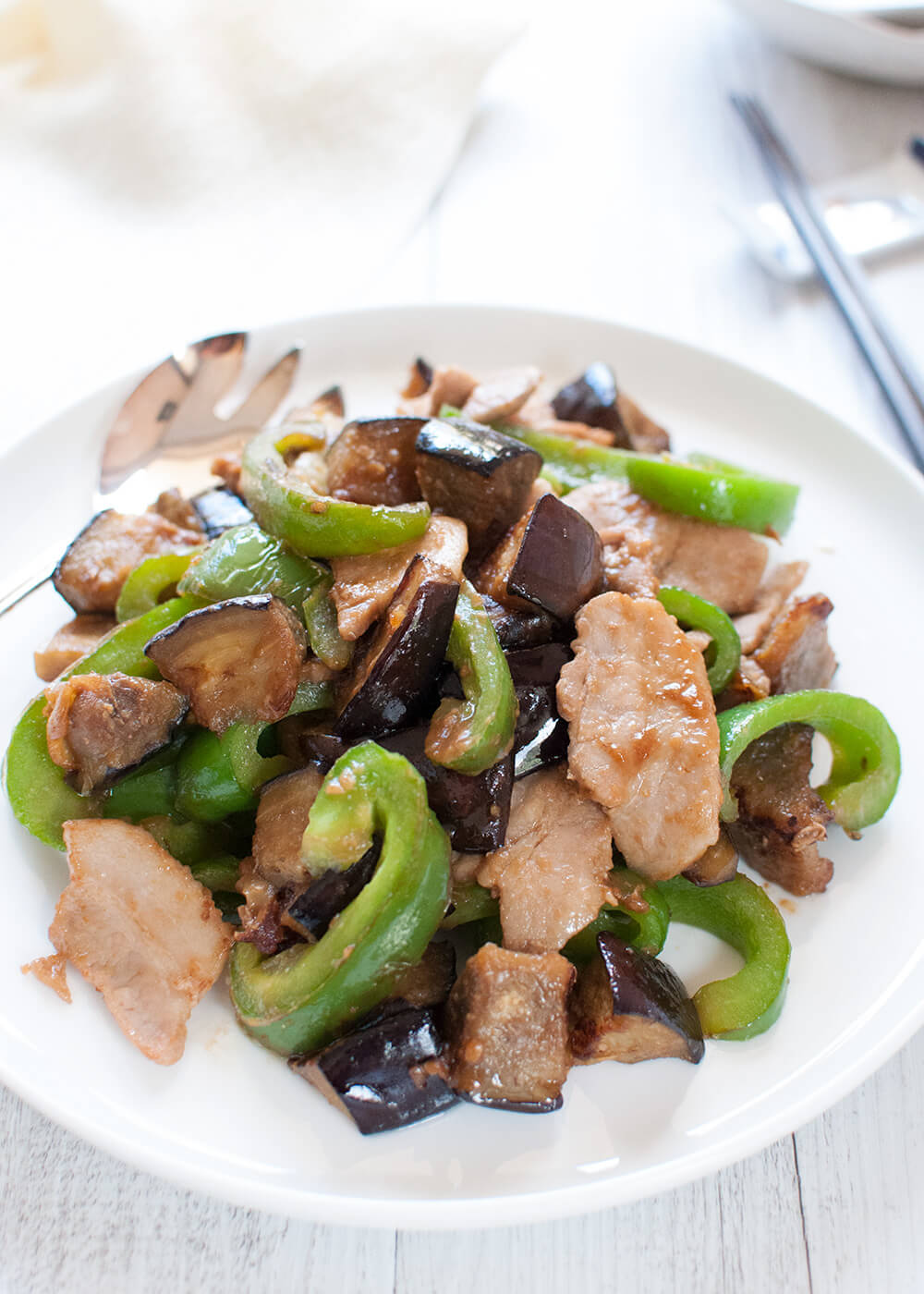 If you ask Japanese people what the classic miso stir fry dish (miso itame, 味噌炒め) is, they will all say 'Miso Stir Fry with Eggplant and Capsicum'. Each household might have different flavouring in the sauce and the vegetables might be cut differently, but the basic sauce is made of miso, sugar, soy sauce, sake and mirin.
Perhaps because of the sweet flavour, children usually love this dish even if there are a lot of vegetable pieces in it. And it goes very well with rice.
Eggplant flesh melts when cooked in oil and it goes so well with miso. Capsicum is also a good friend of sweet miso flavour. No wonder this dish is a classic 'miso itame' dish in Japan.
When I had just migrated to Australia, the only eggplant I could find was the large eggplant which was about 15-18cm (6-7") long and 6-8cm (2½-3") wide. I had a fit when I saw them for the first time at the vegetable shop because the eggplants I was familiar with back in Japan were half the length and half the diameter of the Aussie eggplants.
But these days, I can get smaller eggplants. They are sold as 'small eggplant' in Sydney. The small eggplant is half the width but the length is often almost the same as the large eggplant. It is kind of in between the large eggplant and the Japanese eggplant. But the skin is tender.
I occasionally find small eggplants that are half the length of the large eggplant, similar to the Japanese eggplant. Then, I feel an urge to buy them even if I have no plans to cook eggplant.
I know many dishes that use eggplant but some of them are suited to smaller eggplants. For example, eggplant tempura is cut in half lengthwise, then cut half way to make a fan shape, as you can see in my post, Tempura. This shape cannot be made using a large eggplant.
Because the colour of eggplant is a beautiful deep purple, I think that people try to keep the skin of the eggplants intact to show the colour in Japanese dishes. With the large eggplant, it is very difficult to cut them into small pieces while keeping the skin on every piece because there is so much flesh compared to the amount of purple skin.
Incidentally, the skin of the Japanese style eggplants is soft and we even eat raw eggplants by softening the very thin slices of eggplant with some salt, i.e. quick eggplant pickles. I once tried the salted eggplant pickles with the large eggplant but I failed miserably. The skin was so tough that I could not chew it and the flavour was not nice at all!
But when stir frying, like today's Miso Stir Fry with Eggplant, Capsicum and Pork, I can use a large eggplant and still have purple skin on each piece. Cut the whole eggplant lengthwise into quarters or 6 long wedges, then cut each wedge perpendicular to the first to cut into bite size pieces (see the photo below).
It's also quite alright to use small eggplants, of course. It's just that you need to cut them differently. If I was using a small eggplans, I would either halve it lengthwise, then cut into smaller pieces in the same way as with the large eggplant. Or I would use the roll cutting method, particularly if the width of the eggplant is narrow. This roll cutting method is called rangiri (乱切り) in Japanese and I posted the step-by-step photos of how to roll cut in Sweet and Sour Pork Meatballs (Subuta).
I added sliced pork belly to this dish to give it a bit of volume. But you don't need to use meat at all. You can also make miso stir fry with just eggplant or just capsicum and they will still be yummy.
The key to this dish is the flavoursome sweet miso sauce. This sauce will work well with any combination of the three ingredients in this recipe. Just adjust the amount of meat and/or vegetables to match the total quantity of meat/vegetables against the quantity of sauce.
Yumiko

Miso Stir Fry with Eggplant, Capsicum and Pork
This is a quick side dish. Eggplant goes so well with miso and green capsicum adds bright colour to the dish.
My recipe uses thinly sliced pork so you could make this dish as a main for two with a bit more meat.
You could also make it without meat. Then it becomes a vegetarian dish.
Ingredients
200

g (7oz)

thinly sliced pork belly cut into bite size pieces

(note 1)

300

g (10.6oz)

eggplant

, cut into quarters vertically, then into 3cm long pieces

150

g (5.3oz)

capsicum

, cut into 1.5cm (⅝") wide strips

1½

tbsp

oil

½

tbsp

sesame oil
Sauce
25

g (0.9oz)

miso

(note 2)

1

tbsp

each sake and mirin

1½

tsp

sugar

½

tsp

soy sauce
Instructions
Add all the Sauce ingredients to a bowl or a jar. Mix well until the miso is well combined and is lump free.

Add ½ tablespoon of oil to a frypan over medium high heat. Cook pork for a couple of minutes until slightly burnt and cooked through. Transfer the meat to a plate.

Turn the heat down to medium low and add remaining oil and sesame oil to the pan.

Add eggplants and cook for a couple of minutes rotating each eggplant piece so that all sides are cooked.

Add capsicum and cook further 5 minutes (note 3) or until eggplant becomes soft. Add the cooked meat and mix.

Add the sauce (note 4) and turn up the heat to medium high. Cook until only a small amount of sauce is left.

Serve immediately.
Recipe Notes
1. Instead of pork belly, you can use other parts of the pork such as pork loin, pork tenderloin. As long as meat is not for stewing and is suitable for sautéing or stir frying, it should be fine. You can use pork mince (ground pork) if you wish.
2. 25g (0.9oz) of my miso was a slightly heaped tablespoon.
Saltiness varies depending on the type of miso. Usually, the lighter the colour of the miso, the sweeter and less salty it is.
3. My capsicum was very large and the flesh was quite thick. So I needed to cook it for about 5 minutes. But if your capsicum is smaller with thinner flesh like those you find in Japan, then you will only need to cook the capsicum pieces for few minutes. This means that you cook  for about 5 minutes in step 4 and a few minutes in step 5.
4. Mix the sauce while pouring it into the stir fry as the sugar is most likely sitting at the bottom of the sauce bowl/Jar.