This creamy Chicken Macaroni Gratin is a firm comfort food favourite in Japan. Made with chicken, mushrooms and macaroni, baked in a béchamel sauce with a crunchy golden topping, it's a pasta bake done the Japanese way!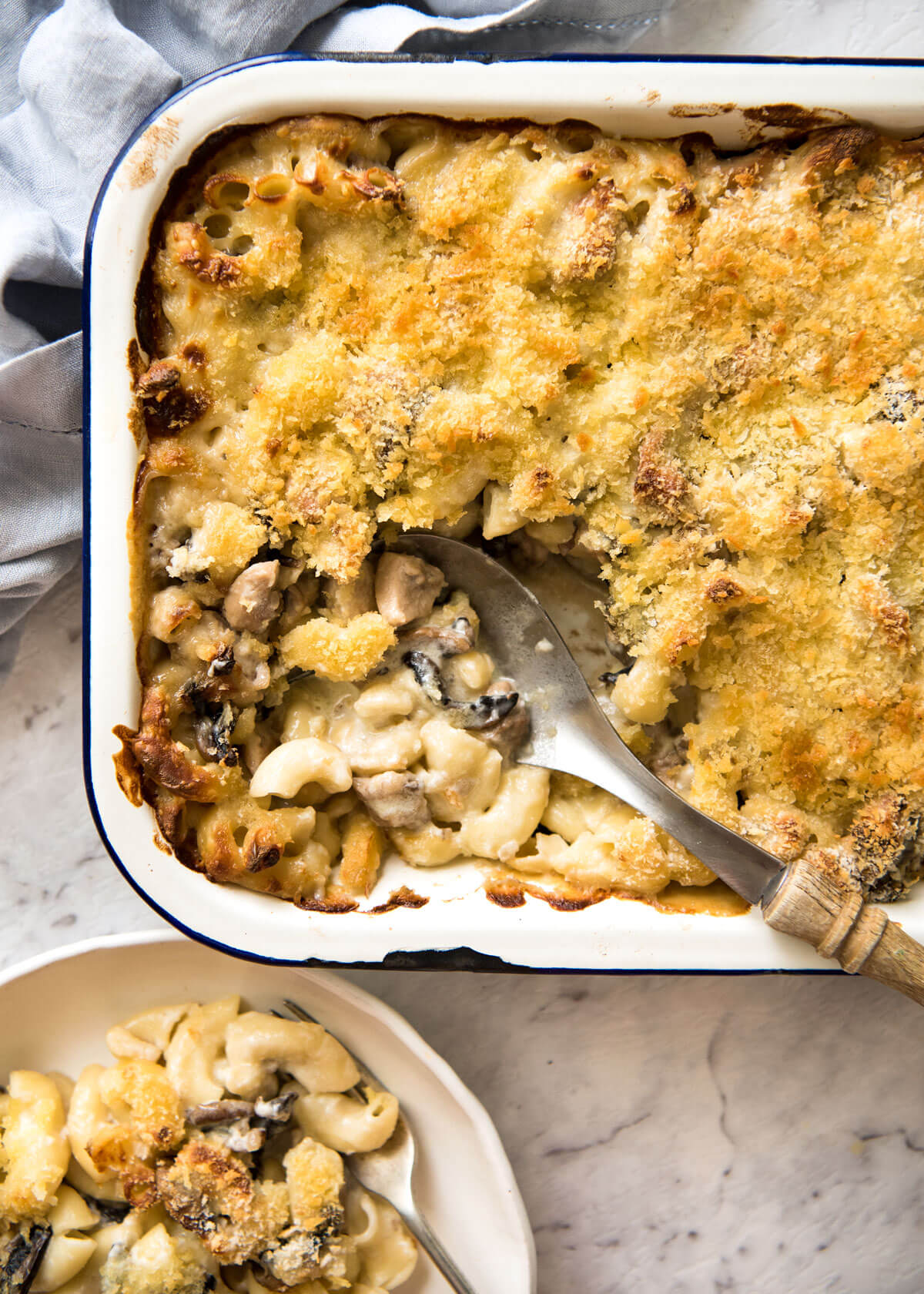 Hi! It's Nagi from RecipeTin Eats, here doing a guest post for my mother! When I offered to do a guest post for her while she is travelling in Japan, the pressure was on. Though our whole family really enjoys cooking, and we all have our specialities, my mother rules the Japanese cooking domain.
And we've always let her. Meaning, when it comes to Japanese meals, we're thoroughly spoilt. We all know a handful of classic recipes. But other than that, if we have a craving for something, then we generally just put the call out to mum.
"I want oden!" my sister will declare. And my mother will graciously make Oden for the next family meal. (Recipe coming soon!)
"Yakitori! The weather forecast is good – let's have Yakitori for the next family lunch!" And my mother will spend hours threading all assortment of goodies onto bamboo skewers and we'll gather at her house to grill over charcoals in the backyard.
"I'm soooo deprived of sushi. Let's do Temakizushi this weekend!"
And so on… you get the picture!
So actually, I have a pretty limited selection of "real" Japanese recipes in my repertoire to choose from to do a guest post on RecipeTin Japan. The reason I know this Chicken Macaroni Gratin inside out and back to front is because I love it so much, she basically forced me to learn how to make it in order to satisfy my craving!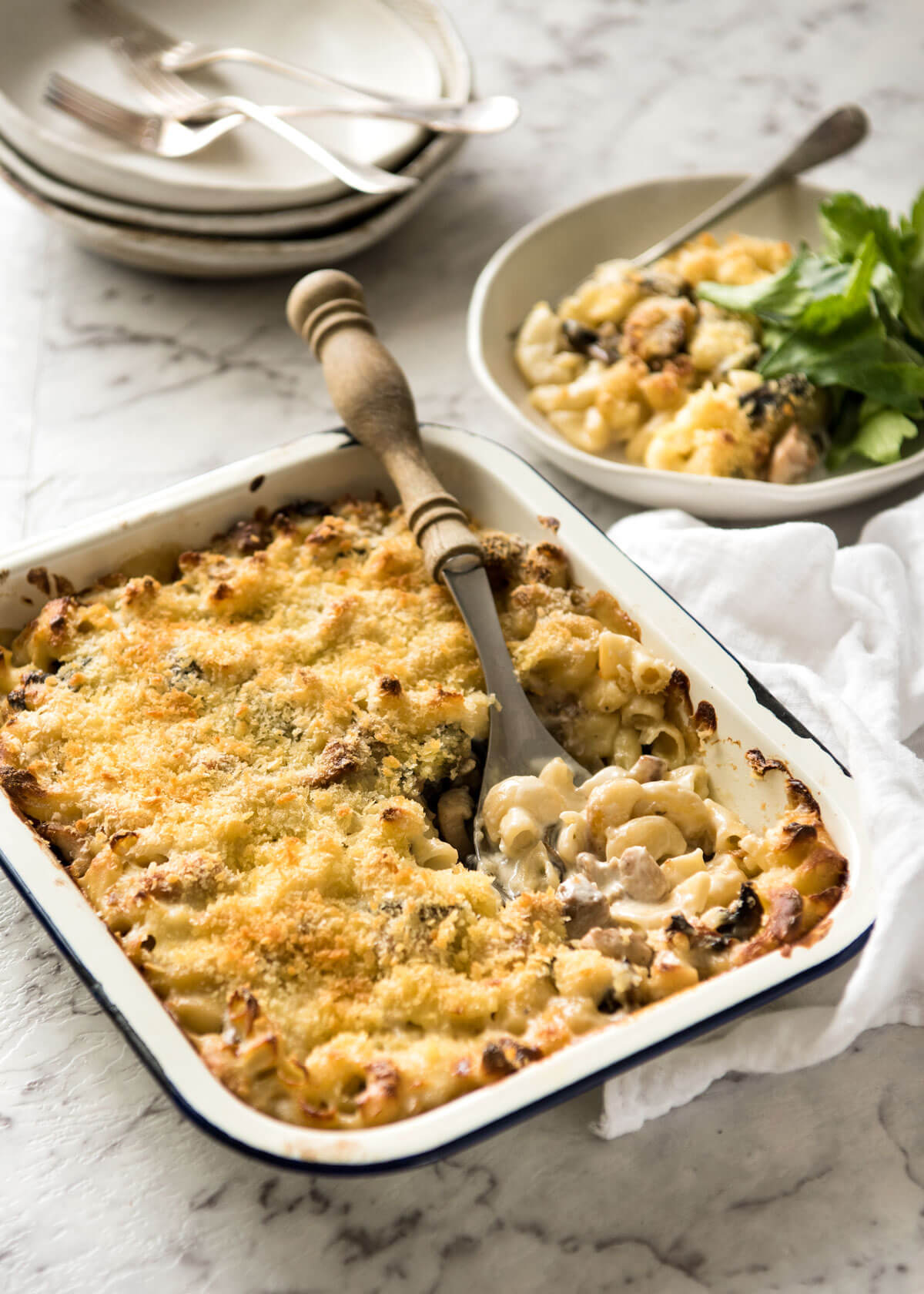 Those who have not visited Japan (yet) may be surprised to learn that there is actually a significant amount of what you'd call "Western" foods that are hugely popular and considered to be as Japanese as sushi. One such dish is this Chicken Macaroni Gratin. The name "Gratin" is derived from the French word that generally describes dishes which are baked in a béchamel or similar sauce.
In our family, this dish has always simply been known as Gratin. Pronounced gu-la-tan (the letter "r" doesn't exist in the Japanese language), this dish was a massive favourite amongst us kids when we were growing up.  Whenever our mum announced that she was making Gratin for dinner, we'd get edgy with excitement, hovering around the kitchen, waiting for it to come out of the oven. We'd blow furiously on a big spoonful of the creamy macaroni, impatiently waiting for it to cool down enough to shovel a huge amount in our mouths.
Did I just say that was what we did as kids? Bollocks. We STILL do that. When we put the call out to mum to make Gratin for a family meal!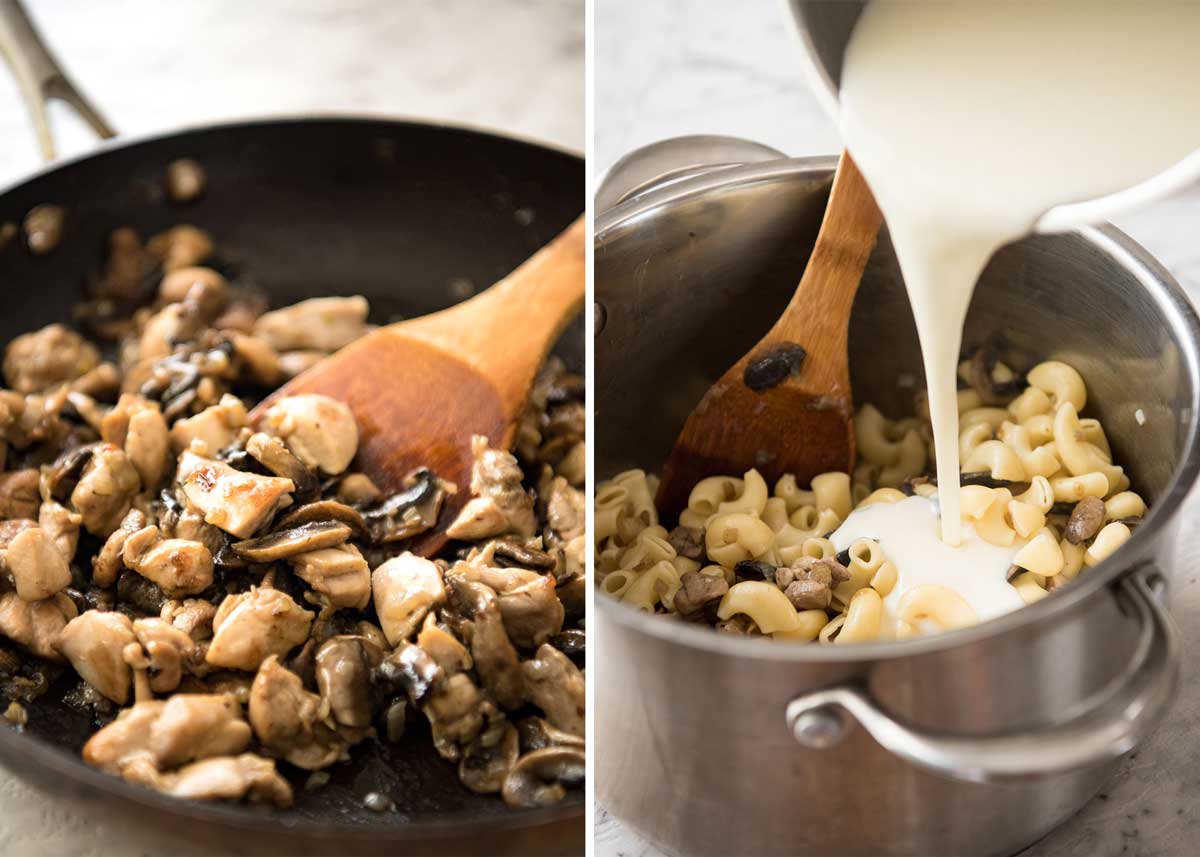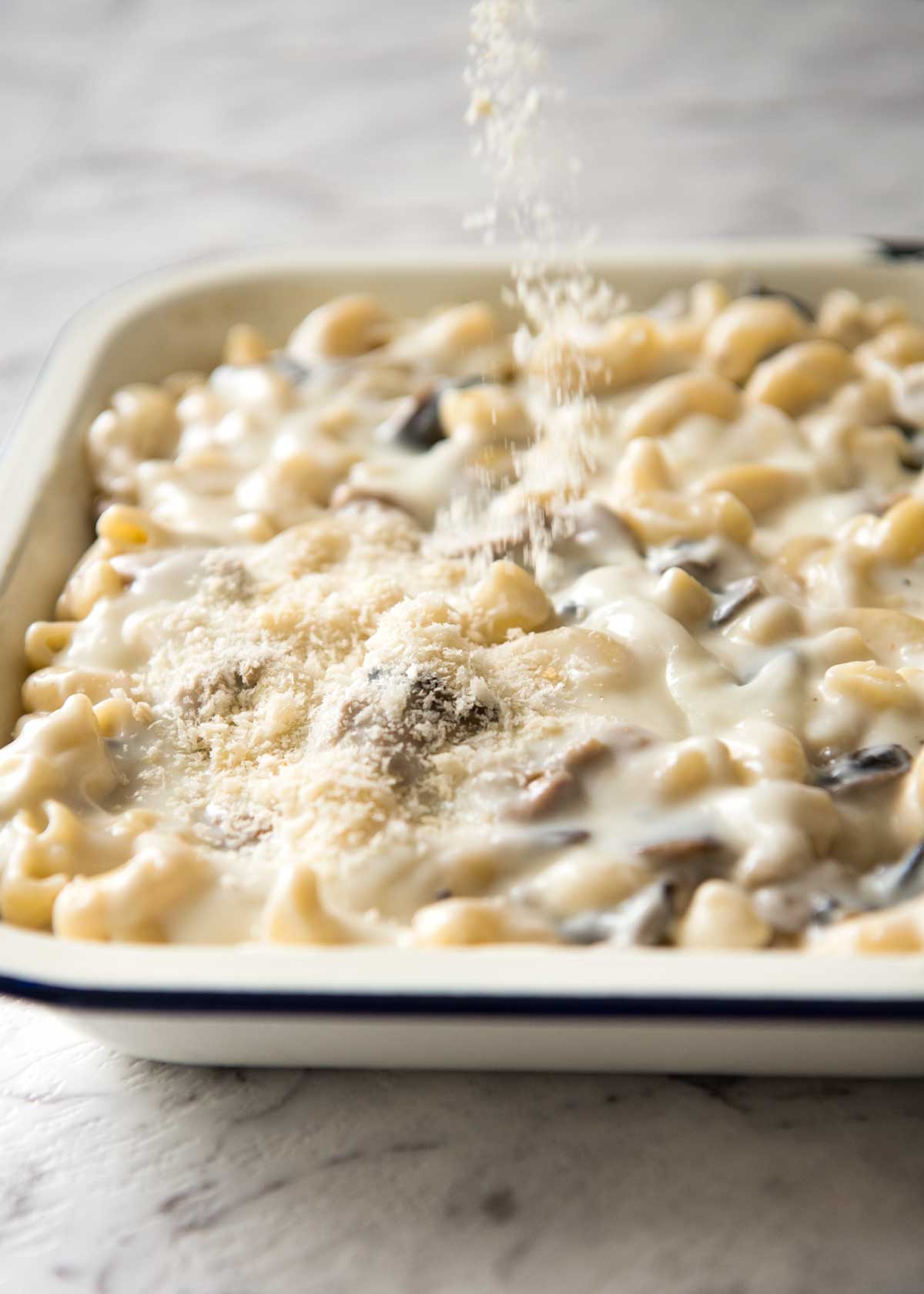 My mother has always made béchamel sauce for this Chicken Macaroni Gratin a very specific way which is different to the way most béchamel sauces are made. It takes longer than the way I make it, but I dare not muck around with it because it's her recipe! And also because the way she makes it, she uses less butter and yet it comes out silkier.
The secret? By using less butter, the roux is initially very dry, rather than a wet paste like the way most quick béchamel sauces start. When this dry roux (which has the consistency of wet sand) is cooked over a low temperature for around 6-8 minutes, it starts to sweat and eventually transforms into a wet paste.
The milk is then added, and as it heats up, it thickens into the silkiest béchamel sauce you'll ever have.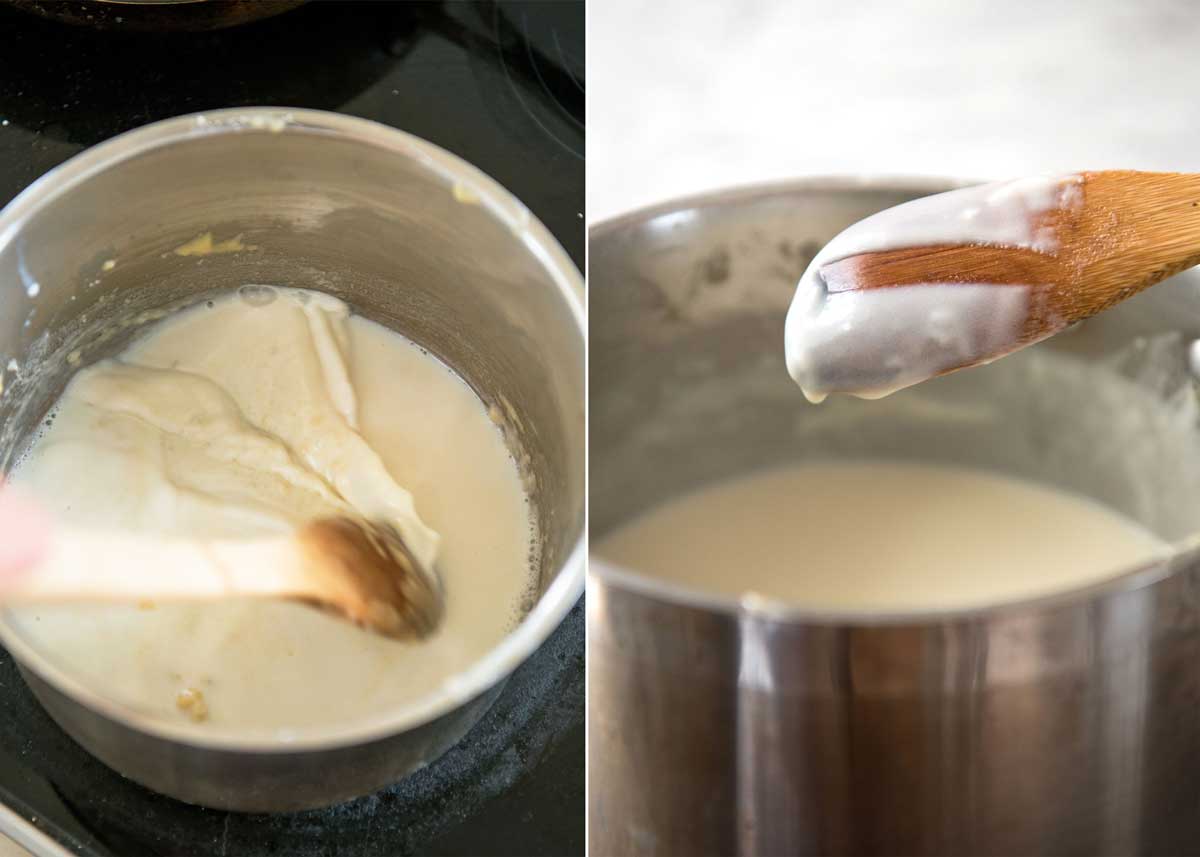 This recipe requires a skillet, saucepan, pot and baking dish. Totally different to my usual approach to cooking which is minimal cookware – in fact, generally 2 pots is my limit. So that's a testament as to how much I love this dish!!! It really is that good. Essentially it's a creamy pasta bake. And who doesn't love that??
Chicken Macaroni Gratin
This creamy pasta bake is a comfort food favourite in Japan! This is my mother's recipe. The béchamel sauce in this recipe is quite unique because it uses a much higher flour to butter ratio, and it is cooked longer over a very low heat. This yields an exceptionally silky béchamel sauce that also happens to be much healthier than the usual!
Ingredients (tbsp=15ml, cup=250ml)
Bechamel Sauce
40 g / 3 tbsp

unsalted butter

1/2 cup (6 tbsp / 75g)

plain flour

3 1/2

cups

milk

, full or low fat

1

chicken bouillon cube

, crumbled

3/4

cup

shredded cheese

(cheddar, tasty, gruyere) (note 3)

White pepper

, optional
Filling
250g / 0.5 lb

macaroni / elbow pasta

1/2 tbsp / 15g

butter

1

onion

, halved and finely sliced (note 1)

300 g / 10 oz

chicken thigh fillets

, skinless and boneless, cut into small bite size pieces

200 g / 8.5 oz

mushrooms

, sliced (button or Swiss brown)

Salt and pepper to taste
Topping
1/2

cup

panko breadcrumbs

1/4

cup

grated parmesan cheese

(optional)

1 1/2

tbsp

melted butter or 1 tbsp olive oil

(optional)
Instructions
Bechamel Sauce
Melt butter in a large saucepan over low heat if using gas, medium low heat if using electric stove. Add flour and mix - it will look dry compared to roux you are probably used to making.

Cook for 8 to 10 minutes, stirring constantly, ensuring that the roux does not change colour. It will transform from a dry roux to a wet paste (see photos below).

Once it becomes a wet paste, add about 1/4 of the milk and mix well to incorporate until lump free. Then add the remaining milk and chicken bouillon cube.

Increase heat to medium. As the milk heats up, the sauce will thicken. Stir regularly at first, then constantly as it thickens. Once the Sauce is thick enough to coat the back of the wooden spoon (test: draw a path with finger, if it stays, it's thick enough, see photo below), remove from stove immediately.

Stir through cheese and pepper. Add salt to taste. The Béchamel Sauce should have the consistency of a thick pouring cream - not too thick (it thickens more in the oven). If it's too thick, add a touch of water.
Filling
Cook pasta per packet directions minus 1 minute. Drain well, then return into pot (off stove).

In the mean time, melt butter in a large skillet over medium high heat. Add onion and cook for 1 minute.

Add chicken and cook until the surface turns white, then add mushrooms. Add salt and pepper to adjust the flavour.

As you cook the mushrooms, they will leech water. When this water is evaporated, pour the Filling into the pot with the pasta and mix. The oil will coat the pasta and stop it from bloating as it bakes.
Bake
Preheat oven to 180C/350F.

Pour Béchamel Sauce into the pasta mixture, mix well, then pour the m mixture to the baking dish (note 2).

Sprinkle with breadcrumbs and parmesan if using. Optional: Drizzle with melted butter or olive oil (more golden top but mum never did this).

Bake for 20 minutes until the edges are bubbling and it is golden on top.

Remove from oven and serve!
Recipe Notes
1. I accidentally diced the onion in the photos! My mother always makes this by slicing it.
2. Mum told me that this was not how she mixed Béchamel Sauce and the pasta mixture.
Mum's method: Pour 1/3 of Béchamel Sauce to a baking dish, then por the pasta mixture on top of the sauce in the baking dish. Pour the remaining Béchamel Sauce evenly over the pasta mixture.
3. The list of cheese here is not exhaustive but the cheese needs to melt well and not stringy. You can use any one kind or even mixed.
4. Nutrition assumes 6 servings.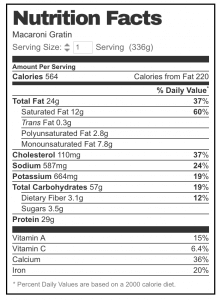 Making the Béchamel Sauce: This is how my mother has always made Béchamel Sauce for this Chicken Macaroni Gratin. There is a high ratio of flour to butter so when it is mixed together, it is quite dry. But then after it is cooked over a low heat for a while, it magically transforms into a wet paste which is easy to incorporate into the milk.
This unique method makes a Béchamel Sauce that is noticeably silkier than the traditional method which uses closer to a 1:1 or 2:3 ration of butter to flour. Though I typically use the traditional ratios, whenever I make this Gratin, I always follow my mother's recipe for the Béchamel Sauce!
Step 1: Melt butter in a medium saucepan over low heat if using gas, medium low if using electric stove. Add flour.
Step 2: When combined, the roux will come together like a soft dough. It will be like wet sand, not like a wet paste.
Steps 3 & 4: Cook for 8 – 10 minutes, stirring constantly. It will turn into a wet paste.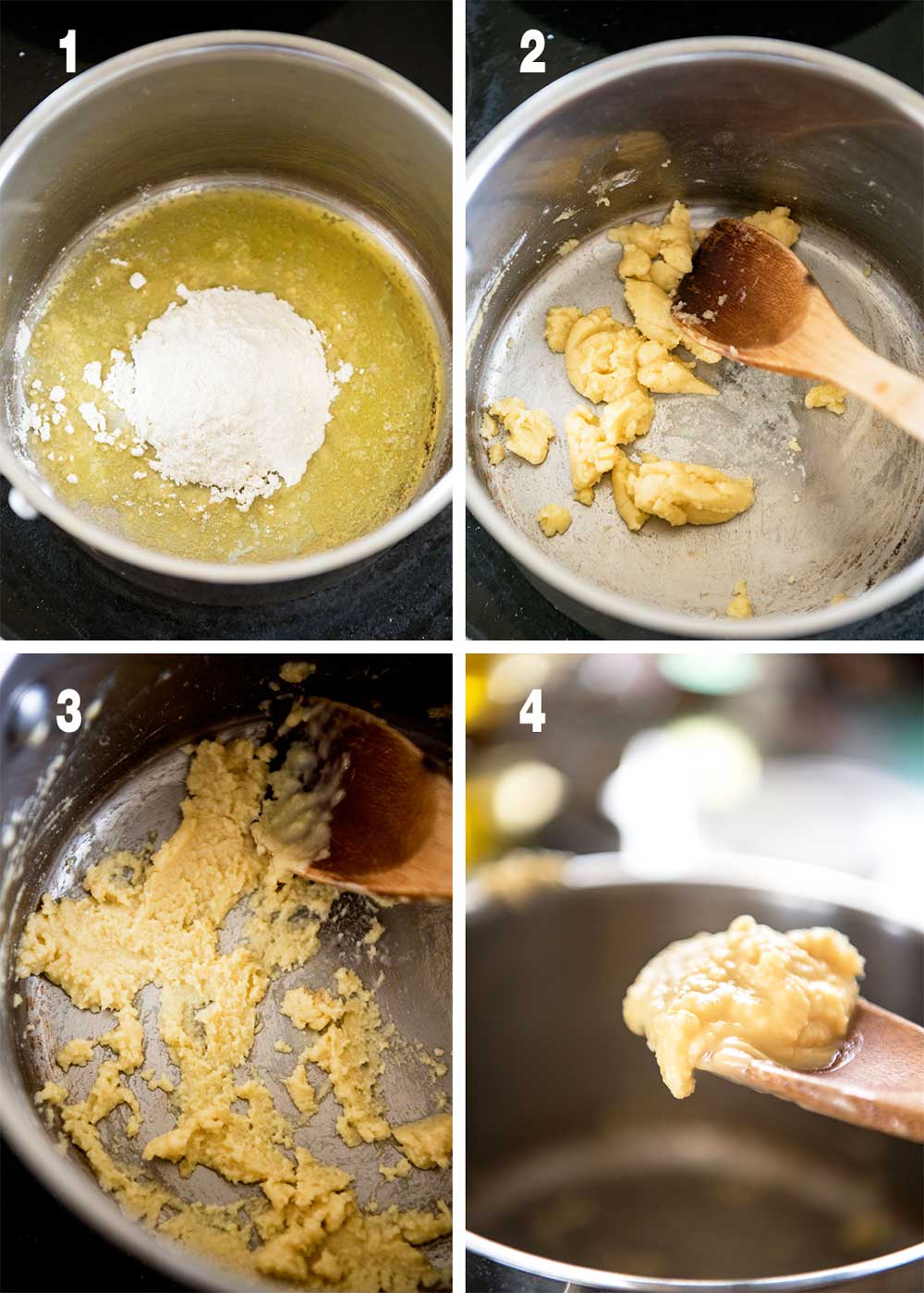 Add about 1/4 of the milk and mix to combine until lump free, then add the remaining milk. Cook over medium heat, stirring regularly at first then constantly as it thickens. Once the sauce is thick enough to coat the back of a wooden spoon and if you draw a line across the spoon with your finger, the path remains visible, it is thick enough. Remove from stove immediately and stir through cheese and pepper, then proceed with the recipe.