This is a quick Japanese fried rice made with store-bought fried rice seasoning. All you need is rice, egg and chopped vegetables. If you want, add meat too. The flavour of the Japanese fried rice is similar to Chinese fried rice but a bit lighter and less oily.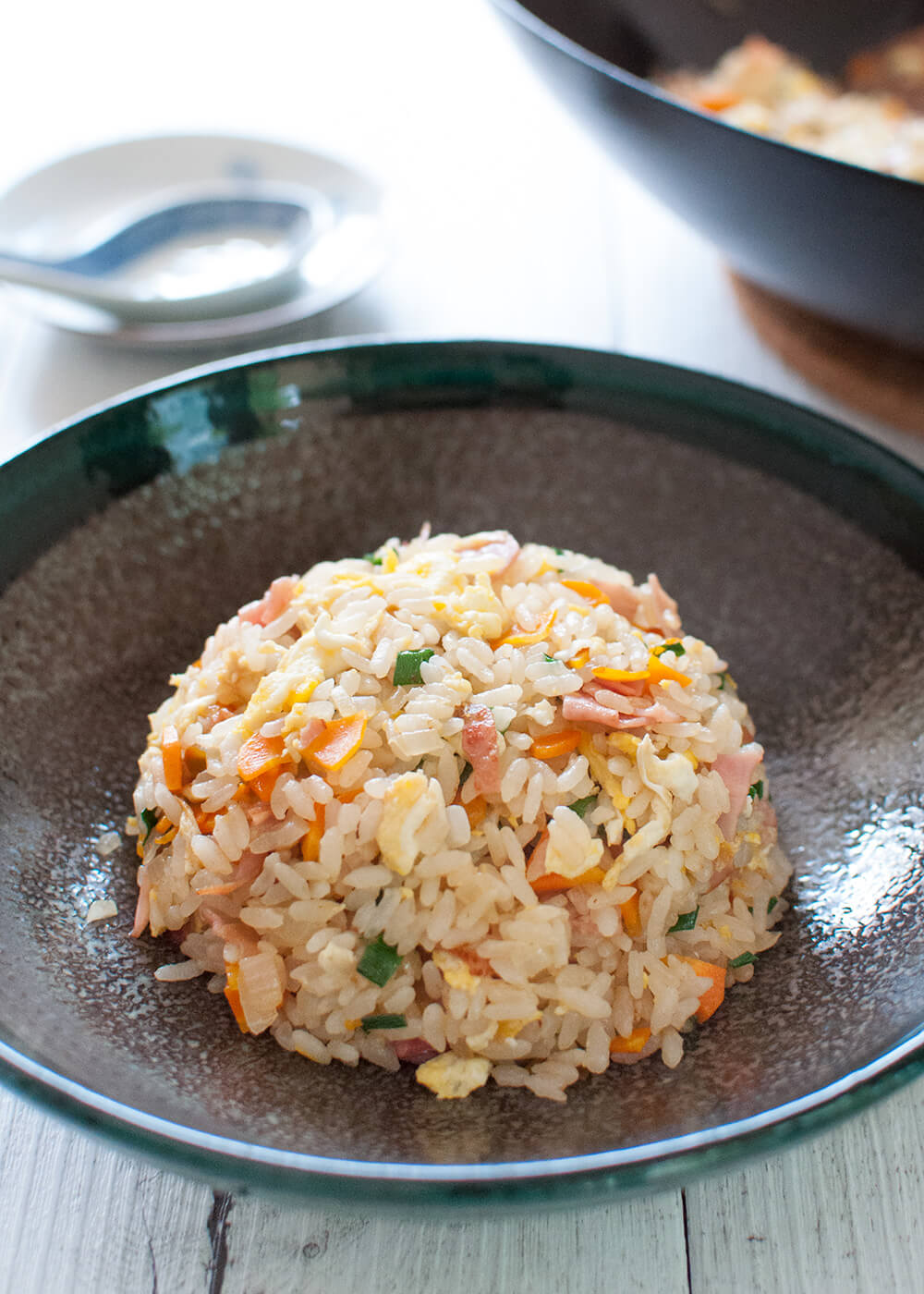 Fried rice is one of those dishes that exists in most cuisines in different forms. Japanese fried rice originated from China so it resembles Chinese fried rice a lot.
Japanese fried rice is called 'chāhan' (チャーハンor炒飯). It is also called 'yakimeshi' (焼飯) but I remember that the word 'yakimeshi' was used by older people and younger people called it 'chāhan'. There might be subtle differences in the way the rice is cooked with other ingredients but both chāhan and yakimeshi are fried rice.
Since Japanese people cook and eat rice almost every day, you can easily understand why fried rice became a popular dish. As long as you have leftover rice and vegetables and/or egg, you can quickly make flavoursome fried rice.
When I was in high school, I used to order fried rice at Chinese restaurants. It always came with a small bowl of clear soup that was so tasty and a wonderful accompaniment to the rice dish. At the time, the majority of Chinese restaurants had a home delivery service.
Since both my parents were working full time, we sometimes ordered meals over the phone (didn't have internet!) and got them delivered for dinner. They only delivered in the general vicinity of their restaurants so the foods were still hot when delivered. Chāhan was one of my favourites along with 'tanmen' (タンメン, combination noodle soup).
I am sure it is the same in China, and in Japan every household has its own flavouring of fried rice and favourite ingredients to cook with. But my mother was not fond of cooking and alas, she never taught me how to cook fried rice. Or shall I say, she only knew how to order fried rice from Chinese restaurants.
So, I had to learn fried rice my way after I got married and I cheated by using a sachet of fried rice seasoning.
The fried rice seasoning is called 'Chāhan no Moto' (炒飯の素) and the brand name is 'Amijirushi' (あみ印). This seasoning (photo below) was sold at the supermarkets more than 40 years ago in Japan when I had just gotten married and the packaging has never even changed since then.
In fact, at the top right corner of the package in the photo, it says '60 Year Anniversary Thank You Campaign'. If it lasted 60 years without even changing anything, it must be good, right? There are a few other brands of fried rice seasoning on the market now, but I always buy Amijirushi Chāhan no Moto.
All you need to do is stir fry ingredients with rice, add the seasoning and mix. The package comes with 6 sachets and each sachet contains 6g (0.2oz) of fried rice seasoning. On the back of the package, it shows how to make fried rice with just an egg and chopped shallots (scallions). For 1 serving, it suggests that 250g (0.5lb) of cooked rice with 1 sachet of seasoning is to be added.
Amijirushi Chāhan no Moto is not available at supermarkets or even Asian grocery stores but Japanese grocery stores usually stock them. You can also buy it online through Amazon (https://www.amazon.com/Amijirushi-Chahan-Calendar-Fried-Seasoning/dp/B00IOBFKZ2).
The flavour of the seasoning is very similar to the home delivery fried rice I used to eat when I was young. Unlike Chinese fried rice, it does not have strong garlic flavours or sesame flavours. I must say the flavour really has a Japanese touch.
When I cook fried rice using this seasoning, I feel a bit guilty for using store-bought flavouring. So, I often add garlic and sesame oil to produce my own flavour.
I use garlic to infuse aroma to the oil and cook egg in this oil first. Put aside the egg, then stir fry the meat, vegetables and rice. Return the egg, add seasoning and drop sesame oil in at the end.
Key to a great fried rice
In short, cook ingredients on high heat quickly. Prolonged stir frying will make the rice soggy and heavy, not fluffy. Here are a few tips to achieve this.
You need to use hot or warm cooked rice. When cooking fried rice, you usually use left-over rice which is kept in the fridge. You might be tempted to just add the chilled rice to stir fry but don't do it. Warm up the rice in the microwave to room temperature or hot. This will make a huge difference in speeding up the heating process of the fried rice. If you have freshly cooked rice which is still hot, it's even better.
If you have a wok, great but if you don't use a large fry pan. It is better to use a wok or a fry pan that is too big than too small. an over-crowded fry pan will prolong cooking time and will not make good fried rice.
Just like any other Chinese dishes, stir frying rice is also very fast and you need to chop all the ingredients and have them ready before heating up a wok/fry pan.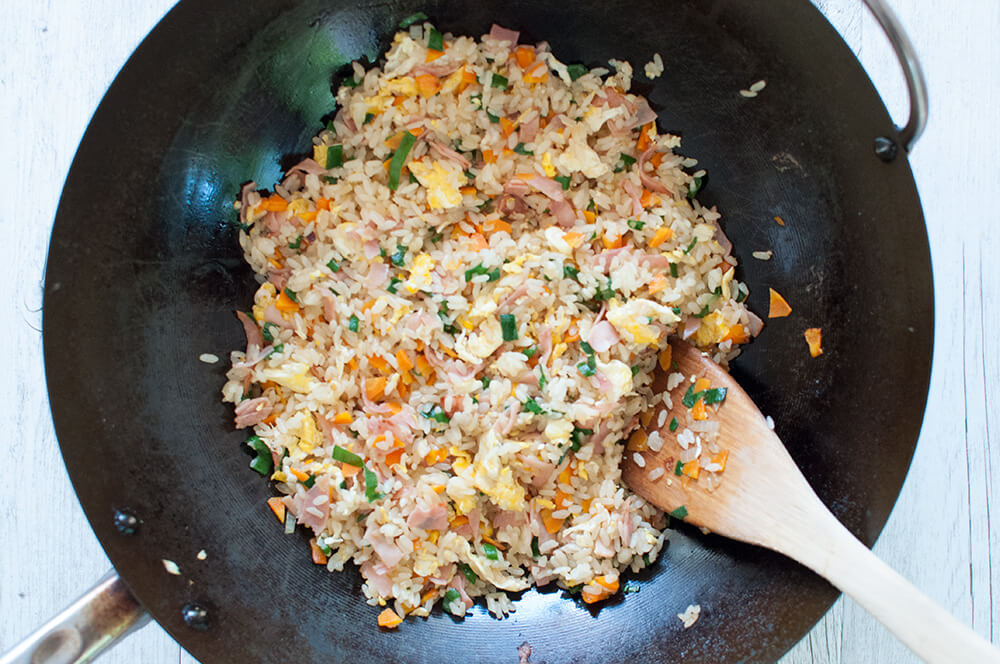 This is the Maehashi fried rice which I used to make when working full-time and bringing up three kids (and I still make this fried rice just for myself). It is delicious, quick to make, and use up leftover rice. Add soup and a small side dish, then dinner is ready.
Yumiko

Japanese Fried Rice (Chāhan) with Instant Seasoning
This is a quick fried rice made with store-bought fried rice seasoning. All you need is rice, egg, chopped vegetables and meat if you want. The flavour of the fried rice is similar to Chinese fried rice but a bit lighter and less oily.
Ingredients (tbsp=15ml, cup=250ml)
2

cups

cooked rice

(note 1)

1

clove

of garlic

, crushed with the side of knife

2

eggs

2/3

cup

finely chopped carrot

2/3

cup

finely chopped onion

2/3

cup

finely chopped green part of shallots

(scallions) (note 2)

60g (2.1oz)

sliced ham

, cut into small pieces (note 3)

1

packet of fried rice seasoning

(note 6)

3

tbsp

oil

1

tsp

sesame oil
Instructions
If cooked rice is cold, microwave for 1 minute to warm up.

Heat 2 tablespoons of oil in a wok or a large frypan over medium heat and add the garlic.

When garlic aroma comes up, remove the garlic and discard (be careful not to burn the garlic as it becomes bitter).

Turn the heat up to high and add two eggs into the wok/pan. Stir, breaking the egg yolks and mixing with whites. When mostly cooked (no need to break them up), transfer the egg to a plate.

Add remaining 1 tablespoon oil to the work/pan over high heat. Add carrot and onion pieces.

Stir fry for about 1 minute, then add the ham. Stir fry for another 30 seconds to 1 minute until onion pieces become transparent.

Add the rice and stir for about 30 seconds, ensuring that each rice grain is separated and there are no lumps of rice.

Add the egg and shallots and stir for another 30 seconds, breaking the egg into smaller pieces.

Add the seasoning and stir well to mix the seasoning powder into the ingredients.

Drop the sesame oil along the side of the wok/pan and mix well. Turn the heat off and serve while hot (note 4).
Recipe Notes
1. My cooked rice was short grain rice because it was the left-over from a Japanese meal. You can also use long grain rice which is less sticky and easier to stir fry. Freshly cooked rice is also good to use.
2. I used green parts only to get better colour to the fried rice. You can use the white part, too if you like.
3. I had sliced ham in the fridge but it does not have to be sliced. You can use left-over Christmas ham if you like and cut into small pieces.  
You could also use sliced or chopped meat. Pork or chicken would be good. Small prawns (shrimps) would also be good. When using uncooked meat, I cook them before sautéing vegetables.
4. I used a rice bowl to mould the fried rice onto a shallow serving bowl for better presentation. But you don't need to do that. In fact, I just served the rice in a bowl when I was working full time. I had no time for extra steps and extra washing!
5. I chose these vegetables for the best colour combinations but you can use other vegetables. I sometimes use bean sprouts, shredded lettuce, green beans, shiitake mushrooms.
6. I use the brand called 'Amijirushi Chāhan no Moto'. You can buy it at Japanese grocery stores or online through Amazon (https://www.amazon.com/Amijirushi-Chahan-Calendar-Fried-Seasoning/dp/B00IOBFKZ2).
Update: I was advised that Amazon site says Out of Stock but eBay sells it and delivers worldwide. Here is the link https://www.ebay.com/itm/Amijirushi-Fired-Rice-Seasoning-Powder-Japan-Easy-Cooking-For-6-Servings-/282449195213.