Pork shogayaki (生姜焼き, ginger pork) is a thinly sliced sautéed pork full of ginger flavour, which makes the sauce so tasty. It is one of the most popular recipes on the lunch menu as well as the bento box (Japanese lunch box).  It is a quick and easy dish – it literally takes less than 10 minutes to cook!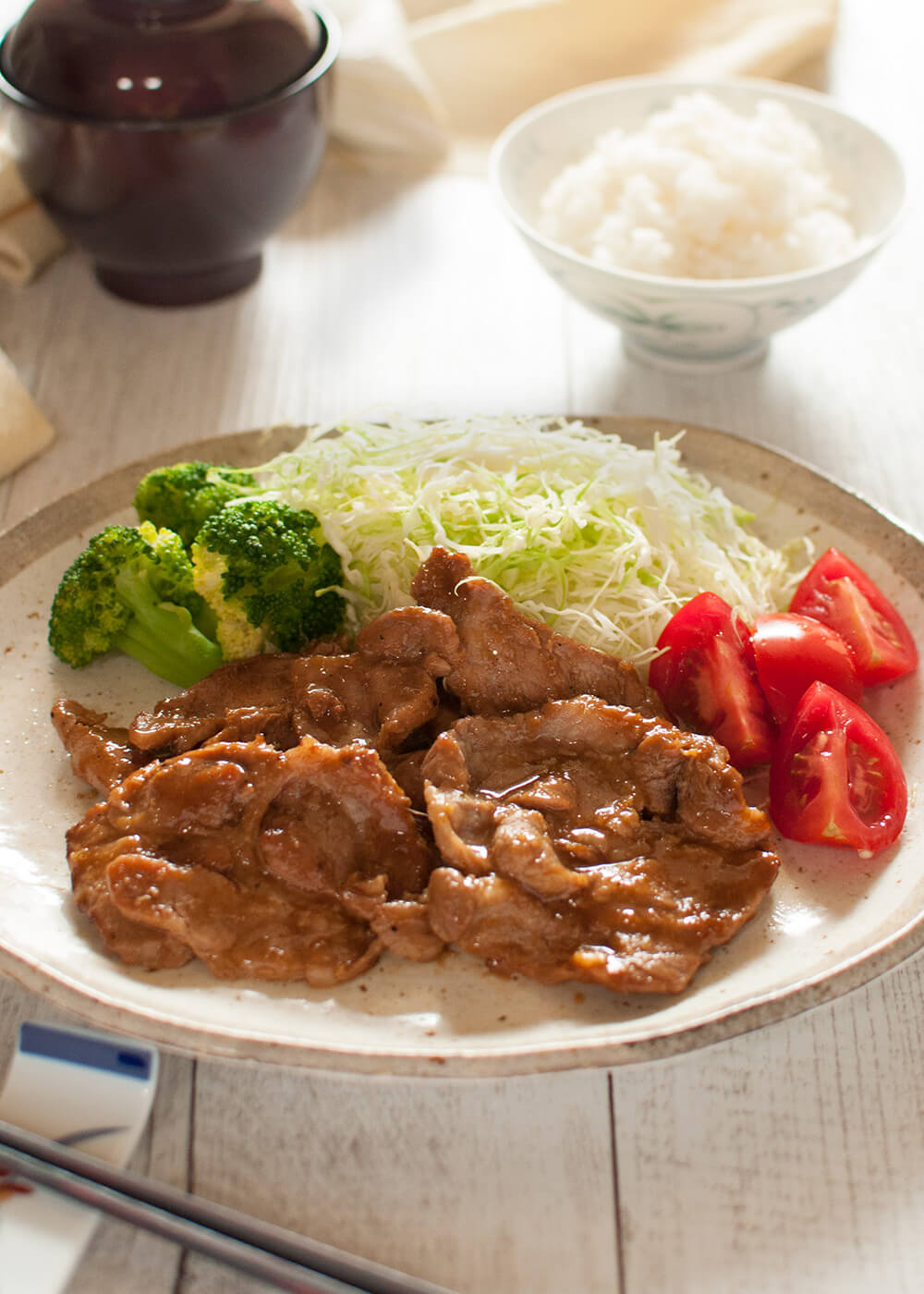 It is excellent for a weekday dinner with a bowl of rice. All you need to do is cook pork slices and coat them in ginger sauce. The sauce has a lightly sweet soy sauce flavour with a good amount of grated ginger in it.
Ginger is shoga (生姜) in Japanese and the word "yaki" (焼き) means grill or sauté. In Japan, if you mention "shogayaki", people will think of pork shogayaki. So I could have called this dish simply "shogayaki" but I added the word "pork" in my title to qualify the type of meat. This is because theoretically speaking, shogayaki could be made with other meat such as sliced beef or chicken. But I think that pork is best suited for the ginger flavour and that's why shogayaki is almost equal to pork shogayaki these days.
My ginger pork recipe is simply sliced meat with ginger flavoured sauce. Another method of making ginger pork is to use sliced bite sized pieces of pork and sliced onions. The flavour is similar. The latter is almost like a stir fry. In my household, shogayaki was always made without onions.
In some recipes, the pork is marinated in the ginger sauce before sautéing but I don't do that. The sauce has a strong flavour and the pork is thinly sliced so I don't think it is necessary to marinate the pork slices in the sauce before cooking them.
I do, however, marinate the pork slices with some sake (Japanese rice wine) and ginger juice for a short while. This is to remove the meat smell as well as tenderizing the meat. But many recipes on the internet don't marinate the meat before cooking and I think that this could be skipped if preferred.
Most ginger pork uses thinly sliced pork loin and I have certainly used this cut in the past. But in this recipe I used pork neck (collar). Pork neck is usually used for stewing or roasting but I think this cut is great for steak as well. Jamie Oliver certainly has a steak recipe with this cut. I find that pork loin is a bit on the dry side when cooked compared with the pork neck.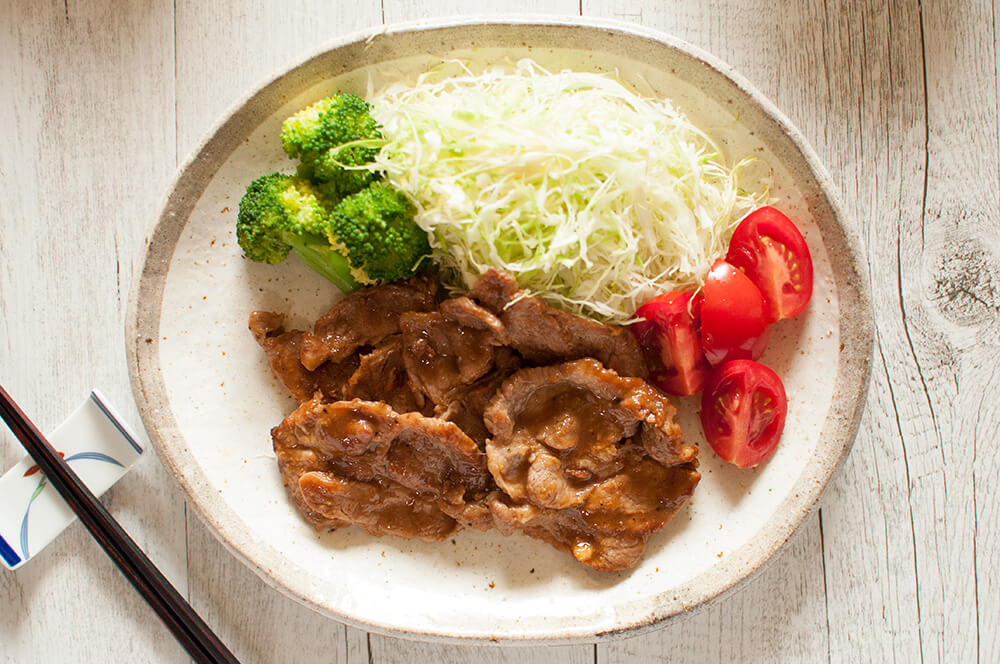 As you can see in the photo, quite a large amount of shredded cabbage is placed next to the ginger pork. If you google search images of "shogayaki" or "ginger pork", the majority of them are accompanied by shredded cabbage. I really think that the cabbage must be there as the cabbage has the role of cleansing the palate after eating the pork with a strong sauce. You can also eat the cabbage without dressing as the ginger sauce goes well with cabbage.
Shogayaki is one of the very common and popular lunch menu items in home-style Japanese restaurants. It is often served as part of a set menu called teishoku (定食) which usually consists of rice, miso soup, pickles and a main dish such as this shogayaki, grilled fish, tempura, or sashimi, etc. Because of the wonderful ginger sauce, you can eat a lot of rice with it which attracts people with a robust appetite. For the same reason, it is popular at home as well. It is easy, fast and flavoursome – perfect for a busy weekday meal.
Yumiko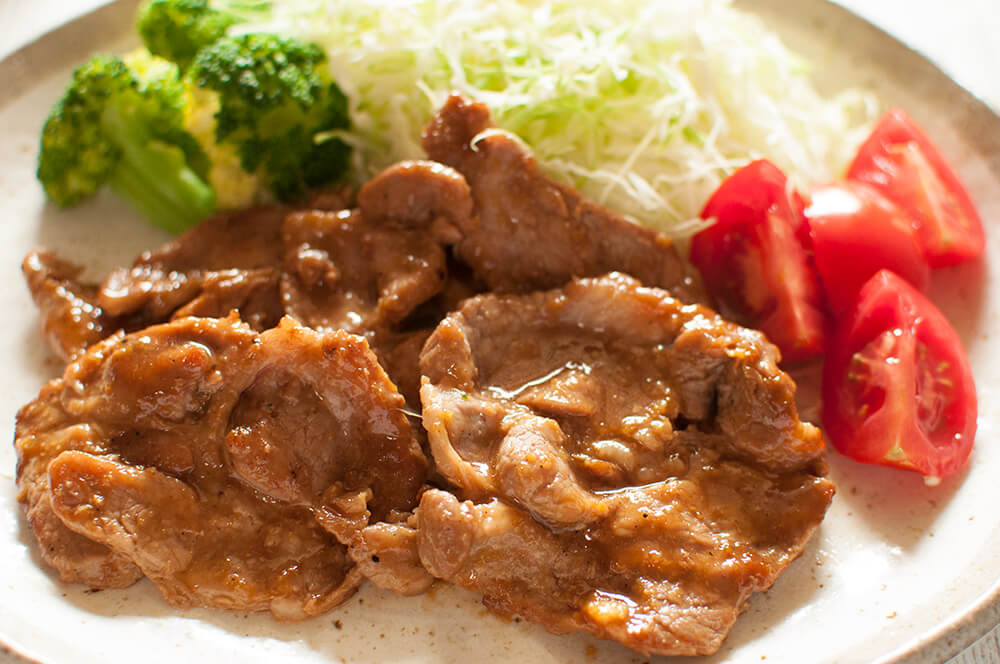 Pork Shogayaki (Ginger Pork)
Pork Shogayaki (生姜焼き, ginger pork) is a thinly sliced sautéed pork full of ginger flavour, which makes the sauce so tasty. It is one of the most popular recipes on the lunch menu as well as the bento box (Japanese lunch box). It is very simple to make and excellent for a weekday dinner with a bowl of rice.
Ingredients
300g (10.6oz) pork sliced thinly to 2-3mm (⅛") thick (note 1)
2 tsp sake (Japanese rice wine)
1 tsp ginger juice (squeeze juice out of grated ginger)
1 tbsp oil
Ginger Sauce
2 tbsp sake (Japanese rice wine)
1 tbsp mirin
1 tbsp soy sauce
1 tsp sugar
1 tbsp grated ginger
To Serve (note 2)
160g (5.6oz) shredded cabbage
4 cherry tomatoes
6 broccoli florets
Instructions
(this step is optional) Using the tip of a sharp knife, cut the connecting tissue (the tissue separating red meat and fat) embedded in the meat. This will prevent the meat from curing when cooked.
Sprinkle 2 teaspoons of sake and 1 teaspoon of ginger juice over the pork slices, coat well and leave for 10 minutes. This will tenderise the meat and removes meaty smell.
Mix ginger sauce ingredients in a bowl.
Heat oil in a non-stick (preferred) frypan over medium high heat.
Place the meat in the frypan without overlapping (cook in batches if required) and cook for about 1-2 minutes or until the bottom side is golden and the edges start to cook.
Turn it over and cook further 1-2 minutes. If cooking in batches, transfer the cooked meat onto a plate and cook the remaining meat.
Reduce the heat to medium. Return all the cooked meat to the frypan and add the ginger sauce to the pan.
Cook for about 15-30 seconds, turning the pork slices over to ensure the meat is coated with the sauce. When the sauce is reduced to about 1-2 tablespoons (note 3), turn the heat off.
Place the vegetables on one side of the plate. Place pork slices and pour the sauce in the frypan over the pork.
Notes
1. I used pork neck (all called pork collar, collar butt, scotch fillet) )because I like the way the meat curls slightly allowing more sauce to coat the pork. I bought a block and sliced it thinly for this recipe.
You can also use pork loin if you like. Make sure that you cut the connecting tissue (the tissue separating red meat and the band of fat on the edge) at 2-3cm (1") intervals.
You could also cut the pork slices into smaller sizes.
2. Shredded cabbage is always served with shogayaki. Often, it is just cabbage. But I thought tomatoes and broccoli would add colours to the plate. You can of course vary the accompanying vegetables.
3. The amount of sauce reduction is up to your preference. When I made this, I had about 1 tablespoon left. I felt that the sauce was a bit strong for my liking but some people might find it just right. Hence the amount of reduction is given as a range.
4. Ginger pork is great for a bento box (Japanese style lunch box) as it goes extremely well with rice. It is still yummy even if eaten at room temperature.
A simple lunch box menu can be: rice, ginger pork with shredded cabbage, boiled green vegetables such as broccoli or
Spinach Ohitashi salad
. If you have an instant miso soup, that'll make a perfect lunch pack!